My Signature Series Techniques
Classes are offered as either a three, four or six hour class as indicated:
Three / Four Hour Class – With some basic preparation and rotary cutting in advance as outlined in the supply list, students will learn the technique and be able to construct at least one or two blocks in class and leave with the confidence and expertise necessary to complete the quilt at home.
Six Hour Class – With some preparation as outlined in the supply list before class, students will learn the technique and have ample time to construct blocks and piece a major portion or possibly the entire quilt top during the workshop.
Choose a class or workshop featuring my signature methods of fast, accurate rotary cutting and speed piecing or appliqué techniques! I'm one of those rare instructors who never, ever requires any student to purchase my rulers to attend class. Students are free to borrow a ruler for use in class from me!
Lone Starburst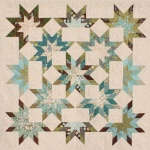 6-hour class / Intermediate level
Kimberly's most popular class; this one sells out wherever she teaches it! All it takes are 40 – 2½" strips from a purchased precut bundle or strips cut from your own stash, plus one background fabric and the diamond design possibilities are practically endless! Kimberly will teach you how to strip-piece and cut diamond building blocks from strips using her EZ Jelly Roll Ruler with no "Y" or set-in seams. You'll design your own unique Lone Starburst variation quilt! The first part of the class focuses on accurate and efficient cutting and piecing of the diamond units and the latter part of the class will focus on design elements and the almost limitless possibilities for designing your own layout using your diamond units. The real magic comes from the fact that the quilt is assembled with straight-set blocks, not diamond wedges or blocks on point. This is an eye-opening class for anyone who wants to create a one-of-a-kind quilt with a Lonestar twist!
Lonestar Strip Magic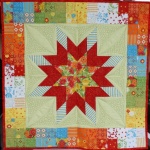 3 or 4-hour class / Skilled beginner or intermediate level
Most people don't think of Jelly Roll strips and Lonestar blocks together but the truth is, they were practically made for each other! Using Kimberly's EZ Jelly Roll Ruler and 2½" strips (either from a pre-cut bundle or your own stash) Kimberly will teach you to quickly and expertly strip-piece and cut diamonds and assemble a traditional-looking Lonestar block. The magic with her method is there are no "Y" or set-in seams! Sound impossible? Not with her signature technique and precision-pieced method. Simply choose your strips plus one background fabric and you'll be finished with a stunning block in no time at all. Perfect for learning Kimberly's technique in a shortened version of the Lone Starburst class.
Fire and Ice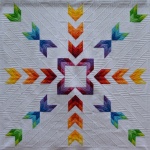 6-hour class or 2-day workshop / Intermediate Plus level
Create your own version of Kimberly's spectacular, multi-award-winning quilt! This modern version of Kimberly's signature Lone Starburst technique may look complicated to piece, but it is actually constructed from straight-set blocks with no "Y" or set-in seams using her EZ Jelly Roll Ruler. You'll learn how to expertly strip piece 2½" strips and accurately cut them into diamond units. Kimberly will show you her magic "one-pin-technique" for achieving absolutely perfect points plus many other tips for creating blocks with perfect ¼" seam allowances so you'll never cut off another star tip again! With a little advance cutting you'll learn everything you need to complete this 80″ x 80″ quilt at home. Come spend a productive day in class and learn Kimberly's helpful hints for precision piecing without any stress or frustration!
Variable Star and Flying Geese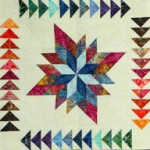 4 or 6-hour class / Intermediate
This is one of Kimberly's newest classes and sure to be one of her most popular! Learn to create this gorgeous variable star with a pretty pinwheel twist from simple strip units. Best of all, Kimberly will teach you both of her signature techniques to construct the beautiful center star using her EZ Jelly Roll Ruler, and also how to make fast, fabulous flying geese with perfect points using her EZ Flying Geese Ruler! Best of all, there are no "Y" or set-in seams which makes block construction a breeze! You'll learn top tips for ultra-accurate rotary cutting and precision piecing with ease and how to customize the star design to make it your own. Jelly Roll bundles are perfect for this project but this makes a great stash busting quilt as well; just add one fabric for the background. You'll have a fabulous time in class with Kimberly as your very own personal quilting coach!
Modern T's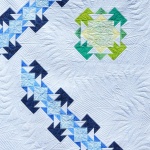 4 or 6-hour class / Skilled beginner – intermediate level
This exquisite quilt is a fabulous fusion of modern aesthetics and traditionally-pieced units combining Kimberly's best rotary cutting and precision piecing techniques! She'll teach you how to accurately cut your units from strips and assemble them using her signature EZ Flying Geese Ruler method for making no-fail, half-square triangles and flying geese units using no math, no wasted fabric, and no stress! See traditional units with a fresh, new perspective to embrace some qualities of modern quilting without sacrificing your love for traditional machine piecing. Kimberly will provide lots of hands-on, personal attention to help you explore winning color combinations and layout possibilities just a "wee bit outside of your comfort zone." Learn everything about half and quarter square triangles — and why they matter — while having fun in the process! Enjoy a stress-free day of sewing and leave feeling refreshed and inspired!
Mystery Quilt
6-hour class / Skilled beginner – intermediate level
Do you love to make mystery quilts? Or does the thought of choosing fabrics and making a quilt for which you have no idea what the end result will be scare you? Fear not! Whether you are a seasoned veteran and you enjoy the intrigue and suspense of not knowing the final outcome or if you have never had the courage to tackle making a mystery quilt before, Kimberly's ultra-popular mystery quilt classes and patterns are perfect for you! She has designed the entire process to be simple, fun, and stress-free so you can take as much risk as you like with your fabric selections or risk nothing at all. Step out of your "color comfort zone" and try something new. The rule of thumb is this: if your fabrics have good contrast, look great when lined up together, and match the values given in the fabric requirements table, then they'll look beautiful when sewn together. These classes are suitable for any quilter with some rotary cutting and machine piecing experience and guaranteed to be fabulous and fun!
Tulips!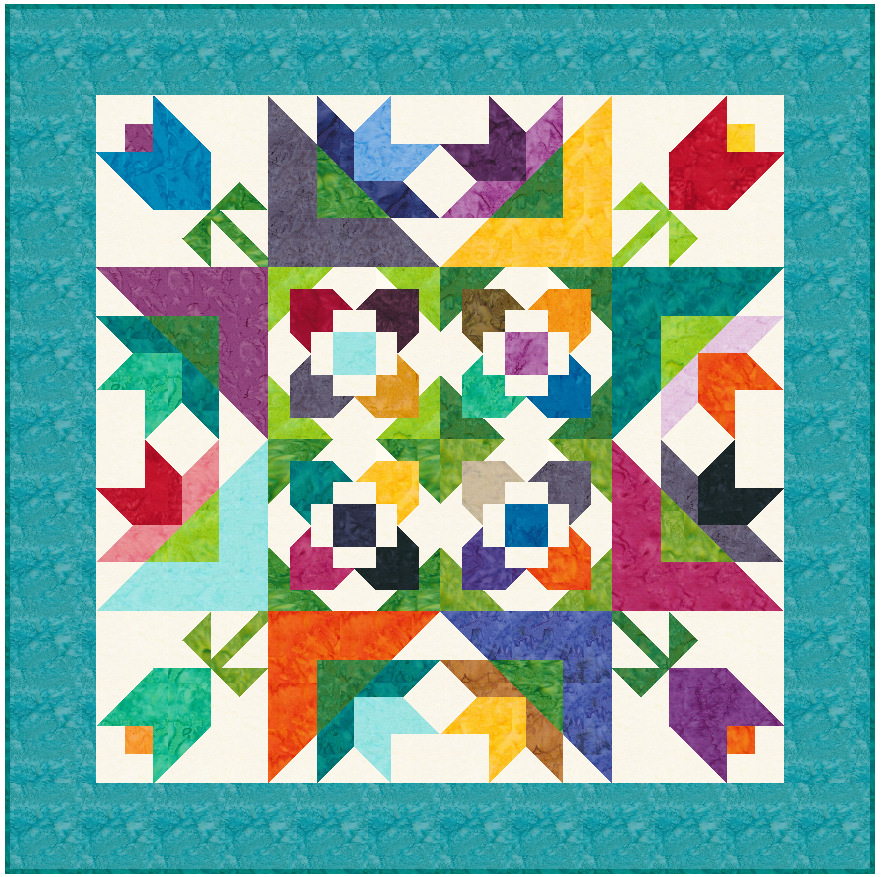 6 hour workshop / Skilled Beginner – Intermediate Level
Tulips are a favorite flower for millions of people blooming in shades of almost every conceivable color (even black!) and this lovely quilt gives a modern edge to a traditional design. In this workshop, Kimberly will teach you her expert methods for three distinctly different precision piecing techniques each lasting approximately two hours. You'll learn the secrets of precision stitching small units without paper or foundations plus how to set-in Y seams with ease and accuracy. This class is chock-full with so many precision stitching techniques it's like getting three-for-one all built into a fun day of stitching!
Flying Geese Crossing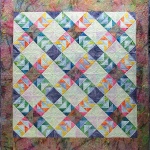 4 or 6-hour class / Intermediate level
Thanks to Kimberly's clever design and signature technique for making no-fail flying geese units, this gorgeous quilt is comprised of straight set blocks that give the illusion of diagonally set rows. Only you'll know how easy it is to actually construct! Flying Geese Crossing is the perfect way to feature one of those luscious precut strip bundles or favorite fabrics from your stash. The best part about Kimberly's signature construction method using her EZ Flying Geese Ruler is that there is no math, no wasted fabric, and no stress to make flying geese! Come prepared to spend the day creating a glorious quilt that is easily customizable to fit a wall or any size bed. You'll finish the class as a pro at making flying geese from simple strips, plus you'll have a great time spending the day learning so many tips and tricks from Kimberly!
Perfect Pinless Pinwheels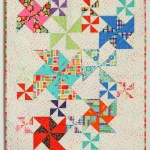 3, 4 or 6-hour class / Skilled beginner level or higher
Fresh as a breeze, this quilt is an absolute delight to make! Kimberly will teach you everything you've ever wanted to know about triangles and bias edges. You'll learn to expertly cut half-square and quarter-square triangles easily and accurately from simple fabric strips. No more cutting awkward size squares and then cutting them diagonally. Sound impossible? Not with Kimberly's signature technique and her EZ Flying Geese Ruler! You'll be able to piece the blocks without worrying about those bias edges or multiple steps for trimming units, and best of all, NO PINS! (Really!) This quilt features small and large size plus single and double pinwheels with a twist. Lots of fun and chock-full of hints and clever tips, come join the fun and create a pretty quilt of fancifully colored pinwheels with perfect points!
Bermuda Triangles II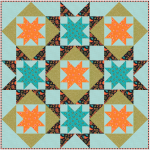 3, 4 or 6-hour class / Intermediate level
This quilt may look challenging, but piecing the units is stress-free and down-right fun using Kimberly's signature technique and her EZ Flying Geese Ruler! With proper planning and clever fabric placement you will be able to assemble this quilted beauty with accuracy and ease. Kimberly will expertly guide you through each step to assemble the blocks so even though they are set together in horizontal rows, the fabric placement disguises where one block ends and another begins. She'll spend time in class discussing the wide range of design opportunities and creative use of color, value, and scale of prints. While not difficult to piece, this class is best suited for intermediate level quilters. Kimberly will provide lots of hands-on, personal attention to help you explore plenty of possibilities "outside the box." Join the fun and watch your triangles transform into a stunning quilt!
Spinning Stars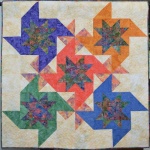 3, 4 or 6-hour class / Intermediate level
In this high-energy class, Kimberly will teach you her precision cutting and piecing methods while keeping you entertained with my own style of humor and sunny disposition. Her signature technique features no math, no wasted fabric and no stress using her amazing EZ Flying Geese Ruler. You'll love this magic method for piecing perfect flying geese, accurate half-square triangles from whole and half-size strips, and pretty eight-pointed stars while constructing a gorgeous quilt top! But this is only where the fun begins. Kimberly will show you how to expertly piece pinwheels with perfect points without the use of pins. (Really!) Learn everything these is to know about triangles and so much more. The creative energy will flow as you create a fabulous quilt that looks complex; only you will know how easy it is to put together with straight-set blocks!
Cut the Cake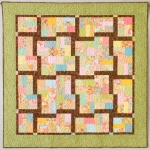 3 or 4-hour class / Skilled beginner level or higher
Looking for a low-intensity class that is perfect for a guild retreat or evening workshop? This slash-n-shuffle style class is it! You'll be able to assemble lots of blocks in a short time for maximum productivity! This fantastic quilt packs a visual punch yet is fast, funky, and just plain fun to make. No matter how you stack your fabric layers, once you begin shuffling the pieces, every block will turn out just a bit differently and the end result is guaranteed to be a delightful surprise. Pick any Layer Cake bundle (or 36 of your own 10" fabric squares) plus one dramatic contrasting fabric to make this original quilt. There's no math and no wasted fabric – just no-calorie, fat-free fun. That's like having your cake and eating it too!
Chain Saw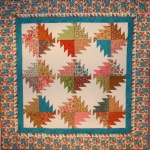 3, 4 or 6-hour class / Skilled beginner or higher
One of Kimberly's biggest crowd-pleasers; the Chain Saw quilt always gets so many "oohs and aahs." This stunning quilt looks incredibly complex, but is really very easy and sew much fun to piece! It requires just one Layer Cake and one Jelly Roll or you can make it with thirty-six fat quarters plus a background fabric. If you enjoy fun surprises when you rotary cut and sew, you'll love this design. No matter what fabrics you begin with, whether from your stash or precut bundles, the finished blocks will look oh-so-different than what you might expect! Kimberly will share dozens of her most helpful hints and tricks with you so you'll not only improve your cutting and piecing skills, but you'll stitch these blocks together with absolute ease. Plus, learn how to make great use of the leftover bits by constructing a HST Sawtooth border using Kimberly's EZ Flying Geese Ruler!
Modular Piecing: Ultimate Skill-Building Sampler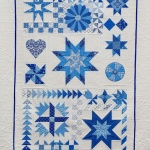 2 or 3-day workshop / Skilled beginner or higher
Pre-cut fabric packs are one of the hottest trends in quilt making today and quilters everywhere just can't resist these delectable textile treats! And their versatility is absolutely perfect for this fast-paced, fun-filled, workshop to turn all those enticing 2½" strips, 10" squares and charm packs into a fabulous quilt. Let Kimberly introduce you to the exciting and wonderful world she calls Modular Piecing, which is a system of simple, pieced units used to create new blocks, settings or complex-looking designs. Using squares, rectangles, triangles, diamonds and a myriad of basic 'building block' units, Kimberly will show you how to efficiently piece a wide range of blocks in modular sizes. She'll teach you dozens of tips and tricks for using her EZ Flying Geese and EZ Jelly Roll Rulers along with traditional methods to their best advantage with no math, no wasted fabric, and best of all, no stress! Featuring fabulous techniques from her book, Precut Bonanza, Kimberly will share every trick in the book for precision piecing and lovely machine appliqué to create beautiful blocks and unlock your inner design diva. You'll love her encouraging, upbeat, energetic (and humorous) teaching style, so join her for this retreat-style class and create a stunning sampler quilt and graduate as a precuts-pro!
Lecture: Jelly Rolls + Precuts = A Recipe for Design Success!
You've heard about them. You've seen them. Most likely you've even bought them. But what can you actually do with them? Well, let Kimberly introduce you to the delectable world of calorie-free fabric delights! These pre-cut bundles are pint-sized powerhouses of scrappy design opportunity just waiting for you to create fabulous quilts and more! Kimberly will share tons of photos, quilts, and more inspiration than you can imagine to tantalize your "inner design chef" and excite you to create something glorious using these amazing fabric bundles. From basic beauties to the most exquisite award-winning quilts, Kimberly's PowerPoint presentation is jam-packed with ideas and inspiration. Even if you don't plan to use these pre-packaged fabric lines, you'll find plenty of creative ways for stash busting from your own fabrics, and ways to use up those pesky leftover strips and squares. You'll be scrap happy and itchin' to stitch by the end of her presentation!
Lecture
Creative Spaces: Turn your sewing room into a creative studio!
Brand new July, 2016!
Whether you have a small, shared room or the most palatial space, your sewing room should be a place where you feel happy and inspired to create! Being a military wife with 15 moves under her belt, Kimberly has set up sewing studios in each of her homes and is excited to share what she's learned for making the most of the space you've got. She'll share photos of her sewing rooms, her favorite (and not-so-favorite) features of what works and what doesn't, and her best tips for setting up your own creative haven. Then, sit back and enjoy a personal tour of today's top quilting stars' studios – both clean and cluttered – as they open the doors to their spaces and share their favorite features and tips that you can easily implement. This fun, informative, and inspiring 'parade-of-homes-style' visit will provide a wealth of ideas and tips for transforming your own space into a place where you can be your most creative!
Trunk Show: Simple creativity for inspired designs
In this trunk show, Kimberly will discuss her quilting journey by sharing a large selection of her quilts up close and personal with you. Learn about her creative process and how to find design inspiration in some of the most unexpected places! Stunning quilts can come from simple shapes and Kimberly is the master of clever fabric placement and basic block combinations to create original, dynamic, and eye-catching designs that quilters everywhere want to make! Spend an hour with her enjoying her humorous stories and come away feeling inspired and uplifted with a fresh perspective and new-found confidence for designing your own quilts!