Note: When choosing International First Class as your shipping method, it may take 2-3 weeks for delivery.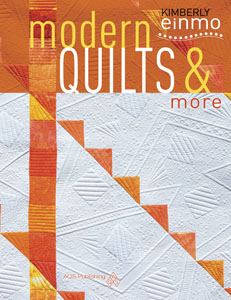 Modern Quilts & More
PRE-ORDER — Shipped in February 2014
Stunning quilts embrace modern aesthetics of color saturation, minimalism, and effective use of negative space while featuring fast and fun traditional construction methods. Over a dozen original designs merging modern and traditional styles. Enjoy Kimberly's personal style complete with 'Try This' sections for increasing your skills. 'Round 2 Redo' sections are sure to inspire as she shares quick and easy projects to use leftover fabrics in creative new ways.
Pre-ordering will charge your credit card immediately.
Please pre-order this item separately from our in-stock inventory since they will ship at different times.
Precut Bonanza
This is the ultimate reference guide to piecing precut fabric bundles, whether purchased or cut from your own stash! Follow Kimberly's easy new method of "Modular Quilting" to use simple, basic units (such as squares, half-square triangles, four-patch units, and more) to create more complex-looking units and blocks. Fabric cuts are made using ¼ inch, ½ inch, and 1 inch measurements – no 1/8 inches, which makes it easy to create an unlimited number of spectacular blocks and designs. Let Kimberly show you how to become your own Design Diva! For quick design use, a library of 200 blocks in 6 inch, 8 inch, 10 inch, 12 inch, 14 inch, 16 inch, and Big Block sizes is included. Pattern instructions are featured for 3 stunning sampler quilts, a gallery for inspiration, and Kimberly's familiar "Top Tips" for stress-free creating with precut bundles complete this timeless go-to reference manual. Destined to become a new classic must-have for all quilting libraries!
---
Jelly Roll Quilt Magic
The popularity of Jelly Rolls, Layer Cakes, and Turnovers hasn't waned, but the quilts made from them have begun to a look a lot alike until now! Kimberly Einmo, rising star international instructor and AQS author of Jelly Roll Quilts & More (2010), introduces an entirely new design sense in this book, which really is a magical approach to using precuts. She also introduces a 'shopping list' concept to make prepping for sewing a snap. More time for creating, sewing, and quilting! 13 colorful projects give readers the opportunity to grasp her vision, and she provides block options for true originality. Last but not least, Kimberly experimented using precuts in a Round Robin exchange with international quilting friends. The idea and the results are amazing. This book will fuel quilt guild projects and challenges for years to come.
---
Jelly Roll Quilts & More
Let Kimberly be your own personal quilting coach as she guides you through the process of making quick and easy quilts from fabric packs!
Turn those enticing packs of precut strips, squares, and triangles into fun, fabulous quilts!
Patterns are designed to work perfectly with Jelly Rolls, Honey Buns, Charm packs, Layer Cakes, Turnovers and more!
10 quilts plus 4 one-block wonders will entice you to dig right into those textile treats!
Alternate yardage requirements are given so you can do your own cutting and reduce your stash!
---
Quilt A Travel Souvenir
Combine your love for quilts with a sense of adventure to create one-of-a-kind vacation memory quilts.
Unique Keepsakes
Over a dozen eye-catching quilt patterns will help you capture the vibrant color, texture, diversity, and grandeur of favorite European locales.
Multiple Methods
The projects feature a balanced mix of precision piecing techniques, fanciful machine appliqué, and stunning hand or machine embroidery.
Picturesque Inspiration
Surrounded by gorgeous photography of the places that inspired them, the projects provide clear illustrations and an engaging writing style that will encourage you to make your own tangible quilted souvenir.
---
Simpli-EZ Jelly Roll Ruler
NO MATH, NO WASTED FABRIC, NO STRESS!
Here's why I know you'll just love this innovative ruler
It works perfectly with Jelly Rolls, Honey Buns, Charm Squares, Layer Cakes and Turnovers.
It allows you to make cuts fast and accurately. You can cut all basic units such as squares, rectangles and triangles from 1½" and 2½" strips, and 5″ and 10″ squares!
The ruler has my signature two-colors which makes the markings easy-to-see and easy-to-use. The mint green "highlight" lines allow you to see at a glance the most commonly used sizes from precut fabric strips and squares.
There are no ⅛" lines on the ruler; only ¼", ½" and whole inch markings make viewing clear and uncluttered.
It's just plain fun to use!
Note: The popularity of this item at times creates inventory shortages. We will attempt to let you know when a backorder situation exists and hold your other items so they may all be shipped at the same time.
---
EZ Flying Geese Ruler
"Sew" Easy to Use
NO MATH, NO WASTED FABRIC, NO STRESS!
Cut perfect triangles for flying geese units and Sawtooth Stars
Make 9 geese sizes (2″ x 4″ to 6″ x 12″)
Makes blocks from 4″ to 24″
Make flying geese units into an almost infinite number of traditional and non-traditional quilt blocks!
Note: The popularity of this item at times creates inventory shortages. We will attempt to let you know when a backorder situation exists and hold your other items so they may all be shipped at the same time.
---
Easy Pineapple Log Cabin Ruler
"Sew" Easy to Use! Make Easy Pineapple Blocks using:
No math
No Trapezoids
No Stress!
---
EZ Hearts Cut Tool
Cutting perfect heart shapes in a variety of sizes simply couldn't be easier with the EZ Hearts Cut Tool! This grooved tool makes cutting quick, easy, and above all, accurate to cut whole and half hearts. Simply use an 18mm rotary cutter in the grooves and in a matter of seconds, you'll have perfect appliqué heart shapes just ready for fusing or traditional appliqué!
---
18mm Rotary Cutter
Use with your EZ Hearts Cut Tool to effortlessly cut whole and half hearts.
---
Perfect Scissors
The special micro-serrated blade pulls the fabric into the scissors rather than pushing it away like traditional scissors.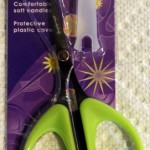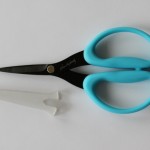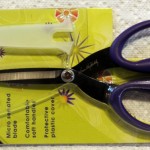 Cushioned handle — easy for right or left handed to use
Blades stays sharp to the very tip
Serrated blade keeps fabric from fraying
Light weight and comfortable
The 7 ½" size is great for cutting single or multiple layers of fabric. You can comfortably cut up to 8 layers of fabric easily. If your quilt has a lot of one shape, layer cutting saves a tremendous amount of time.
The 4″ size are great for detail cutting on curves and points.  With the 6″ size you can comfortably cut up to 4 -6  layers of fabric easily.
Available in 7½", 6″, and 4″.  Specify when ordering.