I'm sorry I've been absent from updating this blog in such a long time. We've spent the past five months renovating our new-to-us home in Colorado and I've been absolutely focused with tunnel vision to getting us completely unpacked and settled in so we can put the past two years behind us and start a fresh new chapter in our lives.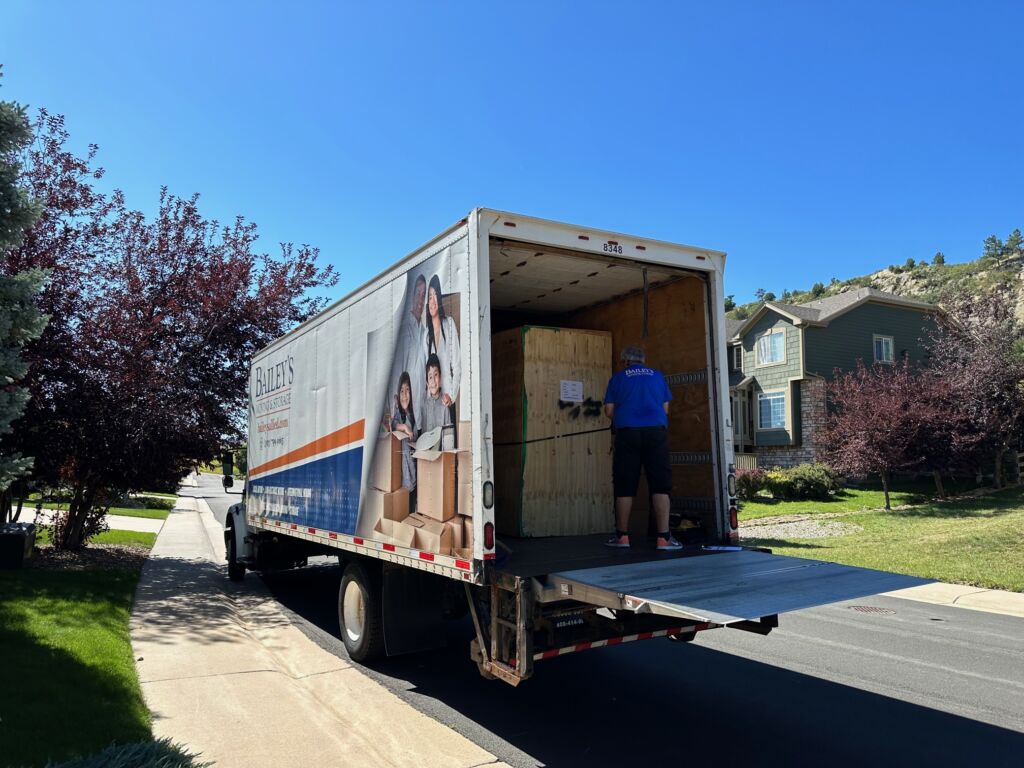 I can say that as of two days ago, when the remaining portion of our household goods were finally delivered from Australia (a full nine and a half months after being packed up!) we can finally close the chapter on the past tumultuous twenty-six months. I could write volumes on the hardships we've endured, but we're past those things and I much prefer enjoying the present and looking forward to good and happy things in this lovely place we now call home.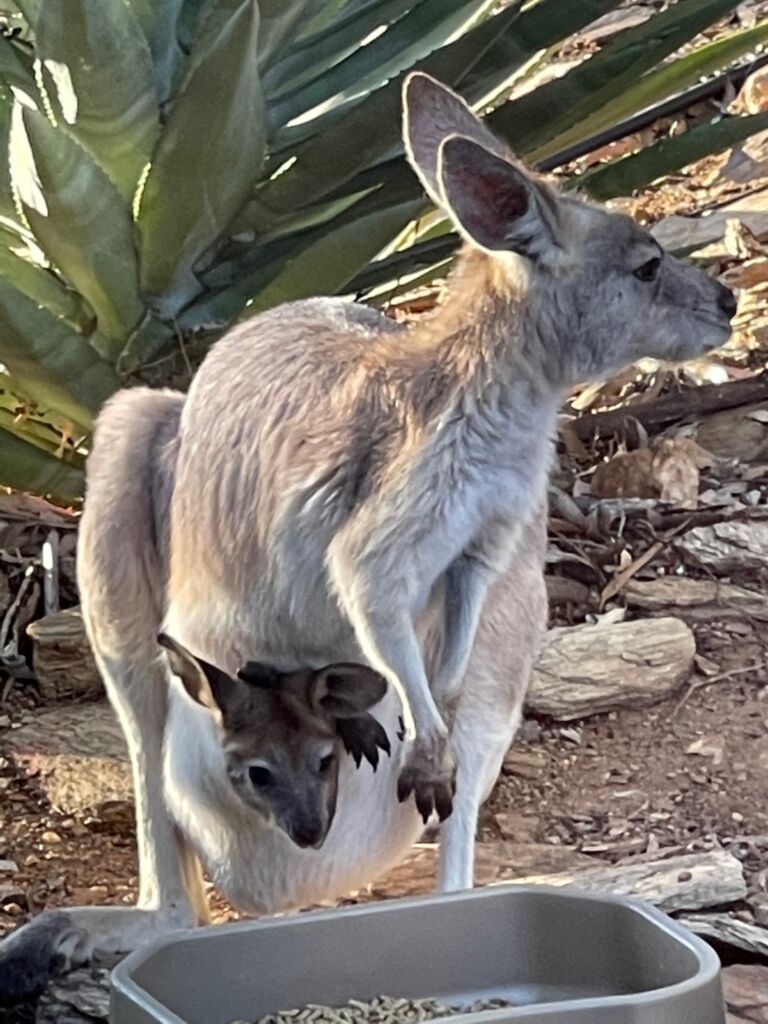 However, I have kept the good stuff with me. The kangaroos, of course, I hold as treasured and precious memories in my heart for all times. I decorated my studio bathroom as "The Roo Loo" with canvas art from photos I took of our backyard Roo visitors, including kangaroo keepsakes I collected while in Australia or that were given to me by thoughtful friends. The Roo Loo is bright, cheerful, colorful, and just the perfect touch of whimsy. It makes me smile every time I see it. (Stay tuned…..photos to come.)
I share most of my daily updates and posts on Instagram (@kimberlyeinmodesigns) and Facebook (Kimberly Einmo and Kimberly Einmo Designs) now. I invite you to follow me if you aren't already doing so. I'm not sure how many folks actually read blogs anymore, although I love the idea of keeping the blog going because it is like a diary of our lives, in manageable snippets. I keep thinking perhaps I should find a way to print out all the blog posts but that's a project for another day.
Last weekend, with Mr. Kim's and our sons' help, we set up an outdoor photoshoot of the finished Shoo Fly quilts made from the blocks you sent to me before our adventure down under. The quilts are huge; there are two of them! I used use every single block that was so kindly sent to me. My dear friend, Carolyn Archer of Ohio Star Quilting, quilted both with the most wonderful kangaroo designs! They are perfect and I simply adore and treasure them. They are my most favorite quilts of ANY I own or have made because of all the words of faith, hope, love and encouragement, and because they came from friends from across the US and around the world! I literally get tears in my eyes every time I read the notes and words you so lovingly shared. Now, I can finally share both quilts — completely finished — so you can see how beautifully they turned out! Aren't they just the most beautiful riot of color?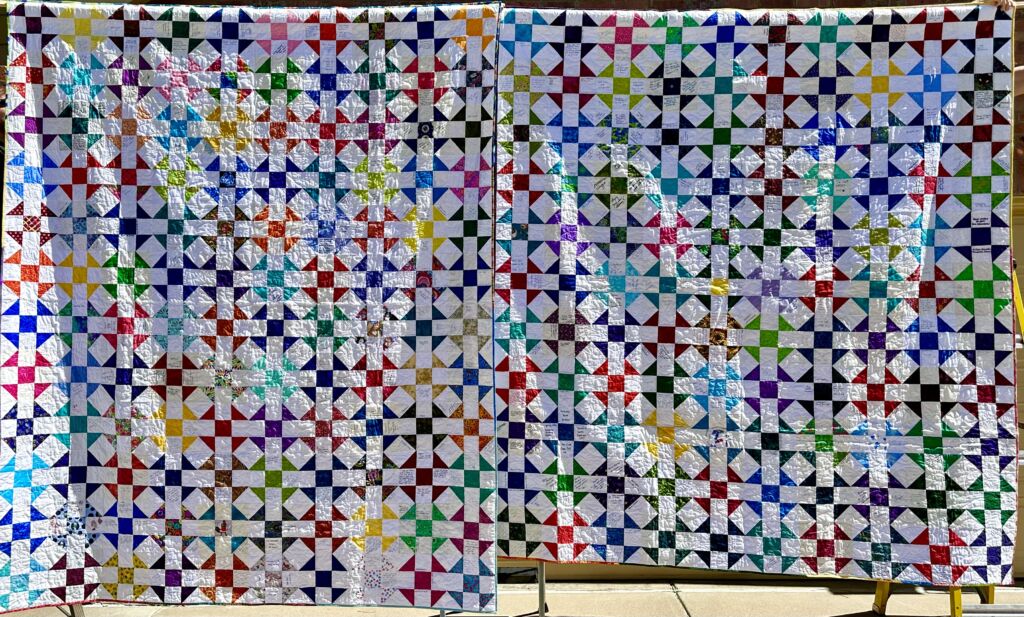 More Rooville info
Here is another new pattern called Roo Tracks that I designed for Rooville and it is now available on my website. Click HERE.  
This pattern is a bit more challenging (rated intermediate + skill level) but so worth the time and effort to make it. I also make it using another fabric line in holiday fabrics.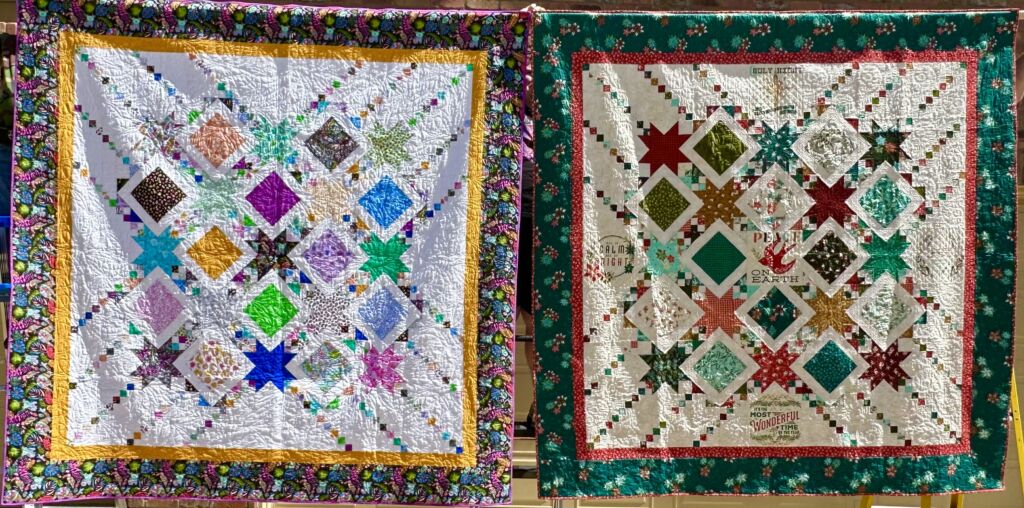 The Rooville fabrics by Benartex will be hitting store shelves in less than a month! (Early October). I hope you'll ask your local quilt shop to carry this line. The fabrics are bright, saturated with brilliant color, and so full of fun and whimsy. I hope you'll check them out!
A BIG day!
As you may or may not know, my birthday is tomorrow. I must say, I've approached this BIG birthday with slight trepidation. I certainly don't feel my age; in my mind, I feel decades younger! But in my heart I know I'm in the right place at the right time.
My dear friend, Heidi August, stopped by for a visit yesterday and surprised me with gorgeous orchids! (Thank you, Heidi!)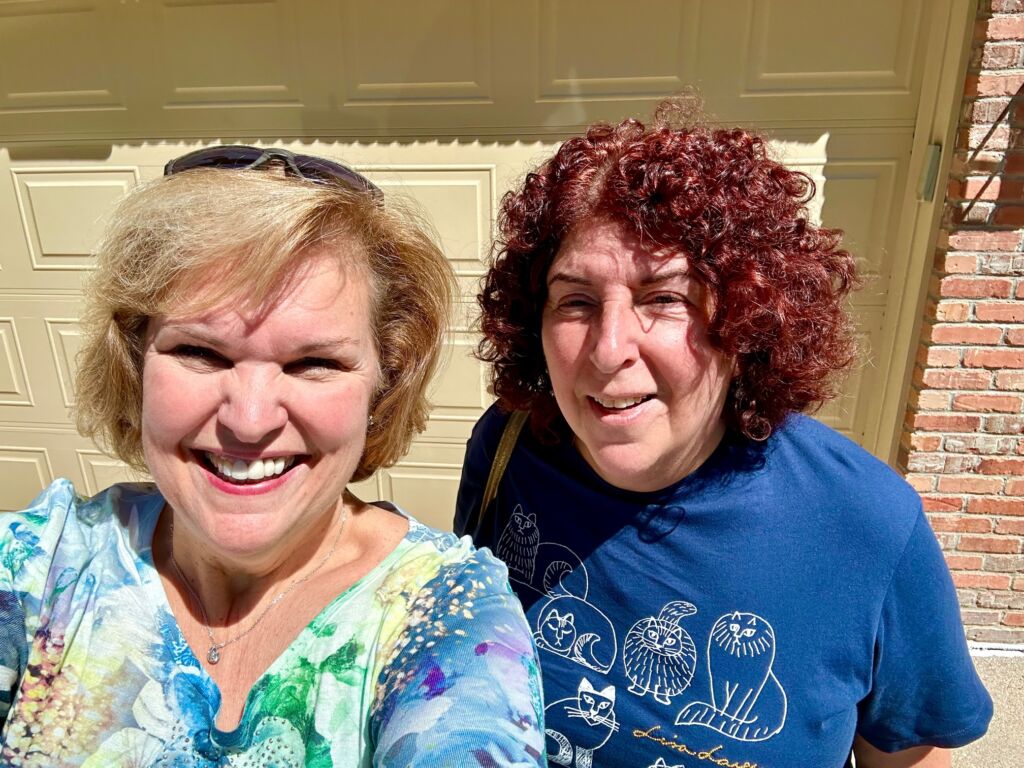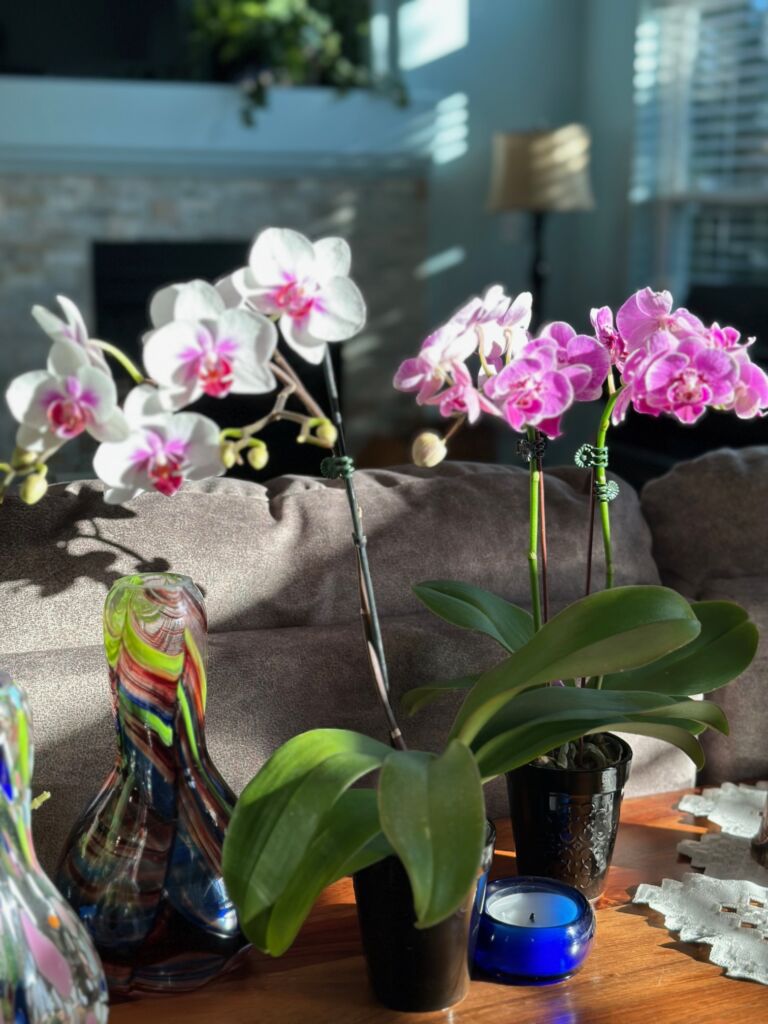 And our lovely friends, Mary and Mike from Australia, were so thoughtful to send me a gorgeous bouquet in a beautiful, reusable pitcher. It was such an unexpected and thoughtful surprise! So I can say that this birthday weekend is off to a fabulous start and I am ever so grateful for all the many blessings in my life!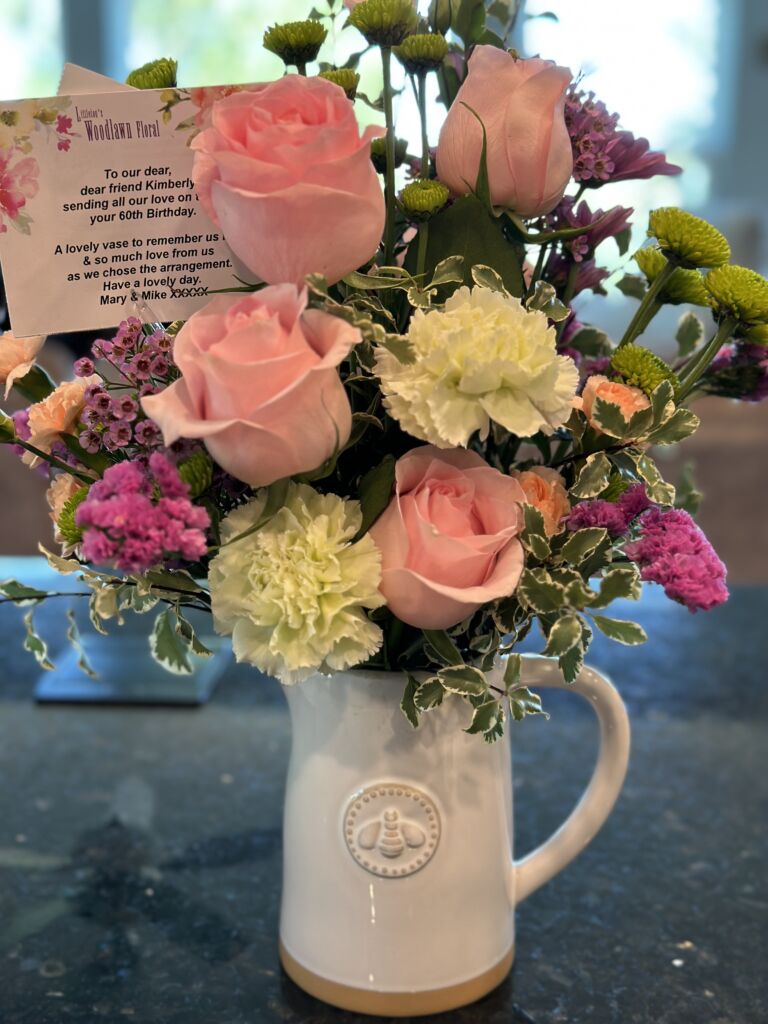 Along the birthday celebration lines, the good folks at the Electric Quilt Company came up with the super fun idea to have a big sale of my add-on software products this weekend. (They are 40% off!) So, if you haven't added these to your EQ library yet, now is definitely the time. Isn't the graphic they designed in honor of my birthday adorable?
I would love to hear a little note or comment from YOU. Please feel free to share a memory or fun thought about how we met or a class you've taken with me, or something funny, or even a photo of your favorite furry friend! That would be such a wonderful way to help me march forward into the next chapter of my life. 
God bless each of you, my friends. I am sew grateful for each and every one of you. I hope you have a marvelous weekend from start to finish!