I can honestly say after 28 months, we're through to the other side. Can you hear the sigh of pure relief? We are so full of gratitude, peacefulness and happiness. 
We're through the hurdles and hardships, the seemingly endless packing/unpacking cycle of moving is complete, renovations are finished, and we're completely settled into a home we love, in an area of the country we adore, and into a life that suits us perfectly. Repairs to our cabin, which was catastrophically damaged back in those historic blizzards this past February, are almost finished (finally!) and it will go on the market for sale in a couple of weeks. It's time to say good-bye to our little piece of paradise, but we're ok with that. Dreams change. And we must change with the times, too. We're in the process of figuring out what our new dream moving into the future will be! 
In the spirit of being honest and transparent, I freely admit I wish we hadn't gone through so much in the past couple of years. But life is full of unexpected twists and turns, and ultimately, by leaning into God to get us through those incredibly tough times, He has led us to where we are now. And we feel right smack-dab in the center of His will: right where He wants us to be. If you're going through some really rough times right now, I want to sincerely encourage you to lean into Him. He will lead you through dark tunnels and into the light!
Enjoying the changing seasons
For the first time in many years, I've been able to display Halloween decorations and hang autumn quilts. I pulled out some quilts that I made many years ago — some dating back to when I was a brand new quilter. What fun! 
A Podcast interview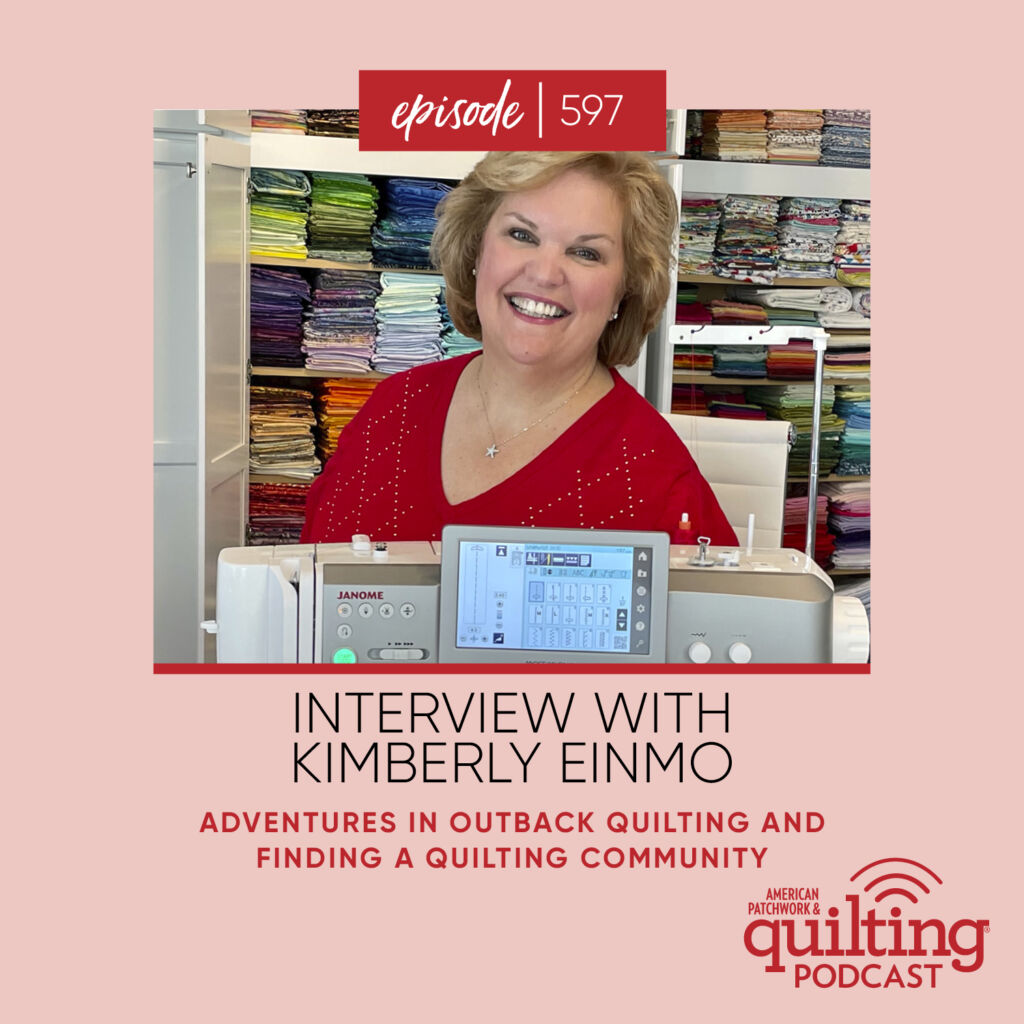 I was recently interviewed by Bethany Peterson, for the American Patchwork and Quilting Podcast. It was so much fun — and I was honored to be their featured guest! You can give it a listen by CLICKING HERE.
Welcome to my studio!
As for being settled, I thought it would be fun to share a few before and after pictures of my studio. We did a lot of work on the house we bought. It has great bones but was in need of many renovations, including the lower level where I have created a cute and cozy sewing nest. The previous owners had used this level as a sports den/media room, but I had other ideas!
We replaced the carpet with luxury vinyl floors, painted the walls white, changed the lighting to bright LED tru-color bulbs, refaced the fireplace, and brightened everything up with bold color by repurposing area rugs and adding colorful quilts on the walls. The ceilings are very low and there aren't many windows, so this area seemed "dark" prior to the updates. Now it feels warm, inviting, and most importantly, inspiring. It is also very functional. I have plenty of work stations with cutting areas at just the right height, and several different Janome sewing machines set up and ready to sew because I intend to invite friends over for retreats and charity sewing days. 
A few more photos of the main studio:
Welcome to the LOG Room!
My military husband named this room. It stands for LOGISTICS (otherwise known as WAR) ROOM. It's where the battle plans are drawn and tactics are employed. We added lots of cabinets and storage space but the true highlight of this room is the island, right in the middle. It was my idea but the hubster's design. Let me show you the before:
With only a below-ground, window well for light, this room seemed dark (even with the canary yellow walls) with a lot of wasted space in the middle of the room. The carpet was stained and worn. The only good thing about this room was the bank of cabinets with plenty of storage space.
Funny story, as I was unpacking boxes and trying my best to make this room "usable" for sewing, Kent came home from work one day to find me in tears. I told him it felt so unhappy and unusable; like a dungeon where I had been "banished." That's when he sat down beside me and we brainstormed ways to make it a space where I would want to go; to dream up new ideas and plans. He suggested I move my sewing machines into the main living space on the lower level and use this room specifically as a "war room." I loved the idea and we got to work drawing, measuring, planning, and designing. We then enlisted my newly found friend, Billy Rediess, of The Miter's Touch, to build the cabinets and island we dreamed up!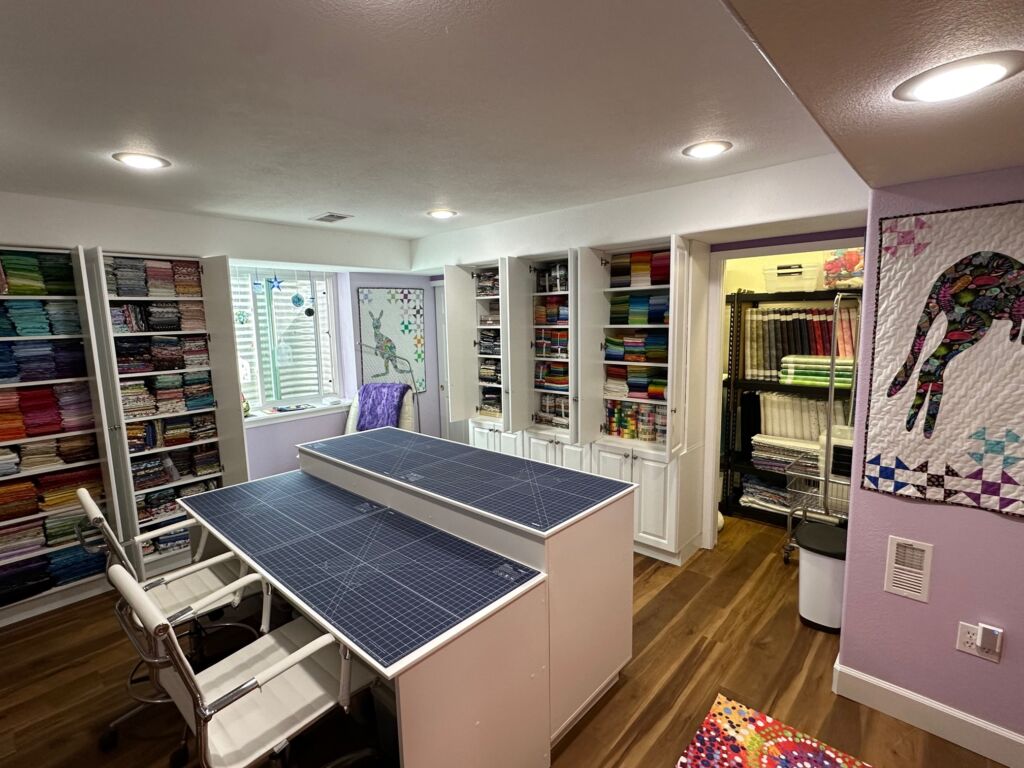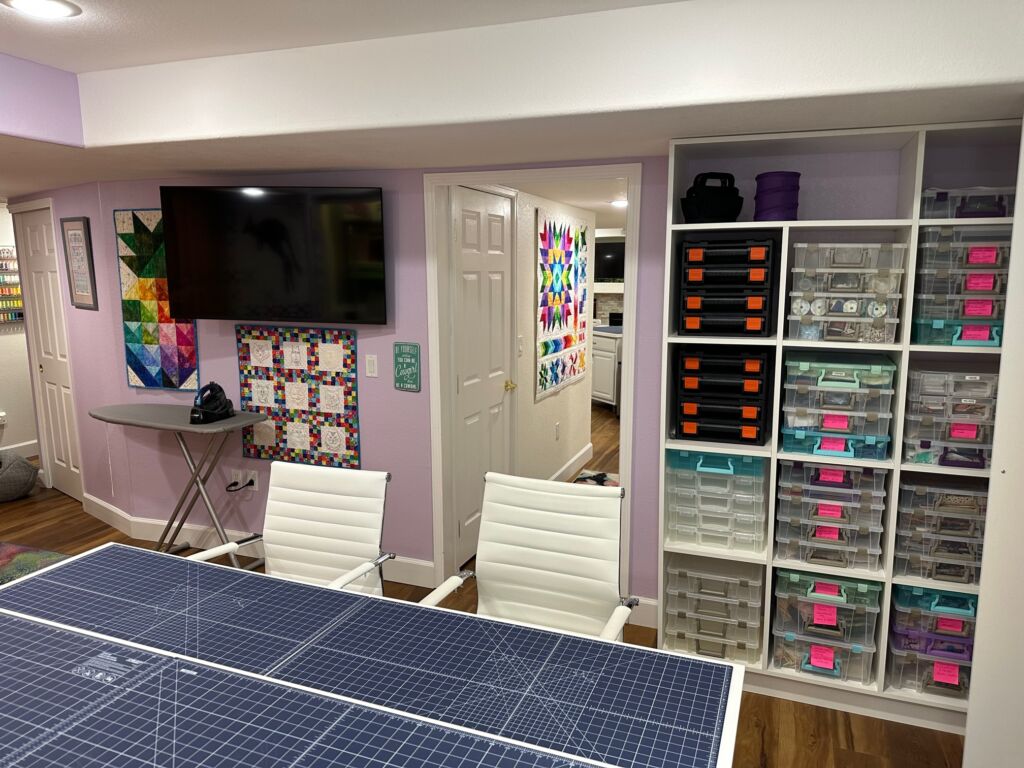 We painted the walls a gorgeous orchid color, replaced the worn carpeting with the same wood-grain vinyl as the other room, and added a big screen television, plenty of cabinets and an workspace island I adore! One side is exactly the proper height where I can stand to cut, and the other side is perfect for sitting to work. I added four new rotary cutting mats (24″ x 36″ each) to protect the Corian counters. The cabinets and shelves underneath the island hold clear plastic bins where items such as cork, stabilizers, and bag making supplies are stored. My stash and all my supplies are neatly stored and labeled properly, so everything is easily accessible. Behind the wall in the closet area, my husband hung peg boards where all my rulers are neatly stored. We also added a comfy electric recliner chair (found as a remnant, clearance item at a local furniture store)  next to the window which is perfect for hand stitching! I hung my favorite Roo! and Roo, Too! quilts on the walls, along with other small, bright and cheerful quilts, and a bright, bold, kangaroo rug I acquired while living in the Outback. Now this room is a place where I can't wait to be and I spend lots of time working in here when I'm not actually stitching on my Janome sewing machines. 
I've always told my students or people who attend my "Creative Spaces" lecture that if you can, choose the room with the best natural lighting for your studio. With this house, I was challenged because I ended up needing to take the space with the worst natural light and had to come up with clever ways to make it a space where I felt inspired and happy to spend time creating. So this proves that if I can do it, anyone can! You can use whatever space you have available to you and make it a place where you can't wait to hang out! 
Welcome to Rooville!
I'm happy to say that Rooville by Kimberly Einmo for Benartex is hitting store shelves NOW!
If you're looking for Rooville by Benartex, I know of a shop that is carrying the whole line and is ready to ship! Simply CLICK HERE to go to their website, or do a Google search! If your local shop is carrying Rooville, please let me know so I can add them to my list of shops — and send folks their way! (I'm always happy to support small businesses.) But don't wait….get your Rooville prints now! Be sure to set aside a fat quarter of each. I've designed a new, adorable quilt exclusively for American Quilter Magazine called "Rooville" with the cutest, sweet (and easy) kangaroo appliques, Aussie-inspired, pieced houses, and Ghost Gum Trees! Wish I could give you a sneak peek, but the quilt will be in AQ Magazine on newsstands and in mailboxes by next April. (Gosh, I know it's hard to wait that long….sigh.)
In the meantime, I have these patterns ready for you to download on my website! Simply click the link for each.
Roo Shoo! This pattern is FREE to download!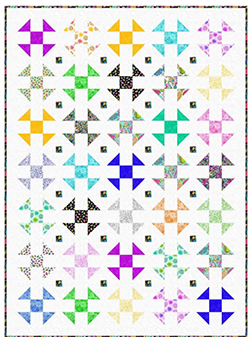 CLICK HERE FOR YOUR FREE PATTERN!
And another FREE pattern for you is ROO LINKS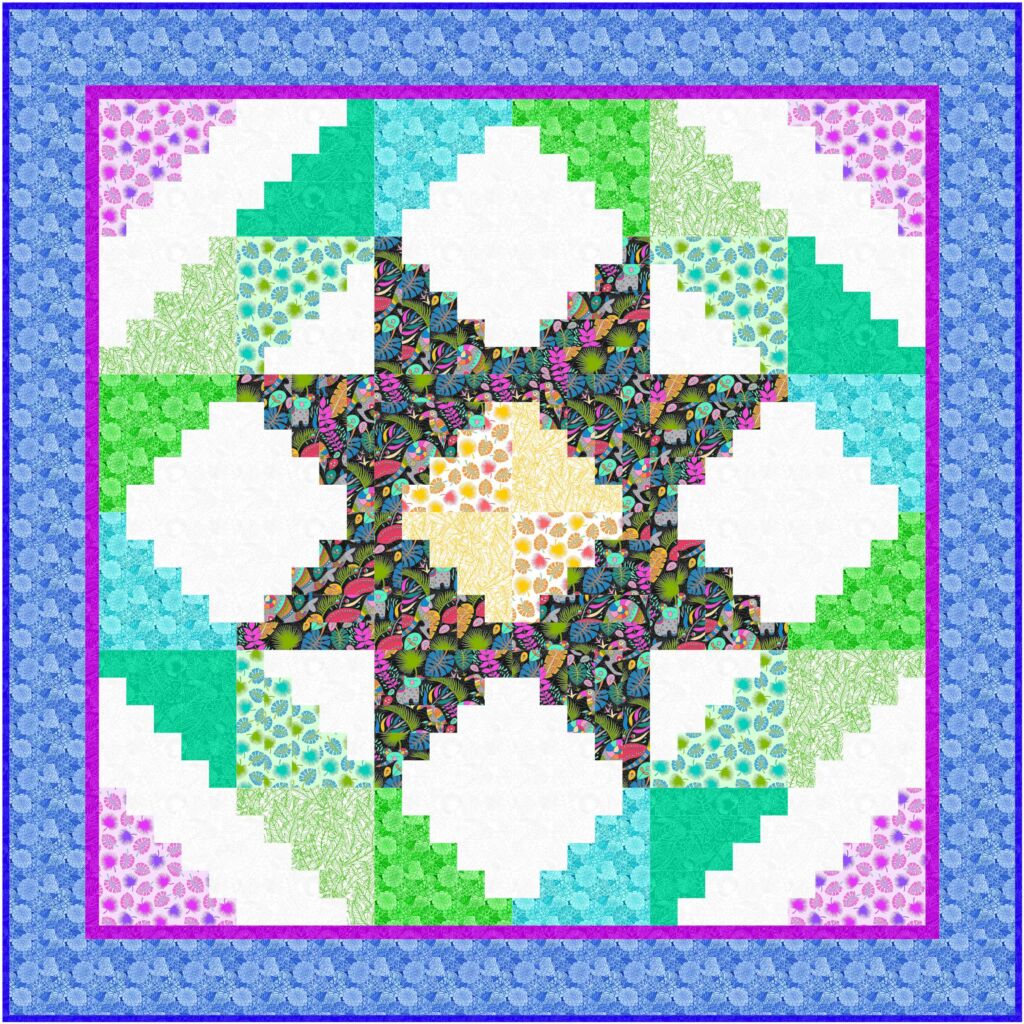 CLICK HERE FOR THIS FREE PATTERN
Roo!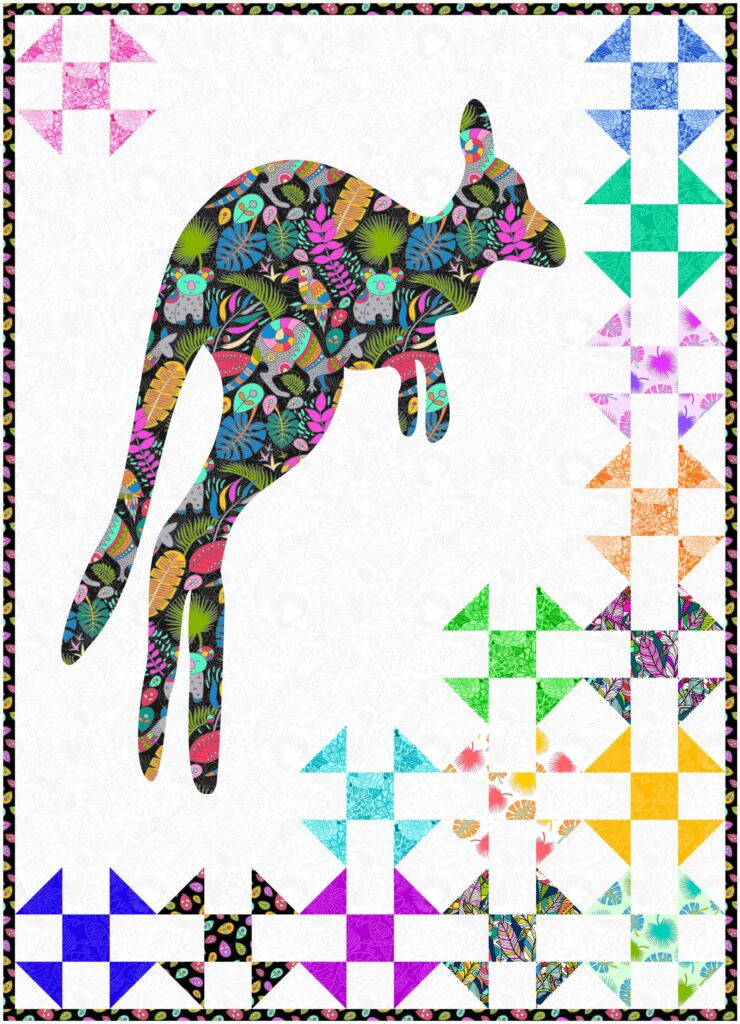 ROO, TOO!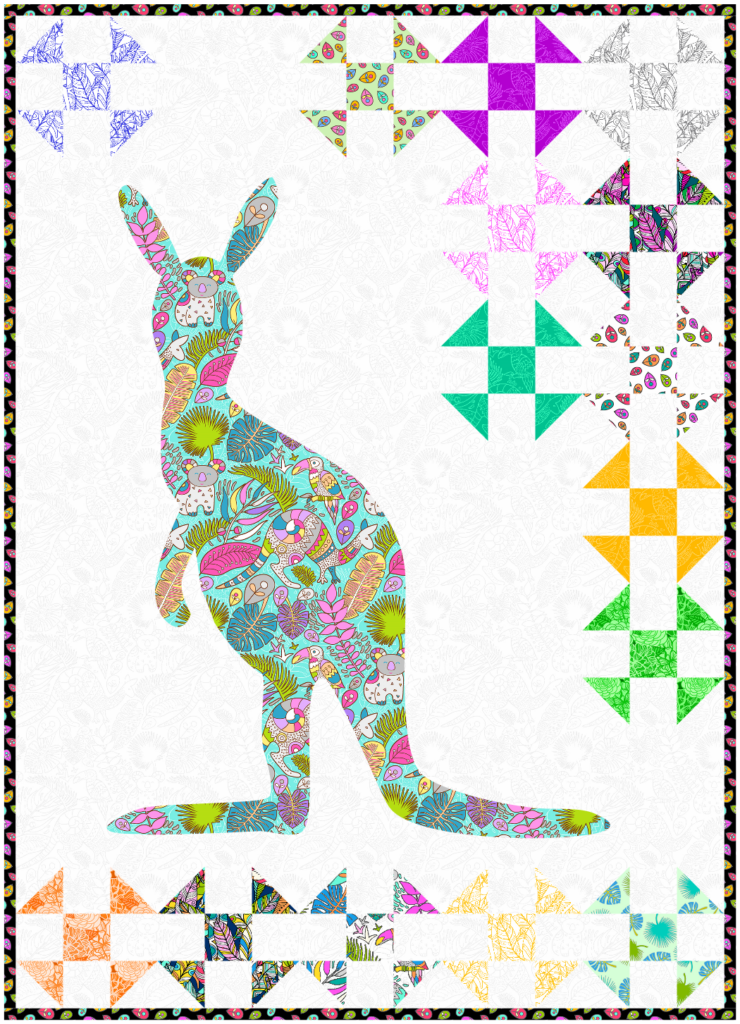 ROO TRACKS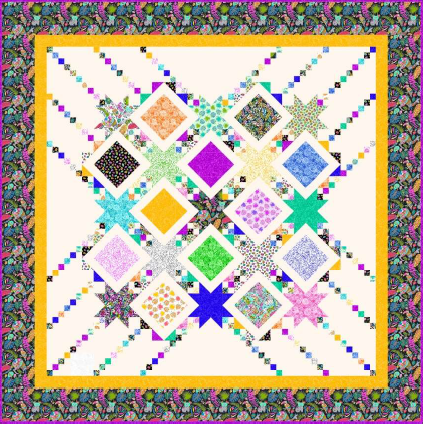 Incidentally, I loved making Roo Tracks so much that I made another quilt using a different line of fabrics for the holidays. It will be on our bed during the Christmas season!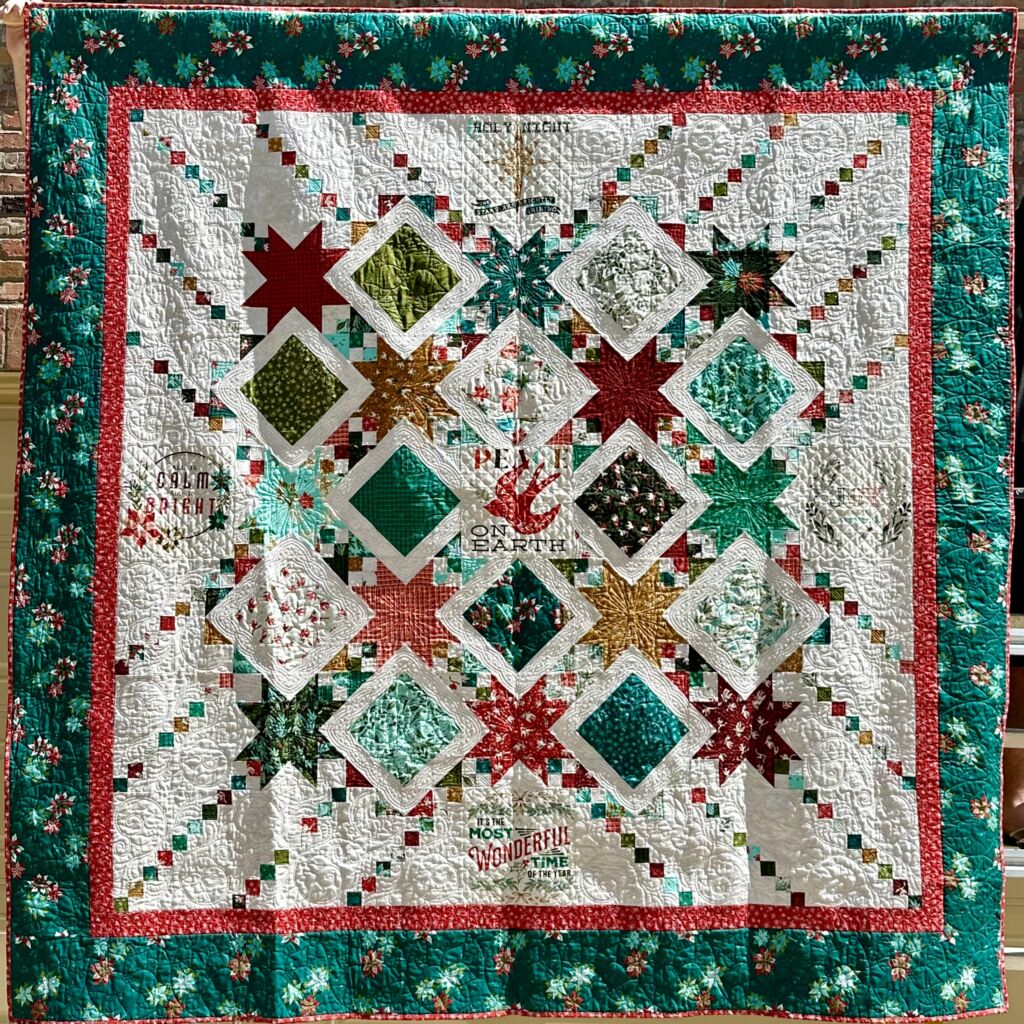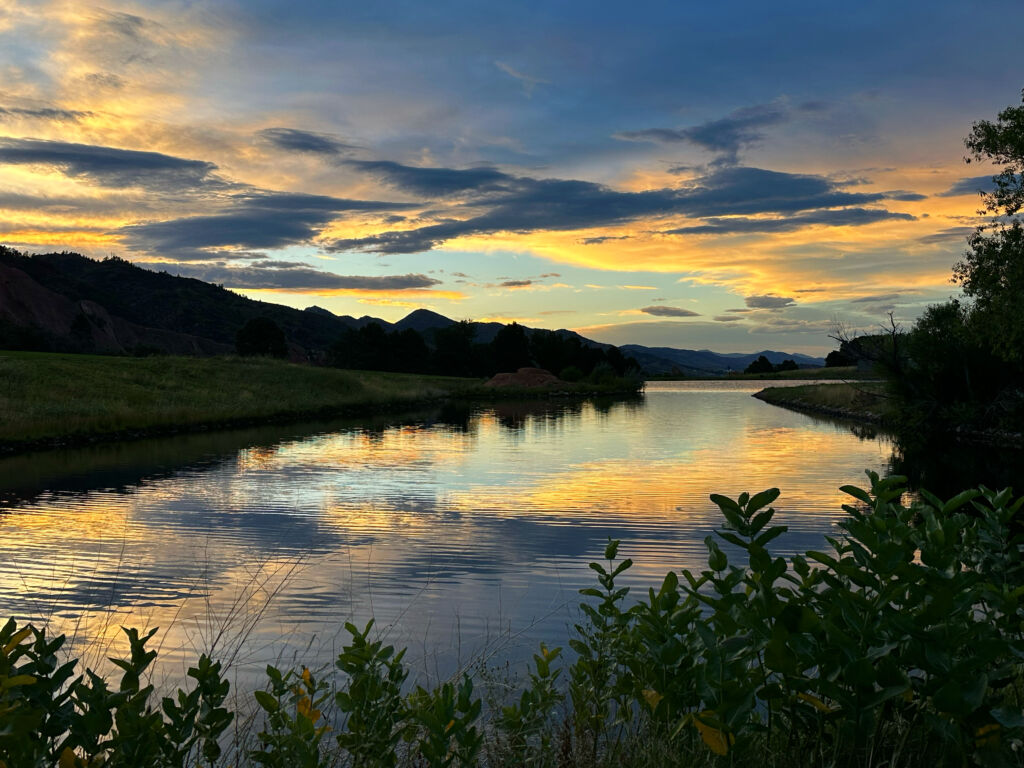 Thank you for taking time to read my newsy update. I hope you're making the most of every single day, and looking for life's "GLIMMERS" (they are unexpected, bright spots in your day; sort of like the "opposite" of triggers) along the way. You'll find glimmers everywhere, if only you'll look.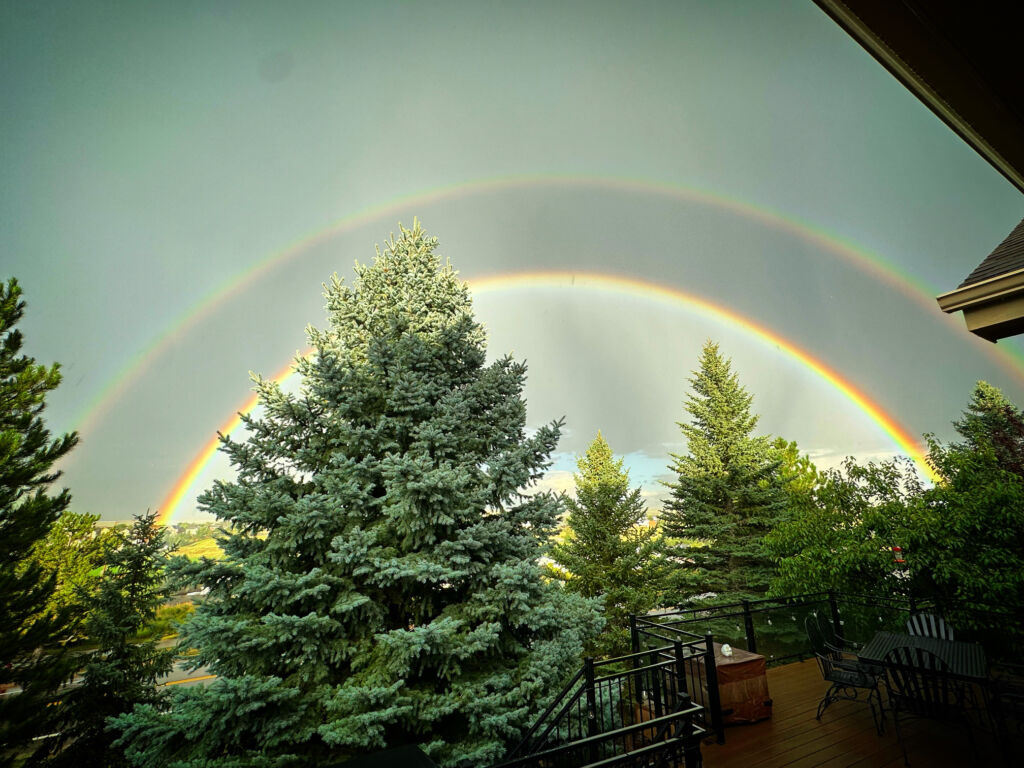 God bless you, and happy stitching!