Classes, Workshops and Lectures
Presented by Kimberly Einmo
Classes are offered as either a three or six hour class as indicated:
Three Hour Class – With some basic preparation and rotary cutting in advance as outlined in the supply list, students will learn the technique and be able to construct at least one or two blocks in class and leave with the confidence and expertise necessary to complete the quilt at home.
Six Hour Class – With some preparation as outlined in the supply list before class, students will learn the technique and have ample time to construct blocks and piece a major portion or possibly the entire quilt top during the workshop.
My Signature Series Techniques
Choose a class or workshop featuring my signature methods of fast, accurate rotary cutting and speed piecing or appliqué techniques! I'm one of those rare instructors who never, ever requires any student to purchase my rulers to attend class. Students are free to borrow a ruler for use in class from me!
EZ Jelly Roll Ruler              
Easy Star and Geese Ruler
EZ Pineapple Log Cabin Ruler
EZ Hearts Cut Tool
Lonestar Strip Magic
3 or 6 hour class / Skilled beginner or intermediate level
Most people don't think of Jelly Roll strips and Lonestar blocks as being very compatible but the truth is, they
were practically made for each other! Using the EZ Jelly Roll Ruler and 2½" strips (either from a pre-cut bundle or your own stash of fabrics) I'll teach you to quickly and expertly strip-piece and cut diamonds and assemble a traditional-looking Lonestar block. The magic with my method is there are no "Y" or set-in seams! Sound impossible? Not with my new technique and precision-pieced method! Simply choose 40 strips plus 1 background fabric and you'll be finished with a stunning block in no time at all. Perfect for rainbow fabrics or any planned scrappy fabric collection! (Please allow a 6 hour workshop for the rainbow version. Non-rainbow version can be pieced in 3 hour workshop.)

Lone Starburst
6 hour class / Intermediate level
All it takes is 40 – 2½" strips (from a purchased pre-cut bundle or strips cut from your own stash) plus one background fabric and the diamond design possibilities are practically endless! I'll teach you how to strip-piece and cut diamond building blocks from strips using the EZ Jelly Roll Ruler using no "Y" or set-in seams, and from there you'll design your very own, completely unique Lonestar variation quilt. Although the first part of the class focuses on fast and efficient cutting and piecing diamond units, the latter part of the class will focus on design elements and the almost limitless possibilities for designing your own quilt layout using diamonds. The real magic comes from the fact that the quilt is assembled using straight-set blocks – not diamond wedges or blocks on point. This is an eye-opening class for anyone who wants to create a completely one-of-a-kind quilt with a Lonestar twist!
Precut Pizzazz!
6 hour class / Skilled Beginner or intermediate level
Precut fabric packs continue to be in high demand as quilters everywhere discover the ease and joy of scrappy quilting without all the fuss. This workshop explores many creative design possibilities of using a Layer Cake bundle, or any group of forty 10" squares. (Perfect for stash-busting!) I'll teach you some great new rotary cutting and piecing techniques while you hone your precision piecing skills.
We'll explore various ways to use those specialty sewing machine feet you have on hand but don't know how to use while you machine appliqué and embellish your designs with decorative stitches, threads, rickrack, trims and more. You'll learn to assemble prefect flying geese in straight-set blocks with the illusion of being diagonally set. The pattern only looks complex! There are simply so many design options in this workshop that you'll be able to personalize your quilt and make it uniquely your own. Come prepared to learn and recharge your creative mojo while having a fabulous time creating a fun little quilt chock-full of new techniques!
Faux Cathedral Windows
3 hour class / Skilled Beginner or intermediate level
Tons of fun and oh-sew-easy to do, this fabulous quilt can be made using a Layer Cake or charm pack (choose any group of fabrics with at least 40 – 10″ or 5″ squares) and some contrasting fabric for the arcs. You'll use fusible web and simple machine appliqué to create the look of a traditional cathedral windows-style block, but this pattern lets you showcase a scrappy group of fabrics in a modern, uncommonly used setting. Low-key and relaxing, this class is perfect for playing with the placement of your fabrics while perfecting different techniques of basic machine appliqué stitches. If your machine can zig zag, you can make this quilt. Two lay-out options provided in class; choose your favorite and stitch the day away!
Rainbow Geese Crossing
3 or 6 hour class / Intermediate level
Have you seen those delectable rolls or precut packages of rainbow-colored strips but you weren't quite sure what to do with them? Rainbow Geese Crossing is the perfect pattern to feature those luscious fabrics! The best part is that the work of planning has already been done for you. Simply bring your 40 – 2½" strips to class in the order they came rolled up (or use the color wheel as a guide while you create your own rainbow roll of strips from fabrics in your own stash) and a contrasting background fabric (white or black works perfectly) and come prepared to create your own glorious rainbow! The best part about constructing these fanciful flying geese is using my signature NO MATH, NO WASTED FABRIC and NO STRESS method! You'll delight in piecing a quilt using nothing but straight-set blocks that only look as though they are set on point.  
Jelly Roll Magic!
6 hour class / Skilled beginner or intermediate level
Pre-cut fabric packs are the hottest trend in quiltmaking today and quilters just can¹t resist these delectable textile treats! But what do you do with them? This fast-paced, fun-filled, hands-on workshop is the perfect answer to turn all those enticing 2½" fabric strip bundles into fabulous quilts! All you'll need is one Jelly Roll plus 1½ yards of background fabric to get started. I'll show you how to use my EZ Jelly Roll Ruler to make cutting the units accurate, ultra-fast, and fun! In class, you'll choose from dozens of block styles designed to work perfectly with Jelly Roll strips. Love the idea but don't have just the perfect Jelly Roll on hand? No problem! I provide alternate yardage requirements to show you how to use strips from fabrics you already have on hand. Perfect for stash-busting! I'll share dozens of fast and efficient piecing techniques guaranteed to improve your accuracy while saving you time, effort, and even wasted fabric. So, come have a great time and leave feeling like a pre-cut fabric pack pro. 
Cut the Cake – Slash and Shuffle, Fun with just one Layer Cake
3 or 6 hour class / Skilled beginner level or higher
This fantastic quilt packs a visual punch yet is fast, funky, and just plain fun to make! No matter how you stack your fabric layers, once you begin shuffling the pieces, every block will turn out just a bit different and the end result is guaranteed to be a delightful surprise. Pick any layer cake bundle (or 36 of your own 10" fabric squares) plus one yard of a dramatic contrasting fabric to make this original quilt.
There's no math, no wasted fabric – just no-calorie, fat-free fun. Now, that's what I call having your cake and eating it too! 
Chain Saw
3 or 6 hour class / Intermediate level
This stunning quilt looks incredibly complex, but is really quite easy and so much fun to piece. It requires just one Layer Cake and one Jelly Roll, (or Two Layer Cakes) plus 2¾ yds. of background fabric. If you enjoy fun surprises when you rotary cut, you'll love this design. No matter what fabrics you begin with, the finished blocks will look oh-so-different than what you would expect.
I'll share dozens of helpful hints and tricks with you to make these blocks of many seams stitch together with absolute ease. The finished quilt will certainly dazzle your family and friends and the fabrics will dance delightfully with motion and excitement!
Caribbean Sea Stars
6 hour class / Intermediate level
In this high-energy class, I'll share my precision cutting and piecing methods while keeping you entertained with my own style of humor and sunny disposition. My signature technique features NO MATH, NO WASTED FABRIC, and NO STRESS using my amazing Easy Star and Geese Ruler. You'll love this magic method for piecing perfect flying geese, half-square triangle units and highly versatile eight-pointed stars while constructing a gorgeous quilt top. But this is only where the fun begins! I'll show you how to expertly piece pinwheels with perfect points without the use of pins. (Really!) The creative energy and ingenuity will flow like fresh island breezes and you'll create a fabulous quilt which looks complex; only you will know how easy-peasy it was to put together with straight-set blocks.
Simply Stars and Geese
3 or 6 hour class / Skilled beginner level or higher 
You're entering the NO STRESS zone! Featuring my revolutionary rotary cutting and piecing technique, you'll love this magic method for making flying geese units and highly versatile eight-pointed stars while constructing a beautiful quilt top. I'll teach precision cutting and piecing methods while keeping you entertained with my own style of humor and sunny disposition.
You'll have ample time to explore many creative design possibilities in this energizing class. Just bring a sharp rotary cutter along with your prettiest fabrics as outlined in the supply list to make this dynamic, quick-and-easy wall hanging. Pattern is also available as a queen-size coverlet. 
Perfect Pinless Pinwheels
3 or 6 hour class / Skilled beginner level or higher 
Fresh as a spring breeze, this quilt is an absolute delight to make! I'll begin by teaching you the basics of Triangles 101 – and why bias matters. You'll learn to expertly cut half-square and quarter-square triangles easily and accurately from simple fabric strips. No more cutting squares first and then cutting them diagonally. Impossible? Not with my amazing Easy Star and Geese Ruler! With this method you'll be able to piece the blocks without worrying about bias edges or trimming units, and best of all, NO PINS! (Really!) This quilt features pinwheels with a twist – and a stunning flying geese border assembled from those same strips used for the blocks. Lots of fun and chock-full of helpful hints and clever tips, come join the fun and capture the feeling of a spring breeze by making a quilt of fancifully colored pinwheels and flying geese! 
Bermuda Triangles
6 hour class / Intermediate level
This quilt may look challenging, but piecing the units is completely stress-free with my Easy Star and Geese Ruler. With proper planning and clever fabric placement, you will be able to assemble this quilted beauty with ease. I'll expertly guide you through each step to assemble the blocks so even though they are set together in horizontal rows, the fabric placement disguises where one block ends and another begins. We'll spend time discussing the wide range of design opportunities and creative use of color, value, and scale of prints.  While not difficult to piece, this class is best suited for intermediate or higher level quilters. I'll give each participant lots of hands-on, personal attention to help you explore "outside the box." Join the fun and watch your triangles transform into a stunning quilt! 
Pineapple Log Cabin Quilt
3 or 6 hour class / Skilled beginner level or higher
Do you love the look of traditional pineapple quilts but thought they might be too challenging to piece? By using my signature method and the Easy Pineapple Log Cabin Ruler, you will easily and accurately construct pineapple blocks to create a stunning quilt all the while having fun in the process! The traditional pineapple block offers unlimited design options for color placement. I'll discuss fabric selection, rotary cutting, piecing and quilting options at length in class. Using this unique and amazing ruler, you will only cut straight of the grain strips of fabric and never need to cut a trapezoid. Sound impossible? Sign up and see what this remarkable ruler and piecing technique can do for you! 
Perfectly Wonderful Bindings by Machine
3 hour class / Skilled beginner level or higher
Most quilters don't especially enjoy stitching down the binding on a quilt by hand, but the quality and results of stitching both sides of the binding by machine have been troublesome and less than acceptable. Until now. Join me for a three hour technique workshop and I'll show you my new method of how to expertly stitch the binding on completely by machine! As a quilt judge, I don't recommend this method for any of your quilts you intend to have juried into contests, but for all the quilts you intend to use, give as gifts, use for babies or donate to charity, this method is a perfectly acceptable way to stitch those bindings in a jiffy and have fun in the process. Spend the afternoon with me and find out how!
Mystery Quilts
6 hour class / Skilled beginner or intermediate level
Do U do KMQs? (This means "Do you do Kimberly's Mystery Quilts?")Are you one of the many quilters who love to make my original mystery quilts? Or does the very thought of choosing colors and making a quilt for which you have no idea what the end result will be scare you? Fear not! Whether you are a seasoned veteran and you thoroughly enjoy the intrigue and suspense of not knowing the final outcome; or if you have never had the courage to tackle making a mystery quilt before, my mystery quilt classes and patterns are just for you.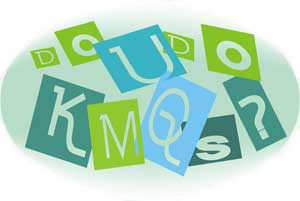 I've designed the entire process to be simple, fun, and stress-free so you can take as much risk as you like in making your fabric selections, or risk nothing at all. Step out of your "color comfort zone" and try something new. The rule of thumb is this: if your fabrics have good contrast, look great when lined up together, and match the color value as given in the fabric requirements table, then they will look beautiful when sewn together in these quilts. The success of your mystery quilt is certain. These classes are suitable for any quilter with some rotary cutting and machine piecing experience.
A Mystery Quilt Designed EXCLUSIVELY for YOU! I'll design and name a mystery quilt specifically for your quilt conference or show featuring blocks uniquely representative of your region, community or event. This class is sure to be the first to fill up with attendees who will want to take home a unique quilt top designed especially for your premiere event!
Choose from these highly popular, stunning mystery quilt patterns:
Delectable Delights
Sangria!
Northern Lights
Desert Sunset
Rhein Wein
Star Trail
Fractured Light
Trail to Paducah
English Enchantment
Inaugural Star
Twist and Shout
Serenity Garden
(Contact me to see images of these quilt designs.)
Lectures
Jelly Rolls & Precuts = A Recipe for Design Success!
You've heard about them. You've seen them. But what can you do with them? Well, let me introduce you to the delectable world of calorie-free fabric delights! These pre-cut bundles are pint-sized powerhouses of scrappy design opportunity just waiting for you to cut and sew! I'll share photos, quilts and more inspiration than you can imagine in an hour to tantalize your "inner design chef" and get you excited about working with these amazing fabric bundles. Even if you don't plan to use these pre-packaged fabric lines, you'll find plenty of inspiration for stash busting from your own fabrics, and ways to use up those leftover strips and squares. You'll be scrap happy and itchin' to stitch by the end of the hour!
View the World Through A Quilter'sEye
Whether you travel the world or never leave town, you'll find patterns, designs and inspiration for your quilts everywhere! You just need to learn how and where to look for all those creative design possibilities in the world around you. I'll share a fun-filled mini trip through Europe with a vast selection of gorgeous photos and tell you about the inspiration for many of the quilts in my book, Quilt A Travel Souvenir. I'll also offer you many innovative ways to gather your own ideas and incorporate those design elements into your quilts! Using my own brand of humor and story-telling, I'll tell you about some of my personal experiences and offer many helpful tips for viewing Mother Nature and the endless possibilities in the environment around you so you can visualize these inspirations, too!
 PowerPoint presentation with slides.
 Approx. 50 – 60 minutes, and I'll be happy to answer questions following the presentation.
Trunk Show
Would you like to see the gorgeous quilts featured in either of my books up close? I'll share many of the entertaining stories that inspired their creation. The trunk show can easily be combined with the lecture and power/point presentation for a dynamic, interesting, afternoon or evening presentation. Sit back, relax, and be an armchair traveler as you spend an hour or two with me as your guide for an entertaining journey through Europe with my quilted souvenirs!
Approx. 30 – 45 minutes in length; 90 minutes total when combined with a lecture and PowerPoint presentation.
"They Put Those Lines on the Mat for a Reason…."
1½ hour comprehensive rotary cutting demo-workshop / Beginners and all skill levels
This class is designed especially for beginning quilters; however, even more seasoned quilters will learn a few new tricks! I'll teach students how to expertly master the rotary cutter using a variety of professional rotary cutting techniques. Learn how to "measure twice and cut once" to ensure accurate strips and units, including how to effectively use the lines on the mats, how to cut with a variety of specialty rulers, and more.  I'll teach you how to "true-up" your fabric, and how to cut on the straight of grain as well as cut bias strips. I'll even show you a foolproof way of achieving perfect strips of striped fabric without cutting! Bring your rotary cutter, mat, 6" x 24" ruler, and any other rulers you'd like to master. This is a great beginning level class, but quilters of all skill levels are welcome and will leave feeling like a pro.
No previous skills required; rotary cutter, self-healing mat, and 6" x 24" ruler required. Students may bring any other rotary cutting supplies and rulers as desired.