For those who follow me on social media or here on my blog, you may have noticed it's been a little quiet from our corner of the world in recent weeks. So many of you who have written, texted or emailed to check on us and I sincerely wish to thank you for your concern. Your notes of love and support mean more than you could ever know! I've tried to answer each one personally; I hope no one was overlooked and if you didn't receive a personal response from me, I apologize. It was not intentionally done.
For many weeks we've been continually dealing with day to day chaos and transition stemming first from our hasty relocation back to the USA from Australia in early 2023 for personal safety and other reasons. Our home was broken into by armed men while Kent was asleep upstairs (caught on Ring camera). I can say with assurance it was by the grace of God he was not harmed. But my goodness, it shook us both up! That incident was closely followed by living in complete survival mode because of the catastrophic damage and subsequent "red tagging" of our home in the mountains of Southern California from the historic blizzards in February. 
In January, we were in the process of planning a new beginning and transition to another state. We put a contract on a home with "good bones" very near to where hubby was going to work (a short commute for the first time in more than 30 years!) but we knew the house would need a lot of renovations. We thought we had time. In early February we began to prepare our cabin to be listed for sale in mid-March. We even had professional real estate photos taken and were well on our way to listing the cabin for sale. 
Mother Nature had other ideas. THE blizzard hit. The weight of 10+ feet of snow, followed by two subsequent heavy snowfalls with an additional 4+ feet of snow, was just too much and our cabin succumbed. It wasn't just the deck that buckled; the joists running through the house supporting the deck also sustained major damage causing the entire structure to be unsafe. We were given a short amount of time by the fire department to salvage what we could and then vacate so utilities could be disconnected from the house, due to fire hazard.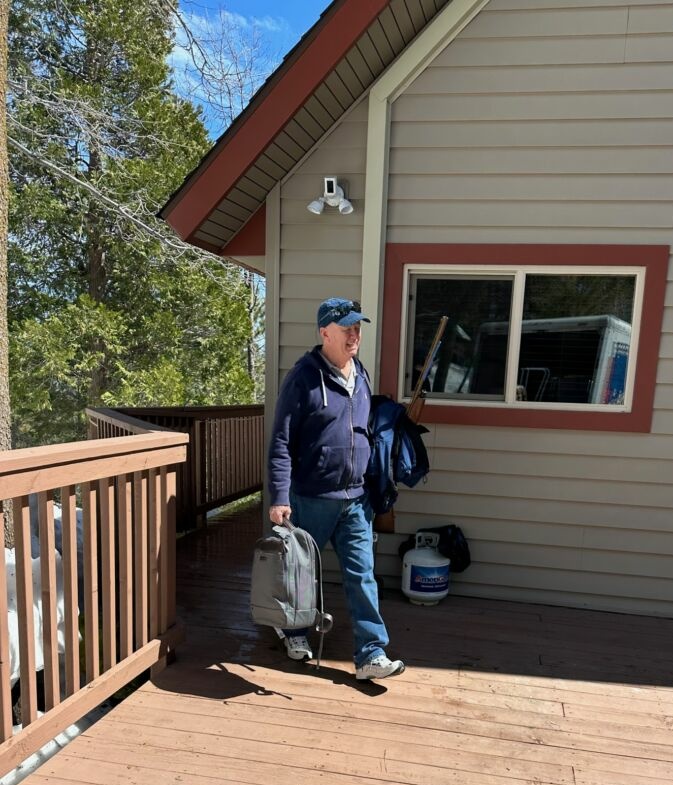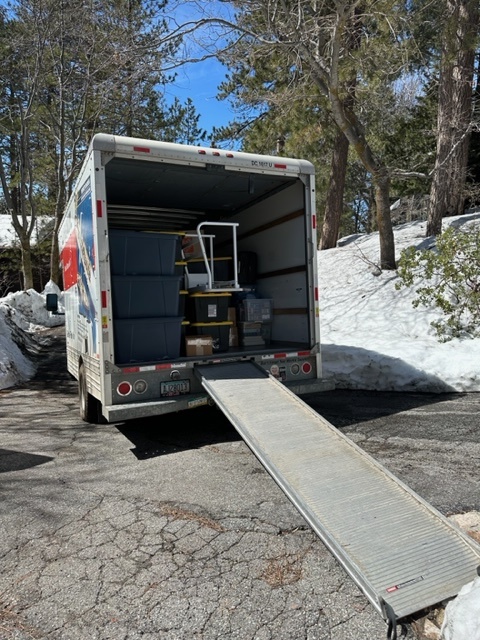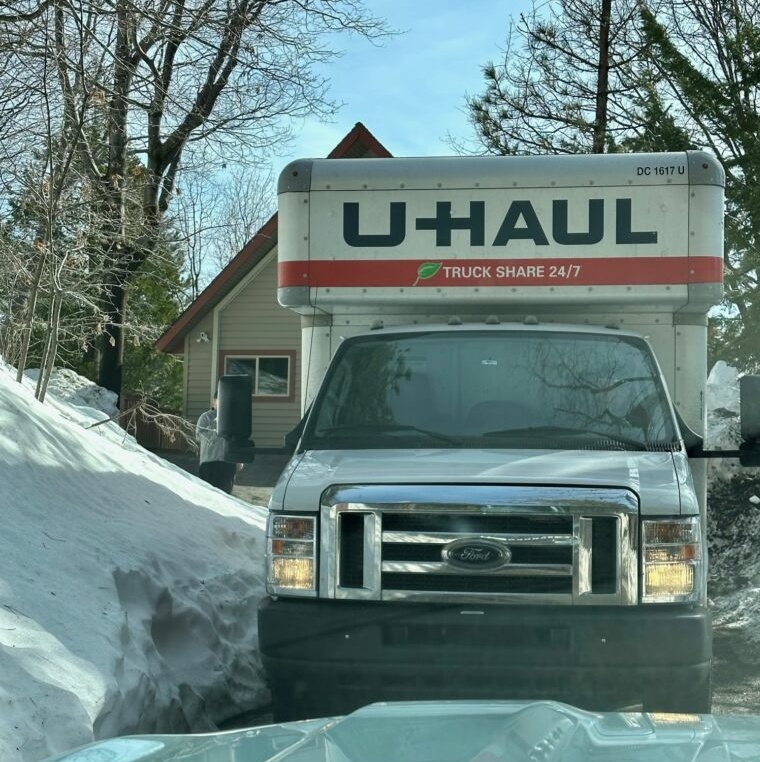 With so many local folks dealing with similar property damages and other tragedies, and no one but residents allowed to even drive on the mountain roads for almost a month, it was left to only Mr. Kim, our son, and myself to rent a U-Haul truck to save the things we could. We worked frantically for several days (and nights) to pack, load, then carefully maneuver the winding, icy roads to reach a storage unit. Back at the cabin, with every creak of the fractured support beams or gust of wind, we were terrified the deck would collapse 26 feet to the ground and tear the back wall of the home away at any moment. I'm sure you can imagine the intense stress, fear and heartbreak of the situation. We barely slept. There were lots of tears. We were absolutely poised to get the cats and ourselves out of the house at any moment to safety. 
Ultimately, we were living out of suitcases for more than six weeks. The new mortgage company moved heaven and earth to get the closing date on the new-to-us home moved up and thankfully, we were able to settle and sign paperwork at the end of March.  
Mr. Kim had to fly ahead to begin his new job, so it was left to Josh and me to caravan our way from the San Bernadino mountains on Interstate 70 East. I never thought we would make a 14 hour drive in one day, but we did. And it was an amazing and breathtaking experience! On this trip, with four cats in my car and three cats in Josh's car, and we wound through some of the most beautiful sights in the western states! 
We arrived just about two weeks ago to our new state and new-to-us home. We had to immediately dive in and begin major renovations, all while trying to keep the cats calm and sequestered so they don't escape while workers are going in and out all day long! Don't misunderstand: I'm grateful to have a home so we're not living in a hotel (very expensive) or some other temporary digs, but we hadn't planned to live here while all the work was going on. And the furniture we managed to bring with us is temporary because our household goods are on a cargo ship somewhere on the Pacific Ocean and won't arrive until June or July. Back in January, if we could we have seen into the future the events which would unfold in February, we would have opted for a move-in-ready home located further away from hubby's office. But only hindsight is 20/20, right? So we're adapting. Taking things one step at a time.
Fortunately, the painting inside the house was finished by the end of the first week. Let's just say the former owners' decorating style was different than ours.
This week, new floors are being installed. The workers' saws are running about 11 hours a day (not an ideal way to make friends with new neighbors) and the grit makes it seem like an indoor sandstorm! Next week major kitchen reno begins. There is still so much to do but I keep reminding myself, "one step at a time." We are making progress.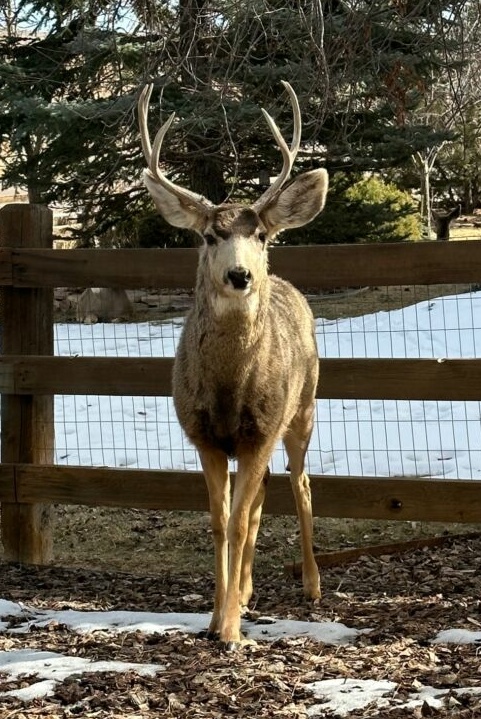 Some of you know the new state where we have relocated, but for those of you who don't know, would you like to venture a guess? How about another hint?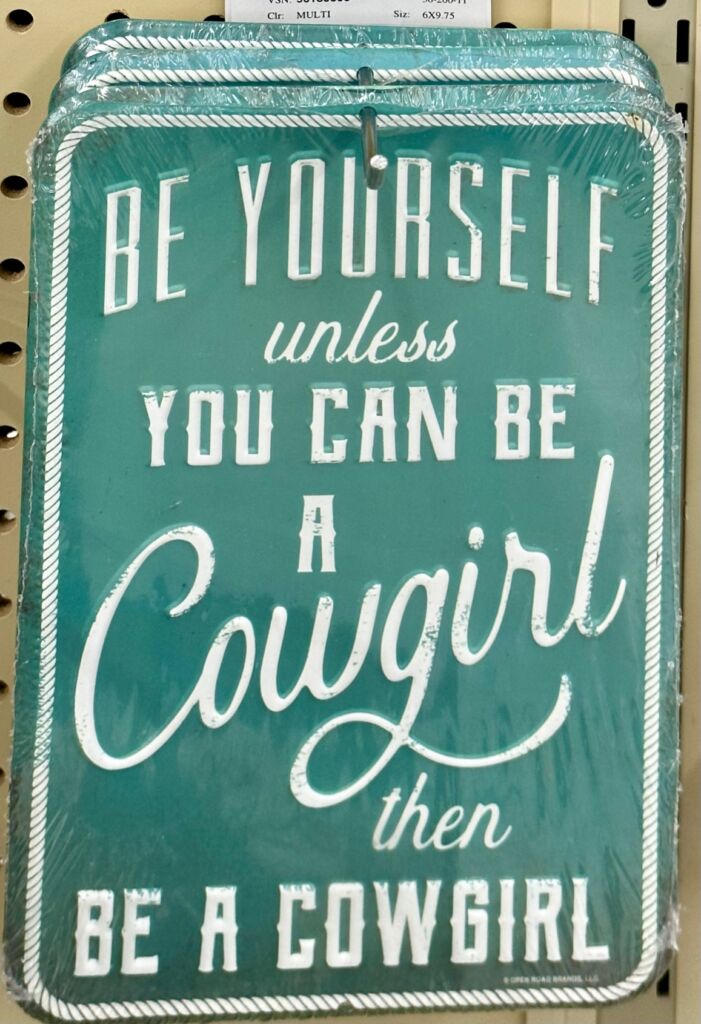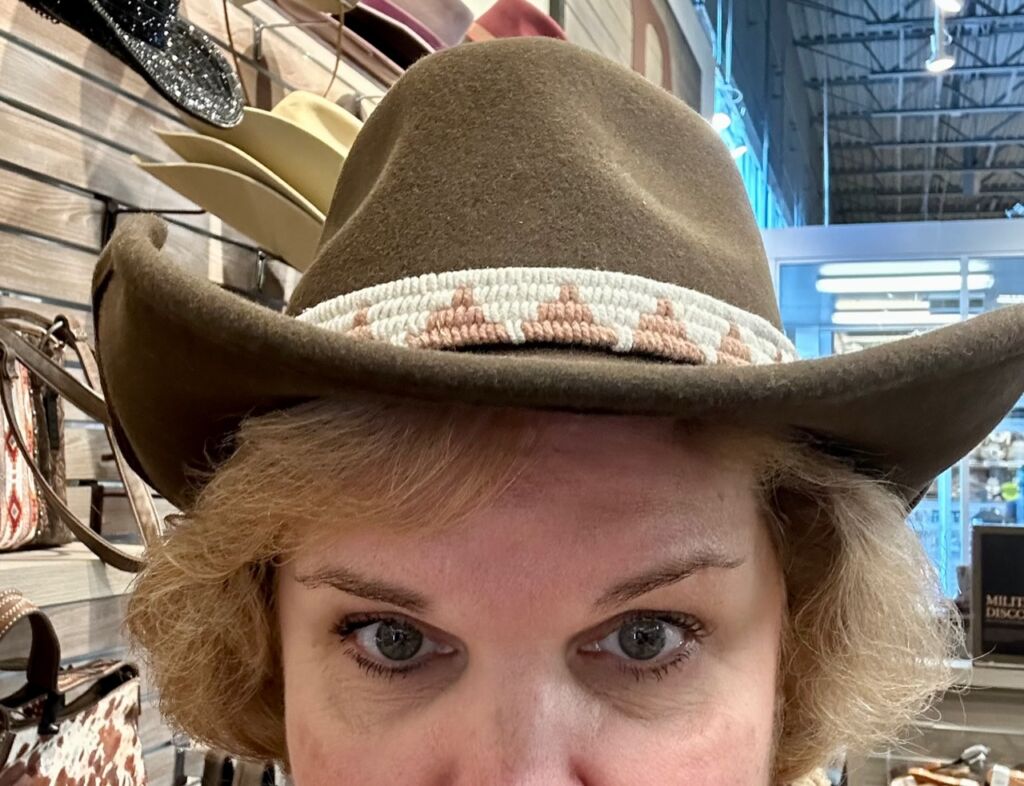 We've moved to the Denver, Colorado area, and we're embracing everything "western." I've never worn a cowgirl hat in my life but I own one now. I've already learned to love wearing cowgirl boots. There's a first time for everything, right?
Speaking of firsts, our eldest son chose to relocate to the area with us and he's on the verge of an exciting new career here in the area. He'll be moving into his own bachelor digs soon, but I love the blessings of having family living close by, which hasn't happened for us in about eight years. We view this new beginning as a time for our family to rally, recover, and regroup. I'd like to share these sweet photos of the day this past week our son received a fabulous job offer from a local bank.  
These past two years have been — there's no other way to say it — tumultuous. The past six months have been amplified by being filled with angst and actual trauma. There's no doubt we need to take some time to recover and get ourselves settled into what we plan to be our future and forever home. We're both done moving. We are choosing to plant roots, build relationships, and nurture family and friendships. A huge blessing is we have already found a wonderful local church to call home. We've been attending faithfully and I snapped this photo as we emerged from the Good Friday Service last week. I believe it is a sign of good things to come as we work to put the past two years behind us.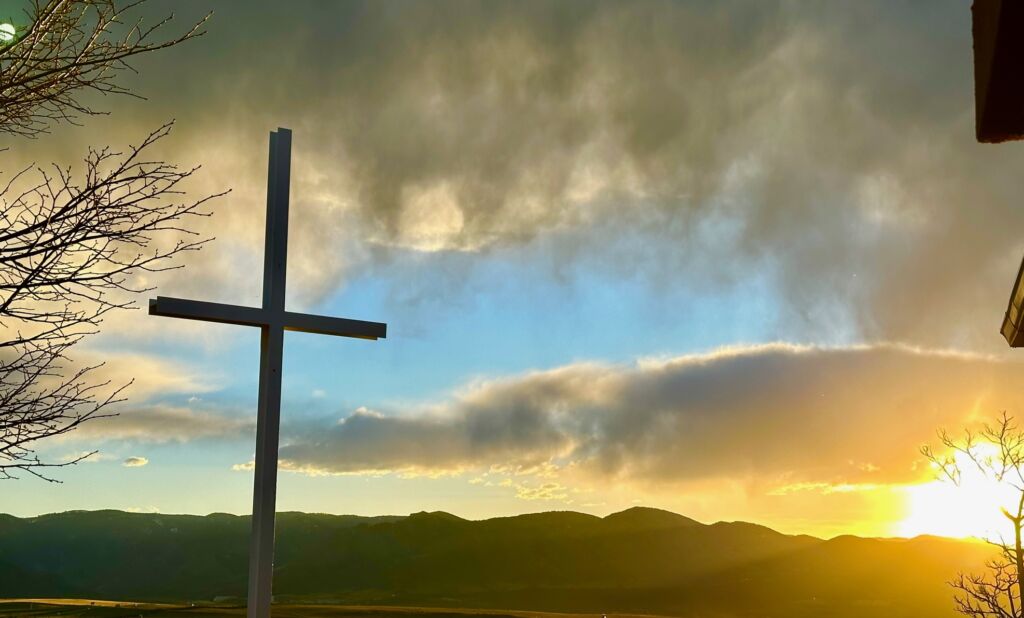 This morning, I awoke to this view from our bedroom window.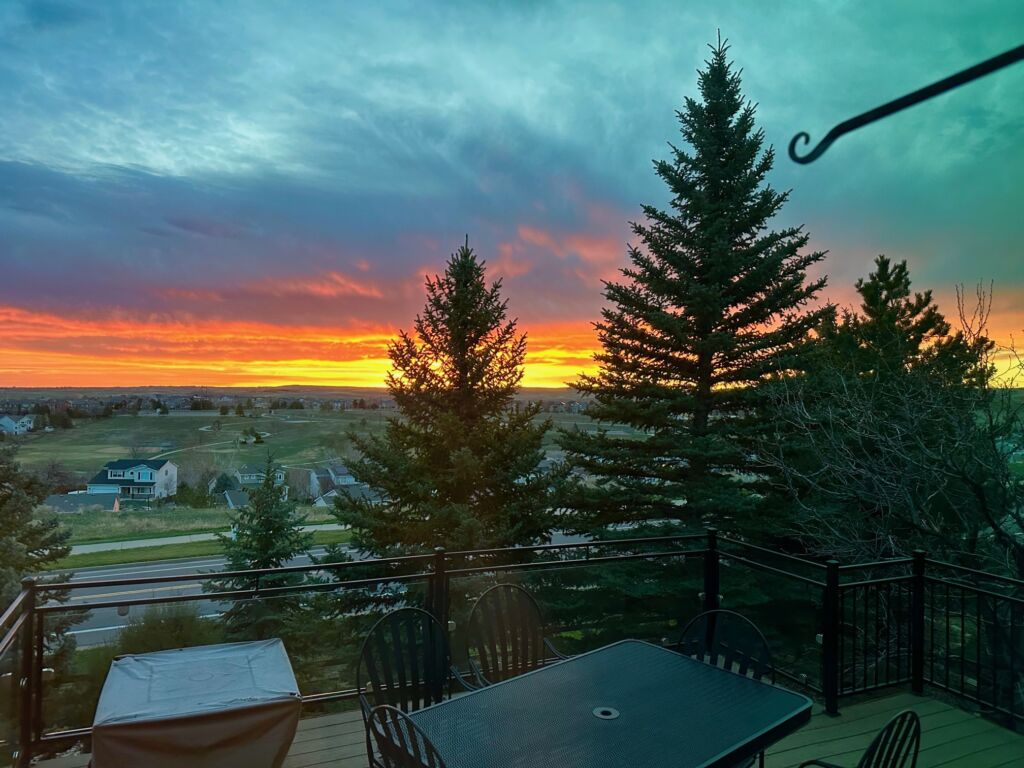 I can get used to seeing this view for many years to come. We still have much to process, accomplish and overcome. The demolition and rebuilding of our CA cabin will be arduous, stressful and will take time before it will be ready for another family to call home. And it will take time to make our new-to-us house into the home I envision in my mind. We must wait for our household goods to arrive from Australia and they are still months away. But I'm already in the planning stages to create a beautiful new sewing studio (the walls are already painted and they AREN'T blue or any shade of blue! Any guesses?) 
Let me just add this: Everyone goes through seasons of turmoil. No one is immune. We've just been through two years I wish we would have never had to endure. It's been probably the toughest two years of our adult lives. There were some good things along the way, but there was so much hardship, hurt, angst, fear, frustration, and tears. These seasons of life are never easy, but they are (unfortunately) necessary and a part of life. We've grown through them; we're still growing through them. I can't say for certainty we're past the hardships even now. If you're hurting, going through trials and tribulations, I honestly pray for you and want to send you hope that you will come through to the other side.  Lean in to the Lord, He will sustain you and give you strength. (Psalm 55:22.)
Just as I remind myself every day, simply take one step at a time.