The phenominal, master quilter,
Birgit Schuller!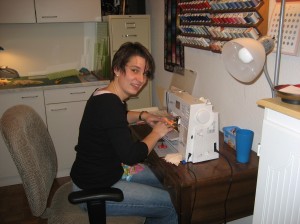 I'd like you to get to know my dear friend, Birgit. She is one of the dearest, loveliest people I have ever had the privilege to get to know and call my friend. And she is also one of the most incredibly talented quilters I have ever worked with! Birgit helped me not only piece two of the quilts for my next book, but she machine quilted six of them as well. I know you'll be as excited about her quilting talent as I am when you see some of the photos of her work.
Birgit recently returned from a very busy and ultra-successful trip to the US where she picked up some major awards for her work. Rather than have me try to share her exciting news with you, I asked her to explain in her own words what transpired on her recent trip to the states. She graciously agreed to be the "guest blogger" for today, and even has photos to share with you all! So, make yourself a cup of tea (iced or hot), sit back, relax and get ready for a virtual, exciting show and tell from Birgit!
"After more than six months of planning and preparations, finally, May 2009 was here and my long-awaited trip to the USA to attend not one major machine quilting show, but two!
The first stop of my trip took me to Salt Lake City, Utah, where the Home Machine Quilters Show (HMQS) was held. I had been chosen to be one of the show's featured artists and had agreed to give a lunch hour presentation and trunk show of my work on Friday. This was a first for me! What was this quilter from Germany supposed to tell people in the homeland of quilting anyway? As everybody assured me that I'd do just fine, I went ahead. Since I traveled internationally, my trunk show was basically a virtual slide show from my laptop computer. I had a wonderful audience who commented on how much they had liked my presentation whenever one of them saw me on the show floor throughout the following days!
On Sunday, May 10th I continued my trip which took me to Overland Park, KS, the home of the Machine Quilters Showcase (MQS). I have entered quilts and – starting last year – garments in this annual show ever since 2006 when my wall quilt Trinity was awarded the Rookie of the Year award! This year, I not only entered my 2009 show quilt Shooting Stars and my current quilted garment Chocolate Orange Cocktail in the competition, but also had proposed and was chosen to teach three longarm quilting classes – another first for me!
My Tuesday afternoon hands-on class Fabulous Freehand Fun for Blocks, Borders & Backgrounds had been completely booked a few weeks before the show. Attendance in my two demo classes – Whole cloth Quilting – Efficient, Yet Spectacular and Exploring the Potential of Freehand Fillers – was great as well. Judging from the comments during and after the classes and from remarks I came across on some Internet blogs, people must have enjoyed themselves, taking home new ideas they were eager to try. When teaching, my goal is to try for every student to get at least one new idea to take home. If this is achieved, I consider a class to have been successful.
When you travel all the way from Germany to attend quilt shows like HMQS and MQS, having an extended shopping list is part of the fun. I brought home quite a number of cones of thread, some batting packages (I'm thankful for those vacuum bags to reduce the bulk!), a few rulers, gadgets and fabric! I'm proud to be able to say that I have joined the Sew Batik Longarm Associate Program allowing me to promote the beautiful Sew Batik fabrics with my longarm customers and friends.
Well, I've saved the absolutely best, most thrilling and still quite unbelievable piece of information for last. I had entered my quilt Shooting Stars in the theme category. This year's theme was Fire & Ice. I designed, pieced, quilted and embellished this quilt with more than 8,000 hot fix Swarovski crystals over the past few months and then had to realize at the show that the competition in my category was stiff – to say the least.
The awards night came and excitement rose. The organizers worked their way through the categories with the theme category being the last to announce the winners. Three wonderful quilts by three of the most talented quilters in the business won the three top awards in the category. As I said, I had realized before the competition was stiff and it was absolutely likely that my quilt would end up without a ribbon. Not a problem at all. The Rookie of the Year award was announced next and my excitement started to settle, then it was time for the Solitaire Award, and it came as a complete shock when my quilt and my name were announced as the winner! My original quilt, Shooting Stars, had been awarded the highly prestigious Solitaire Award!!! I stumbled up the stage and accepted the ribbon, check and congratulations in sheer disbelief. This was so much more than I ever had dared to dream! Honestly, if I didn't have the ribbon with me to prove it is a reality, I would still feel like it's a dream! All I can say is, wow! To see my quilt and some of the other winners, click here.
On Thursday, the fashion show was scheduled during the lunch hour where I had agreed to model my garment. As only two ribbons were awarded in the judged competition and my outfit had ended up in 3rd place, the fashion show was an additional option to win something with my garment after all. The event went smoothly, the audience seemed to like my cocktail dress, jacket and clutch ensemble very much and they cast their votes. I had to leave immediately after the fashion show to change and hurry to set up my classroom for my next class.
When the awards were announced during the evening event, I was absolutely thrilled to have been awarded the 1st place ribbon in the Master Class category! But the moderator wouldn't let me leave the stage again – not before she also handed me over the ribbons for Best Choice of Color and Best Embellishment! This again, left me stunned in disbelief!
Can you believe that I had a hard time getting to sleep these two nights? This entire trip had taken turns I never in my wildest dreams would have thought possible. Everybody seemed to be celebrating with me. Calling a country – Germany – my home where quilting is considered just a hobby, I absolutely enjoyed the recognition of my work I was allowed to experience during my stay in the USA. Thank you ever so much! And thank you, Kimberly, for allowing me to share the excitement of my recent trip with your readers!
My contact information is as follows:
Creative BiTS
Birgit Schüller
Schachtstr. 5
66292 Riegelsberg
Germany
phone: +49 (6806) 920 447
fax: +49 (6806) 920 448
email:  zib.stibevitaercnull@relleuhcs.tigrib
Internet: www.creativebits.biz
Webshots: http://community.webshots.com/user/birgitquilts (not quite up-to-date right now, but soon!)
Thank YOU, Birgit for being my guest blogger today and for sharing your absolutely thrilling news with all of us! I am so excited for you to receive the awards and recognition you so richly deserve! Many, many congratulations.
And to all you readers, please come back here for another visit soon for 'part two' of this installment, where I'll share some more of Birgit's quilts including her studio and the space where she creates all the machine quilting magic in her home!