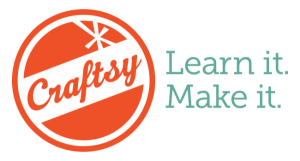 Quilting is my passion, as I'm sure it is for most of you. But sometimes, you just need to go "outside the box" and learn something new! Have you ever wanted to know more about digital photography? Have you ever wanted to learn how to make that one-of-a-kind-unusual cake? What about knitting or bread baking? Well, now's your chance to learn from the world's best instructors and expand your horizons!
I have the most exciting, wonderful news to share with you. Craftsy is having a totally awesome, amazing, unprecedented sale on ALL of their classes (including mine!) The good folks at Craftsy don't often put ALL of their classes on sale — and this time, they are offering their biggest discount ever! To take advantage of this special offer, I invite you to click on the link HERE. You'll get 50% off any class in which you enroll, and you will absolutely help me at the same time. You wouldn't mind doing that for me, would you? There's a fun little contest going on this month for some Craftsy instructors and I could use all the brownie points I can get! (They keep track of how many people log on to Craftsy through my link.) I'll get an some real kudos and a pat on the back for being a team player at Craftsy which will make me do a real happy dance!
And to sweeten the deal, I'll throw in a chance to win a personalized copy of my newest book, Modern Quilts & More. That's right! Here's all you have to do: Just click on the link I have provided to Craftsy, hop on over there and sign up for a class. It can be ANY class! Then, come back here and leave a comment on my blog telling me what class you signed up for. That's all there is to it! I'll put your name in the drawing to win! (And if you are the winner and already have this book, you can take your pick of any other book or ruler on my website!)
Just in case you missed the link, here it is again. Now, what are you waiting for? Get yourself over to Craftsy and find something that's new-to-you and HAVE FUN! Don't forget to stop back here and tell me what class you signed up for to be entered in the giveaway! Thank you VERY much.