I promised you in a previous post I would share some more things from Quilt Market, and I apologize for the delay. Life has been really busy around here lately, and I've been trying to work my way through an absolute mountain of paperwork piled high on my desk for the past two weeks. I'm happy to report that after a very concerted effort on my part today, I have tackled that paperwork mountain and it is now a more manageble pile. I've even caught up on most of my emails which feels so productive as well.
Here are a few neat things from Market:
Let me introduce you to Rosie de Leon-McCardy. I first met Rosie at the 2007 Quilt Market when I stopped in to chat with her in her glorious red and white booth filled with beautiful redwork quilts and projects. Rosie has the neatest product — THE STRING THING — which is just fabulous for anyone who uses embroidery floss.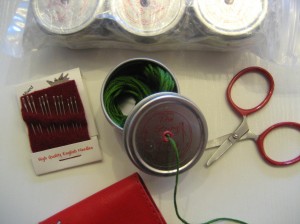 The STRING THING is a small metal canister with a hole in the top. You simply put your embroidery floss in the canister and feed your floss through the hole — and viola — no more knots or tangled floss! There is even a nifty magnet on top of the lid so your needles can rest of the lid and not get lost or worse, stuck in you! Rosie also sells the absolute BEST embroidery needles I have ever used. They are super sharp, yet have an easy eye for threading, and they slide through fabric with the greatest of ease. This year, she introduced me to these teeny-tiny, sharp little TSA approved scissors which are just perfect for taking on airplanes! They also stick to the magnet on the lid top as well. This system is absolutely perfect for anyone who enjoys hand embroidery, as I do. Check out these products at www.scarlettoday.com.
I realize the 2008 Quilt Market and Festival are already history, but I have to share with you the fantastic food vendor Nadine and I discovered in the food court this year. Quite honestly, I have always been "less than impressed" with the food vendors at Market in previous years. The costs are very high and the food moderately acceptable.
But this year, we discovered great southern cooking at "Itz All Good" by Southernlady, Barbara Jackson. Barbara is the owner of "Southernlady – Caterer 2 the Stars," and my goodness, this gal can certainly roast a chicken! Her delicious meal included a quarter chicken, mashed potatoes, and vegetables, and we enjoyed every bite. Hopefully, she'll be back at Quilt Market and Quilt Festival next year, and if she is, you all owe it to yourselves to check out her downhome, delicious cooking. Tell her "Kimberly sent you!" (And if you are in the Houston area, she is available to cater your events. Contact her at www.southernladycatering.com.)
I'm also eager to introduce you to a fantastic new applique glue from Jill Finley, of Jillily Studio Needle Arts. Jill has promised to send me a bottle or two of this wonderful, archive quality glue — and when I have it in hand and have tried it, I'll be sure to take a photo and share more details. Stay tuned…
And last but certainly not least, I am so excited about this terrific new software discovery! Kaleidoscope Kreator, designed by Jeanie Sumrall-Ajero, allows you to take photos and digital images and create the most amazing kaleidoscope designs you can print or transfer to fabric. The possibilities are almost endless and I'm eager to get this software installed on my laptop here in my studio and put it through it's paces. From everything I saw demonstated in the booth, I think this might be one of the next "big things" in quilting and embellishing arts. After I've had a chance to try my hand at manipulating some photographs, I'll be sure to share the results with you! For more information, check out their website at www.KalCollections.com.
That's it for this edition of the 2008 Quilt Market Update. Check back soon — I've got some more fabulous and completely exciting news to share!