There is still so much I want to share with you about the AQS Quilt Show! I've added a gallery of candid photos from my classes. Click the page above entitled "Quilt Show Photos" and enjoy the armchair tour!
I want to tell you a little bit about my roommate at the show, Sue Stewart. Sue, an AQS author, was also an instructor at the show and we decided almost nine months ago to be roommates. We have found we're very compatible having roomed together at other industry events in the past. We've been friends for several years, and she is just a delightful and talented lady. Her book, Heirloom Machine Sewing for Quilters, is a recent AQS release. She designs and creates exquisite and unbelievably beautiful quilts featuring heirloom sewing and machine embroidery techniques! In fact, I have it on good authority her two recent quilt entries into the prestigious juried quilt show in Houston have both won awards. In fact, her quilt, Oriental Lace, has won one of the MAJOR AWARDS at the International Quilt Festival, which is just a few short weeks away. I'll keep you posted as to the prizes she receives. In any event, I am absolutely thrilled for her to be awarded such honors. I told her I want to be one of her new "groupies" and head up her quilt show entourage (smile….)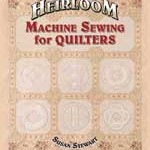 Do you remember those gorgeous, long stemmed roses Kent sent me in Des Moines for our 20th anniversary? They were so beautiful and were still fresh at the end of the week. I asked Sue to carry them home with her in her car so they could be enjoyed longer. Of course, I hated to leave them behind but I was happy she could enjoy them for me!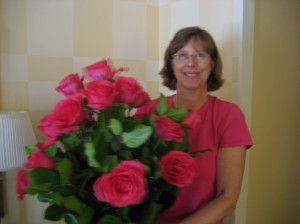 At the quilt show, it felt like "old home week" at times because I ran into so many friends and familiar faces while I was there. In fact, I was absolutely delighted my friend, Susan Bernard, from Boston, attended the Pinwheels and Flying Geese Class. I first met Susan and her dear friend, Joan, on the 2006 AQS Quilt Cruise to the Caribbean! These two ladies were just so much fun to be around and had us all laughing until our sides hurt. I was just thrilled when Susan showed up in my class on Saturday morning with her completed cruise quilt. She hand quilted it and it was gorgeous! I hope to reunite with Susan and so many other terrific quilting friends again…. perhaps on another quilting cruise in the future? (Hint: "think Alaska, 2010!")
In the meantime, I'm recovering from jet lag and getting back to the routine here at home. But in one short week, we'll be heading back to the US for the International Quilt Market in Houston for a whirlwind, five day trip. I don't think I'll be finished unpacking from this trip before I need to re-pack for the second one. But I assure you, I will be packing lighter this time. (Yes, I know it's hard to believe, but true.)
At least there's never a dull moment in my life!
Blessings to each of you! Kimberly