I've got a great idea to share with you.
As you may know we've recently completed a move from the east coast to the west coast. However, we're actually veterans of many military moves so I've had lots of experience dealing with packing and shipping of household goods including my cherished sewing machines! And whether you have moved frequently or lived in the same home for many years, I think you'll find this idea very handy!
When you purchase a new BSMF (best sewing machine friend) you have to unpack the box in which it came. My suggestion is to take digital photos of the process as you unpack all the parts because once you've removed all the neatly and efficiently packed accessories, you won't remember how to get them all back in as neat and tidy as they came out, should the need arise.
I always recommend people keep the original shipping boxes because of the custom packing material inside. Should you ever need to ship or transport your sewing machine in the future, this is the safest way to ensure your machine will arrive at its destination in perfect working order. 
Even if you're fairly certain you'll never move, you should keep the box and packing material because you might decide to trade in the machine at some point in the future for a newer model. Many Janome dealers offer a trade-up allowance if you upgrade to a higher-end machine within a year of purchase. Be sure to ask questions and check with your local Janome dealer to see if they offer this option. If you do trade up to a higher-end model or find yourself facing a household move, it will be helpful to have all the original packaging so transporting your machine will be safe and easy to manage. 
When we moved to our new home, my new Janome 15000 sewing machine and embroidery unit arrived via UPS in these boxes. I was grateful to have some help in unloading the boxes while I took digital photos so I'll know how everything goes back into place.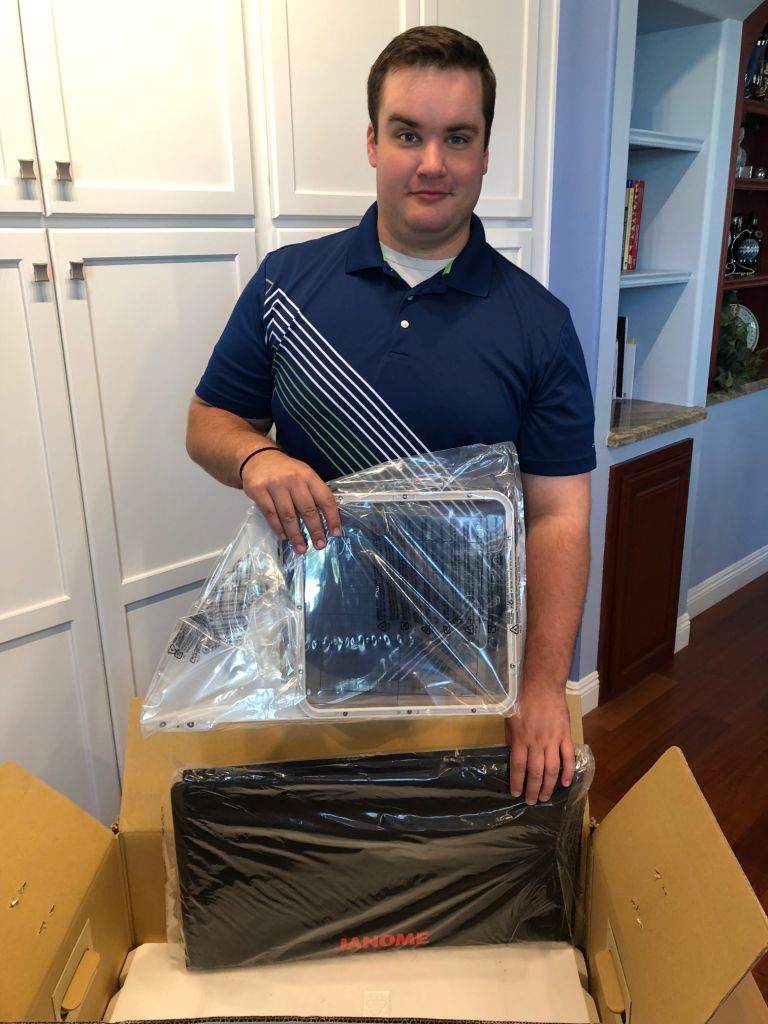 It's thrilling when your new sewing machine comes out of the box! 
You may think it isn't necessary to save this packing material because you feel certain you'll never have need of it. But trust me, more often than not, there will come a time or situation where you'll need it to pack and/or ship your sewing machine. And if you've taken the little bit of time to take photos of how everything fits in the box, you'll be incredibly happy and relieved!
Click HERE