This past Wednesday, I enjoyed a lovely road trip to a French Kaserne (which is a military base) located about and hour and a half from Stuttgart. I had been invited by some new friends, Susan, Stacey, Mi Young, and Barbara. Susan and Stacey had heard about a wonderful shopping opportunity for some French gourmet treats at the commissary at this particular base, so we set out on Wednesday morning to find it. Now, I honestly can't remember the name of the little village where it was located — but I can tell you it was located at the spot where the Danube River headwaters begin here in Germany.
We enjoyed a delightful time shopping. There were wondeful French wines, all sorts of stinky cheeses, pate, and other culinary delights. They sold L'Oreal, Longchamps handbags, and a wide variety of perfumes and other French products. I didn't actually purchase much, but I did enjoy seeing a "bit of France" here in Germany. After shopping, we drove along a little stream away from the village and found a delightful Gasthaus in which to have lunch, called the Gasthaus Hammer.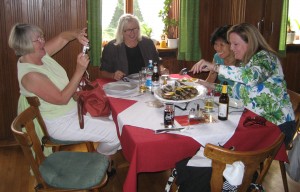 This particular little eatery has been in the owners' family since the 1600's! The specialty of the house was trout — and when they said it was fresh, they meant it!
At one point, Susan looked out the window from our table and saw the owner coming up from the stream with a bucket in hand and live fish in the bucket! Although it took about an hour for our lunch to arrive at the table, it was worth the wait. Just look at the presentation of the fish! We all laughed and giggled, and took pictures of the ultra-fresh entree, and we commented that it was hard to believe those fish had just been swimming a few minutes before arriving at our table!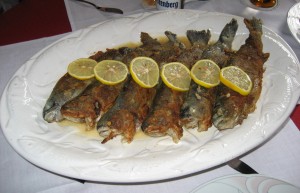 I usually don't enjoy eating fish, but Susan shared a few bites with me and I must admit — it was the best fish I have ever tasted! (There wasn't any fishy taste at all.) I enjoyed turkey medallions and spatzle for my lunch, but if I ever have the opportunity to go back to the Gasthaus Hammer, I'll order the trout!
On our ride back home, we passed a home in a little village with a sign out in the front yard advertising fresh, homemade jams and jellies. We stopped and we each bought some of the wonderful berry jams — they were so fresh the jars were still warm! The lady selling these fruity concocctions had a little tin bank sitting on the table with a sign that said "kasse." Purchasing those goodies-in-a-jar was simply on the honor system. How refreshing is that? I bought the raspberry jam, and when I spread it on my toast and ate it for breakfast the next day, I simply could not believe how delicious it was! Yum!
There's simply nothing quite like a wonderful day out shopping and talking with girl friends, and I'm looking forward to our next outing in the coming weeks. Are you ready to go, girls?