I'm currently in the process of adding a new post to the "Where in the World is Kimberly?" travel blog, complete with lots of photos from our most recent trip. Please be sure to check it out in a day or two. In the meantime, I wanted to share a wonderful new addition to one of my collections from an antiquing excursion on Portobello Road, in London, last Saturday.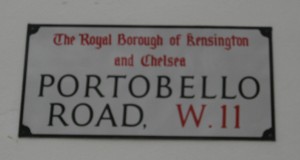 Portobello Road is famous for its stalls, shops, and flea market of antiques: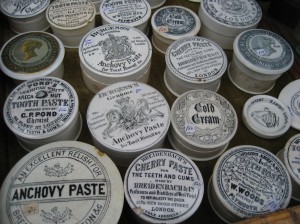 Some genuine……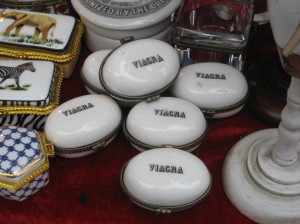 and some NOT so genuine.
We love wandering up and down through the crowded stalls and booths just to look at the many wonderful things. But on this trip, we stumbled across what I consider to be a very lucky find! We met a lovely woman in the back of one of those many crowded stalls who had several antique toy sewing machines for sale.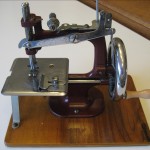 She had this beautiful Essex (English-made) toy sewing machine. I was intriguied. But when she pulled out the wooden extension table, I was absolutely sold!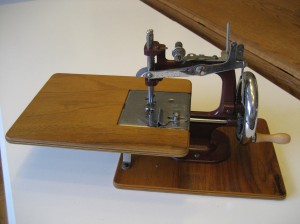 I have never seen a toy sewing machine with an extension table before, and this one — in it's original condition — was too cute to pass up. We bartered a bit, and finally arrived at a price agreeable to everyone.
I'll admit, we had a bit of trouble getting it through airport security because we packed it in our carry-on luggage. But once the TSA agents unwrapped the bundle and saw what it was, they all smiled and laughed.
It now has a home amongst my other toy sewing machines. In my collection, I now have a vintage Singer, a 1960's mechanized Singer, one from the Ukraine, one from Germany, and my newest acquisition from Great Britain!