Have you heard the amazing news? I've been invited to teach a retreat-style workshop at the National Quilt Museum in Paducah, KY this year!
I can't even begin to express how excited I am for this amazing opportunity!
MODULAR QUILTING
Every trick in the book for using precuts!
Pre-cut fabric packs are the hottest trend in quiltmaking today and quilters everywhere just can¹t resist these delectable textile treats! But what do you do with them? This fast-paced, fun-filled, workshop is the perfect answer to turn all those enticing 2½" strips, 10" squares and charm packs into a fabulous quilt. Let me personally introduce you to the exciting and wonderful world I call "Modular Quilting, which is "a system of simple, pieced units used to create new blocks, settings or complex-looking designs." Using squares, rectangles, triangles, diamonds and a myriad of basic 'building block' units, I will show you how to efficiently piece a wide range of blocks in various sizes. I'll teach you dozens of tips and tricks for using specialty rulers and traditional methods to their best advantage with no math, no wasted fabric, and best of all, no stress! Featuring fabulous techniques from my newest book, Precut Bonanza, I'll share every trick in the book for precision piecing and lovely machine appliqué to create beautiful blocks and help you unlock your inner design diva. (You know you have one!) You'll think you'll enjoy my ever-encouraging, upbeat, energetic (and humorous) teaching style, so plan to join me for a fun-filled retreat and create a stunning, unique sampler quilt and leave feeling like a precuts-pro!
So I hope you will consider joining me in this wonderful adventure for an opportunity to have a lot of fun while learning many new techniques and methods for positively perfect piecing! And while we're there, I'll be celebrating a rather monumental birthday — I plan to have a BIG cake delivered so we can all celebrate together!
I have something else very exciting to share!
My quilt, Star Gazing, has been featured in the current issue of American Patchwork and Quilting Magazine!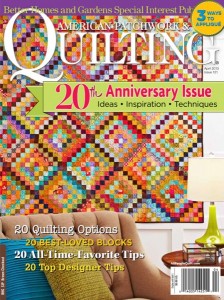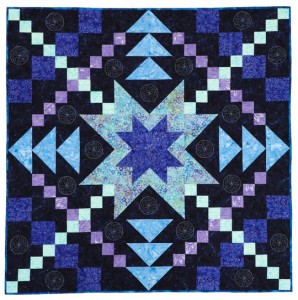 You just can't imagine how honored, thrilled and excited I am to be included in the premiere quilting magazine today! This is a privilege I have long dreamed about, and I am so happy to have my original design included. This dark version of Star Gazing was beautifully pieced by my talented and dear friend, Claire Neal, and expertly quilted by another very dear friend, Birgit Schuller. The light version, shown at the end of the article was pieced by me and also beautifully machine quilted by Birgit. I love both versions and this truly ranks highly as one of my most favorite designs! If you don't already subscribe to American Patchwork and Quilting Magazine, (you should!) you can buy this issue (April 2013) on store shelves right now. I hope you'll pick up a copy and share it with your quilting bee or guild.
I have more good things to share, but I'll save them for the next post. Hope to see you back here soon!