Updated….October 29th
Remember my promise?
(Click here), then come on back and read all the way to the bottom….
Big-time congratulations to Linda for being the FIRST to send me a photo of her completed Anvils 2009 fall mystery quilt! Although she mentioned she had some camera or computer troubles, her photo shows an absolutely STUNNING quilt top. Love, love, LOVE the colors. Bravo!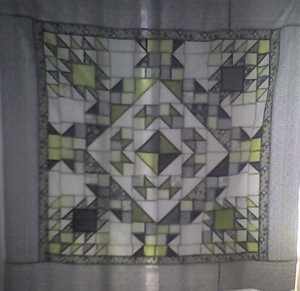 AND, Linda also completed the 2008 fall mystery quilt from last year. Woo hoo – I'm doing handstands of happiness here! (Well, mental ones at least.)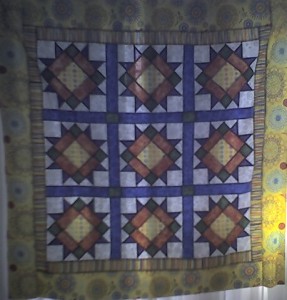 So….Linda, please contact me via email and send me your mailing address. I'll be sending you a special gift as my way of saying "thanks" for participating in the 2009 Fall Fun Fridays Mystery Quilt!
Want to know a little more about Linda? Click here and check out the fun we had in Lancaster this past spring!
And look who else sent me photos! Pat Deck constructed a super-dynamic Anvils quilt using a black background.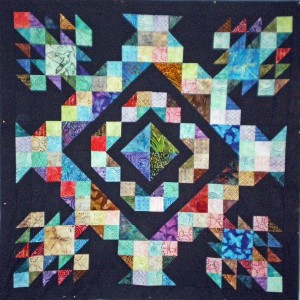 This reminds me of a prism of light and color! Gorgeous!
Pat also sent photos of her two different 2008 Fall Mystery Quilts. Take a peak: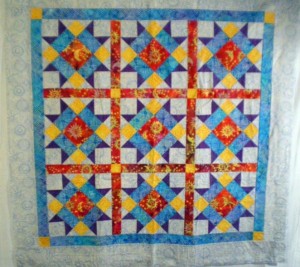 One quilt constructed using glorious, bright batiks and…..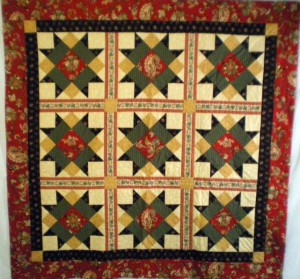 the other made using lovely, more traditional fabrics but still a very striking palette.
Don't you agree this was a very versatile design?
Wow. I love them ALL. Hey Pat — there will be a special surprise on its way to you in your mailbox soon! And if you'd like to "meet" Pat virtually, click here.
Linda and Pat — thank you "SEW" much for sharing. You both made my day — seriously! 🙂
Anyone else out there care to share photos of their Anvils tops?