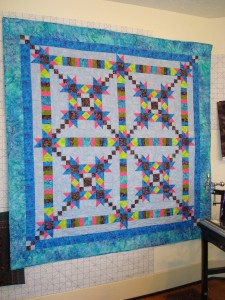 You know I love to see quilts made by readers or students and then share them with you!
Chris Brown, Executive Editor for American Quilter Magazine, recently forwarded me the following photos and letter from a reader, and I thought it would be fun to pass them along. Susan Davidson wrote, "I was one of several girls who worked on this mystery quilt.  I choose the colors that were close to the original.  Others in my group went "outside the box" with their own colors.  We all meet in a little quilt store in Champion, Ohio called The Ladybug.  Your magazine always creates quite a stir in our little circle. Thanks."
Well done and many kudos to you, Susan — and here's a big "shout out" to you and your sewing friends at The Ladybug! Thanks so much for making the recent AQS Mystery Quilt and taking time to share the snapshots with us!
For those of you who might have missed the Trail to Paducah Mystery Quilt, the complete pattern is available in the May, July and September 2008 issues of American Quilter Magazine.