Like a little pink imitation sugar packet….

This past week, I've been making a quilt for an upcoming event where I'll be teaching, and when it came to selecting the fabrics to make it, I decided to take a break from the elegant and sophistocated fabrics I used to make the quilts for BOOK #2, and choose some fun-n-funky, bright and bold fabrics.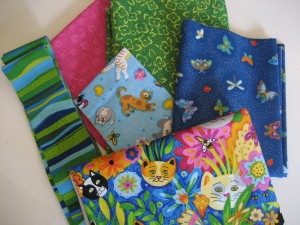 P & B Textiles sent me a variety of fabrics from their newest lines after Quilt Market last fall, and when I looked in my stash, these cheery prints immediately caught my eye. (Considering how much I love kitties, there was instant appeal!) They were perfect for the class sample I needed to make.
There was plenty of contrast between the fabrics, and the value and scale of prints were in perfect ratio to one another. I even loved using the wonky stripe within the blocks to add movement and additional visual interest. And I loved the way the colors played together within the blocks as I pieced them.
But as I sewed the blocks together in rows, I felt the blocks needed, um…..a little "something extra." The colors were bright, saturated, and adorably cute but they were also just a bit too saccharine for my taste.
I looked up the word saccharine in the online, Internet dictionary. The following definition seemed to fit the way I was feeling about this quilt: "cloyingly agreeable, ingratiating, or exaggeratedly sweet."
It's as plain as black and white
So after piecing all my blocks together, I thought about different ways to make the quilt sparkle with some zing to it. It didn't take me long to realize the answer was as plain as black and white. All I needed was a simple black and white checkerboard border between the blocks and outer border! This quick and simple fix was just the thing I needed to add a little edginess to my quilt and turn the sweet colors into something that packs a visual punch. Take a peek: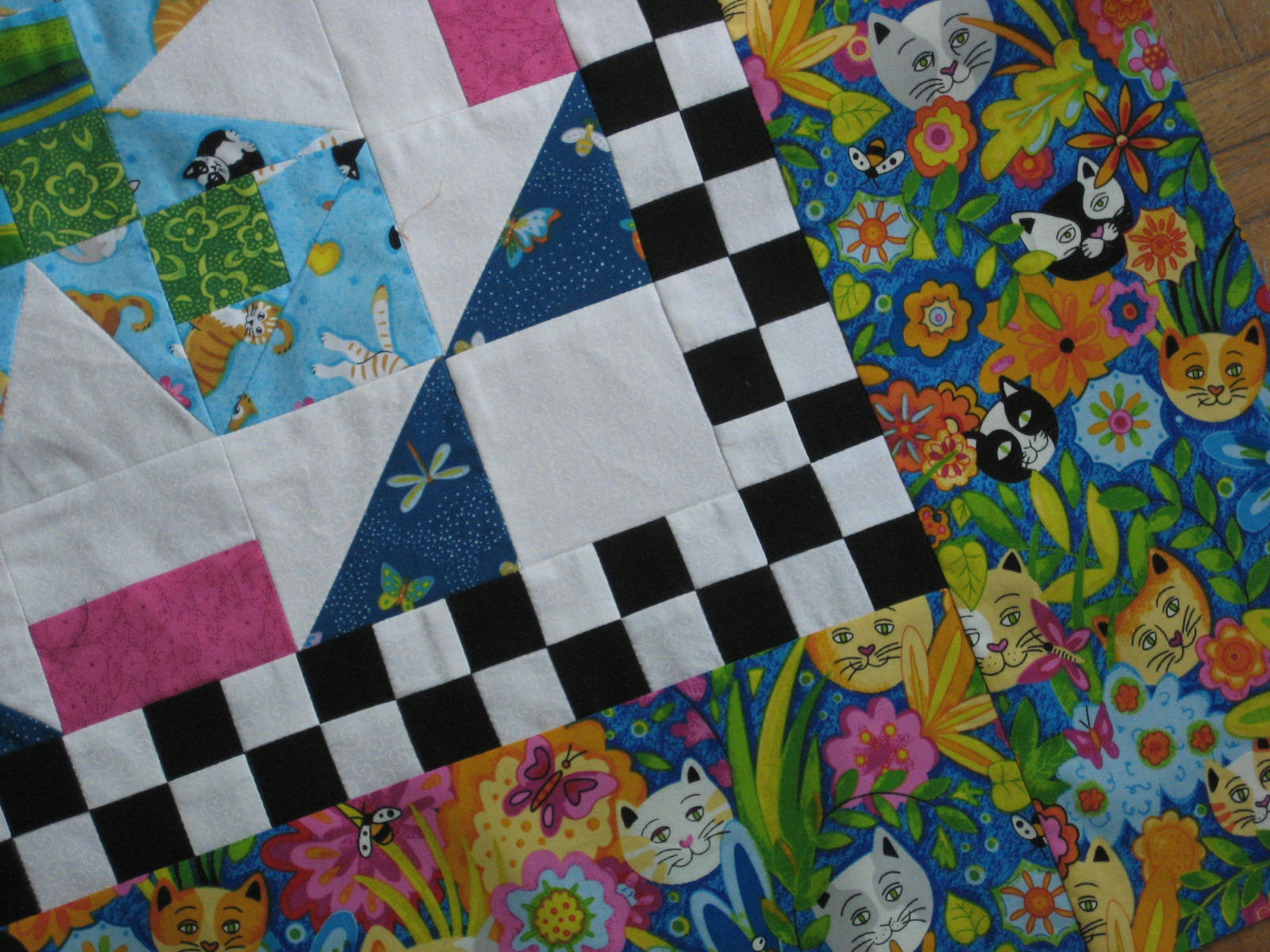 And here's a good question for you: How many of you take the time to square-up (also known as "truing up") your blocks before sewing them together to form the quilt top? You don't? Well, you should! Even the most advanced quilter — no matter how straight and accurate her 1/4″ seams may be — needs to square-up each one of her blocks. Yes, it takes time to do this. But there will always be small discrepancies and little inconsistencies no matter how carefully you stitched your blocks and squaring them up ensures points will be crisp and sharp and you'll avoid puckers and ripples without having to "ease" seams. It also eliminates the need for extra pinning in some cases.
Take a look: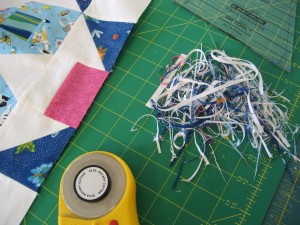 Even though I was very careful to piece all nine of my 9″ quilt blocks (plus a pieced inner border to extend the design) these are the shavings and slivers of fabric which were left over after I squared-up my pieced units and blocks. All those little schnibbles of fabric left in seams could add up to a lot of inaccuracy in my points and block intersections if I didn't take the time to square-up first! So take it from me when I tell you that you NEED to square-up your blocks. Trust me; you'll be glad you did, and you'll see a big difference right away.
My quilt top is finished and ready to be quilted. I promise to share photos of the completed quilt with you after the mystery quilt is revealed in class very soon!