GATHERINGS
You can make all the half-square triangles for the GATHERINGS quilt using the traditional method in the pattern as provided, or you can make perfect half-square triangles (HSTs) using Kimberly's signature EZ Flying Geese Ruler from simple strips with no math, no wasted fabric, and no stress! It's easy to convert the pattern as shown and cut strips in half or whole inch increments.  No more cutting pesky 3/8" or 7/8" measurements. Here's how:
Take the finished size of the HST and round up by ½". For example, if the finished size of the HST is 3", cut a strip 3½" wide. If the finished size of the HST is 2½", cut your strip 3" wide.
Use Side B (the mint green side) of the ruler and line up the number on the ruler with the width of your cut strips as shown. Rotate the ruler (don't flip it over to Side A, the pink side) and continue cutting along the strip. You can easily cut two or four layers at a time.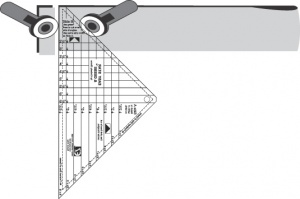 Place two triangles right sides together and stitch on the long side of the triangle unit using a ¼" seam. Trim the dog ear. Your HST will measure ½" larger than the finished size.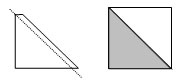 This is a list of Accuquilt GO! dies which can be used to make the blocks in Gatherings, by Kimberly Einmo, in American Quilter Magazine. Some rotary cutting will be necessary as there aren't dies for every unit necessary for block construction.
Row A – Simple Basket Block
Row B – Flower Basket Block
Row C – Posey Basket Block
Rows D and E – Fancy Basket Block
Rows F and G –