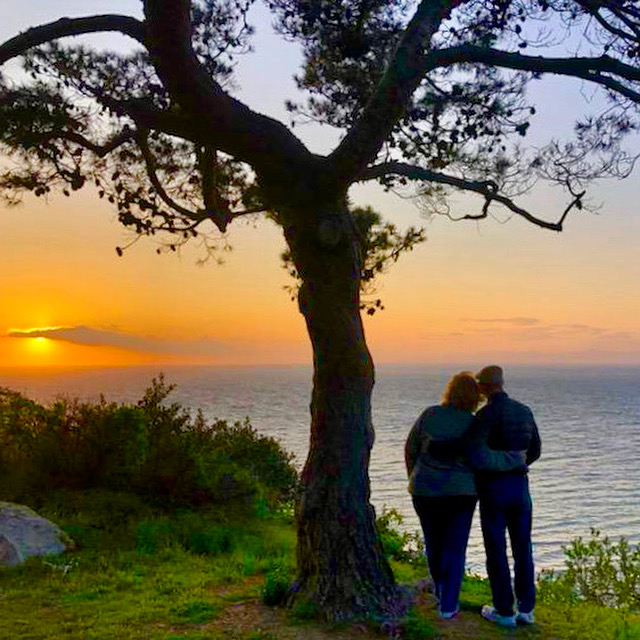 After a particularly trying and frustrating few days (for a variety of reasons) my sweet husband suggested we take a ride to the beach to see the sunset. It was cold and crisp and windy…."Good for clearing the soul," he said. We drove to the beach and all the parking lots, parking spaces and even the beaches were closed because of the pandemic which made it difficult to find any good spot to watch the sunset. Rather than give up, he drove up the Palos Verdes Hill and we found a spot on a cliff overlooking the ocean where we got out of the car to watch the sun set in the western sky. 
And that's when the nicest, most unexpected thing happened. A lovely young woman and her boyfriend also stopped (not too) near where we had parked our car and she snapped this candid moment on her phone. We had no idea she had taken the photo until she asked (from a proper distance, mind you) if she could send the picture to me. Of course I was delighted by her thoughtfulness and happily accepted her offer. 
The kindness of this lovely stranger touched our hearts and minds more than you could ever know. This picture; no….this gift, is something I will have printed and framed and I will cherish. It is a reminder there are angels among us — during the best and worst of times — ready to swoop in with a smile or kind deed and chase away our worries and frustrations and tears, if only for a few moments. 
Folks, the truth is, I need an infusion. A creative infusion for my soul. For the past two weeks my creative momentum has been derailed for many reasons. I've been working hard to meet the needs, wants and wishes of others. I've been yelled at by people I don't even know personally for reasons completely out of my control and in the scheme of life don't even matter. I've taken it all — hopefully with grace and kindness and staying above it by always taking the high road. I realize people are living in fear, worry and stress right now and some folks aren't handling it very well. They need to vent. I get it. But I won't ever stoop to a level of belittling others or knowingly make them feel badly. For any reason. I want to be a beacon of light, and love and courage and strength for others when they need it most. 
So in order for me to do this, now it is time for me to walk away from the computer for a bit and take a break from social media. Not too long of a break (just a couple of days); but enough where I can create and design and sew and feed my soul. 
Remember: Choose FAITH. Not FEAR. 
Be kind to one another. Stay safe. Stay healthy. And go create! See you in a few…..