I'm not one who likes to ask for help. But recently, I found myself facing a task which seemed was so monumental I decided I needed to send out an SOS for help. And I'm so happy a small army of quilters armed with rotary cutters came to my rescue!
I'll be teaching at Charlotte Angotti's Biloxi Escape in a few weeks. The format for this retreat is for students to have three Progressive Mystery Classes taught by Charlotte, Karen K Stone, and myself. We each have designed a mystery quilt comprised of the equivalent of twelve 12″ blocks, and over the course of three days we'll teach our blocks to 60 students. At the end of the three days, we'll have a big reveal and share our combined quilt projects. For each class, the instructor provides a complete fabric kit to make the blocks from similar fabrics to what the other instructors have used. 
I had designed my class project and all the sample blocks were made and the bolts of fabric ordered. But when it came time to make 60 kits, I realized it was going to be a total of 1320 – 3 1/2″ strips. WHAT?!? 1320 – 3 1/2″ strips? The thought of having to cut all those strips by myself was overwhelming. My husband volunteered to help and the offer was genuine and sincere. Don't get me wrong; Mr. Kim is awesome at rotary cutting. BUT….he's not exactly fast. As in, I cut 20 strips for every 1 strip he cuts. So this didn't seem like a viable option to me. 
Last weekend I decided to put out an S.O.S. I contacted some quilters I  met through two local quilt guilds, the South Bay Quilt Guild and the Flying Geese Quilt Guild. And boy oh boy, these ladies stepped up to the task with enthusiasm!  We set the date for today, January 2nd.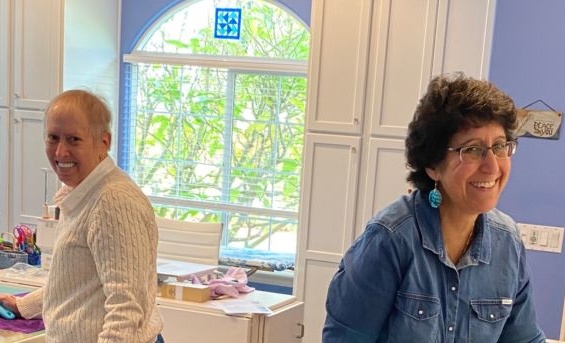 They arrived this morning a bit before 9am. After a few minutes of chit chatting, we all dove in to the task of cutting. I had tables (on risers, for easier access) set up with cutting mats and there were plenty of new blades on hand for their rotary cutters. All the bolts of fabric were laid out, ready and waiting. We started with five of us cutting and one person was the "runner" to gather the strips and sort them to make the kits. It worked so well! We talked and laughed and shared stories and cut. It was more fun than I could ever have imagined. Having a group of quilting friends to share chatter with while we cut strips made the time fly by. We kept cutting and by noon, 30 kits had been completely cut, sorted and packaged. Hurray!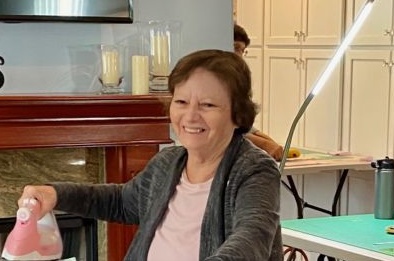 I prepared a yummy soup and salad bar. The soup was a hearty sausage and kale soup (similar to Olive Garden's Zuppa Toscana) and the salad bar had ALL the fixins' for chef salad! Everyone seemed to enjoy the luncheon and we had a great time as the talking and laughing continued through lunch. Afterwards, all the kits were finished before 3pm!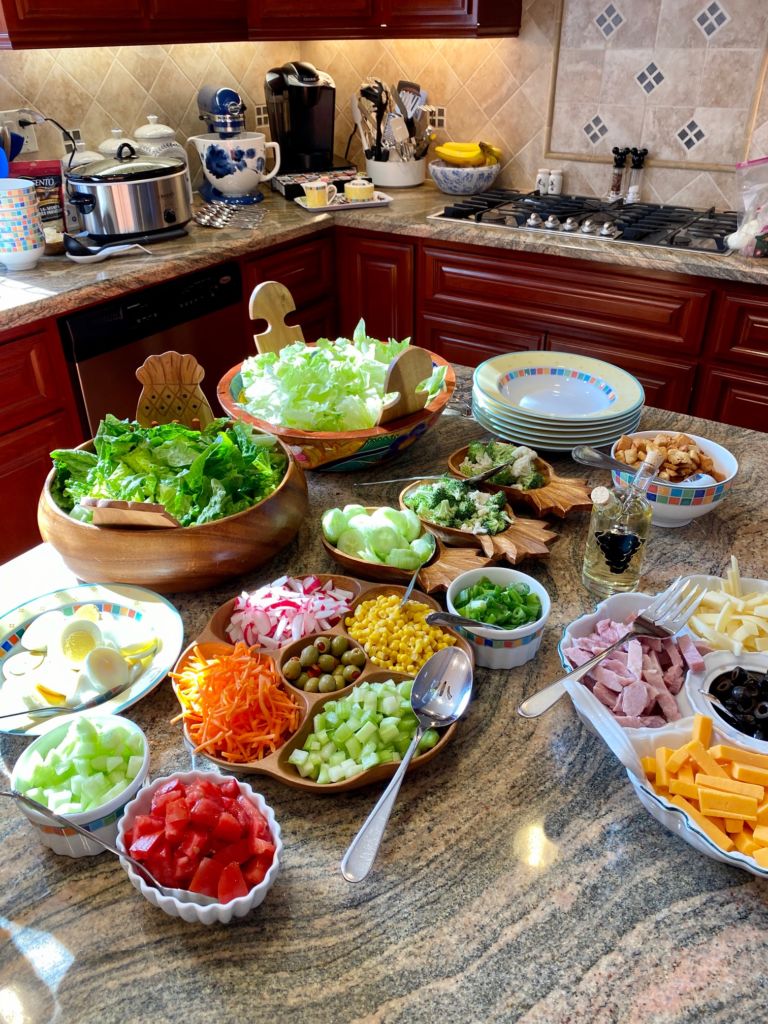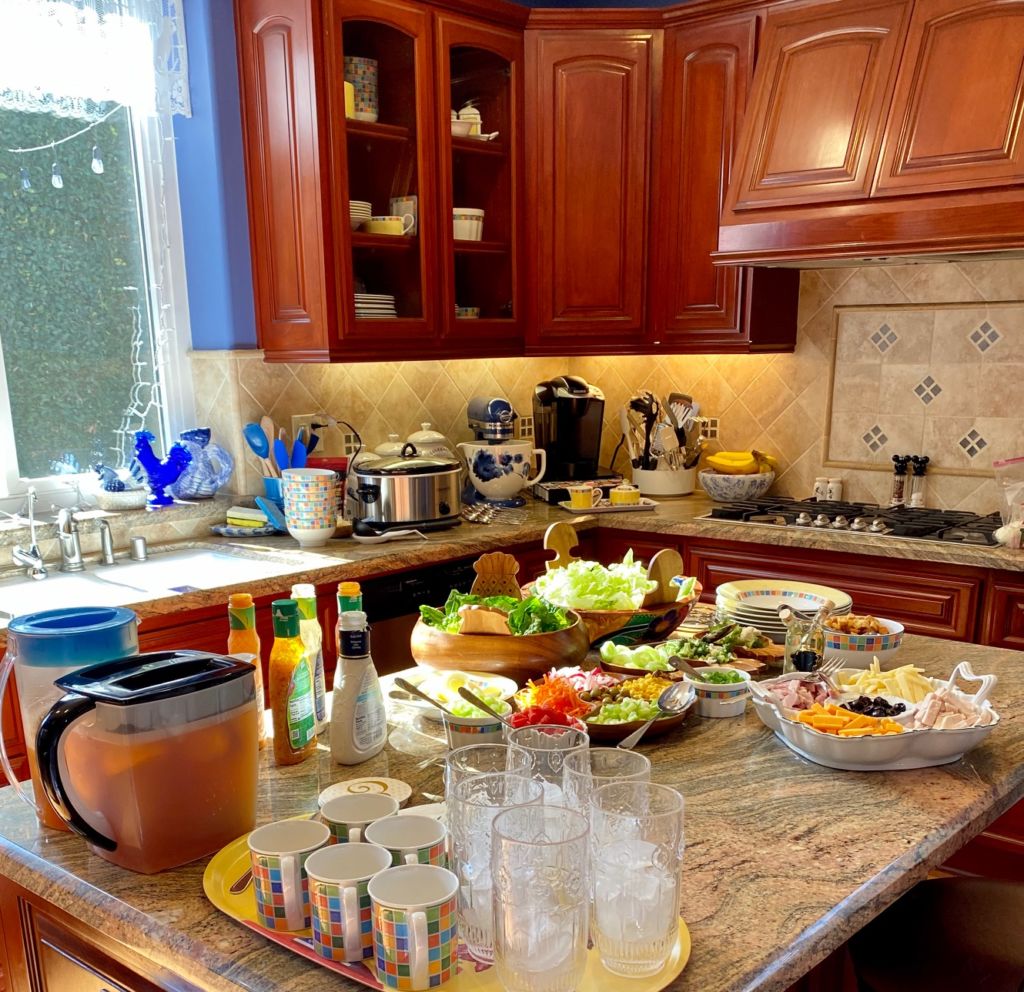 This would have been a seemingly insurmountable task if I had slogged through it by myself. But with the help of these amazing women, we tackled it and knocked it out of the park in about six hours. I cannot even begin to express how much I appreciate their hard work and dedication to help me get through this kit-making task!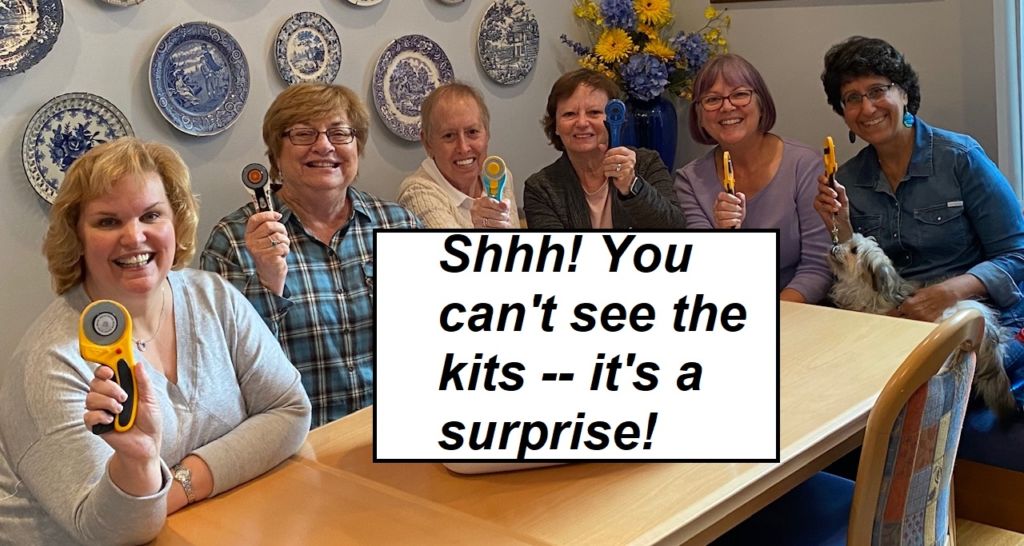 THANK YOU, Bonnie, Fran, Yvonne, Julie and Melanie. You are now my go-to "kit-making" team! I'm ever so grateful for the kits of course, but even more so for the fun and friendship you shared with me today. Spending a day with girlfriends was just what this gal needed!