…..but still dreaming of sand between my toes. Ahhhhhh……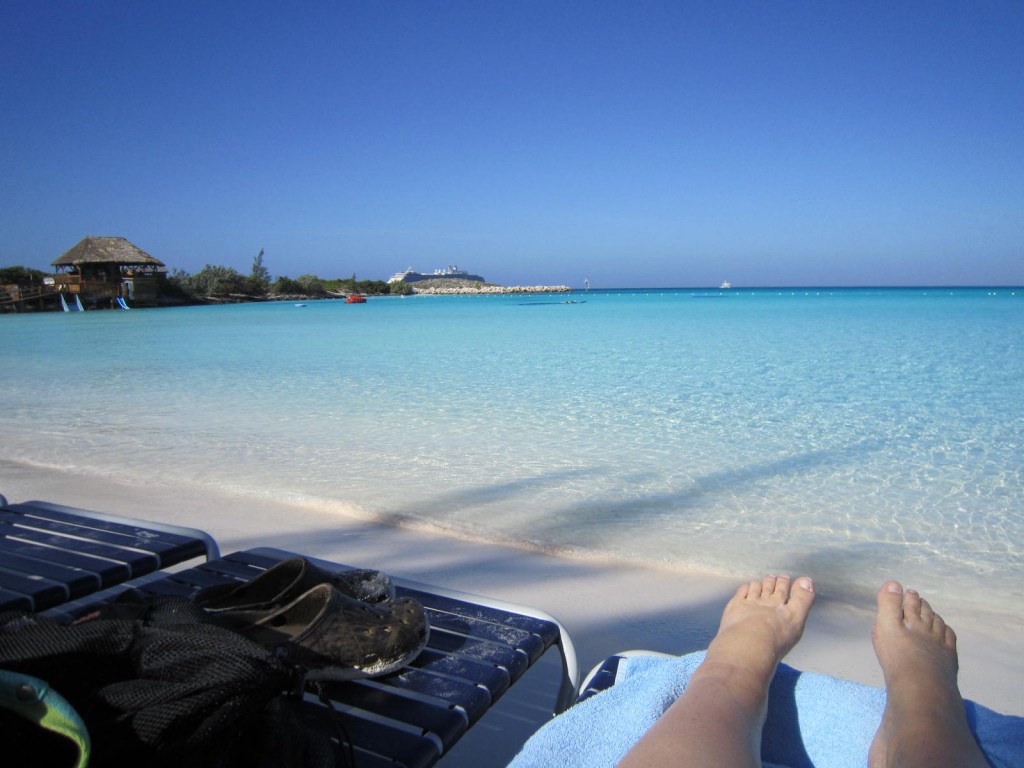 What can I say? The Southern Caribbean cruise was F A B U L O U S! Truly, it was by far one of the BEST cruises we've ever taken. The ship was wonderful, the ports of call were beautiful, but the absolute BEST thing about the cruise were the quilters. The quilters were all so amazing. Kim and Amy at Quilt Seminars at Sea put together a 10 day itinerary that was top-notch and there was plenty of time for open sewing in addition to the three full days of classes while we were at sea. And everybody got to know each other. We all bonded. We talked. We laughed. We shared. We sewed…..and sewed. Even me! I accomplished so much — a completed quilt top! (More on that later.)
At our first port of call we spent the most wonderfully relaxing day on Holland America's private island in the Bahamas called Half Moon Cay. We spent the day at the beach, enjoyed a true island BBQ and then took an afternoon excursion to swim with a dozen large sting rays! (And I fed them squid, which took more nerve to hold those squid in my hands than to pet the sting rays!) The next day we were docked at the fabulous Grand Turk Island where we did a little souvenir shopping and spent the rest of the afternoon at the beach enjoying relaxing breezes underneath shady palm trees and snorkeling in the clearest ocean water you could imagine.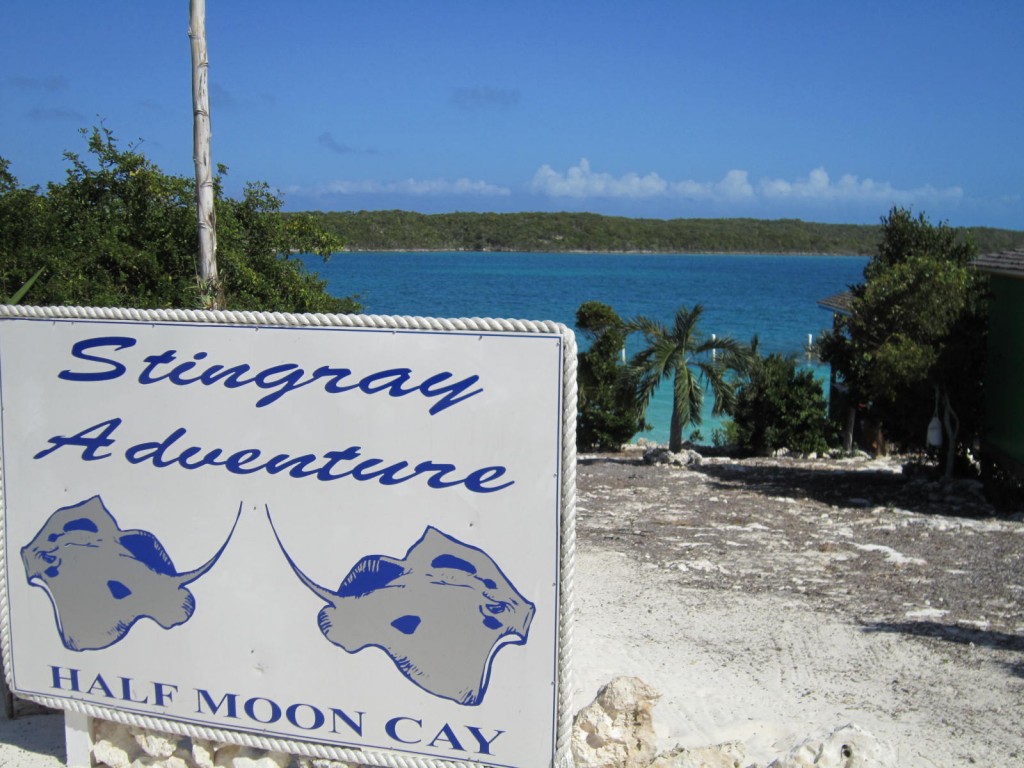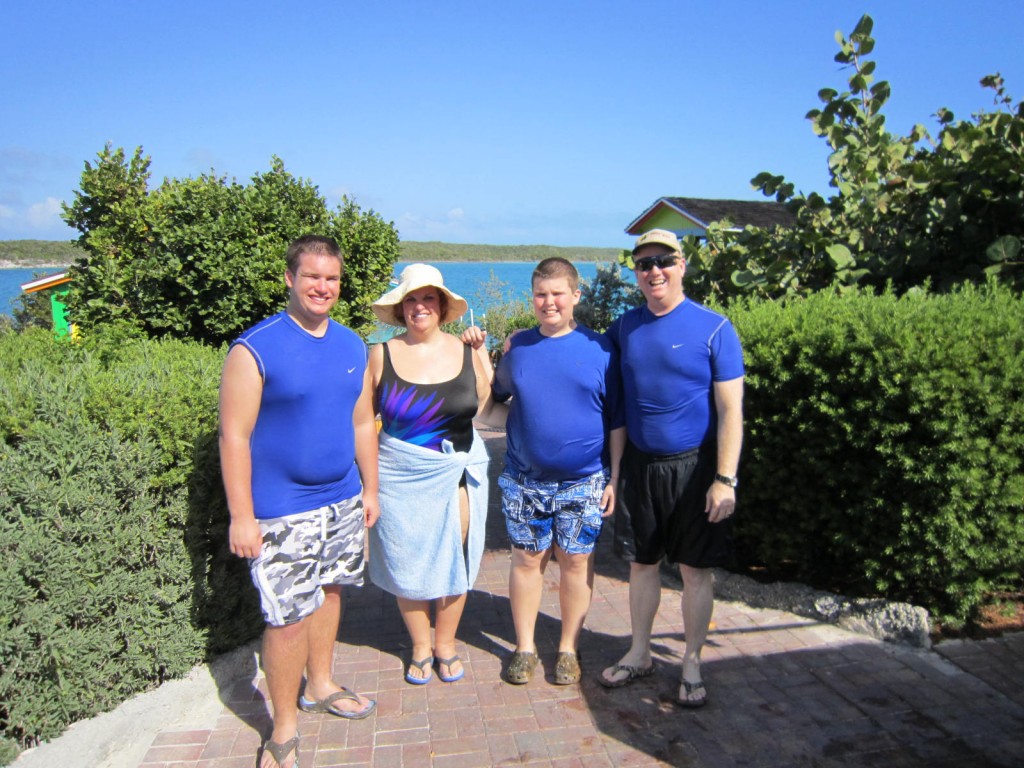 The next port of call was the Dominican Republic. We took the tender ashore and walked around for about an hour. But the local "hucksters" were a bit aggressive for my taste (they wanted to sell us everything from a tour of the island to genuine Cuban cigars and wouldn't take "no thank you" for an answer) so we headed back to the ship. It was just as well. There was open sewing in the classrooms and I joined a large group of ladies for a fabulous afternoon of easy-breezy sewing and chit-chatting. Since I didn't go prepared to actually sew anything, I bought myself a Hoffman Bali Pop (Cotton Candy colorway) from the on-board quilt shop provided by Quiltworks Northwest and got to work with my handy rotary cutter and EZ Jelly Roll Ruler and I cut and sewed the afternoon away making simple Bricks blocks (a fa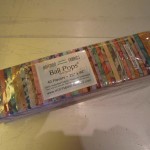 bulous pattern, if I do say so myself. Check it out in my book, Jelly Roll Quilts & More. I couldn't believe how quickly the day passed and I came away feeling completely content from a productive afternoon of color therapy. The colors of the fabrics are unbelievably yummy – and truly capture the essence and allure of the Caribbean!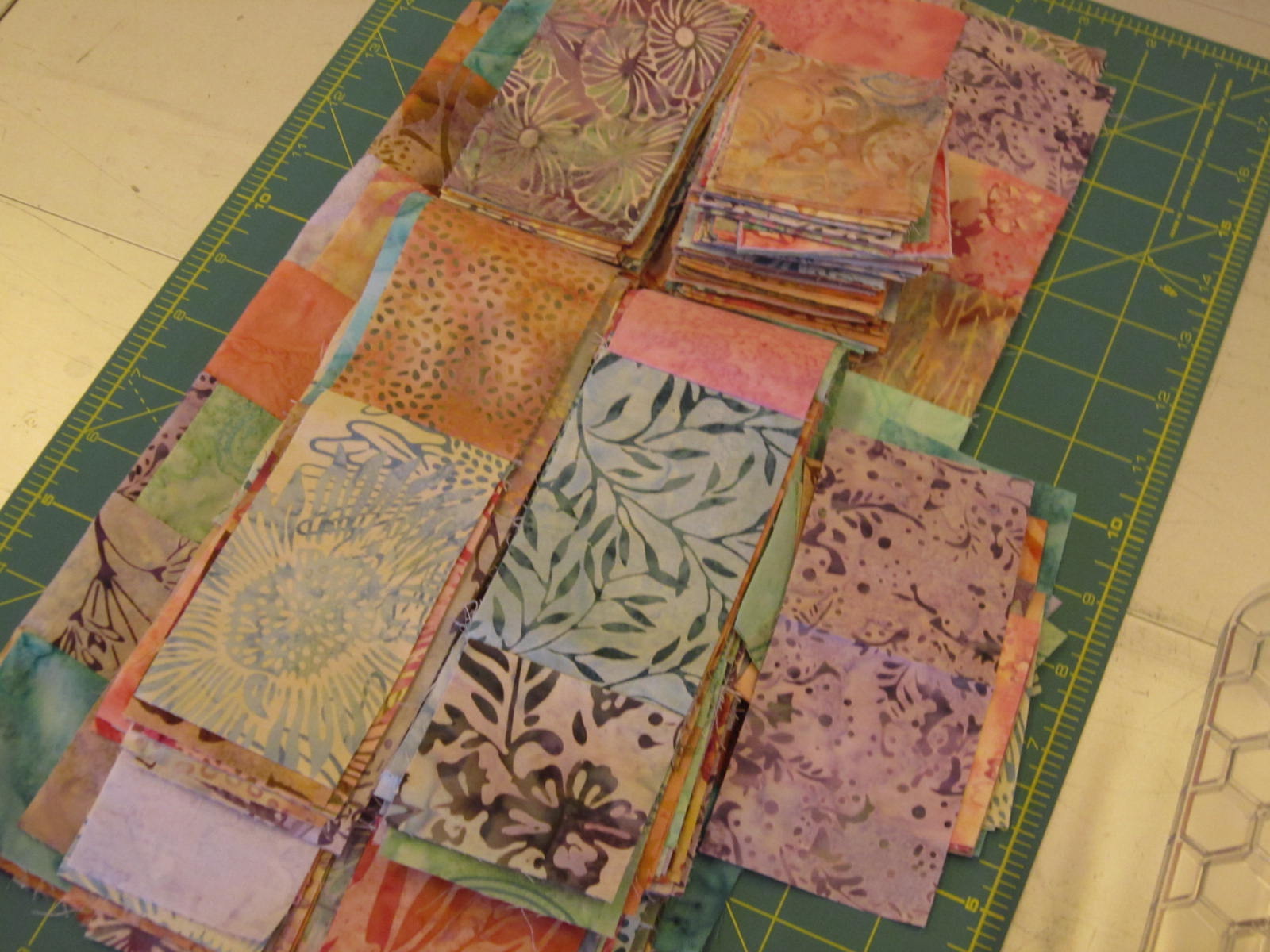 The next day was our first all day quilting class at sea. I had the privilege of spending the day with a classroom full of enthusiastic quilters who made a special "Caribbean Breezes Mystery Quilt." What a wonderful day sewing at sea! They sewed throughout the day stopping only to enjoy a relaxing 1 1/2 hour lunch break.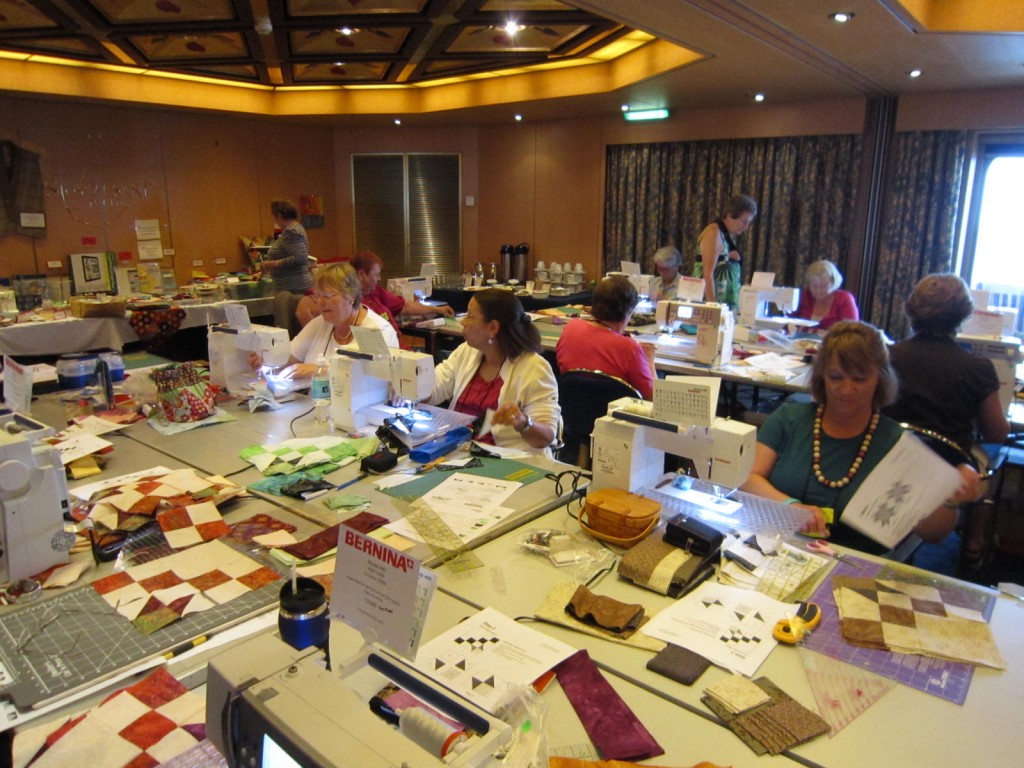 Of course, this was just the beginning and there were more fun-filled days in port and more productive days of sewing at sea to follow. But for now, I hope I've given you an update and a taste of our amazing trip of quilt cruising at its best. I'll be posting all the cruise pictures to my blog under the tab above called "Photos" (hopefully, later today. So check back soon….) In the meantime, I've got much to do to get caught up once again. But I'll be day-dreaming of all the fun we had.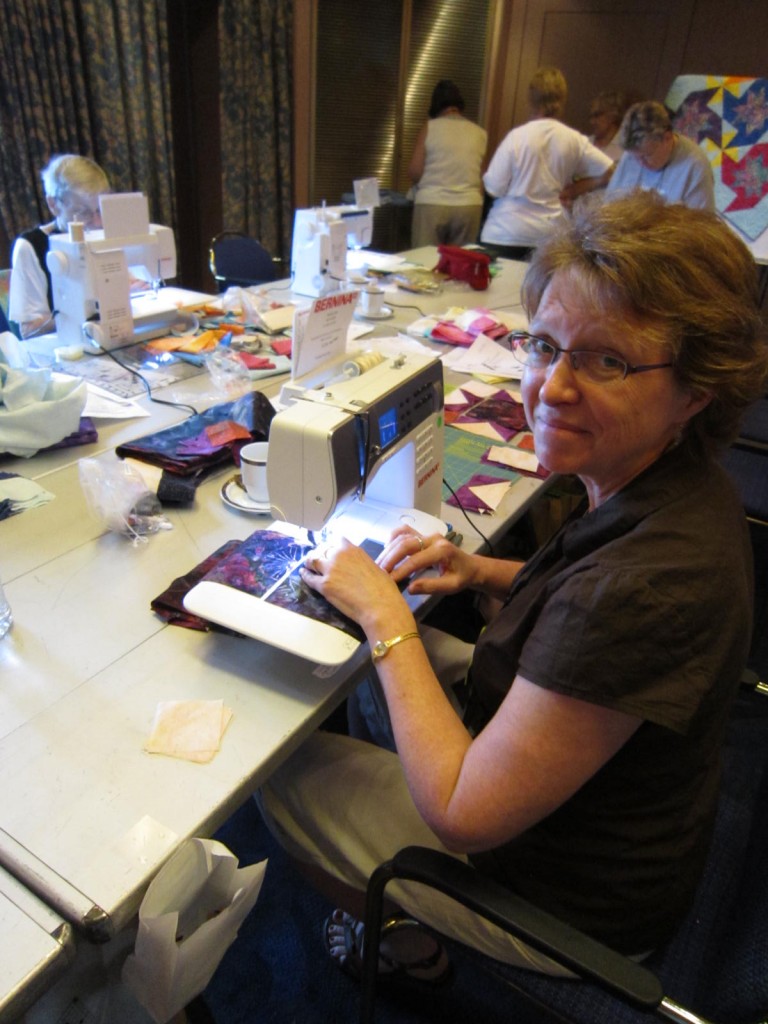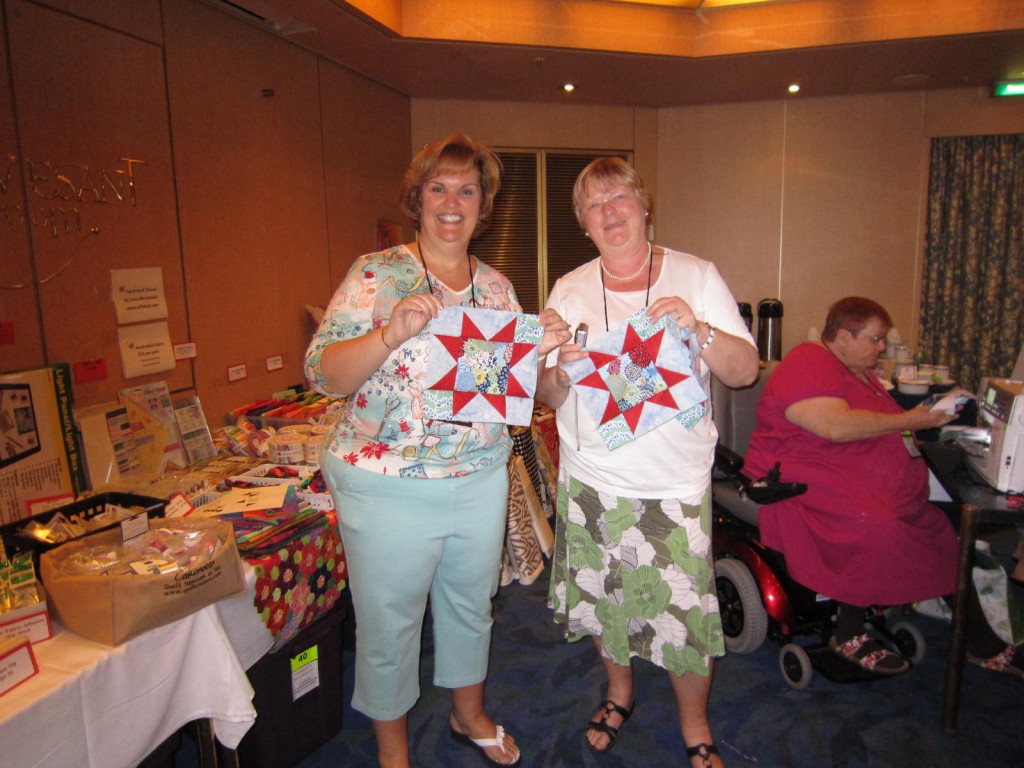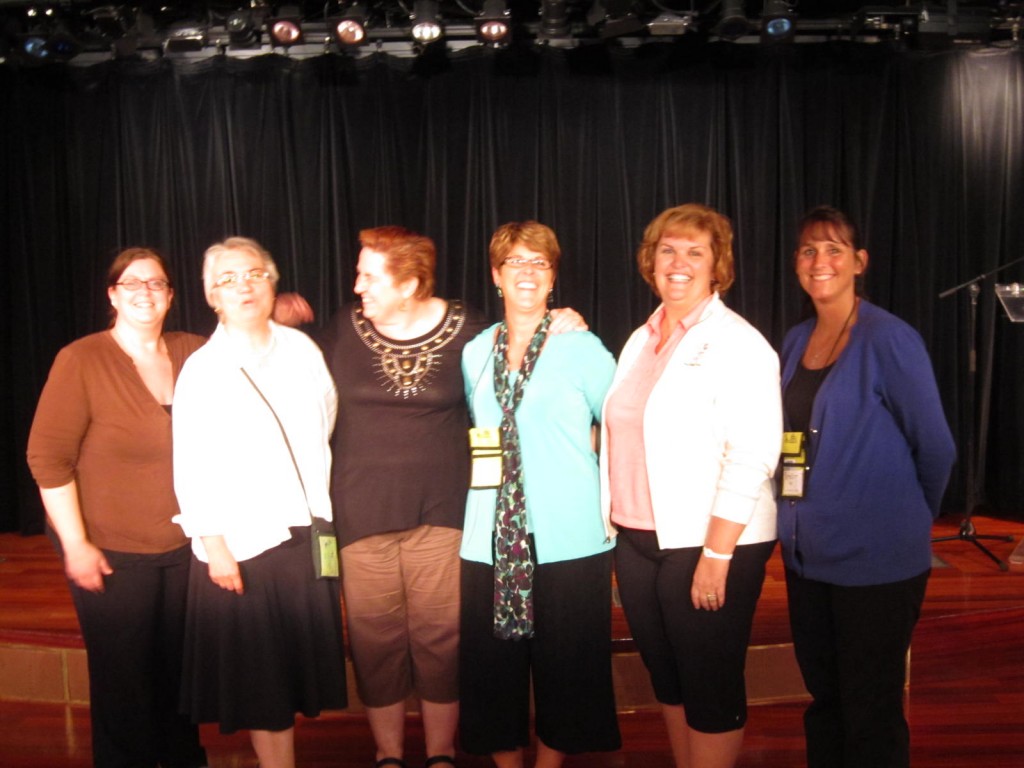 From left to right, Amy Ross, Laura Wasilowski, Charlotte Warr Andersen, Karen Kay Buckley, me, and Kim Boekenoogen
Adios, everyone!
PS… Remember that fun little quilt top I began working on in the open sewing sessions? I finished it in time to share at Show-and-Tell at the Farewell Cocktail Party!