You all know me. I love to travel. And when I get to travel and share my passion for all things quilting through my lectures and classes, well, it's even better. I just returned from a fabulous weekend with the fun, friendly and super-wonderful members of the Tiadaghton Quilt Guild in Williamsport, PA. We had a ball and I enjoyed every moment with them. (Thank you all for making my time with you so memorable!)
Gosh, I've been on the road. A lot lately. Don't get me wrong — it's been wonderful.
But….
I think I may have overextended myself just a bit.
But,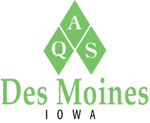 it isn't over yet. I'll be hitting the road again in just a few days to attend the fantastic AQS Quilt Show in Des Moines! I am very excited. I'll not only be teaching classes and presenting a lecture, but I also have the distinct honor of judging the quilt show as well. I'm beyond thrilled!
But:
I sure will appreciate coming back home again and maybe not being on the road so much during the upcoming holiday season. In the meantime, if you are in the midwest, why not plan to come and see me (and about 800 fabulous quilts) at the AQS Show in Des Moines next week!
See you there!