I have lots of BIG news to share with you! So much is happening right now, all at once! As they say, "when it rains, it pours." Fortunately, everything is so positive and so exciting that it's all showers of blessings!  I'm absolutely thrilled to introduce:
My newest Craftsy class!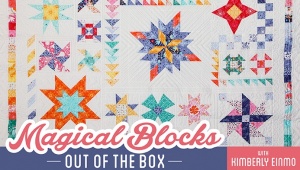 I'm very excited about this new class…..I've been working on the curriculum and the projects for literally months and I think this may just be the best thing I've ever done! In this progressive, skill-building class, I will guide you step-by-step to construct units from simple to complex to create an unlimited number of different blocks based on my "Modular Quilting" concept.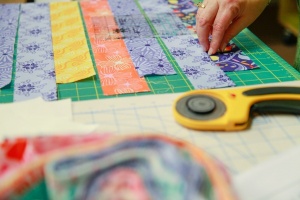 You'll not only be able to create a stunning modern sampler quilt, but there are several other fun, easy, fast projects all while building your arsenal of skills and precision piecing techniques. I designed this class so you can make the main quilt from 1 Jelly Roll plus 1 matching Layer Cake and background fabric but of course you can use fabrics from your stash!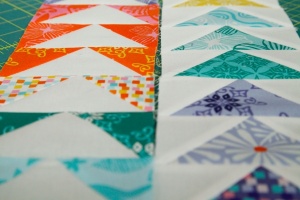 To all of you who have taken my Craftsy classes previously or have taken a class with me through your guild or regional (or national!) quilt show, I'm offering a VERY special discount of 50% off the price of "Magical Blocks: Out of the Box" if you log on to Craftsy through my personal, very special link. Simply CLICK HERE and you will be directed to sign up for the class and receive your discount as my way of saying a sincere THANK YOU for being one of my students or having purchased any of my books or tools. THANK YOU, THANK YOU, THANK YOU!!! But this 50% off link is only good for one week — so don't delay and sign up today!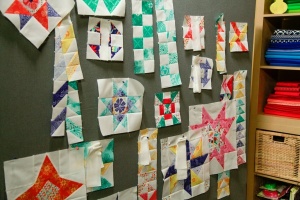 In this class, I've got lots of fantastic ideas to share with you and pretty projects for you to make, including this Variable Pinwheel Star!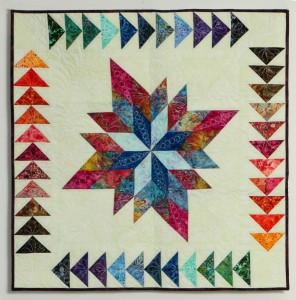 How about a GIVEAWAY?
With all this excitement, how about a giveaway!? This one will be short and sweet; the winner will be chosen at random by clicking HERE . Just follow the link to enter (takes only a moment!) by Thursday, April 24th. Someone will win a FREE class on Craftsy! So what are you waiting for? This is YOUR chance to win — it could be YOU!
MORE BIG NEWS…..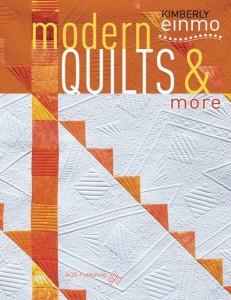 But that's not all! I'm also THRILLED (and doing the happy dance!) to announce that my newest book, Modern Quilts & More will be shipping this week!!! That's right…..after some unfortunate delays (many thanks for your patience!), the book has finally arrived at the warehouse and I will be shipping them out to anyone who has pre-ordered them or will be ordering this week, complete with personalization and signature! I just know you're going to love this new book. I'm so proud of it! The quilts are so pretty and if you like traditional piecing methods plus a bit of easy, fun machine applique, you're going to love this! I've written it just as though I'm talking directly to YOU. Think of me as your personal quilting coach….there to guide you every step of the way. To order YOUR personalized copy, simply CLICK HERE.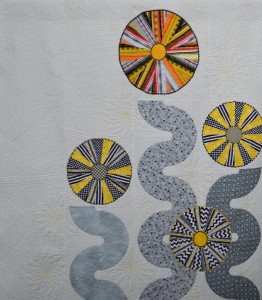 Dresden Daisies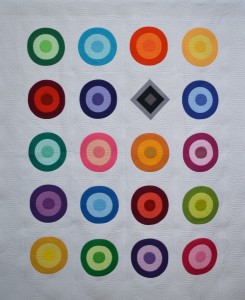 Color Wheels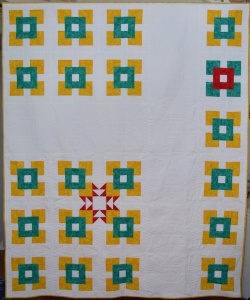 Retro Red Star
And last but certainly not least……
I'm super excited and proud to introduce my brand new website! It is completely new, fresh and user friendly. I hope you'll hop over HERE to check it out!
I still have LOTS more to share with you, but that will be in the next blog posting, so leave your comment and then check back soon!!!
UPDATE 4/24: A Giveaway WINNER!
We put the names of everyone who left a comment on the blog into a basket and my son drew a name. I'm happy to announce (drumroll, please) that JODI CONNERS is the winner! So Jodi, please contact me and I'll get your prize right out to you!
And if you clicked on the link above and entered your name to win a free Craftsy Class, you will be hearing from Craftsy later today if your name was drawn at random in their contest!
Thanks to all who played along!!!