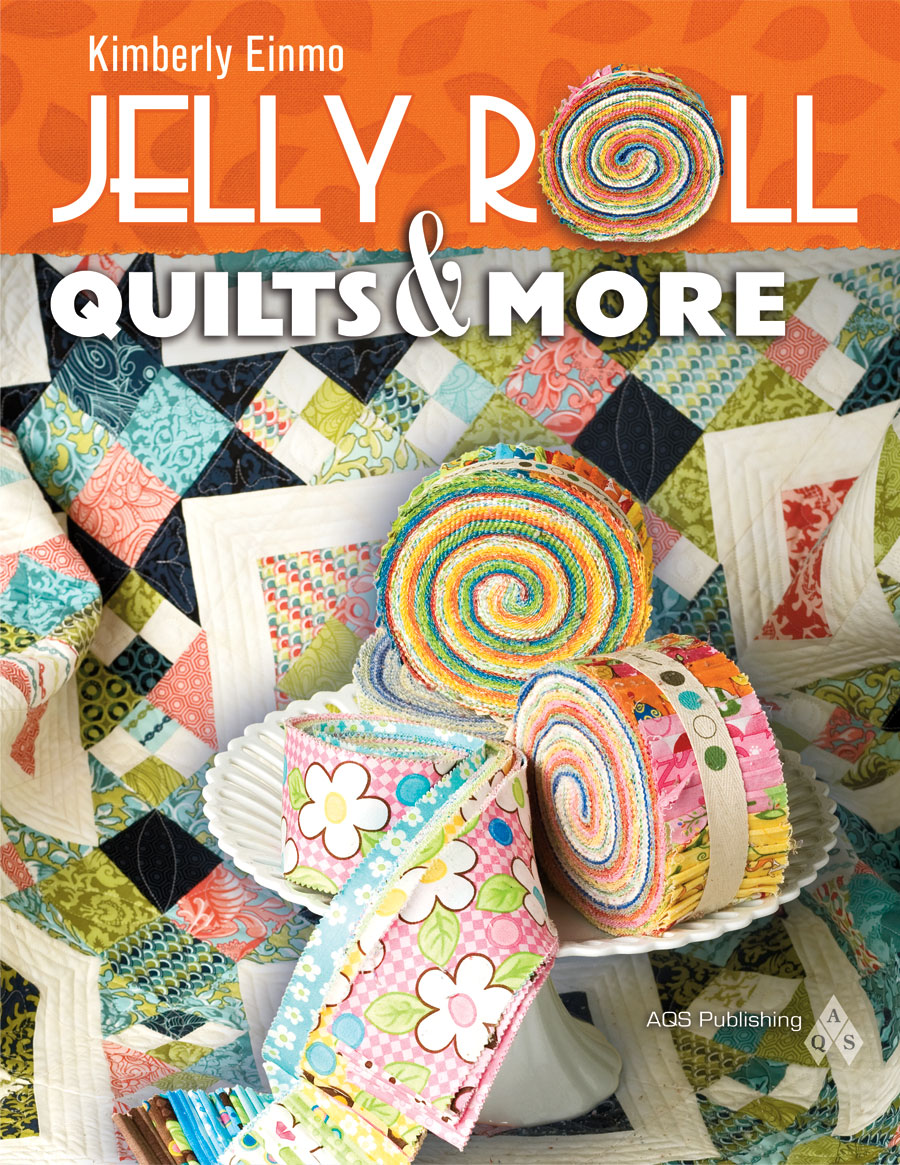 Introducing a sneak peak of my new book,
Jelly Roll Quilts & More!
Jelly Rolls, Honey Buns, Layer Cakes, and other pre-cut fabric packs are the hottest trend in quilt making today and like me, I know you all just can't resist these delectable textile treats! But what do you do with them? My new book is the perfect answer to turn all those enticing fabric bundles into fun, fast, fabulous quilts! Love the quilts but don't have just the right pre-cut fabric pack? No problem. I will provide you with alternate yardage requirements for every quilt and show you how to use fabrics you already have on hand. Perfect for stash-busting! 
You know me: I like to get personal and I thoroughly enjoy getting to know my students on a one-to-one basis. So as your very own "personal quilting coach," I've written the text as if I'm talking directly to you with my usual enthusiasm, energy and humor throughout the pages. I will share dozens of my favorite fast and efficient techniques guaranteed to improve your piecing accuracy while saving you time, effort, and even wasted fabric. My signature "Try This!" sections which are included with each quilt pattern, offer creative ideas, interesting suggestions, humorous stories, anecdotes, and tasty recipes, making this a really fun read in addition to being a great pattern book full of top-notch, original quilt designs!
The quilts in Jelly Roll Quilts & More are oh-so different than other patterns using pre-cut fabric bundles. Seriously — just wait till you see what I have in store for you! I love to cleverly combine basic units to create totally unique, one-of-a-kind designs that only look complex but are a breeze to assemble when you use my speedy construction methods. These dynamic quilts are perfect for quilters of all skill levels and are easily adaptable for classrooms or weekend projects with your friends. I've even included a really fun, step-by-step chapter on how to successfully host your very own Jelly Roll Quilt Retreat!
This book was a labor of love from the minute I sat down to create the very first design. It was fun to write, and even more fun for me to sit down and read again during the editing process! (I must have been "in the zone" when I wrote the copy.) You'll see all original, exciting new designs and I'm sure you won't be disappointed. Due to go to press very soon, Jelly Roll Quilts & More is being published by all the good folks at the American Quilter's Society. I just love those gals (and guys!) Once again, through the entire process they've taken great care of me and helped me take my idea and turn it into a fabulous book you'll turn to again and again for quilt designs, top tips, and even tried and true quilter-friendly recipes.
With an estimated release date of early January, 2010, I simply can't think of a better, more exciting way to bring in the New Year! I'll keep you posted with more updates and perhaps a sneak peak of what's inside soon!
Cheers, everyone!
PS — Don't you just adore the cover? I simply love the way the cover art designer used an actual jelly roll to form the "O" in the word R-O-L-L. Caught your eye, didn't it!?