It's a rather old fashioned phrase, and one you don't hear too often these days. But it is just perfect for today's post. For those of you wondering what "bric-a-brac" actually means, I looked it up in the online dictionary. 
"Miscellaneous curiosities and works of decorative art, considered collectively. Small, usually ornamental objects valued for their  rarity, originality, or sentimental associations." 
Perfect. I couldn't have said it better myself. 
First, I received the most wonderful surprise in the mail on Saturday from my dear, sweet, friend who lives in Paris – Christine. (You all might remember her from here.) She knows how much I LOVE Paris and all things Eiffel Tower. So she sent me a beautiful postcard (which I plan to frame….) and a wonderful case for my Droid phone she made using Eiffel Tower fabric, along with a phone "charm" of the Eiffel Tower! I'm in heaven — I just love everything she sent! Thank you so very much, Christine. You made my day!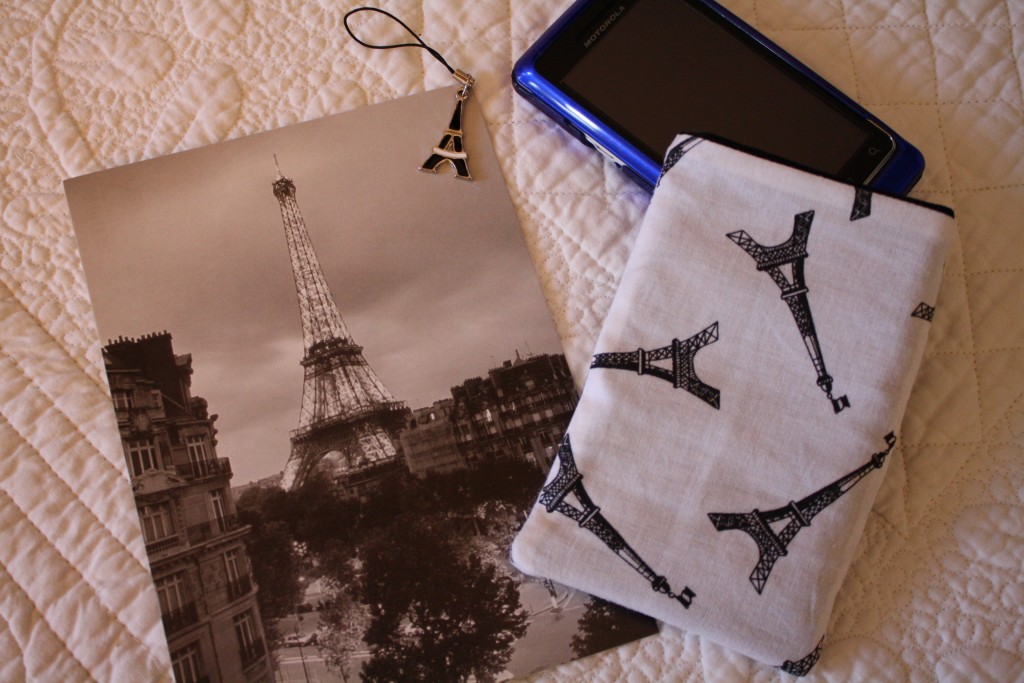 The second surprise I want to share with you all is such a simple, unexpected treat. Our boys each had a friend sleep over on Saturday night and we took all the boys to church with us on Sunday morning. On Sunday afternoon, I received a dozen FRESH eggs from the mother of one of the boys. She told me her daughter has hatched and raised several chickens for a high school project which have since become cherished family pets. The chickens are now roosting and laying eggs in their back yard! Since there are no roosters anywhere in sight, these completely cute and adorable eggs will make a wonderful meal of omelettes or scrambled eggs;  that is, if I can bring myself to actually use them. They are so beautiful! I just love their natural colors and sizes. And it is such a treat to get farm fresh eggs (just laid yesterday) in the heart of Tampa where there are no chicken farms nearby. What a delightful surprise! 
And last but not least, I have updated my blog photo album to include photos from the recent Southern Caribbean cruise! Click here to see them. Happy Monday, everyone.  Hope you're having a great start to a fantastic week!