I'm thrilled to introduce my newest quilt, SEASONS, to you!
This cheery quilt has been in the making for almost two years! I spent a lot of time working on the design of this quilt and then actually sewing it; but I couldn't share much of my progress with you except for occasional "sneak peeks." To finally be able to unveil this quilt to you is something I've dreamed of for the longest time!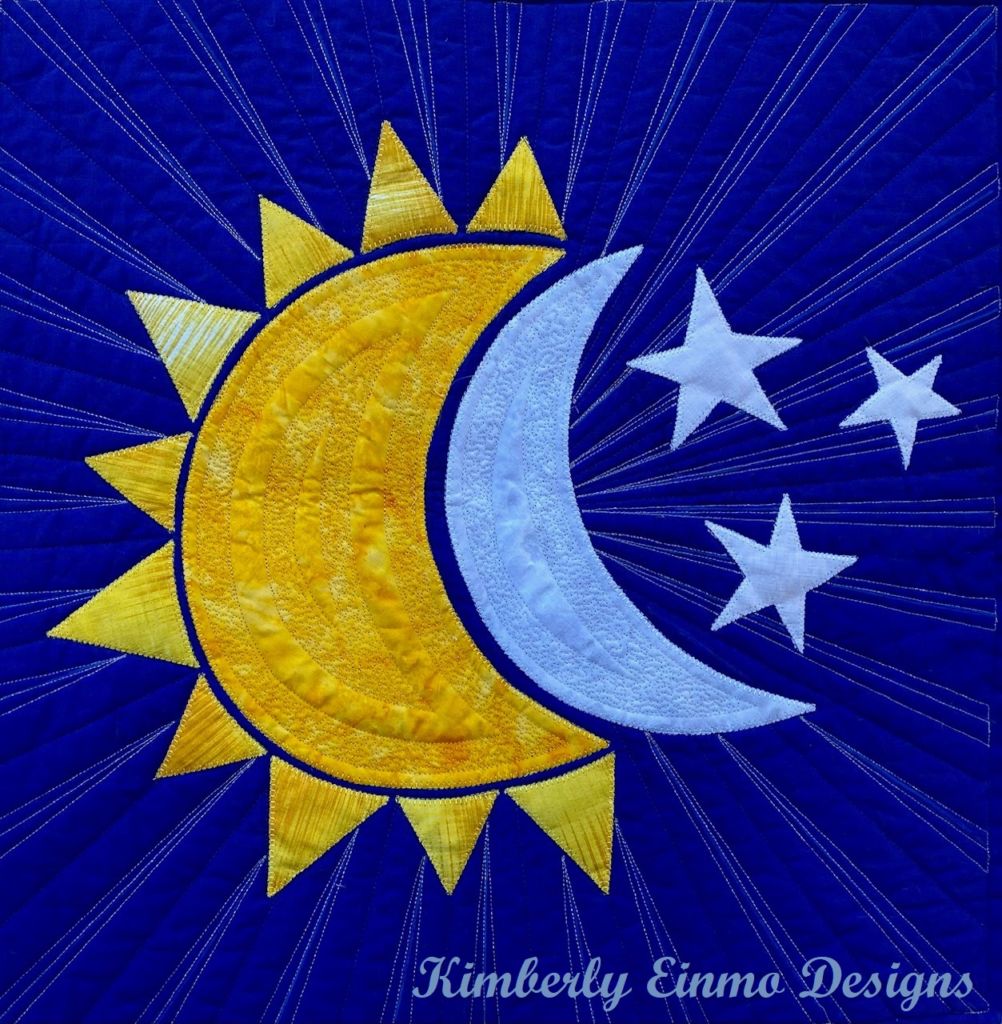 SEASONS will be featured as the 2021 series quilt in American Quilter Magazine, beginning with the January issue which arrives in mailboxes and newsstands around December 1st! If you are already a subscriber to American Quilter magazine, you'll receive all five installments with each bi-monthly issue from January – September. If you aren't yet a subscriber to American Quilter magazine, it's easy and truly cost effective to subscribe! For just $25 a year, you'll receive six issues jam-packed with tons of quilt patterns, feature articles and my regular column, Stray Threads. American Quilter magazine is also available to everyone internationally for just a bit more to cover shipping costs. You can sign up by simply CLICKING HERE.
I'm so incredibly proud of SEASONS. The engineering of the four season quadrants around the center sun/moon/stars block is pretty ingenious, mathematically so. Each quadrant is comprised of the same number and sizes of blocks and each quadrant has similar blocks including house blocks, wreath blocks, and flying geese units which add to the continuity and balance of the design.
There are over 45 block patterns in this quilt and these fun and festive motifs can be used on their own (think about making door panels of the quadrants for each season!) or you can create additional small, quilted projects with the patterns. Anyone with a little quilt-making experience can make this! I constructed the applique blocks by using fusible machine applique techniques but you can choose your favorite applique method to create the blocks. 
In addition to incorporating various fabrics from my stash, I used 30 colors from my own fabric line, Solid-ish by Timeless Treasures Fabrics, to make the blocks. You need to choose some of your own stash fabrics but if you'd like to include the Solid-ish colors I used, I have created a lovely fat quarter bundle for each of the four seasons plus an "essentials" pack. Each bundle contains six different fat quarters of Solid-ish and you can get them EXCLUSIVELY on my website by CLICKING HERE. 
Each bundle is just $24 but for a limited time, if you buy four bundles, you get the fifth bundle absolutely FREE! Go to: www.kimberlyeinmo.com/store. 
Let's stay connected through the entire 2021 series and have fun in the process! I have created a new, FREE Facebook page for anyone interested in the SEASONS quilt. You can ask questions, post photos of your fabric choices, share your progress as you sew, or simply drop in and post each time your issue of American Quilter magazine arrives in your mailbox! To join this group, search Facebook for: SEASONS, American Quilter Magazine 2021 Series quilt or by CLICKING HERE. I also invite you to "LIKE" my Kimberly Einmo Designs Facebook page to be notified when I post short videos with tips and techniques about the blocks featured in each issue of the series. Bottom line? Let's just have some FUN!
I thoroughly enjoyed making this quilt and I'm certain you'll enjoy it, too. So, why not invite your friends to join you? If you plan to make this series quilt, simply leave a comment below and let me know you're interested. (There's no pressure and no formal commitment — really. I would just love to know if you like the quilt!) Then get your hands on the January 2021 issue of American Quilter magazine, start gathering your fabrics and get ready for quilting camaraderie while we quilt the SEASONS together.
I hope you'll join me in this year-long trip celebrating the seasons and holidays of the year!