Welcome to wonderful Wyoming!
Recently we had the privilege of traveling to Cheyenne, WY where I was honored to be the featured national teacher at Quilt Wyoming. While in town my husband and I made a special surprise drop-in shop stop at the fabulous, exclusive Janome dealer, the Sewing Center of Cheyenne.
We were instantly greeted by the very gracious Ken Harvey and his outgoing son, Kenny. Since they had customers in the shop, I amused myself for a few minutes while they made sure the customers' needs were not only met but exceeded. I was so impressed with their attentive nature and concern for not only the customer's sewing machine needs, but for their inquiries about mutual family and friends as well. 
Their light, bright store was packed with almost every model of Janome sewing machine, plus an array of notions and accessories any Janome enthusiast could ever want or need!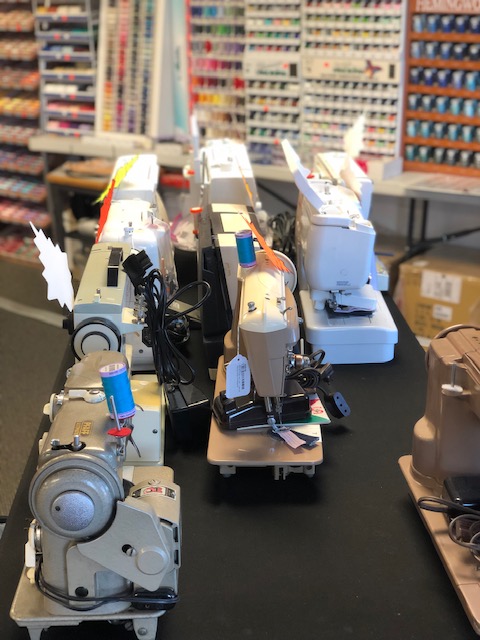 They service all makes and models of sewing machines right on the premises. And from what I heard, they pride themselves on some of the fastest turn-around time ever, so you won't have to live without your favorite appliance for long!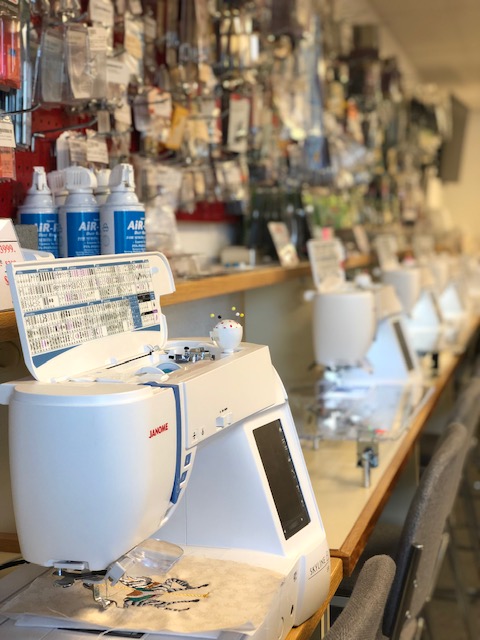 Being a family-owned and operated local business for many years in this tight-knit community, they provide customers with not only outstanding, truly personal service but also terrific prices and flexible financing to suit every budget and need.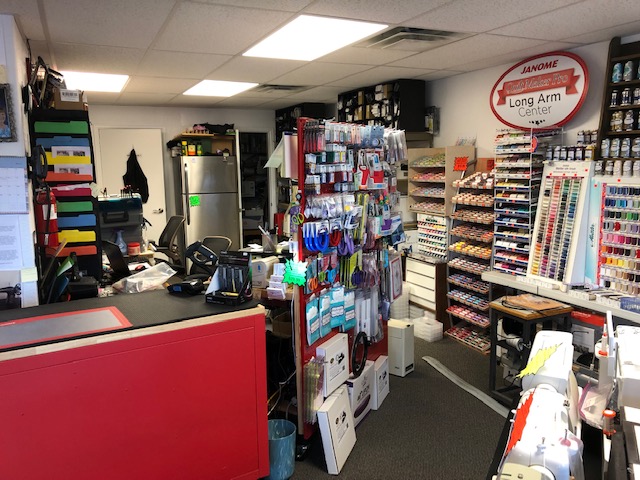 Ken stocks his store with many brands of thread and every color choice under the sun. Customers know they can come and stock up on threads, needles, notions, and anything they might need for their sewing, quilting and embroidery needs!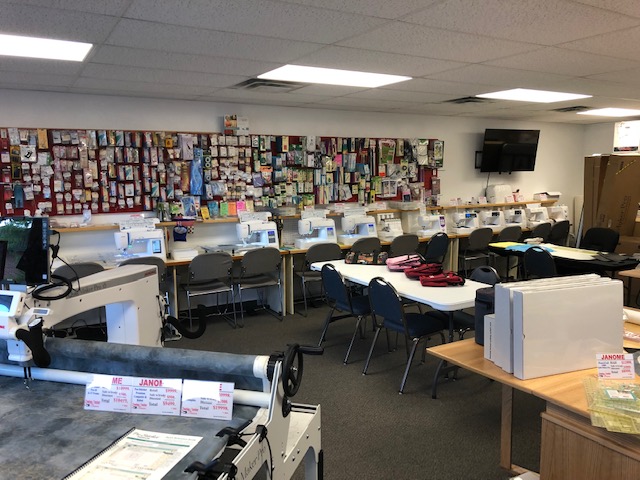 Check out all that scrumptious thread in the background! And Ken showed me a very clever idea for his front counter……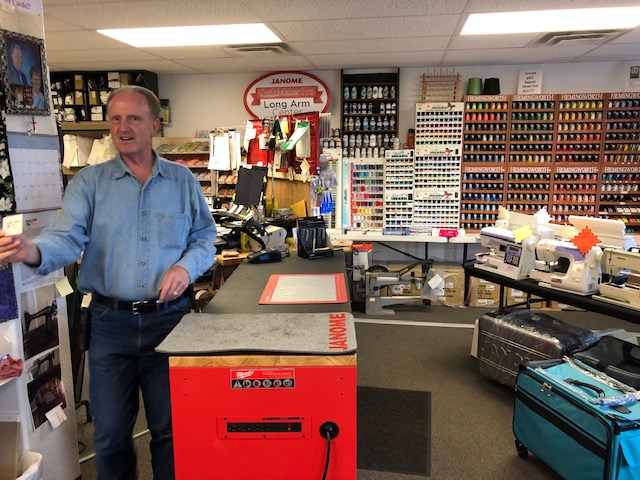 It may look like a snazzy tool chest, but this baby is not only the perfect shade of "Janome red," it holds all sorts of tools and things needed for tinkering on machines or getting people checked out efficiently.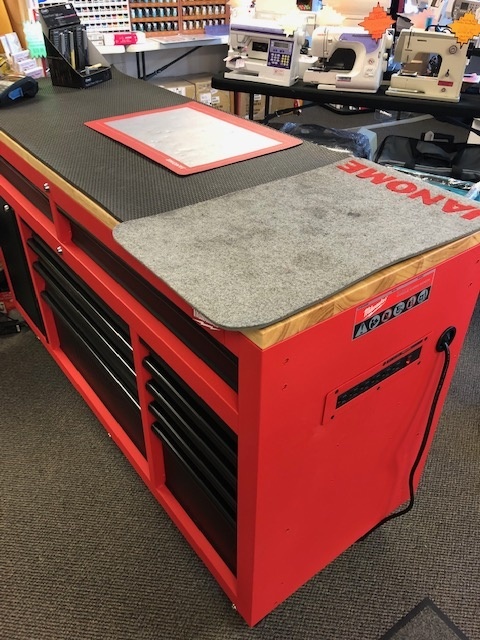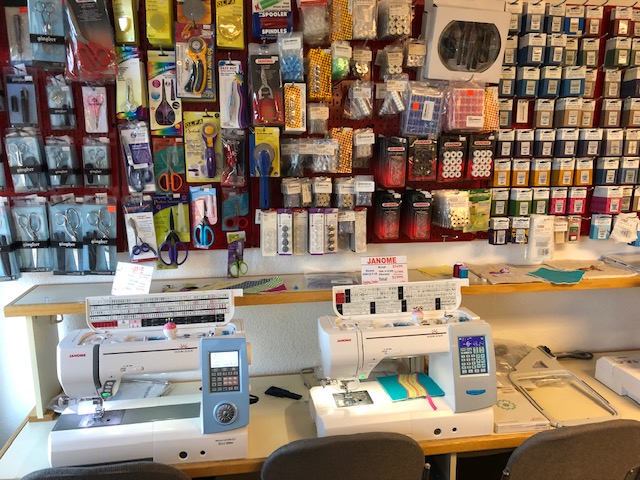 Dedicated to their customers….
Since Quilt Wyoming was being held at the local community college, Kenny had a booth for the shop set up in the vendor mall.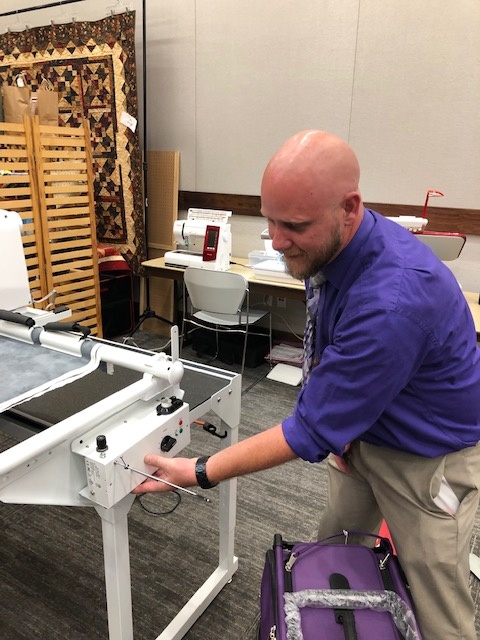 I'd like to share an incident that happened in my own class which exemplifies this family's dedication to their customers. On the morning of the first class, one of my students brought her Janome to the classroom only to discover she had inadvertently forgotten the plastic bobbin casing cover at home. She couldn't use her machine without it. However, without a moment of hesitation, Kenny jumped in his car and drove to their shop over twenty minutes away to get a replacement cover for her to borrow to use in class that day. These quick-thinking and selfless actions kept this lovely gal from being upset out about missing any of the class and she had a glorious day of stress-free sewing! I also heard from many students, guild members, and customers that this act was typical of their outstanding customer service and why people continue to go back again and again to the Harvey's store. Now that I know both Ken and Kenny personally, this doesn't surprise me in the least. They are both such amazing men!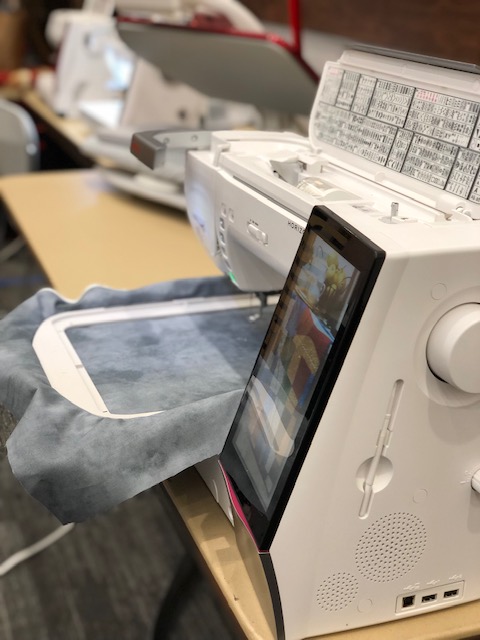 In the vendor hall, I had fun doing a little free motion quilting on the Janome Quilt Maker Pro 16 mounted on the new 5′ table! Oooh….I think one of these babies needs to come home to my studio, don't you?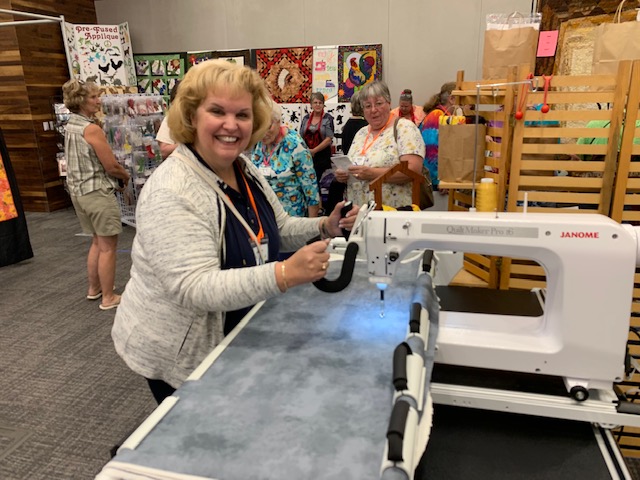 Ken and Kenny made sure the newest Janome sewing machine models were on hand at the vendor mall for quilters from all across the state to try, from travel machines to the top of the line.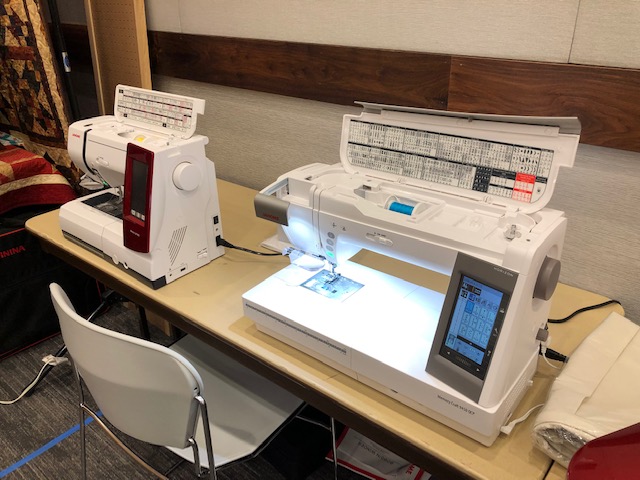 And even more exciting, they had one of the new Elna presses on hand! There is so much buzz in the quilting world right now about these fabulous presses. I LOVE mine and wouldn't dream of quilting without using it now to make my blocks perfectly flat!
Now, for the hot-off-the-press, BIG announcement…..1
The Sewing Center of Cheyenne will soon be expanding!
I heard from Kenny just today they have acquired a new space which will be almost 4 times larger than their current store! They will begin making the move to this new location and renovations will start this weekend with a giant GRAND OPENING in November! They have so much planned for this expansion, including classroom space and room for additional machines and so much more! The quilters and sewists in the area are in for a super treat! 
Here is the new store front which is apparently only about three blocks from their current location.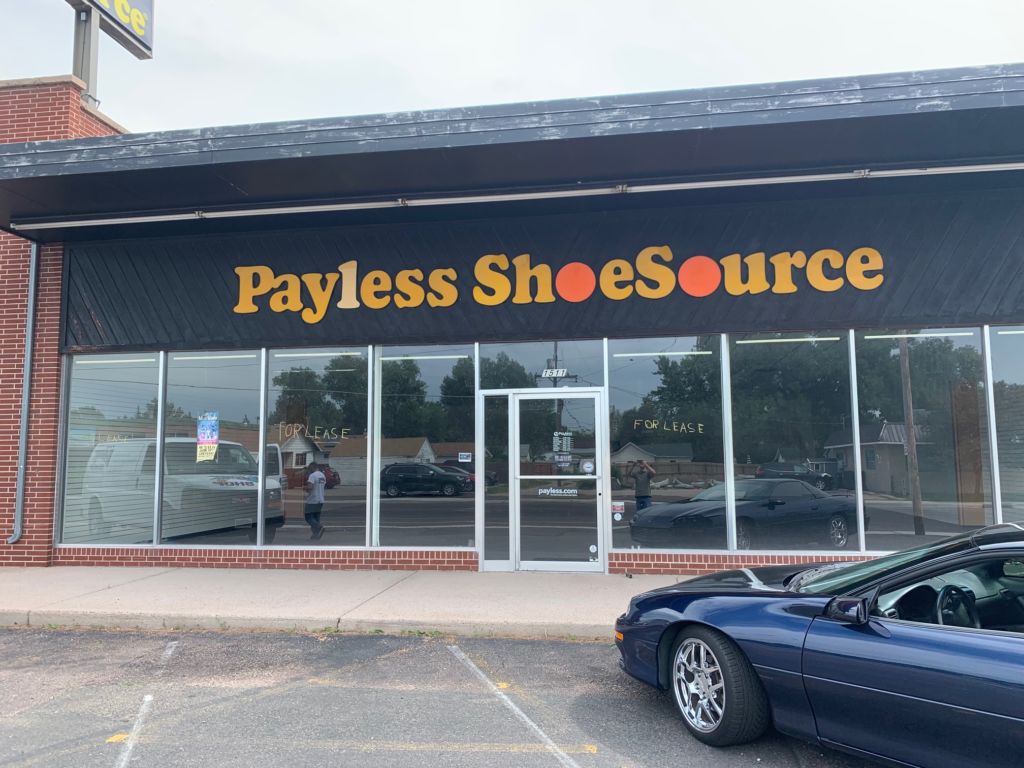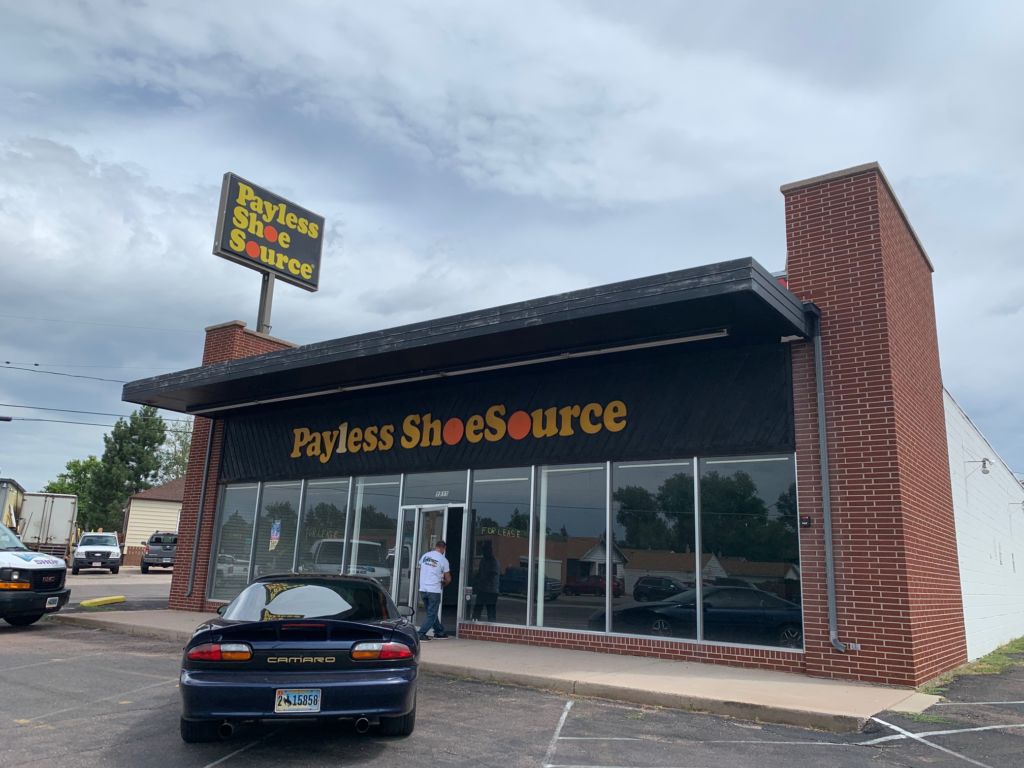 Just take a look at the immense space in this new building!! Plenty of room for classes and so much more!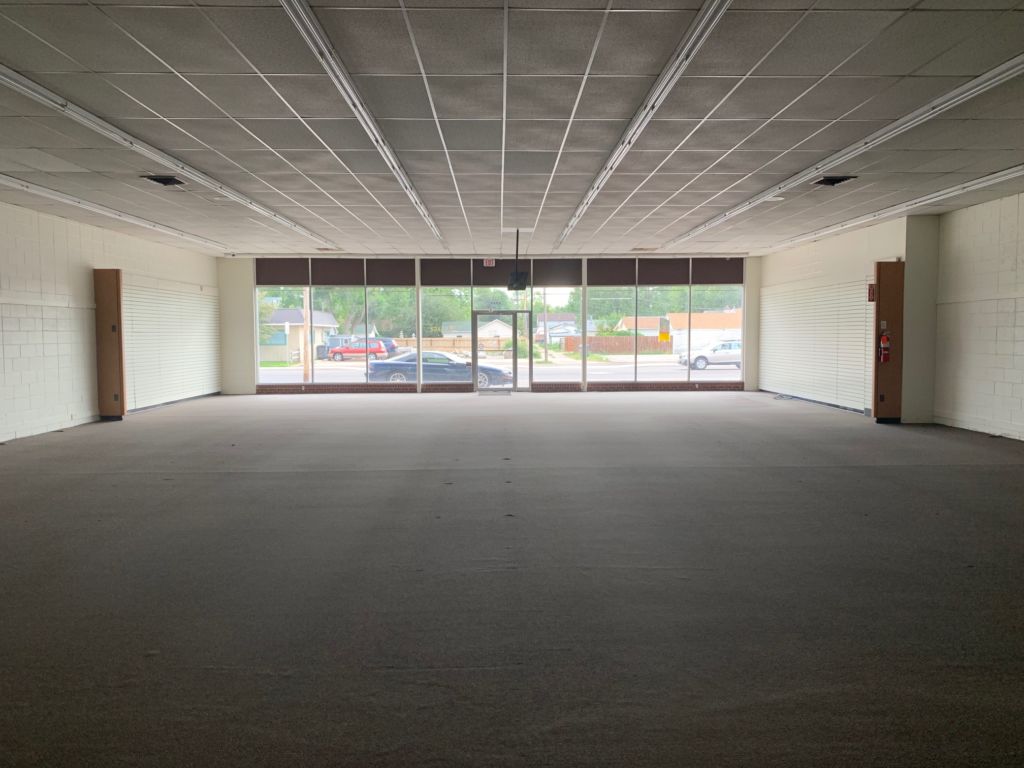 It's incredibly exciting to think of all the possibilities Ken and Kenny have planned for this amazing space!
But why wait until they are settled? You can score some terrific deals RIGHT NOW by visiting them at:
Sewing Center of Cheyenne
1400 Hugur Ave.
Cheyenne, WY 
307-778-2717
www.SewCenter.com 
Their operating hours are:
Monday – Friday / 9am – 5pm
Saturday / 10am – 3pm
Sunday / Closed
Be sure to go out of your way to visit this shop whenever you're anywhere near Cheyenne. And if you live in Denver, it is a straight shot up the highway and an easy drive!
And finally, I snapped this fun photo of the guys……