Hello everyone! It feels so great to be back home again. I apologize for not having posted in such a long time, but to be honest it has taken me several days to get settled and back into a routine again. Our trip to Europe was wonderful in so many ways — but it was non-stop hectic, and when we arrived back in the US (quite literally just hours before that volcano erupted...) we were exhausted and I felt as though I have been walking around in a daze. After some much needed rest this week and taking things slowly and methodically, I finally feel like I'm getting caught up and back up to speed.
I took so many pictures; far too many to feature in this blog post alone. Within the next day or so, I'll have many of the pictures uploaded so if you'll stop back and click on the "PHOTOS" tab at the top of the blog page, you'll be able to check out the highlights from our trip.
My husband and I had a great time visiting with Birgit Schueller and her family in Germany. We stayed with them for a few days after Easter and enjoyed every moment of their warm and inviting hospitality! While there, Birgit took me to meet her friend, Birgit Reinhardt, who owns a charming fabric and yarn shop, Lindwurm, in Neunkirchen, Germany.
Birgit R. had some glorious Danish fabrics in her store, and I brought some home with me to make an extra special quilt. I'm in LOVE with all of the Danish fabrics, but most especially the chartreuse fabric — and I can't wait to share with you all what I plan to do with them!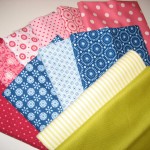 (Hey Birgit S. – the next time you visit Lindwurm, would you mind picking up two more little fat rolls of that marvelous chartreuse fabric for me? I just know I'm going to need more….thanks!)
While in Germany, I had a blast teaching a fun mystery quilt class to the a classroom filled to the brim with friends old and new from the Rheinland Pfalz Quilt Guild in Ramstein, Germany. Planning this big event was the guild's first VP, Courtney Turner. She did an outstanding job of organizing the book signing event and workshop, and she kept everything straight when it came to all the books and rulers. Thank you so much, Courtney! And I want to send my heartfelt thanks to all the terrific gals who joined me for the evening to stitch and gab into the really late hours — and on a Tuesday no less. We had such fun, and I enjoyed catching up with familiar faces and getting to know new faces as well. The entire evening was a treat! Going back to the RPQG is always like "coming home" for me.
From Germany, we headed east to the Czech Republic. We spent a day in one of our favorite spots, Karlovy Vary, before driving to Prague to the 4th annual Prague Patchwork Meeting. We love to stroll through the streets looking at the beautiful architecture, window shopping, and enjoying the sights and sounds of this amazing city nestled in the Tepla River Valley.
This time we found that the city was doing quite a bit of renovation and construction on the streets — so it wasn't quite as picturesque as our previous visits. But I did happen to snap this rather humorous photo of Kent at the local bank. Notice that even though the road is 'missing,' they provided a handy-dandy pebble ramp up to the ATM. Priorities first, you know.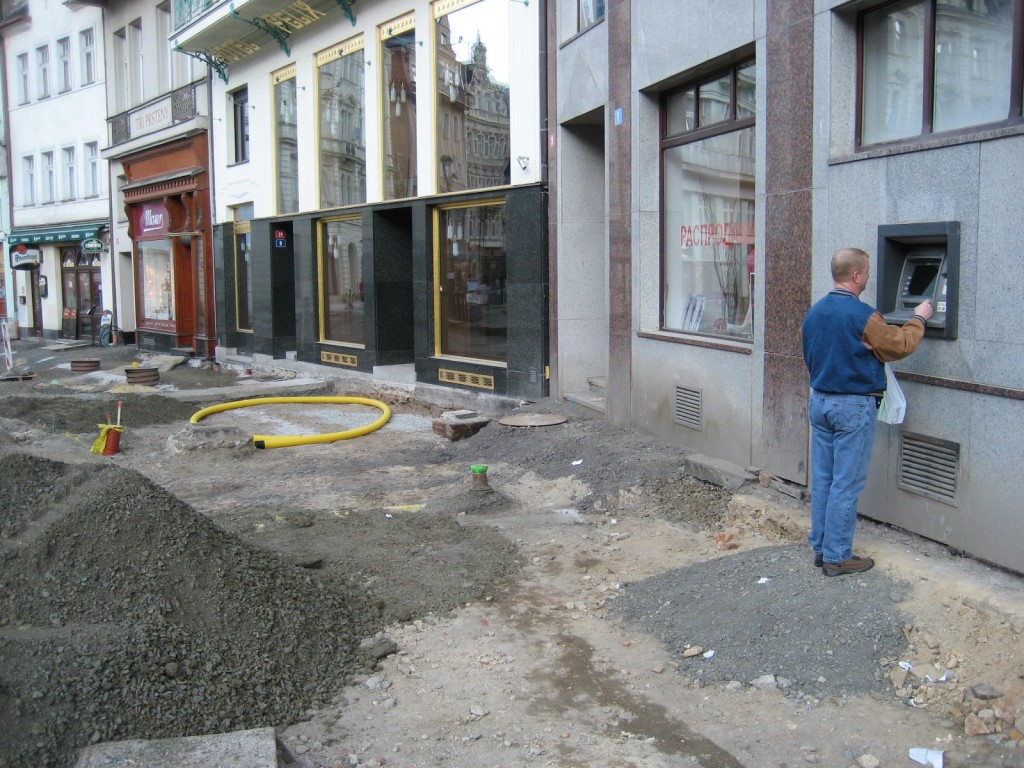 We arrived in Prague at the new location for the Prague Patchwork Meeting — the Wellness Hotel STEP and SportsCentrum.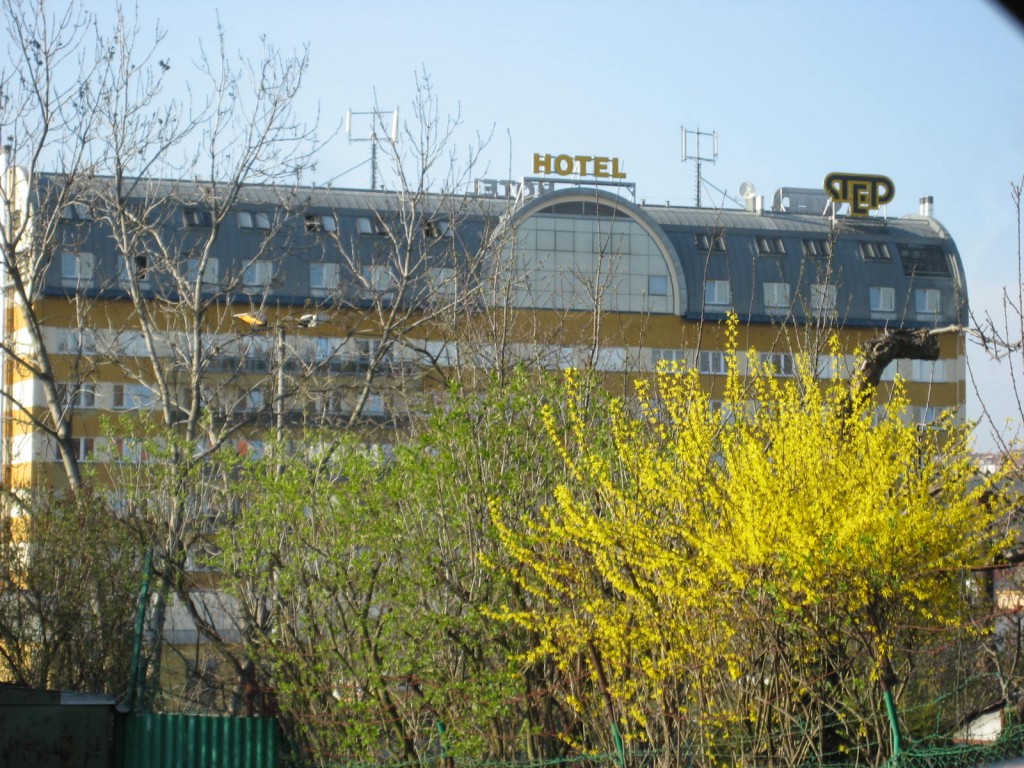 What a lovely new facility with plenty of space, great lighting, and absolutely first-class classroom facilities! It was an honor to be featured as one of the VIP guest instructors. I taught at the PPM two years ago in 2008; so it was great fun to be invited back again.
There is much more I'd like to share with you, so be sure to check back in a day or two for lots more photos and another update from the trip. In the meantime, thanks for stopping by. It's good to be back!