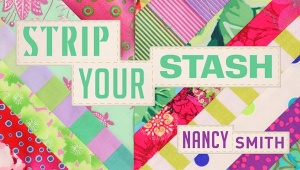 UPDATE! A random winner was chosen today and I'm happy to say that Sharon M. is the lucky winner!!! 
Thanks to everyone who registered to win the free class. 
Guess what? I'm hosting a special Craftsy class giveaway! Who'd like to win a FREE class?
All you need to do is click on the link below and enter a few bits of info to be eligible to win Nancy Smith's BRAND NEW class,
STRIP YOUR STASH!
In this quilting class, you'll learn the easy and time-saving technique of strip sets. Join quilter Nancy Smith as she shows different ways to use your stash to make beautiful quilt blocks. Starting with color matching techniques, you'll learn how to work with the fabric you already have in your collection. Break out all that beautiful fabric you've been saving for a special occasion and put it to use!
You'll learn to make so much more than just quilts in this class as Nancy also teaches ways to use every last scrap to make waterproof snack bags, placemats, notebook covers and more. Working from larger pieces of fabric down to the bits and pieces, nothing will go to waste in this class.
In no time at all, you can use up your stash and make small gifts or a beautiful heirloom quilt. Sign up for Strip Your Stash today!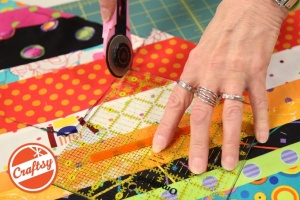 What You'll Learn
Color matching
Cutting and sewing strips
Making blocks
What You'll Make
Six quilt patterns: Carnival Squares (finished size 49″ x 61″), Up and Down (48″ x 60″), Candy Strips (51″ x 63″), Kaleidoscope (50″ x 62″), Paint Box (50″ x 60″), Curved Play (48″ x 62″)
16″ pillow
Placemat, napkin, snack bag or composition notebook cover.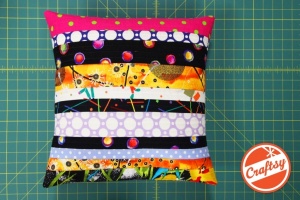 So, if you'd rather not wait to find out if you won, click here to receive a special discount to sign up for Nancy's class right away!
And for YOUR chance to win, click on the link below:
http://www.craftsy.com/ext/KimberlyEinmo_StripStash_Giveaway
A random winner will be chosen after the contest closes at NOON on Monday, May 20th.
Good luck!