First, I simply can't begin to say THANK YOU enough to each and every one of you who stopped by to leave a comment here on my blog about the new book and/or my new website. I read each and every one and your words truly touched my heart. So, thank you all!
I would be remiss without thanking Mary at Quilt Hollow for her blog post which sent so many of you my way. Mary and I met in Germany many years ago through the base quilt guild and we've kept in touch since then. In fact, her oldest son used to kid-sit for our boys when they were young! It has been a joy to watch her quilting business grow and flourish since they moved back to the US! So I want you all to know that I sent her an autographed and personalized copy of my book — just a small way to say a big thanks for the shout-out on her blog. Plus, I sent her another autographed copy of my book for her to give-away on her blog. So pleaes be sure to stop back by and check out her give-away. THANK YOU SO MUCH, Mary!
Also — I want to apologize for the few little glitches some of you may have experienced with the blog and new website over the weekend. As hard as my webmaster and I tried to make sure there wouldn't be any issues when we launched the new site, of course there were a few (albeit minor) snags. I think we have everything fixed and running smoothly now. The "Follow Me" button is up and running on the blog (ON THE HOME PAGE on my website at www.kimberlyeinmo.com. Bottom right corner) — so I hope you will sign up to follow my blog (please!) and the photos on previous blog posts should now be back online and ready for viewing if you care to catch up on any posts you may have missed. We'll address any additional issues if they present themselves. As Gilda Radner used to say, "It's always something…."
And now….for the winners! (Drum roll please….)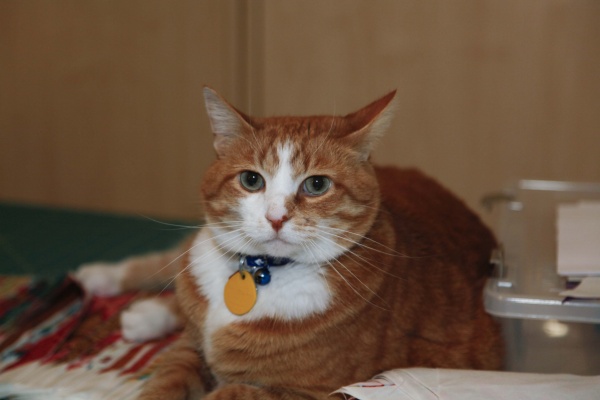 It was a very tough decision and although we'd just love to send EVERYONE who commented a new book, it just isn't possible. So, Sir Hod (aka "Tuffy") helped me choose the following winners:
Kristen at Tenquilts.blogspot.com – Book
Wendy in MT – whyknotkwilt.blogspot.com – Book
Julie Harrington  – Book
BariJo Moore – the EZ Jelly Roll Ruler
 Thank you, everyone, for the excitement and enthusiasm you shared with me about my book! ('Cause y'all know I"m never enthused about anything… 🙂 ) And please don't forget to sign up to be a follower on my blog (if you haven't already done so.) I get so tickled when I see the little icon photos of friendly faces appear….
Toodles!
UPDATE:
If you didn't win (sorry!) check out this link to Pat Deck's blog. She's hosting a give-away there!