…..in Illini Country!
I just spent three fabulous, creativity-packed days with the ladies of the Illini Country Stitchers Guild! We had the best time; it was an amazing trip from beginning to end and the ladies treated me like royalty. I loved getting to know many of them on a more personal level — learning about their lives, their families, and sharing their passion for all things quilting! But rather than me telling you all about it, how about a little photo show?
After being picked up from the airport by Kim Lytle (thank you so much, Kim!) I spent Thursday afternoon with my good friend and sweet hostess, LynnEl Springer. She and I endulged in a little local quilt shopping where she found some gorgeous fabric…..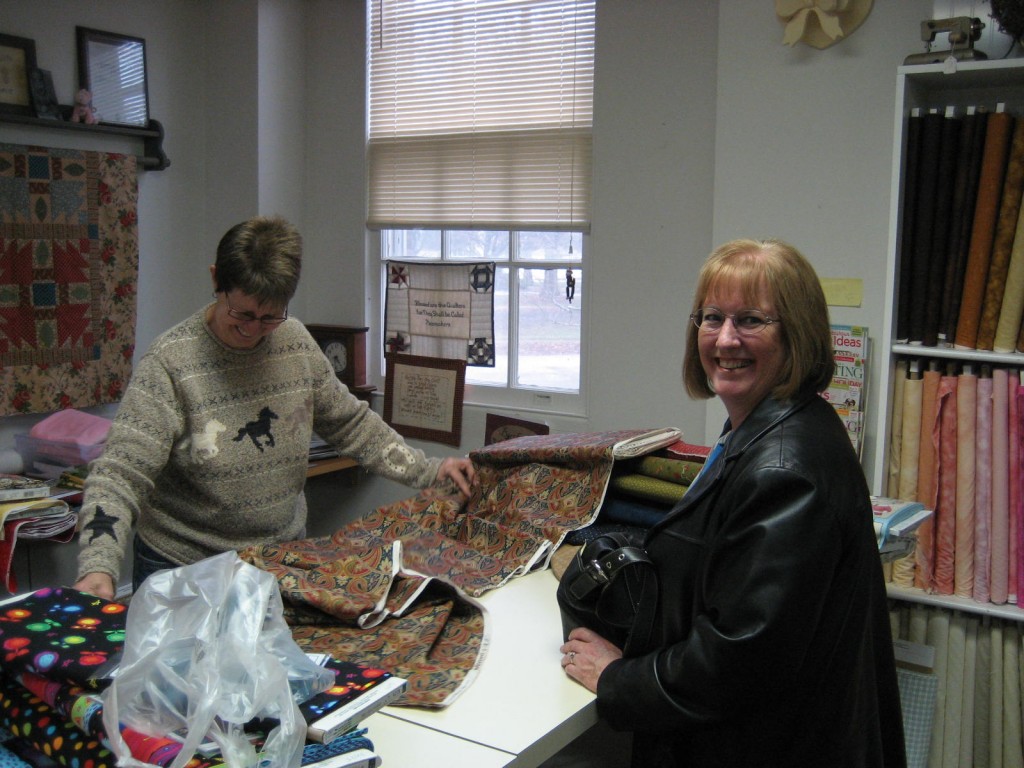 and I splurged on a little antique toy sewing machine to add to my collection!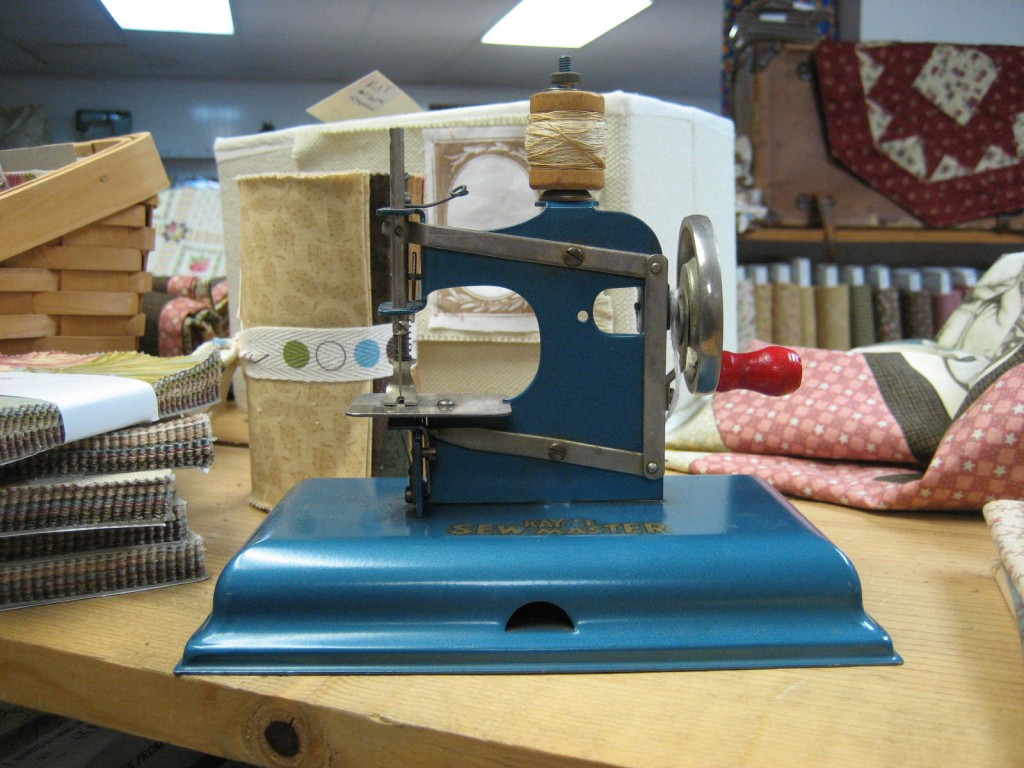 I had the pleasure of dining at Panera Bread with
a fun group of ladies from the guild prior to the meeting….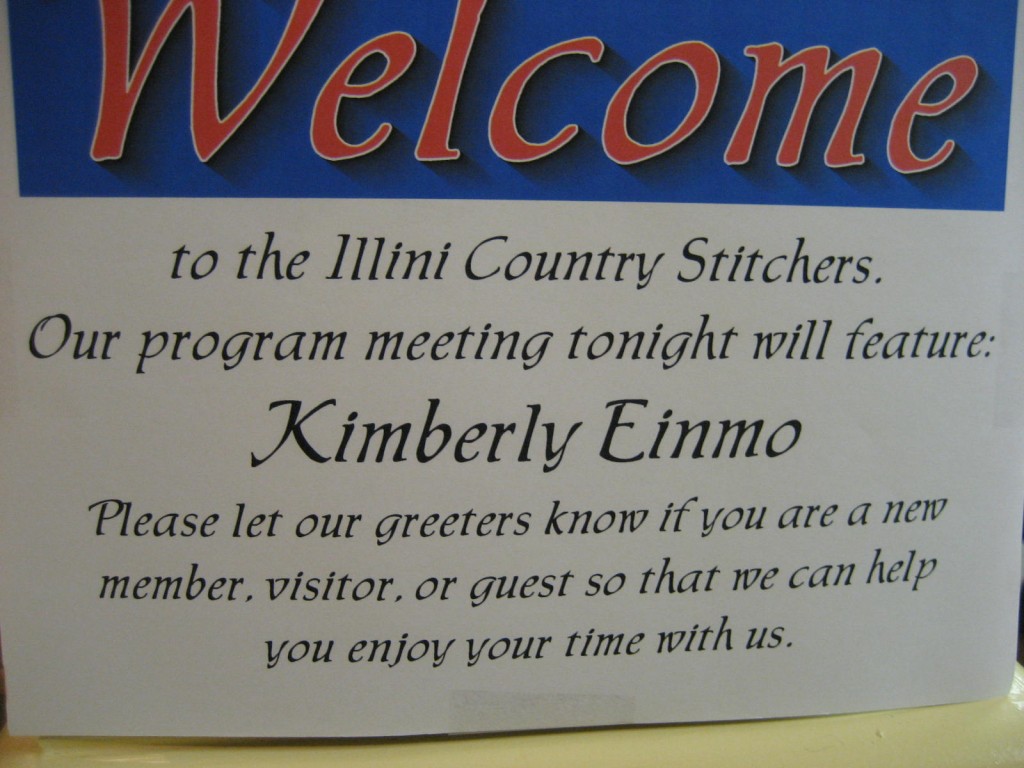 ….where everyone made me feel very welcome and right at home.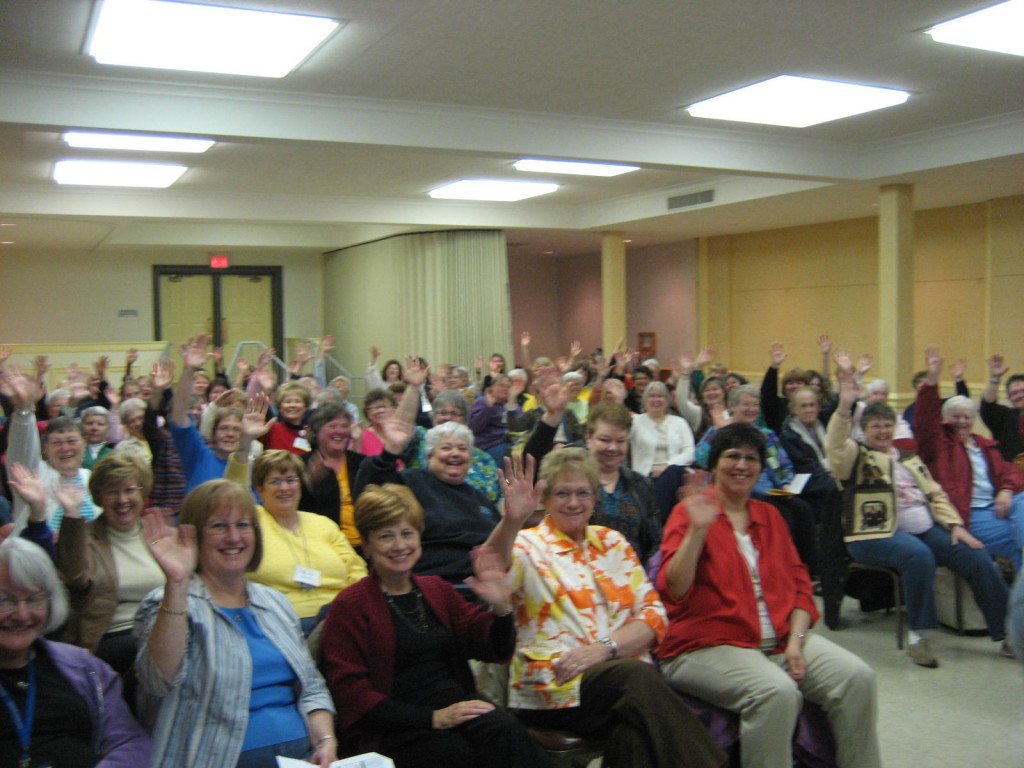 I'll bet I was the first guest speaker who asked everyone to wave
so I could take a picture in order to introduce them all to YOU,
my blog readers. (They were such great sports!)
I thoroughly enjoyed presenting my lecture, slideshow,
and trunk show; then getting to meet-n-greet the lovely gals after the meeting.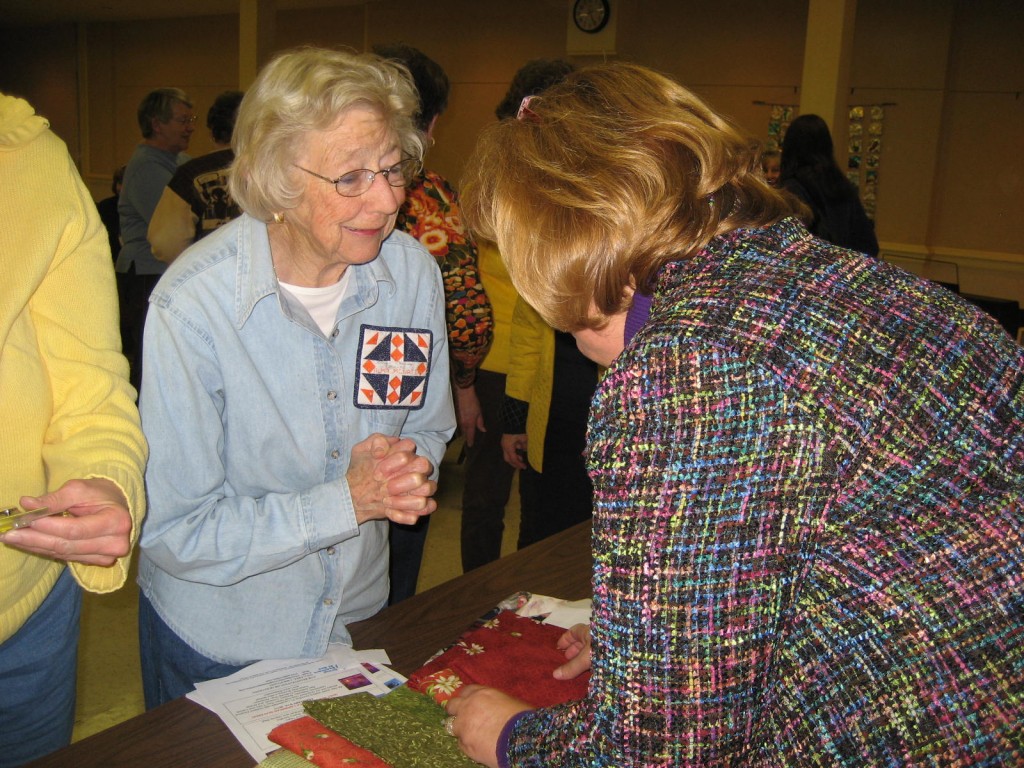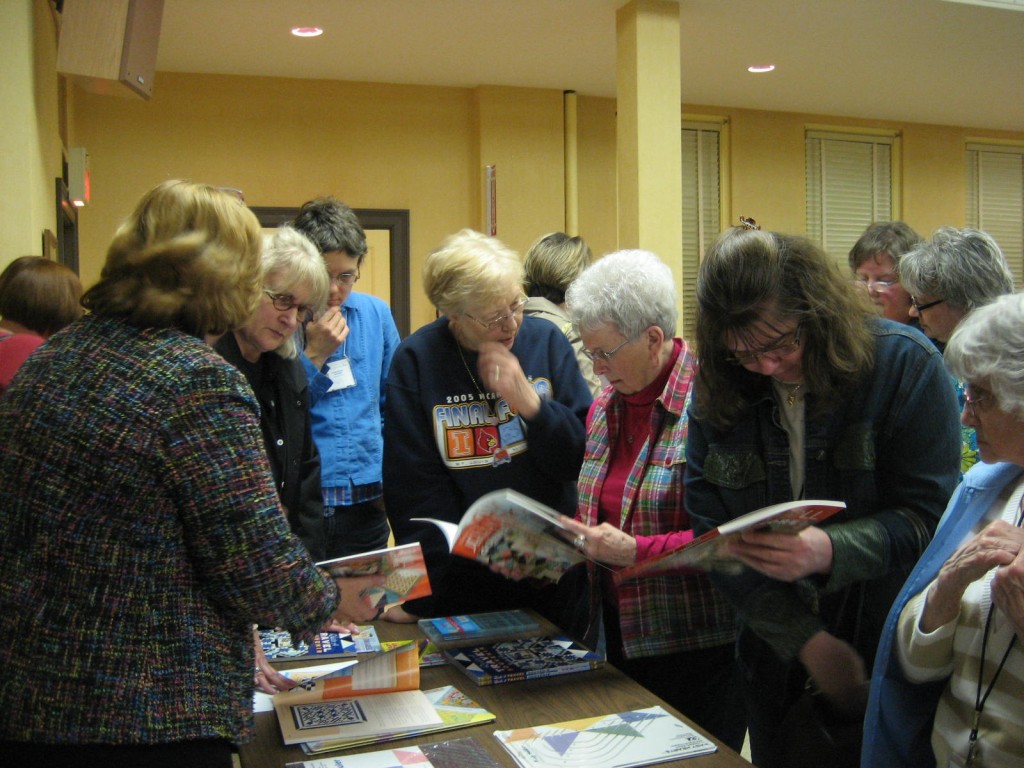 Bohemian Crystal Quilt Class
On Friday morning the ladies were set up and ready to go bright and early.
We had a great day of stitching and learning new techniques to sew
tricky-triangle/rectangle units to make the Bohemian Crystal quilt.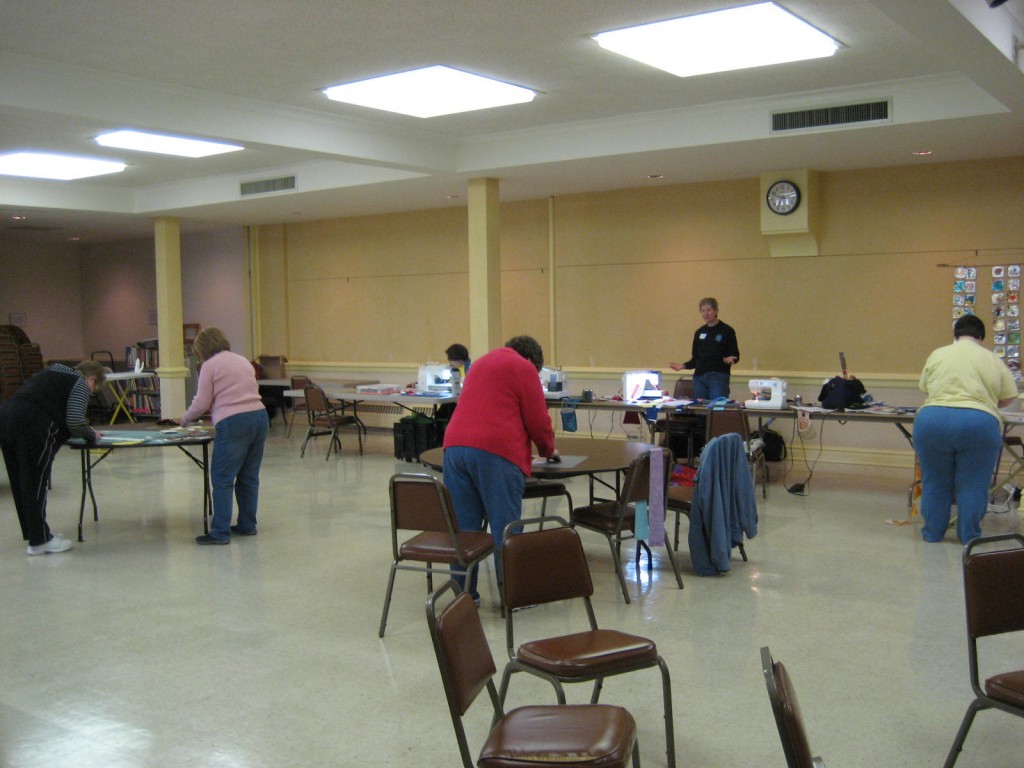 These gals came with their sense of humor packed and they were ready for fun.
Notice how careful she's being about where she's not pressing her units?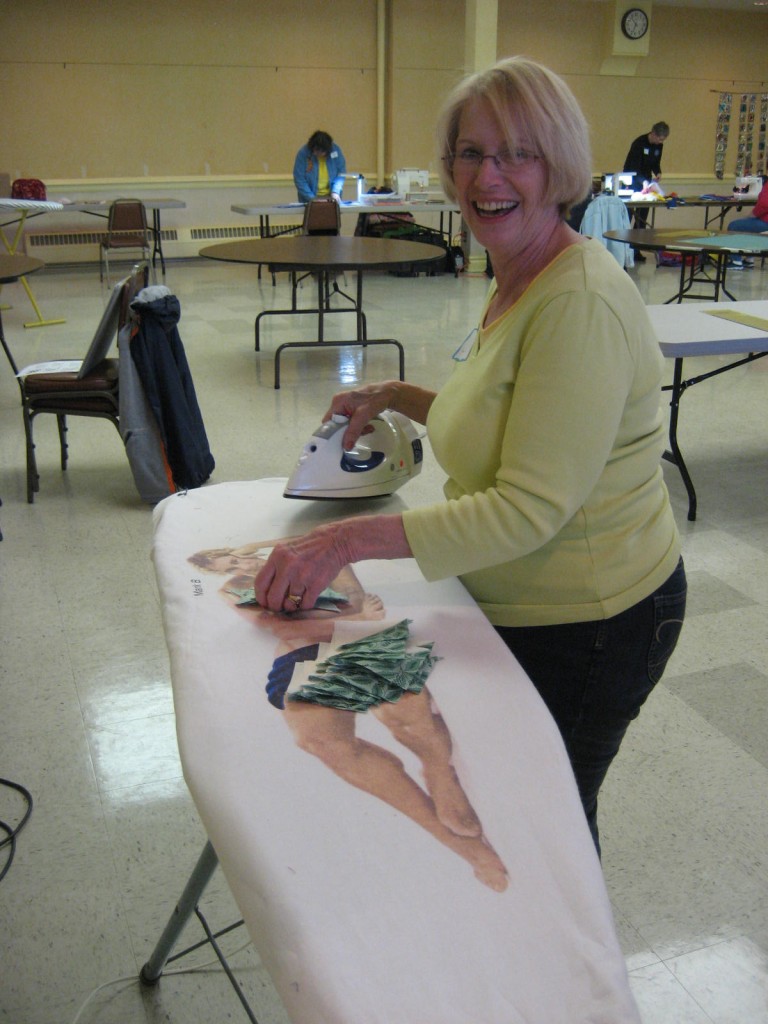 I couldn't resist snapping this shot. LynnEl was happily chain piecing
her four-patch units. She's not bored, just completely relaxed.
Yep, that's stress-free stitching at its best!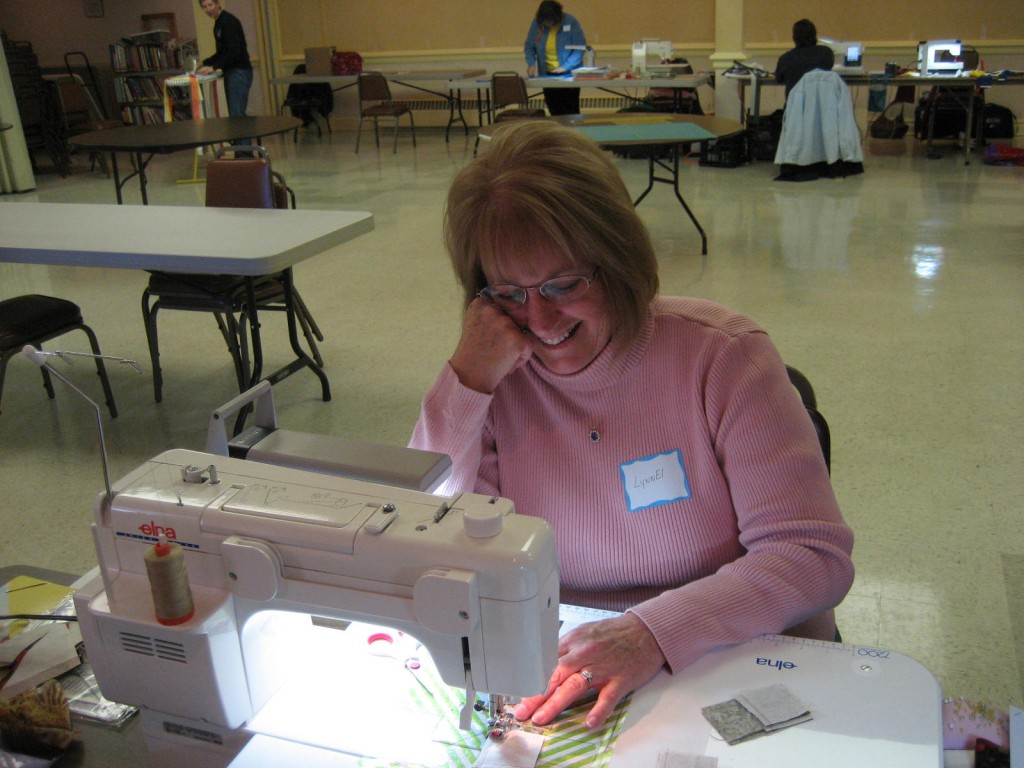 What could be better than chatting and spending a productive day of stitching?
Nope, can't think of anything…..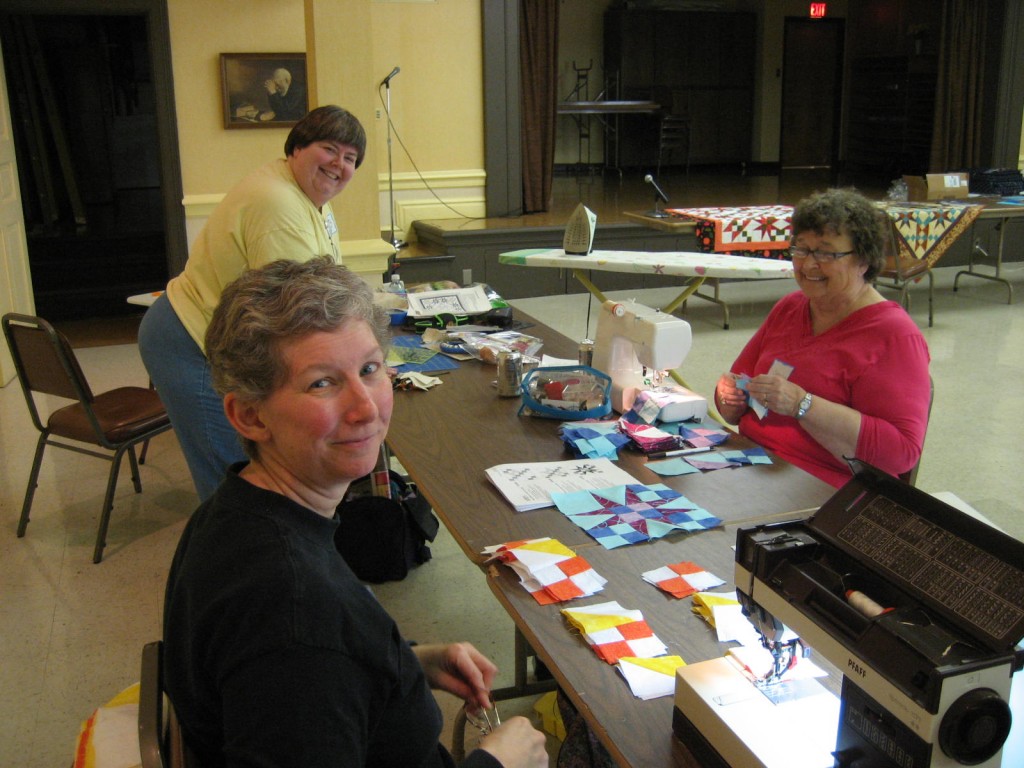 Maggie's quilt looks exactly like her planned version in EQ6.
Well done, Maggie. Your fabrics sparkle!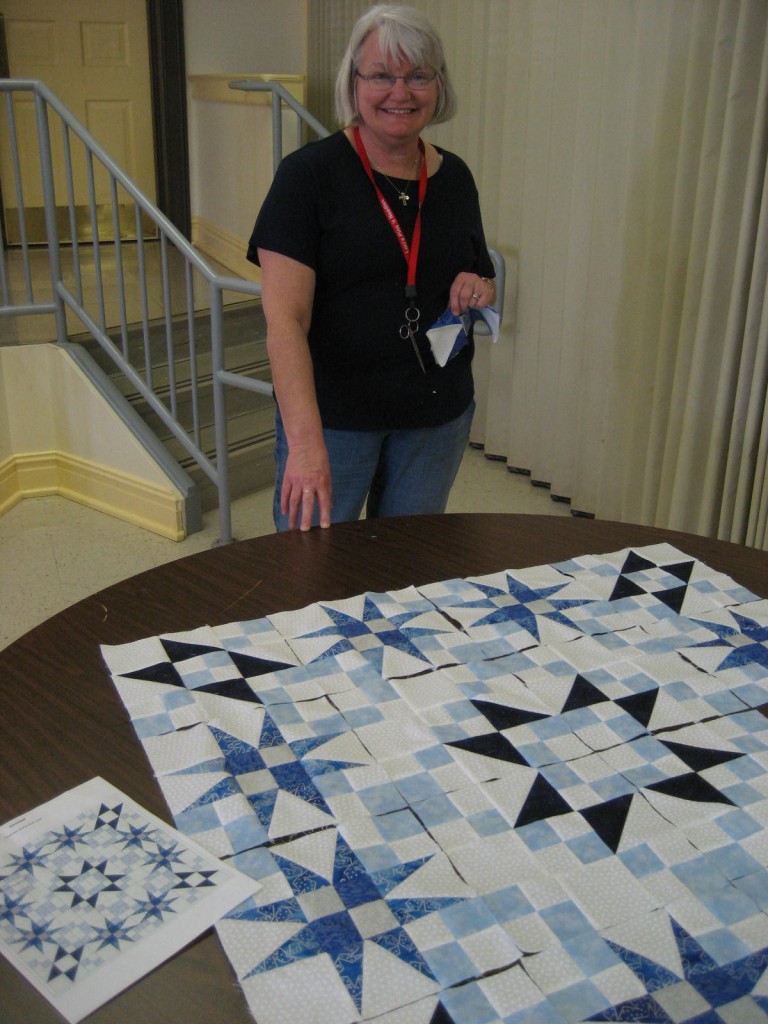 Marilyn did a great job of getting her blocks done in class like so many others.
(A big heart-felt thank you goes to Marilyn, Dorothy, and a few other
tech-savvy gals who helped me overcome a technical glitch in getting the
Powerpoint presentation to run at the Thursday night meeting!)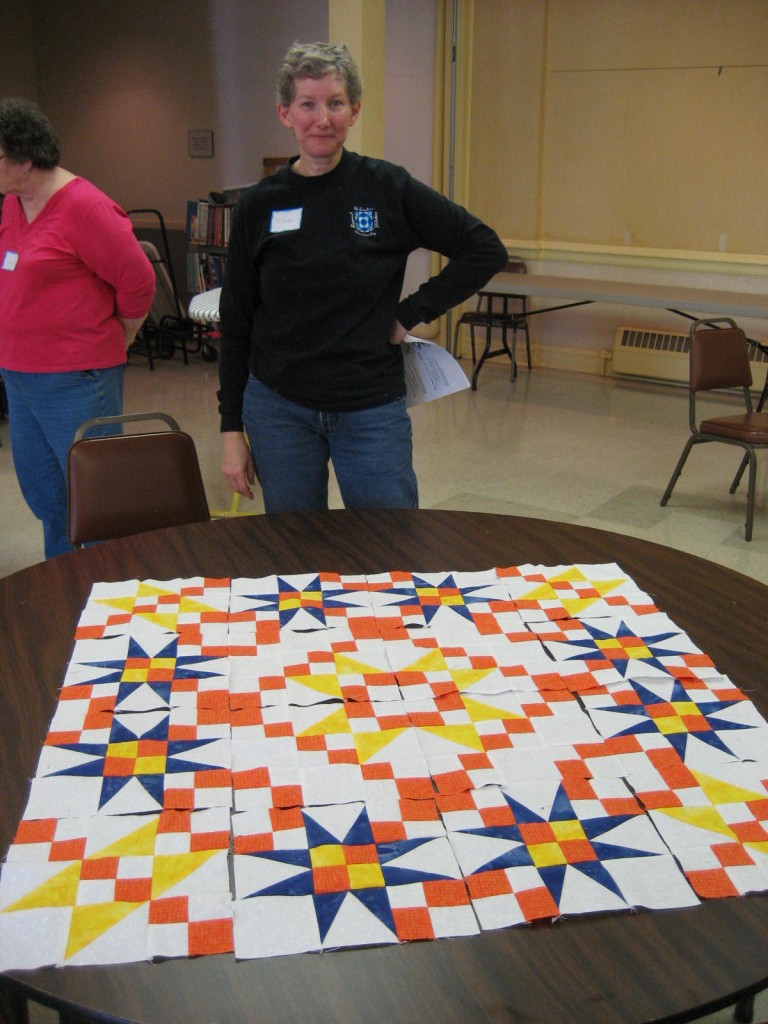 Lots of smiles all around by the end of class.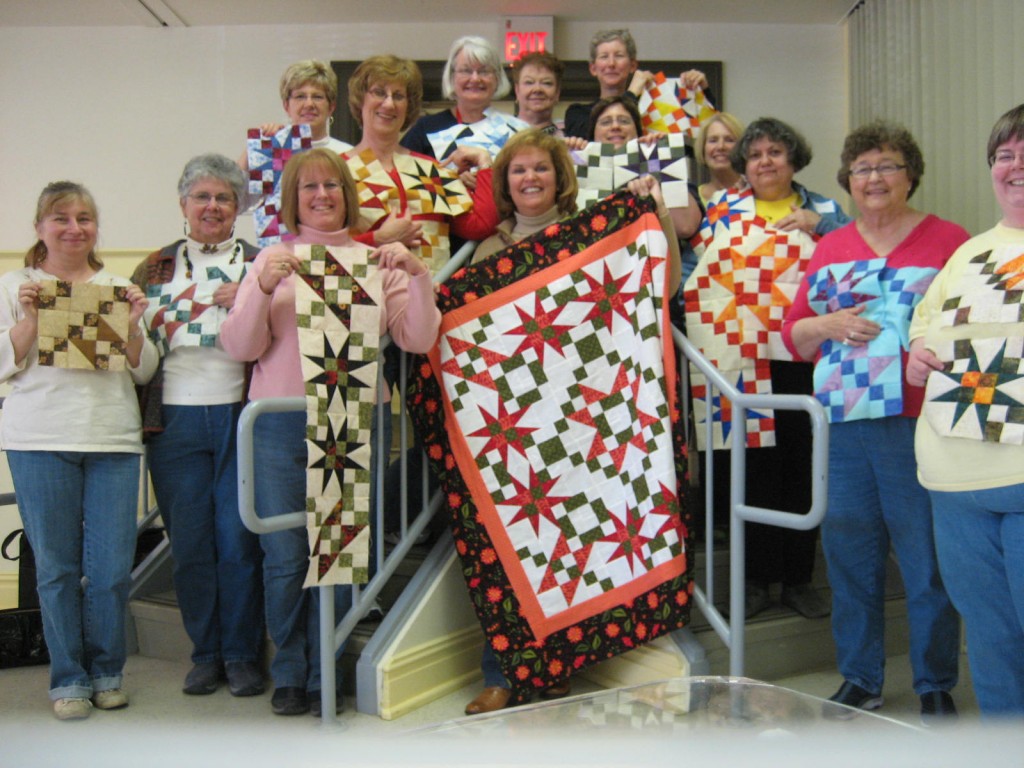 At my hosts' home….
LynnEl and Andrew Springer graciously opened their home for me to stay.
Andrew is quite the gourmet. He prepared a fabulous dinner for us on Friday evening.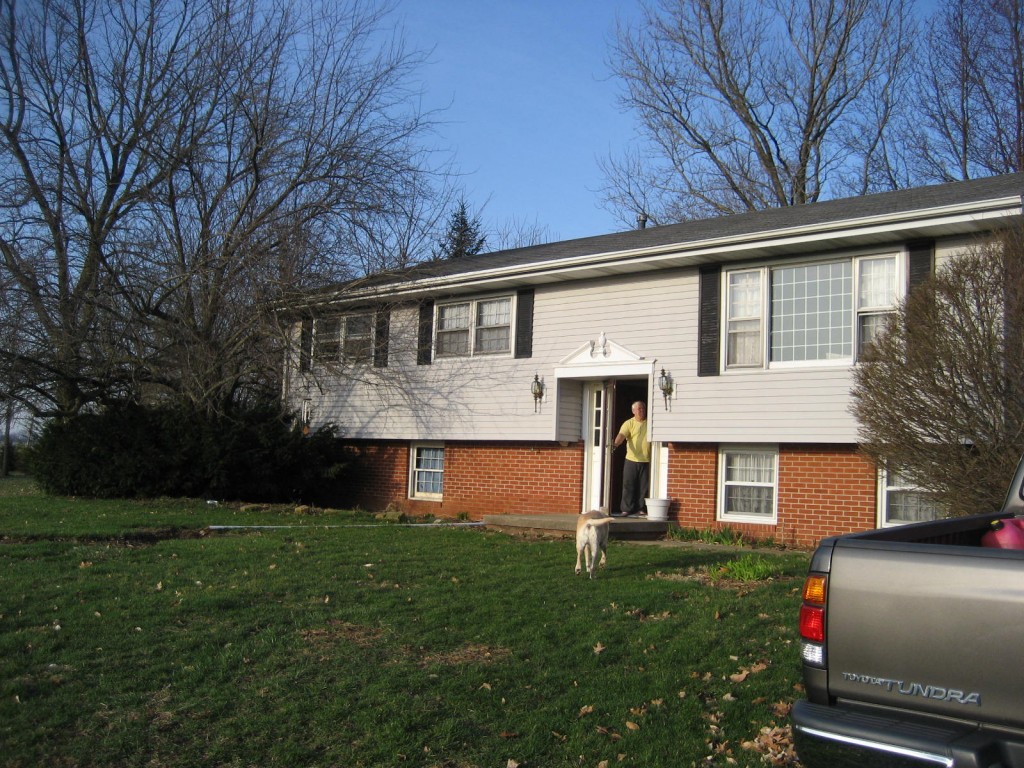 Their dog, Tucker, is amazing. I've never seen a dog catch things on the fly like he does!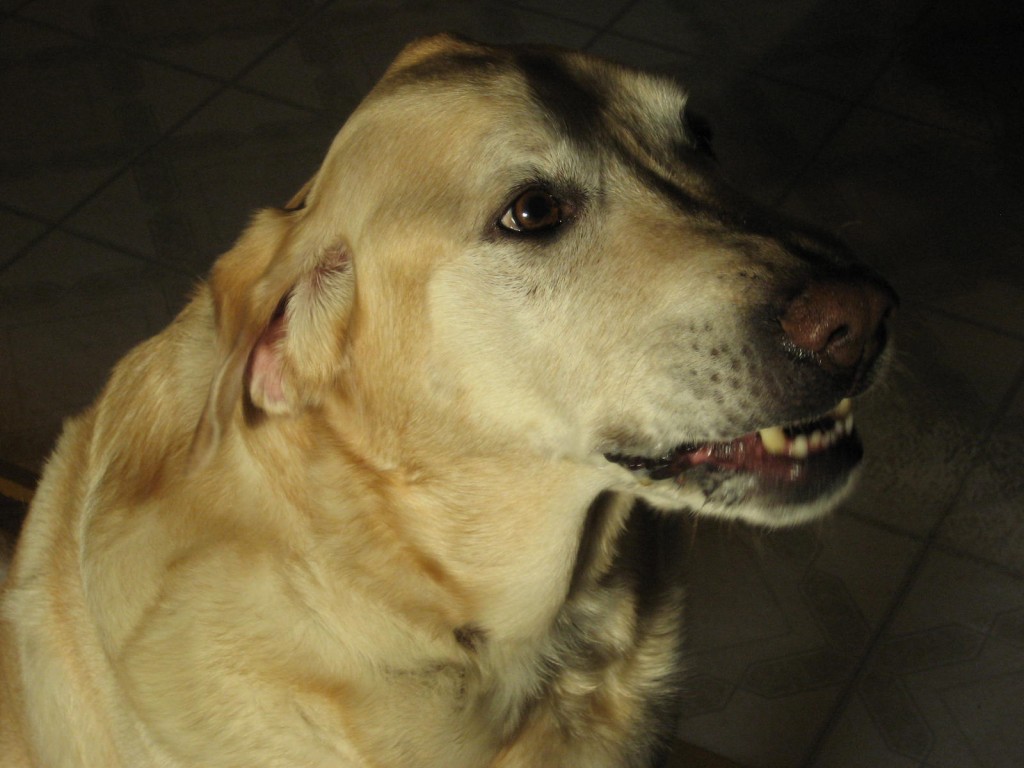 This gorgeous quilt greeted me in the guest room.
LynnEl made the Keukenhof Tulips quilt when she took a class
from me at the AQS Show in Paducah in 2006. Stunning!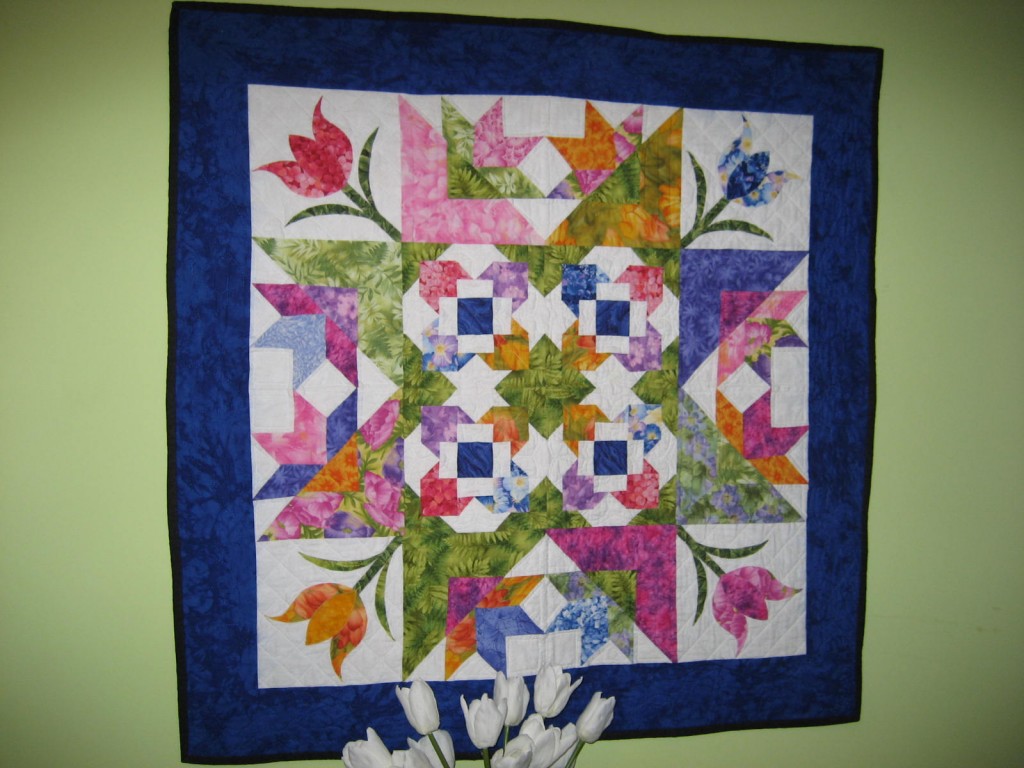 Don't you love her license plate? She says when she's in the car,
it's like saying she's in Aruba. Works for me.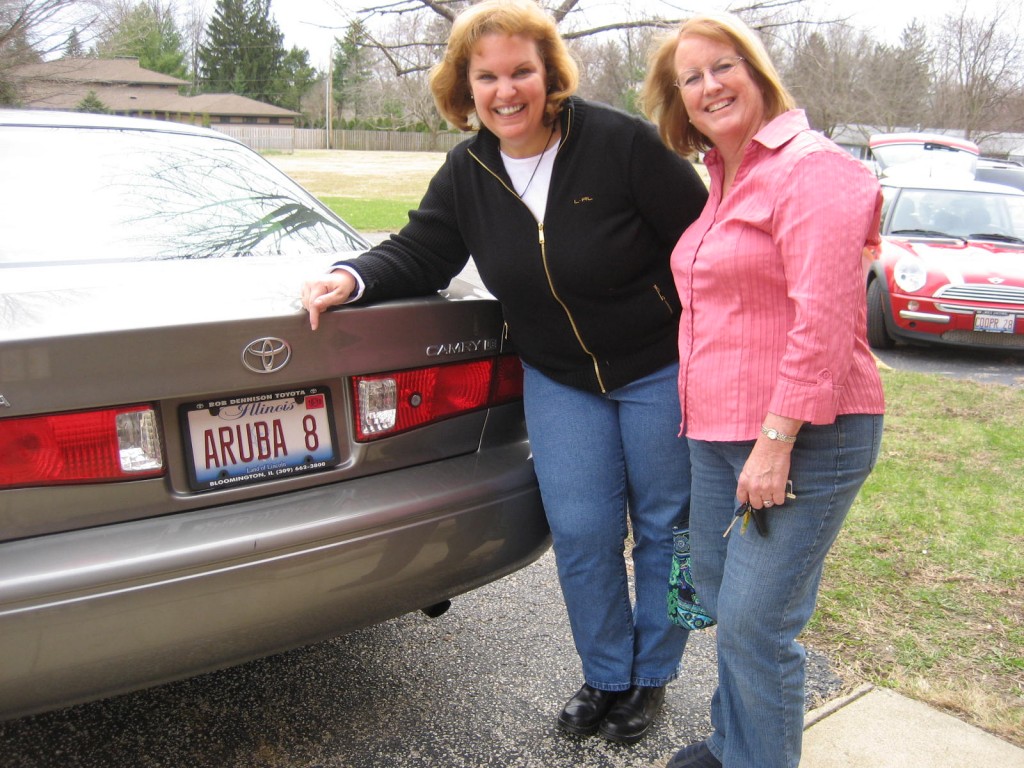 Mystery Quilt Class
Bright and early on Saturday morning, everyone was eager to get started.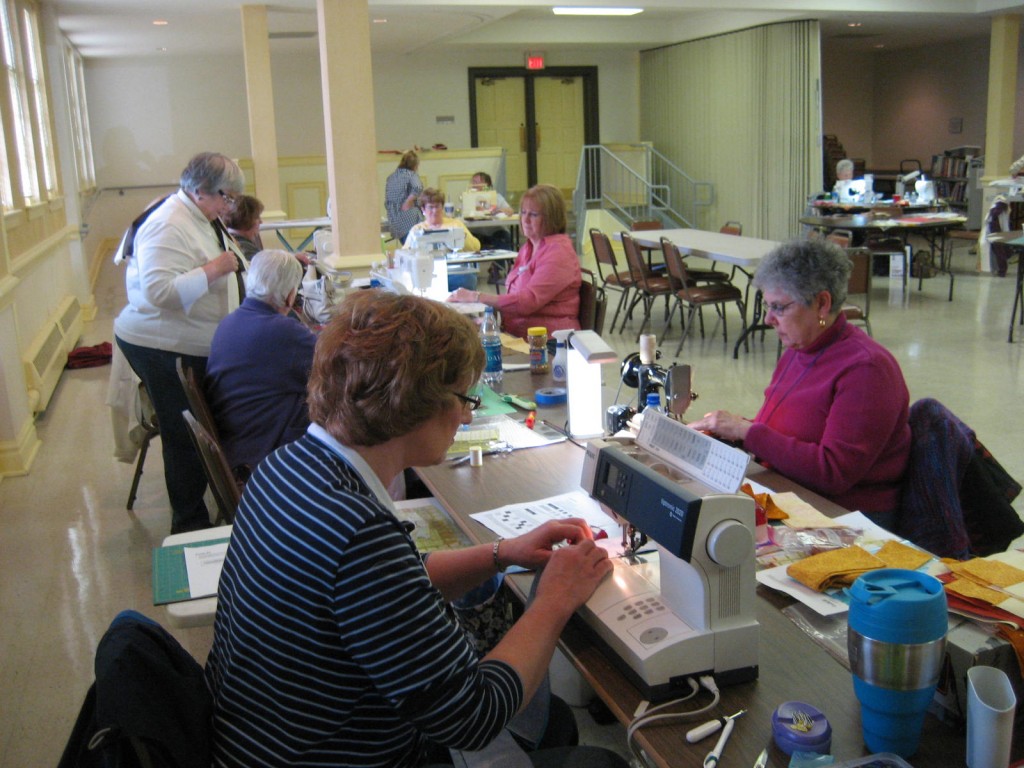 Kris had fun putting the clues together, one by one.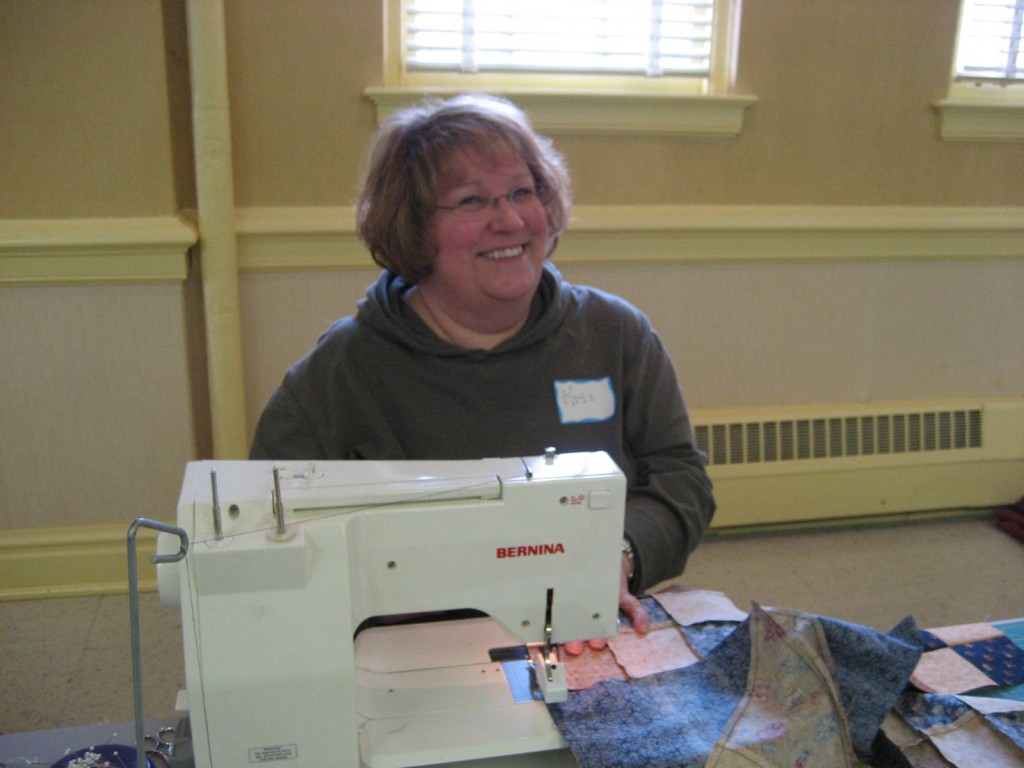 Bonita and Sherri had a great time at their table.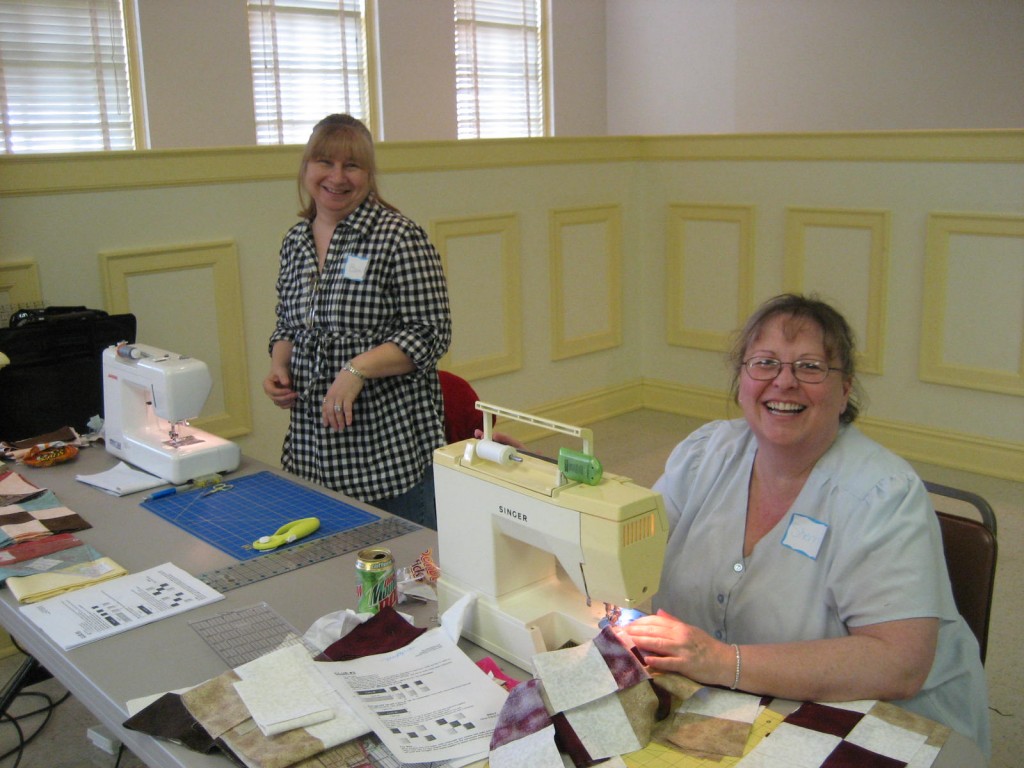 I couldn't believe how productive everyone was.
They all worked so quickly and blocks went together with great precision.
I didn't spot a bad quarter inch seam in the entire group!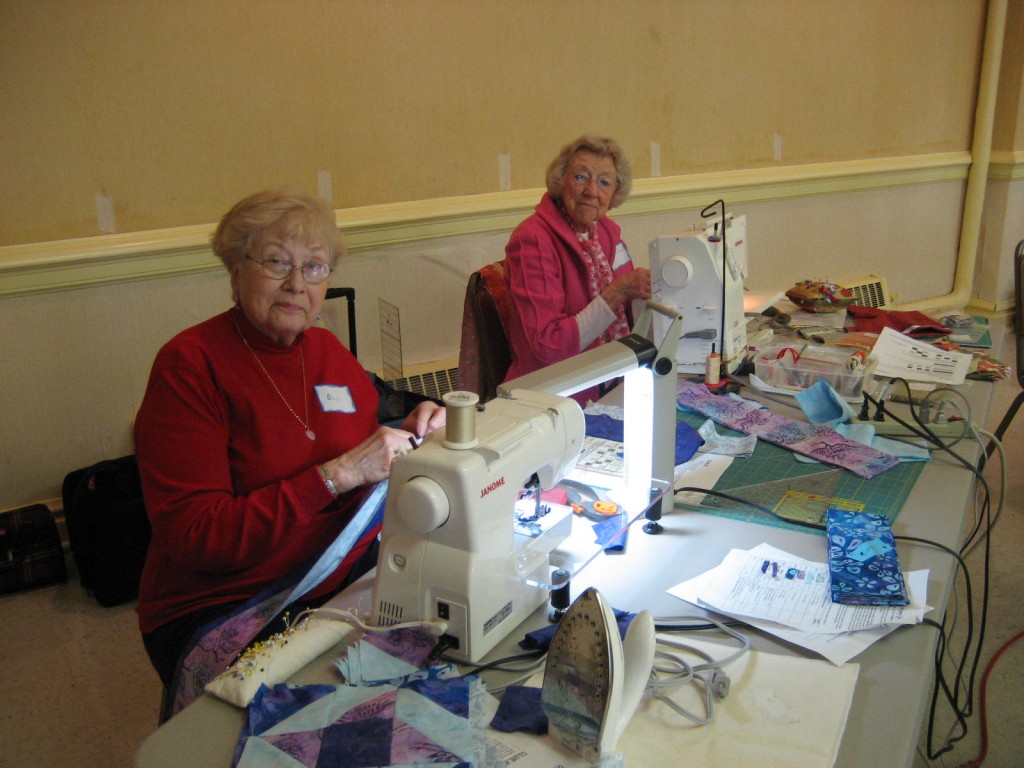 Bright, bold fabrics make for glorious blocks!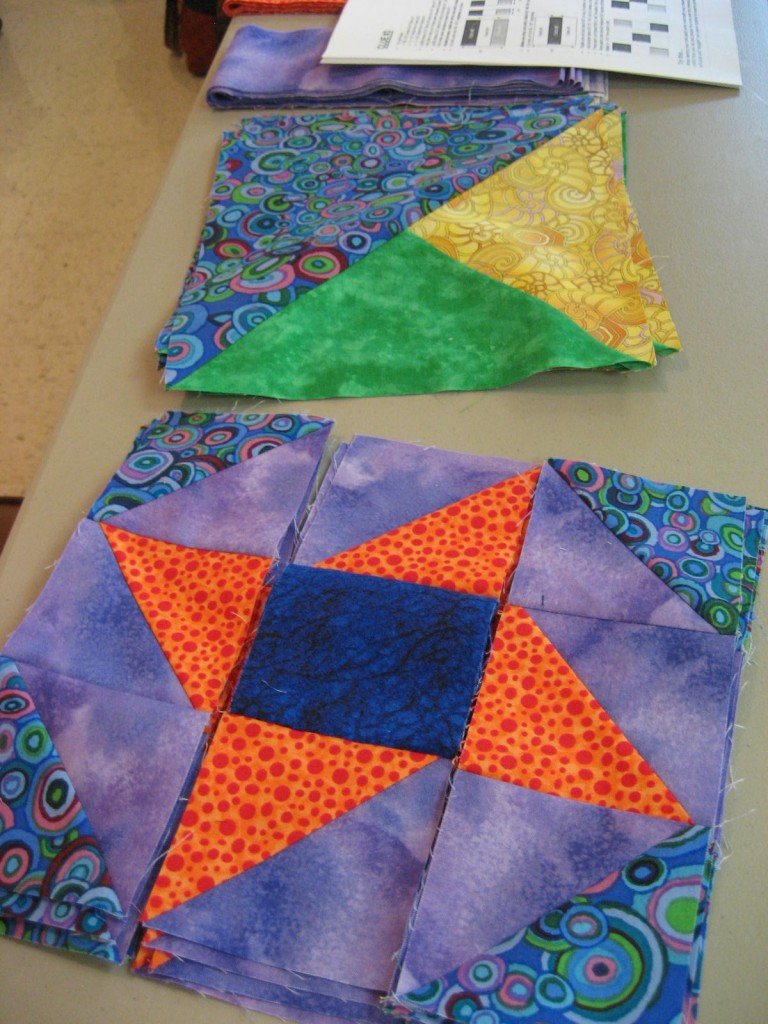 Brenda (aka BJ) had a great time in both classes. I loved her fearless use of color!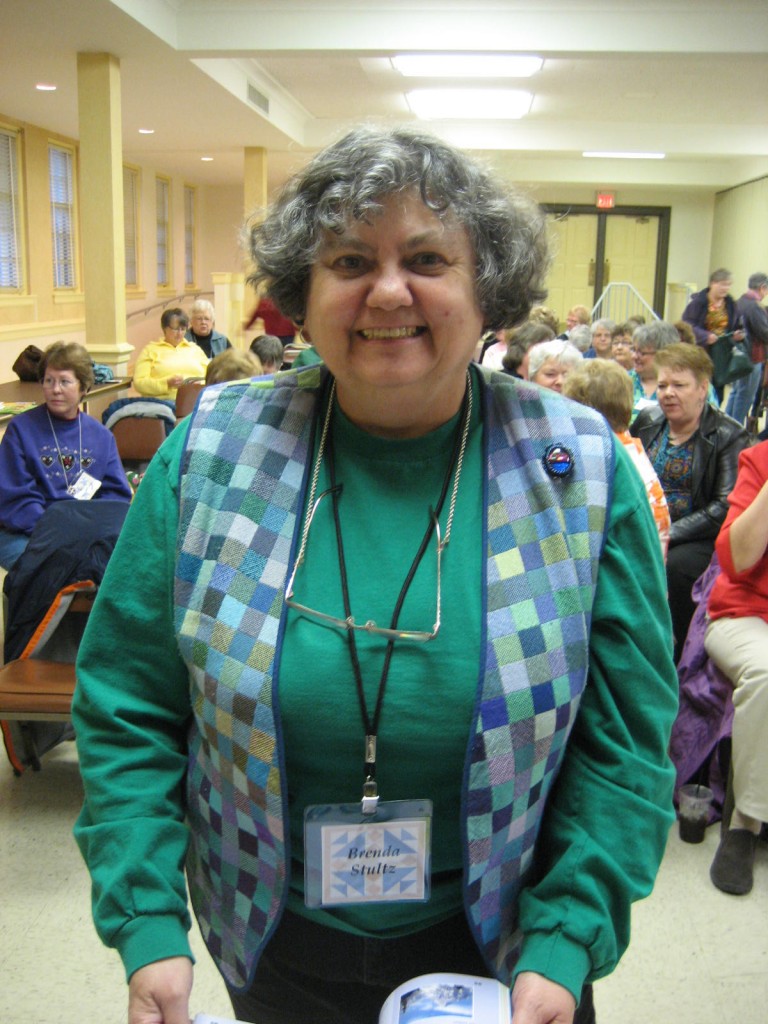 Dixie's watermelon batiks were simply scrumptuous!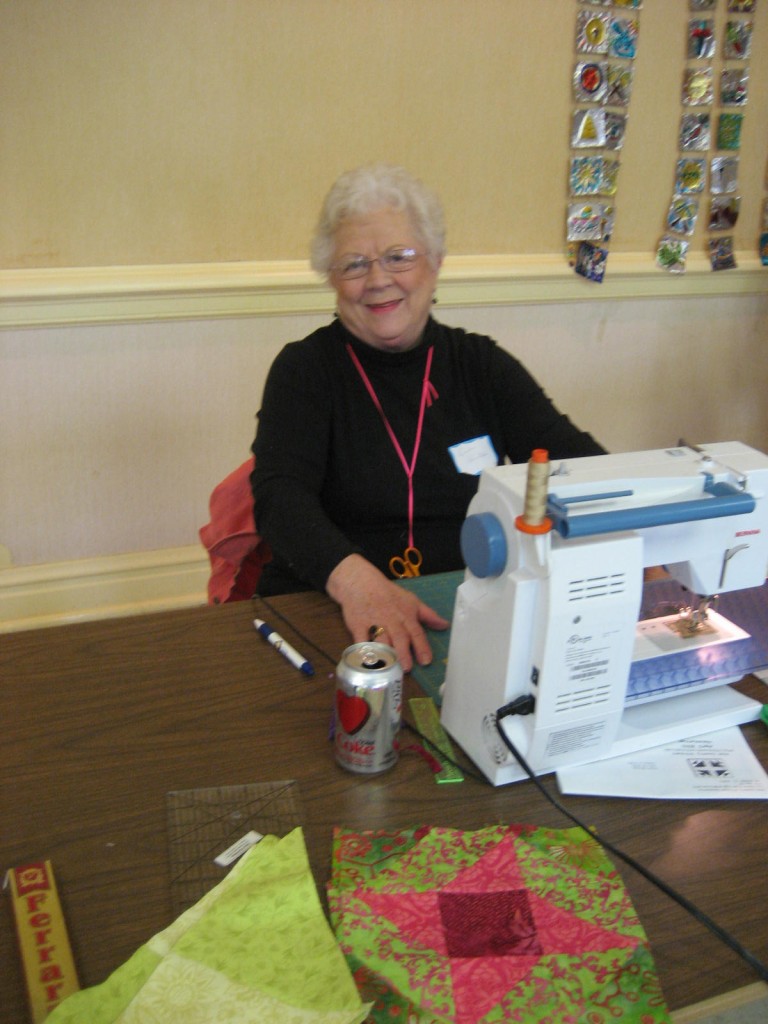 Donna's fabrics matched the clothes she wore, which is often the case with quilters.
Loved her buttery soft yellows.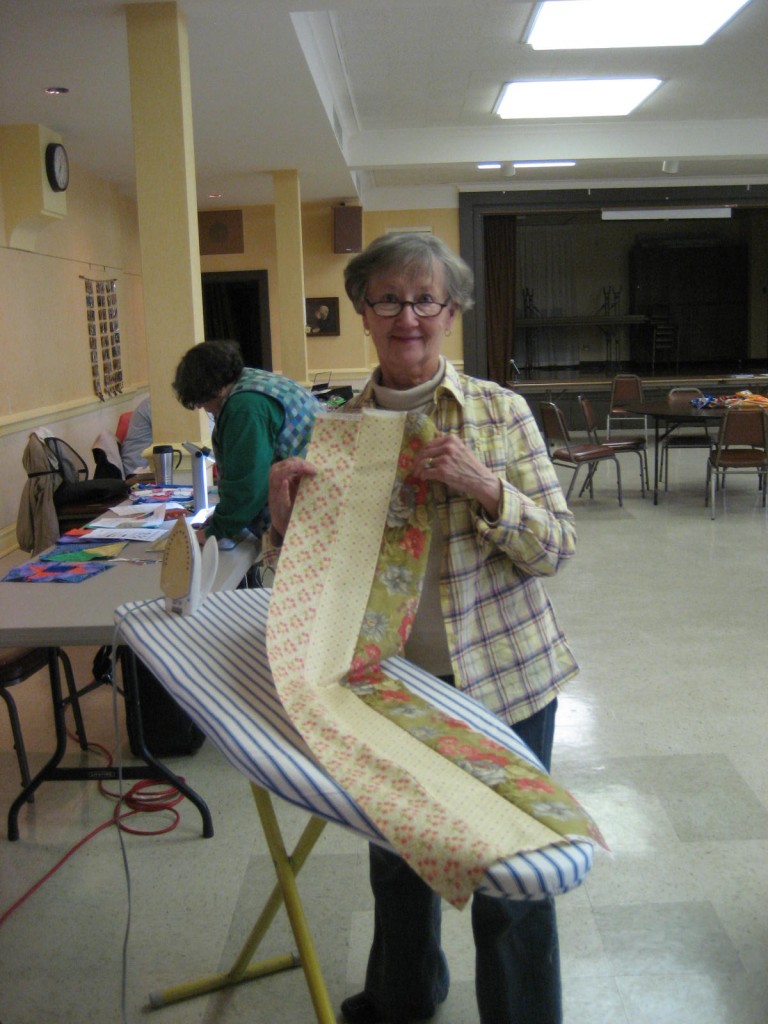 And the mystery is revealed!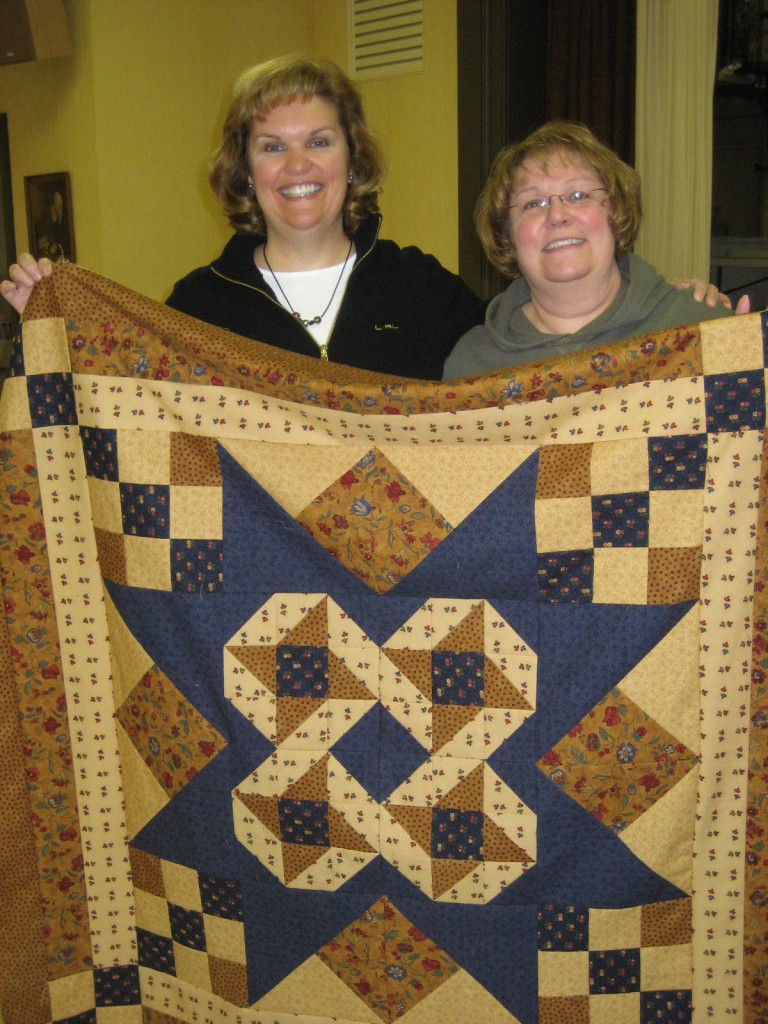 Kim's version of the mystery quilt with a slightly different block layout.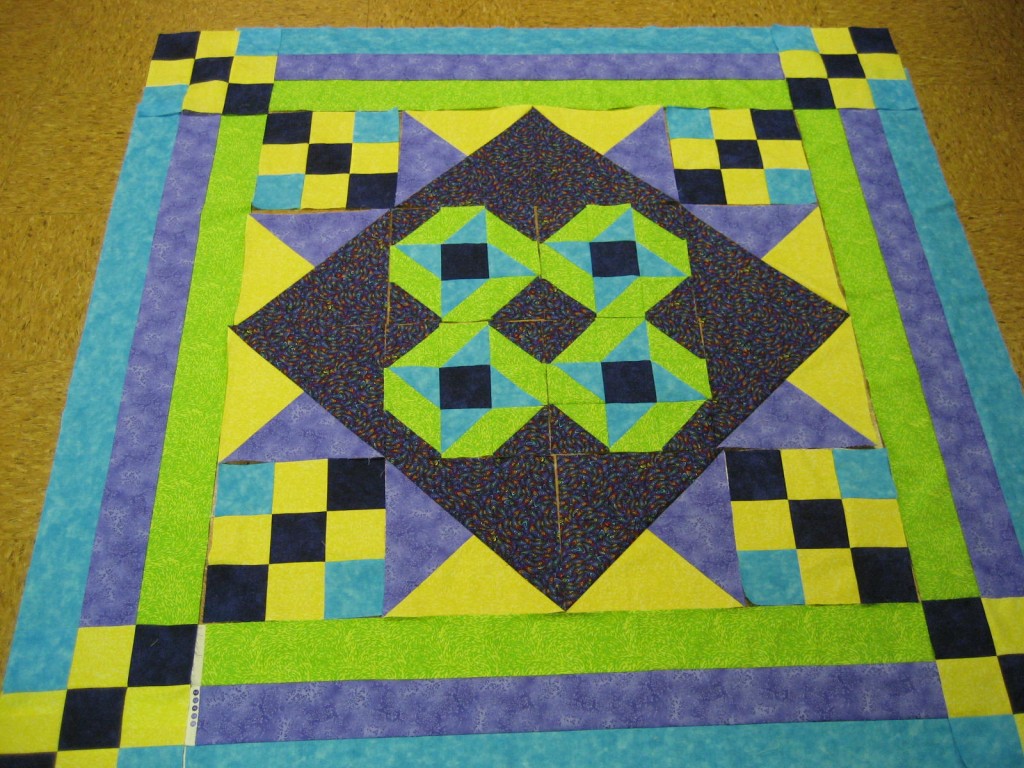 Everyone had fun laying out their blocks to see which version layout they liked best.
Decisions, decisions.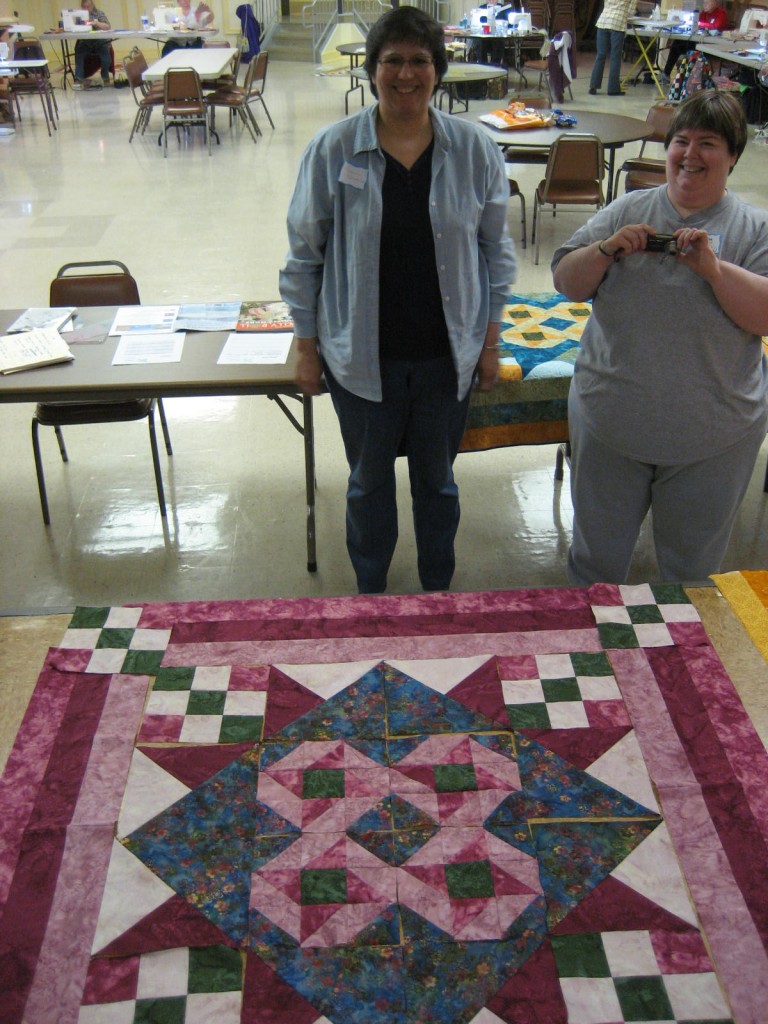 Another glorious finish!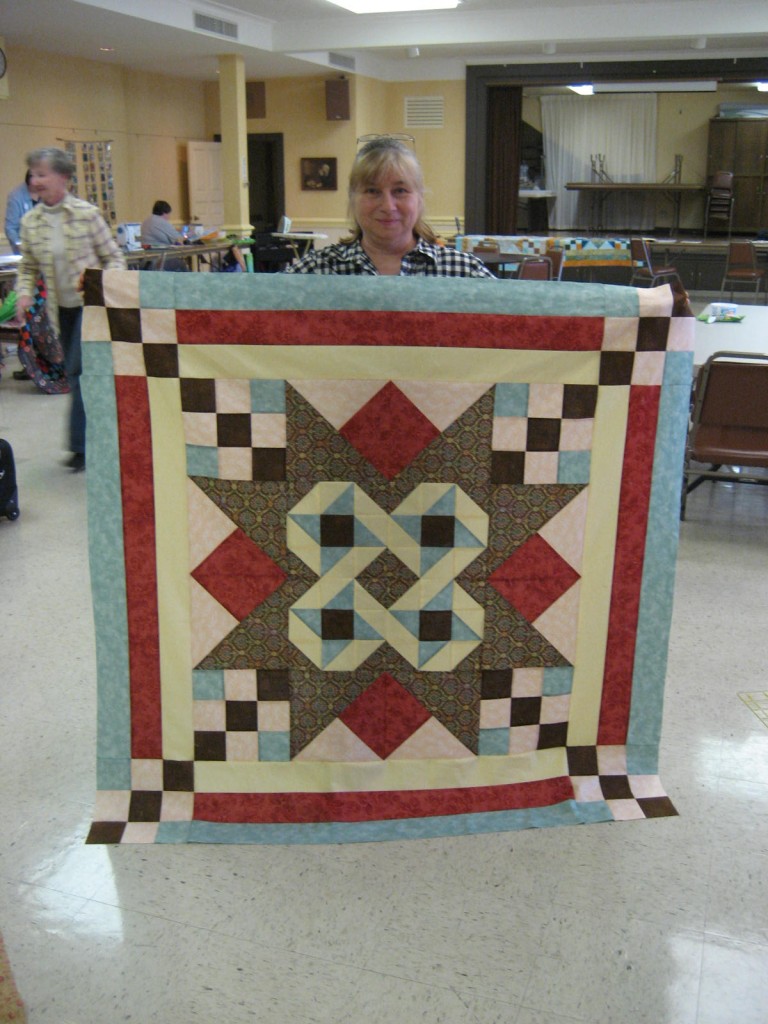 I felt especially blessed to have Maureen and her daughter
Linda there on Saturday. God bless them both.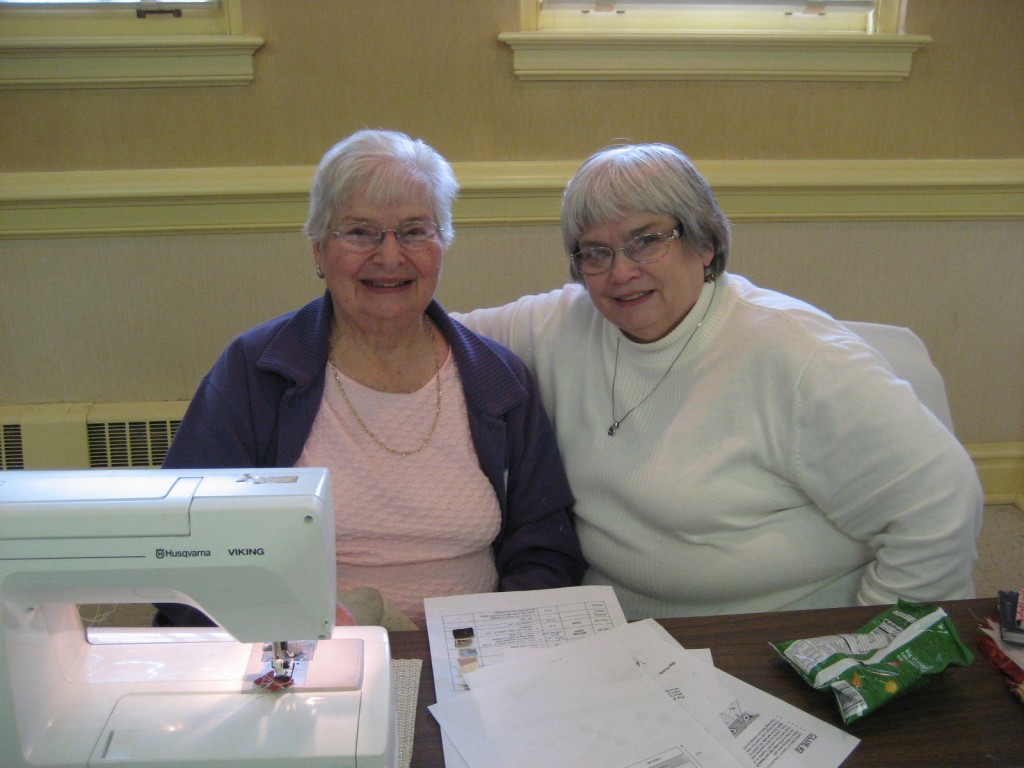 Smiles all around. What a great day. Thanks, everyone. I had the best time!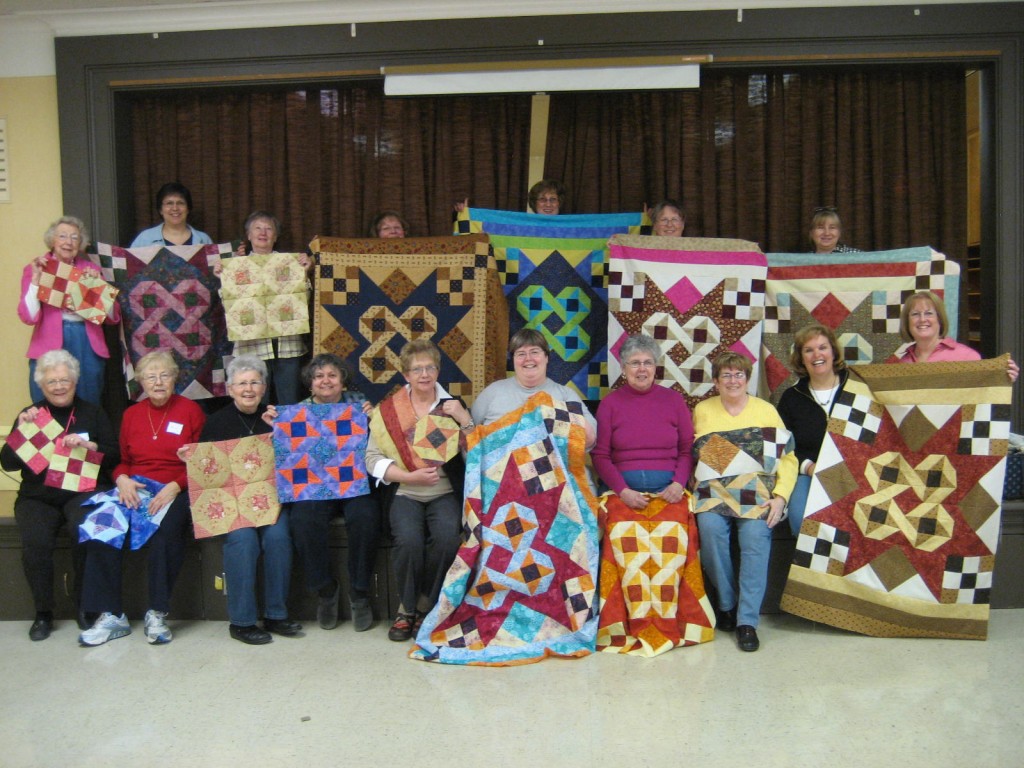 Kris was kind enough to drive me to the airport in Bloomington.
I got to ride in her fun little mini Cooper. Now I want one.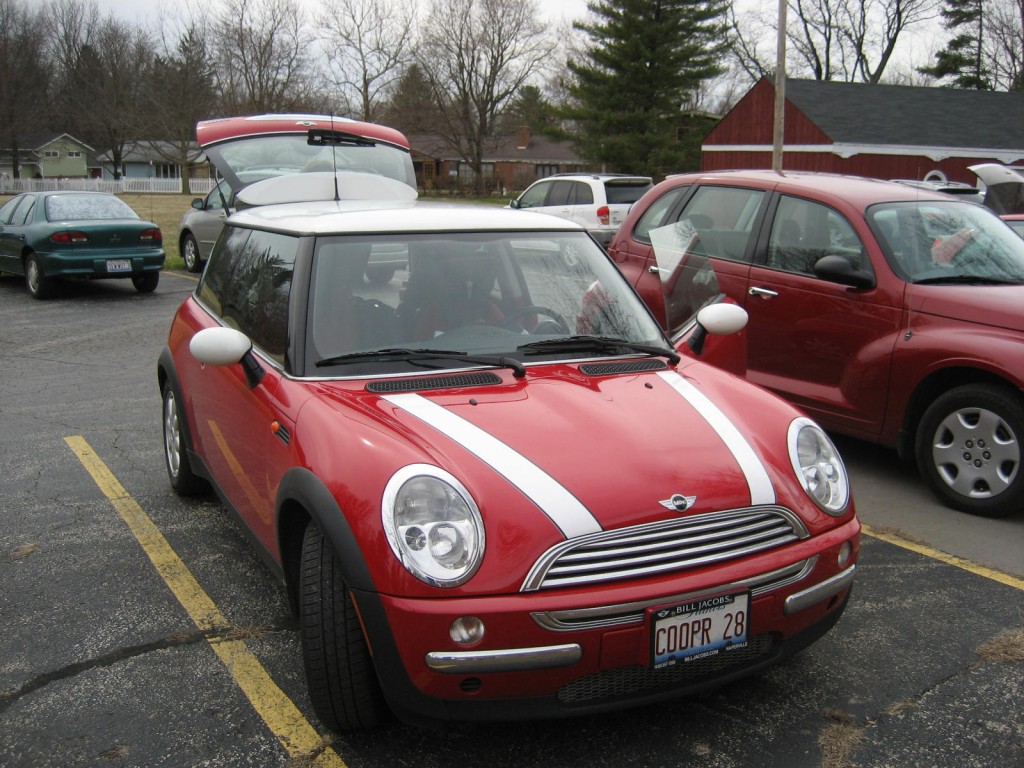 When I arrived home, these beautiful pink tulips were waiting on the mantel
for me from my sweetie. What a lovely welcome home!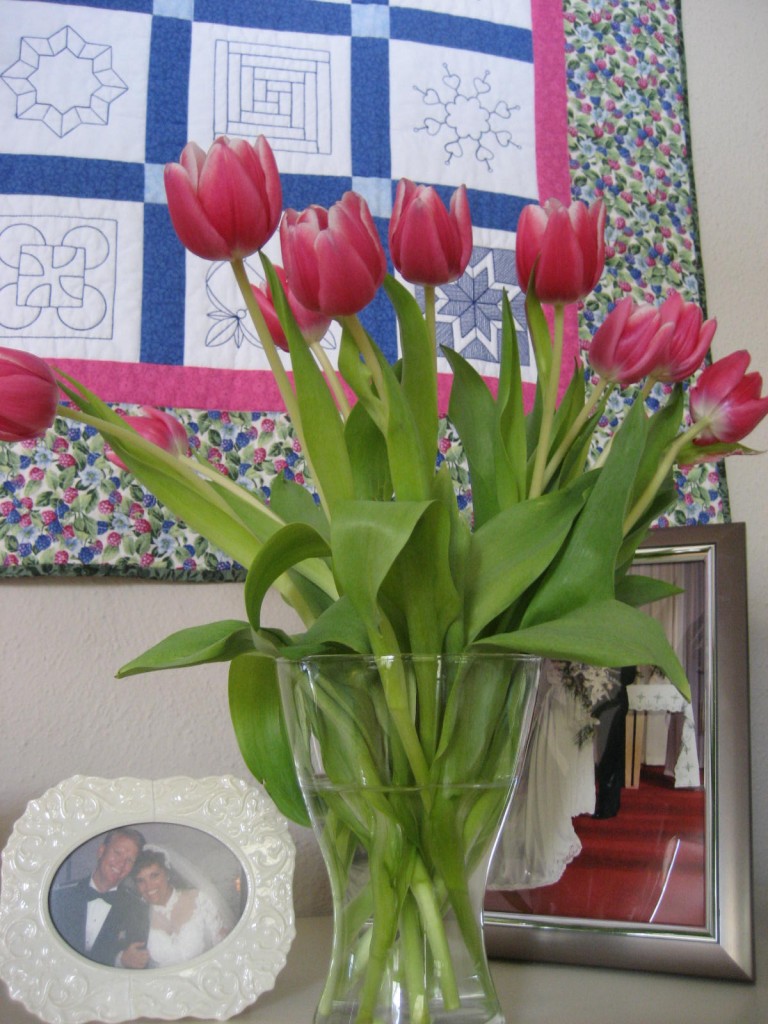 This photo is for you, LynnEl! Kindred spirits, right?