A spring breeze from the Emerald Isle blew into my mailbox this morning. Look what just arrived!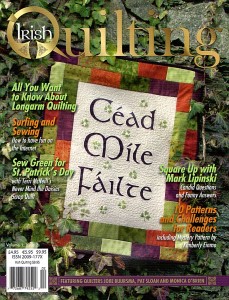 The most recent issue of Irish Quilting Magazine!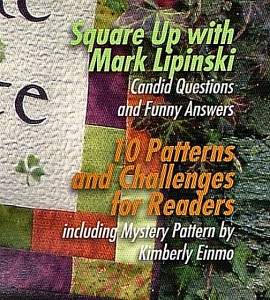 And look who is in great company with Mark Lipinski with her name on the cover!
I love, love, LOVE this magazine! (And not just because I'm in it.) This is the second issue, and it is even better than the first one, which was fantastic! The photos are glorious, the projects are fun and exciting, and I thoroughly enjoy reading about all the innovative and exciting things these Irish quilters are doing. I was honored to be asked to design an exclusive new mystery quilt for the magazine, and this original design, Windblown Stars, is one of my most favorite mystery quilts yet!
Along with having the mystery quilt project featured in this issue, I also wrote a feature article called, Famous Last Words on page 82. What a privilege it is for me to be included in this prestigious new magazine, and quite honestly, what fun!
So, if there are any Irish quilters who found their way to my website and blog because of the magazine articles, you are heartily WELCOME! My hat is off to you — and I hope to be meeting you all in person very soon. The editor of Irish Quilting Magazine, Sherry Nugent, and I are working out the details for a visit to your fair country later this year and I am absolutley thrilled! Be sure to log on here to vote online for your choice of location for the workshop and seminar.
To all your other quilters out there…..click here to find out how to get your copy of this fantastic new publication. This is one new magazine you don't want to miss out on!