Recently I added something new to my quilting tool arsenal which has literally changed my quilting life. And when I find a new product that works so well it literally changes the process of how I create and my quilting results for the better, I have to share. 
Let me introduce you to a the Elna Press 850.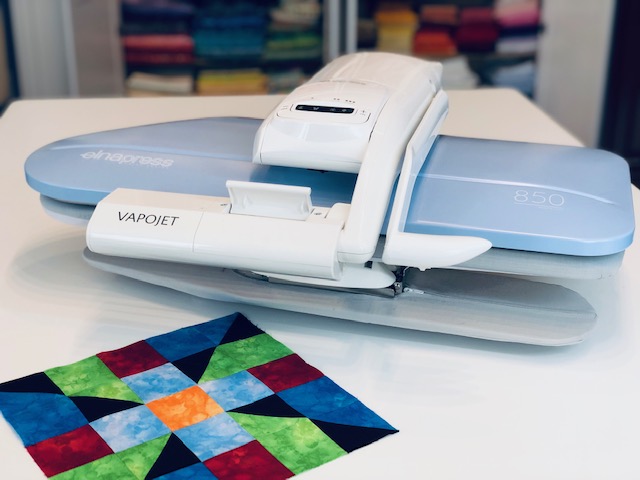 Presses aren't new; they've been around for decades but were mostly used for pressing clothes and linens. The first time I was introduced to this press was earlier this year when John Ryan, Director of Business Development for Janome-America, Inc., brought one into the classroom where I was teaching at Road2CA. Honestly, my initial thought was, "What's the difference whether you use a regular iron or a press? They do essentially the same thing."
Holy hot honey biscuits! Once I witnessed firsthand the incredible results the students were getting when they used the press on the blocks they were making in class, I knew I had to have one in my studio. After I received my own press and started using it, I saw immediate results and the improvement in the overall pressing of all my pieced units and blocks was beyond amazing. I had no idea a press could improve the quality of my quilt tops that much.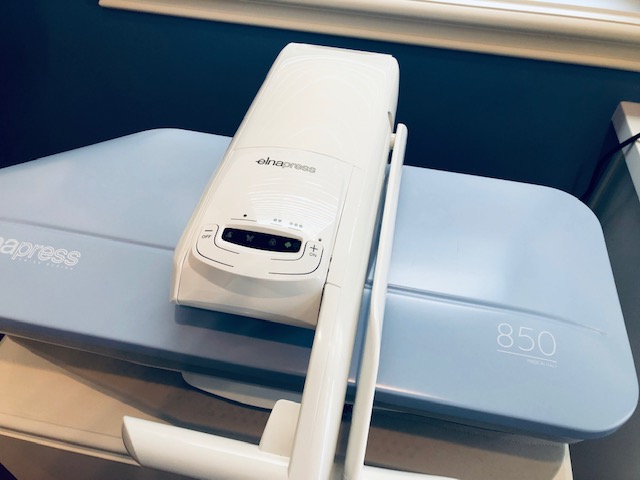 This press has amazing features.
The Elna Press 850 has variable heat settings and the heat and pressure per square inch is powerful and consistent across the entire pressing surface. Yet, you can press delicate fabrics such as silk and sturdy fabrics such as cottons, wool and linen.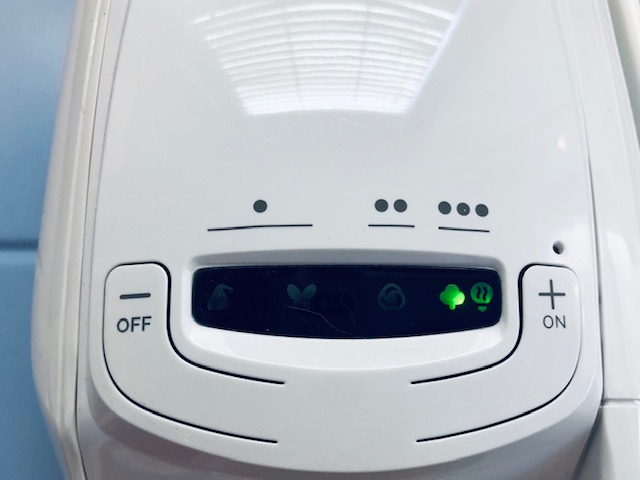 The press won't scorch or leave those annoying "shiny" areas across seams you get sometimes with a conventional iron. 
You can't make a mistake in the amount of time you leave the top engaged because it "beeps" to let you know when to raise the handle.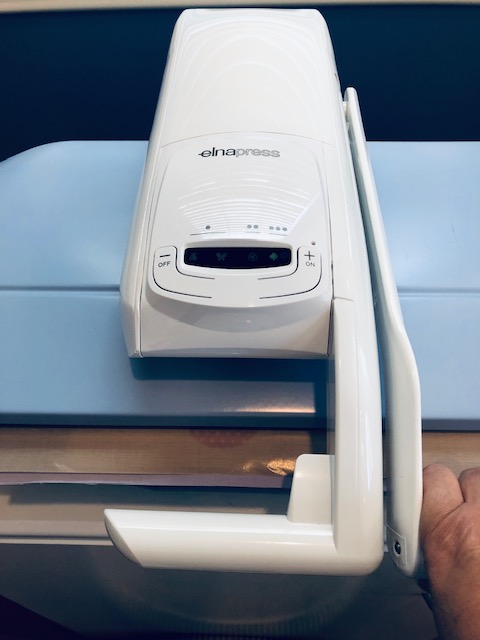 This model comes with a VapoJet which gently mists your fabrics as needed and is easily removed when you don't need it.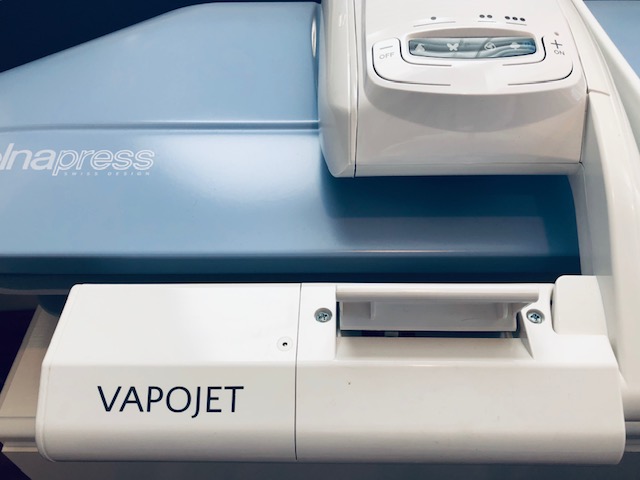 There is a narrow bar that gently lifts into place for pressing areas such as when you want to press your seams open or small, pieced units. Oh yes — it actually works beautifully for pressing shirt sleeves, should you want to do that, too. (Incidentally, I've made my husband very happy because now I actually enjoy pressing his crisp dress shirts for work and I don't procrastinate pressing them anymore.)
There are bright built-in LED lights with a separate on/off switch.
It comes with an extra pressing cushion and smaller sleeve bar for even more precision when it comes to pressing small units.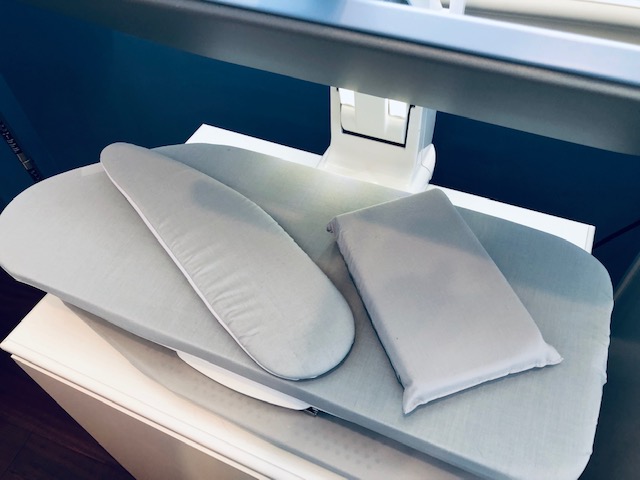 Incidentally, the Elna Press 850 won an award for "Best New Product" at an international industry event earlier this year! 
Perfect for piecing and fusible applique methods!
I've been having such a great time using this press, I decided to tackle designing and making a large quilt comprised mostly of machine fusible machine applique techniques. I've honestly never achieved such terrific results using fusible web before.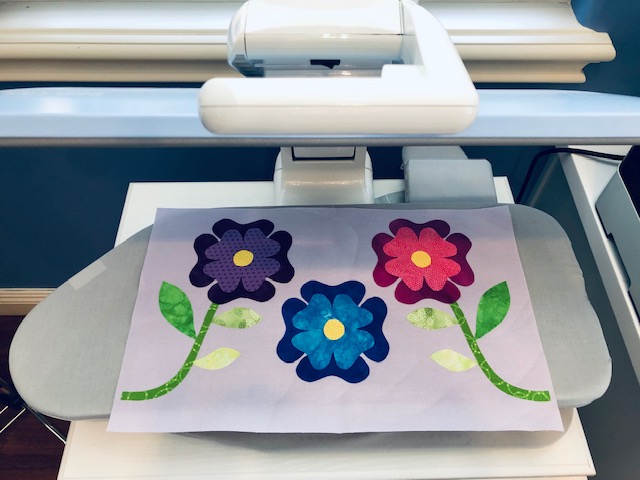 And here's a great tip. To help keep your pressing surface pristine when working with fusible web, use a "Perfect Press Sheet" (available from Janome dealers or online) or any silicone baking sheet on top or underneath your fusible project. It protects the press and your fabric, plus it actually radiates the heat even more. It's also perfect when you need an absolutely crisp crease in your dress slacks or garments.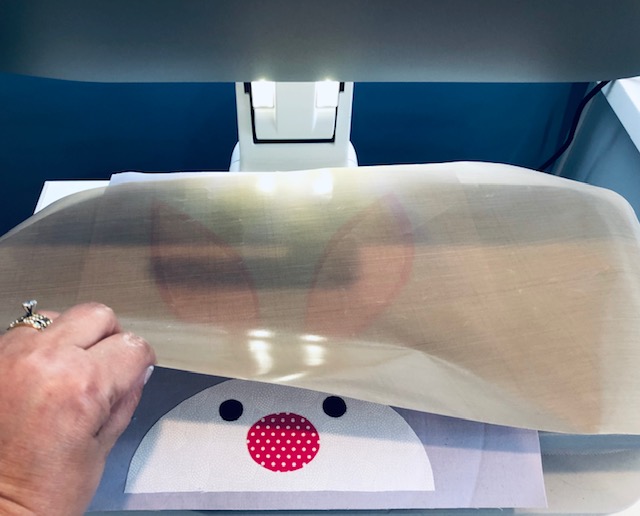 This fabulous press won't completely replace the need for a conventional iron. I still use an iron for pressing certain pieced units, techniques, or pressing yards and yards of freshly washed fabric. But I follow-up those initial steps with my Elna press for the ultimate results. I don't know how I lived without it for so long!
There are four models in the Elna line-up: The Elnapress 150 / 250 / 450 / and 850, so there is sure to be one to fit your budget and needs. May I suggest you put this on the top of your wish-list for Santa this year? Or, it would certainly make a great birthday present to yourself. (You deserve it!) You can find these at your local Janome dealer or even online. But I strongly suggest you check with your local dealer first because they are offering fantastic specials on these models you simply won't find online. Or, CLICK HERE. 
Time for me to get back to my pressing. I never thought I'd say those words with such enthusiasm (wink!)