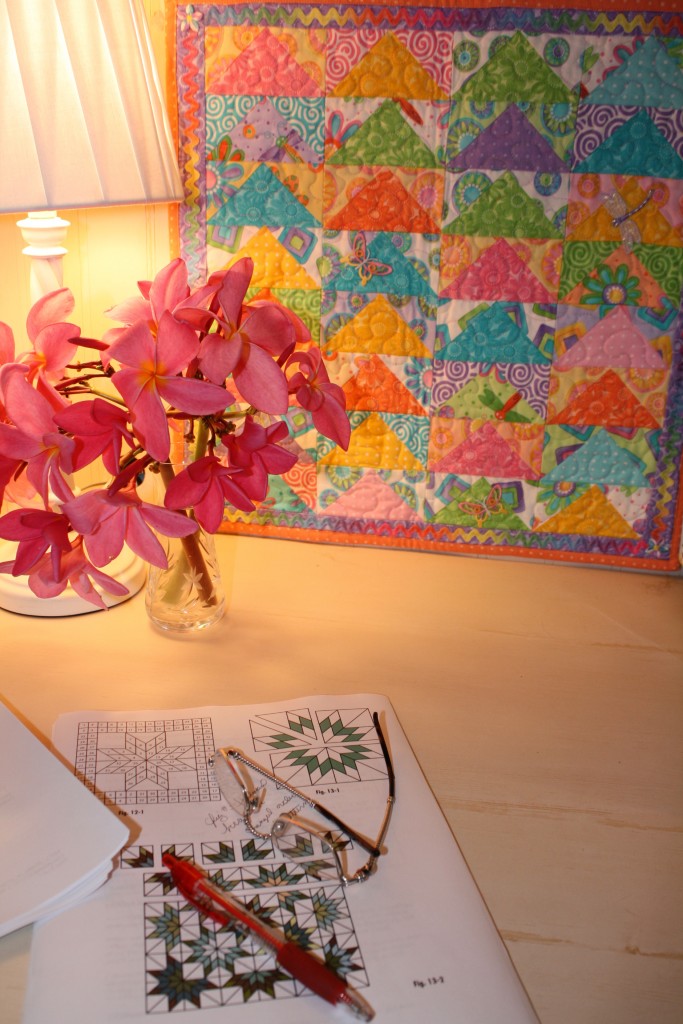 …with my manuscript. I'm in the middle of collaborating with my fantastic editor, Linda, editing my third book (pinch me!) Jelly Roll Quilt Magic!
At least I can sit at my desk and smell the heavenly fragrance of freshly picked plumeria blossoms from my own back yard. What a treat. We have three varieties blooming — pink, yellow, and white. I confess; the pink ones are my favorite. Of course I'm partial to any pink blossom. Along with my red pen I've got my trusty fan blowing cool breezes at me. Even with the air conditioner on, it is still hot, hot, HOT here. Actually, it's the humidity that makes everything so unbearably sticky. And did I mention, "hot?"
But back to the book. The more I see these new designs, the more I'm in love with them. Seriously — you're going to L-O-V-E them, too. I can't wait for you to see them. I think they'll be like those potato chips — you won't be able to stop at just one. One quilt, that is. The book will be released in September, and I'll be launching a brand new, completely updated website to go along with it. Big changes on the horion. It's all good!
From my inbox
I've received some inspiring emails this past week with photos attached that are simply too wonderful not to share. Pat Deck sent me a picture of her friend Judy's quilt. Judy made Star Chain from Jelly Roll Quilts & More using the Hoopla fabric line. It is spectacular! This quilt is a gift for a new momma and her baby. How lucky for them!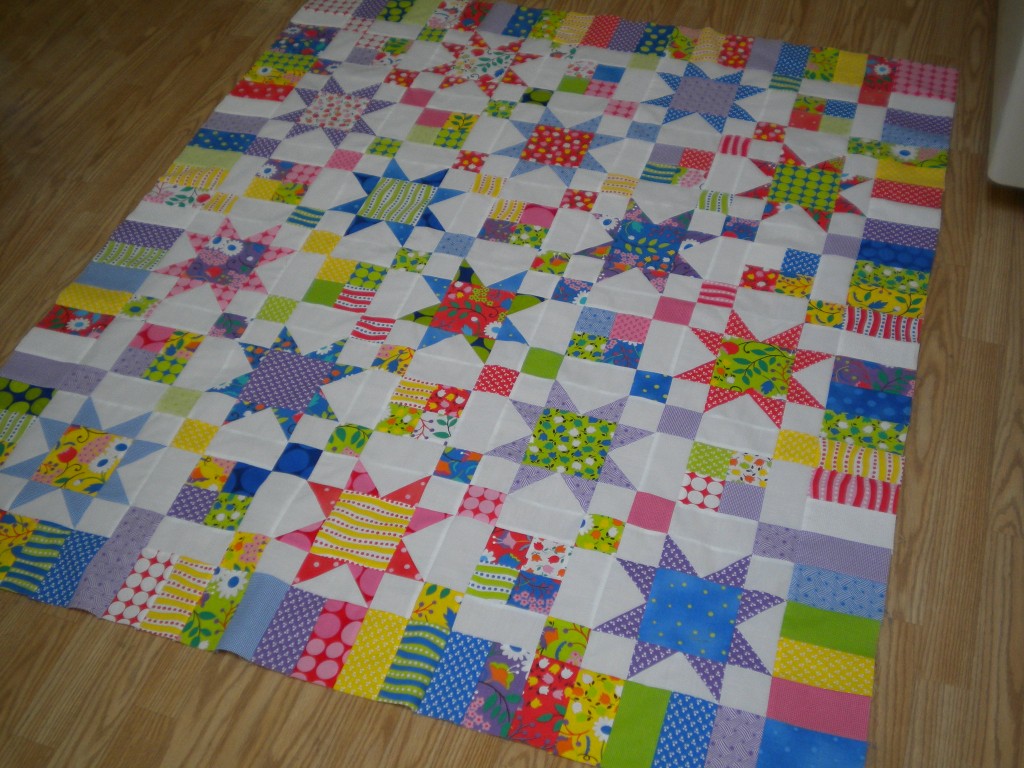 And my new friends, Jim and Andy, just sent me photos of their new quilt named The Happy Bug quilt. They adapted my Cross Bows pattern to create this vibrant and stunning quilt: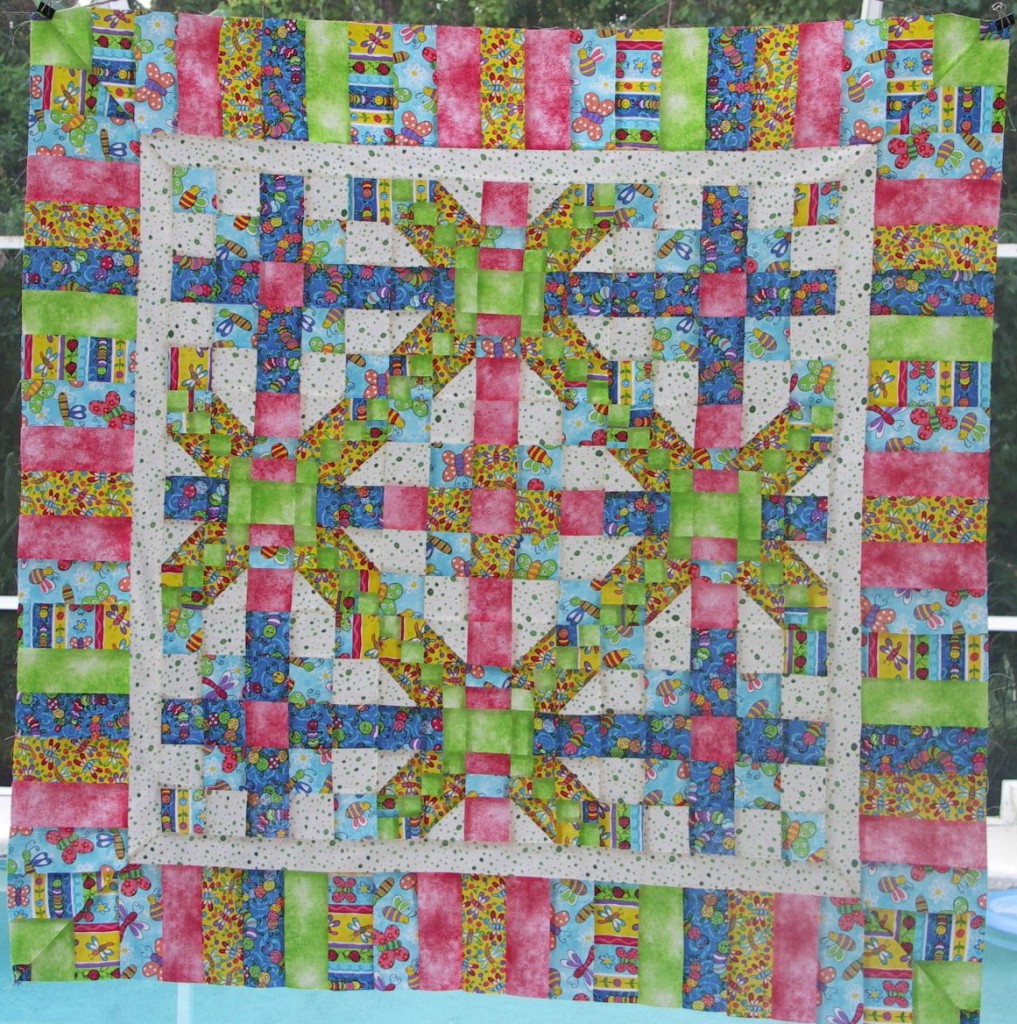 They opted not to quilt this one just yet; it is for sale on Etsy and they would love to personalize the quilting for a special recipient! Just look at these cheerful fabrics up close: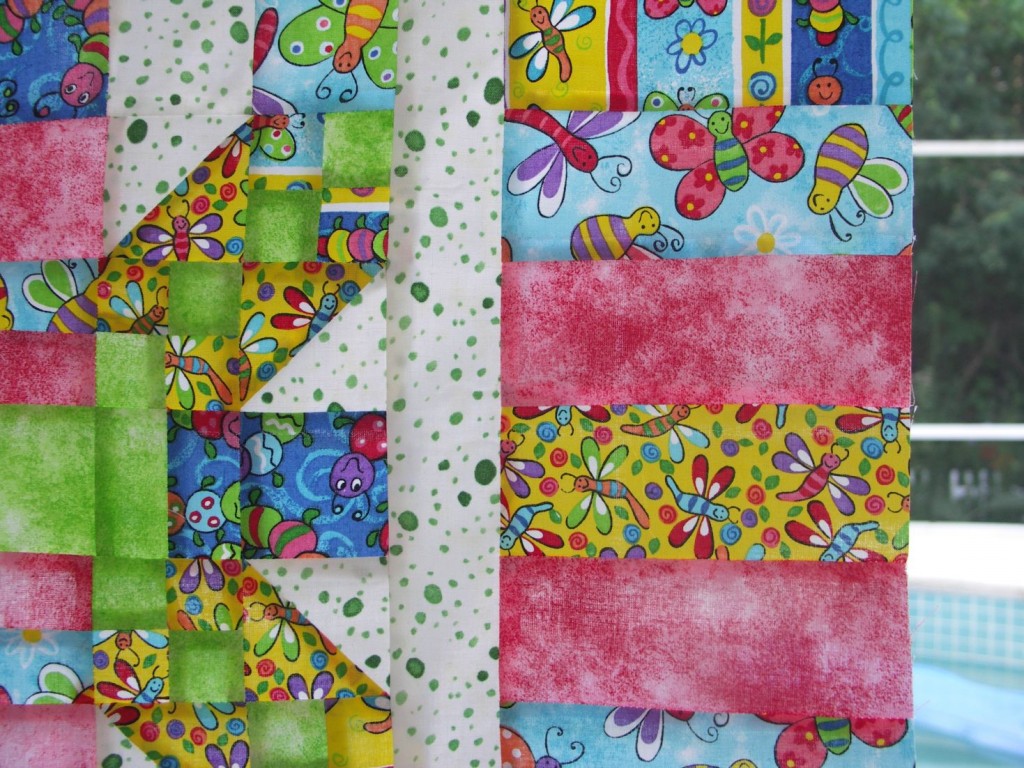 Is there anyone who couldn't smile looking at this? It just exudes cheerfulness! 🙂
Well, my break is over and it's back to the manuscript editing for me. It's still hot. And humid. And, well….. just down right "ucky." (I'm not a big fan of Florida in the summer. I finally "get it" about those folks who are snowbirds.)
Maybe I could sweet-talk my hubby into a movie date tonight. After all, the theatres are cool and dark. And there's popcorn, and maybe a chic flick? I'm going to call and ask him out on a date right now. ……..
Yep. I've got a date.