That thought was the first thing that darted through my head when my eyes opened at the sound of the alarm yesterday morning. Yikes. As my mind came into focus, it was true. What on earth had I been thinking when I had volunteered — willingly — to chaperone a group of 50 high school students on a field trip for the German classes to the Christmas Market in downtown Stuttgart?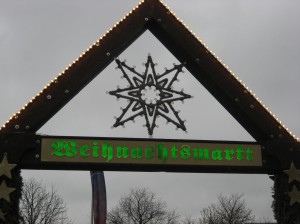 Our son, Josh, is a ninth grader at Patch High School on the Army base and he is enrolled in a German language class. When his teacher put out the request (plea, actually) for parents to volunteer to chaperone the group about three weeks ago, I emailed her saying I would be delighted to do so. With three weeks to spare, it seemed safe enough at the time. Now it was upon me. As I got out of bed and woke the boys to get ready for school, I was convinced that email must have been written in a moment of temporary insanity. But no matter, I was committed to going, and there was no turning back now.
Josh's teacher, Frau MacKenzie (gee, isn't that a Scottish name?) was delightful. There were three other Moms who showed up in the school courtyard, and we were all bundled up from head to toe in boots, heavy coats, hats, gloves, scarves…..the works. After all, the temperatures were in low 30's and it was spitting wet snow, AND we were going to be roaming around the market. For FOUR hours. We came prepared.
As the kids assembled in the courtyard, we Moms noted that some of them wore no more than a light weigh "hoodie" (hooded sweatshirt) with no hats or gloves. Some of the girls wore mini skirts and ballet slippers. Well, we "Moms" may have looked like "Nanooks of the North" but at least we were going to be WARM. We commented to each other, "these kids are going to FREEZE." Josh had his winter coat on, but as he boarded the bus, I told him (being ever the Mom), "You will zip your coat when you're outside. And I'll be there to make SURE you keep it zipped." Josh just rolled his eyes in resignation. Then he quickly changed the subject and asked me if I had brought enough Euros to buy him "wienerschnitzel und brochen" for lunch.
We arrived at 10 am as the Christmas Market was just beginning to open and things were getting underway. We had until 1:30pm (at the earliest) to meet back at the buses with a planned departure time of 2:00pm. I was paired with one of the other Moms, named Mrs. Claus, (no kidding, that is her real name!) as we walked through the market stalls up and down the streets looking, enjoying the sights, sounds, and delicious smells of the many food booths, while being ever vigilant as to the whereabouts of those 50 students. They were easy to spot: they were the young people inadequately dressed and turning blue! (Well, some of them, anyway.) Let me tell you, those 50 kids were all very well behaved. They weren't rowdy — while on the bus or at the market — and they all seemed to have a GREAT time. But I'd estimate about 25 or so kids were at the meeting point well before 1:30pm; half frozen from being so poorly dressed for wintry weather. They were ready to board the buses just to thaw out.
In this case, what seemed like a good idea at the time three weeks ago, turned out to be a wonderful idea in the end. I'm so glad I was able to go and be part of Josh's field trip. Even he seemed happy I had gone along. There won't be many more years of my being able to do these kinds of things with him, so I need to grab them while I can.
In the meantime, enjoy these photos from our excursion yesterday!