"Let's hang the extra television we have on the wall," she said.

"It'll be easy," she said.
Famous last words.
We've been spending some "stay-at-home" time in our mountain cabin, which was supposed to be relaxing, while we continued working. Truth be told, it has been anything BUT relaxing.
We had an extra television not being used which got my mind to thinking I'd love to have it in the cabin studio. I told me obliging husband it wouldn't take long to install a wall mount and we'd only have to move one item of furniture to make it work. He was up to the task. 
And thus, it began.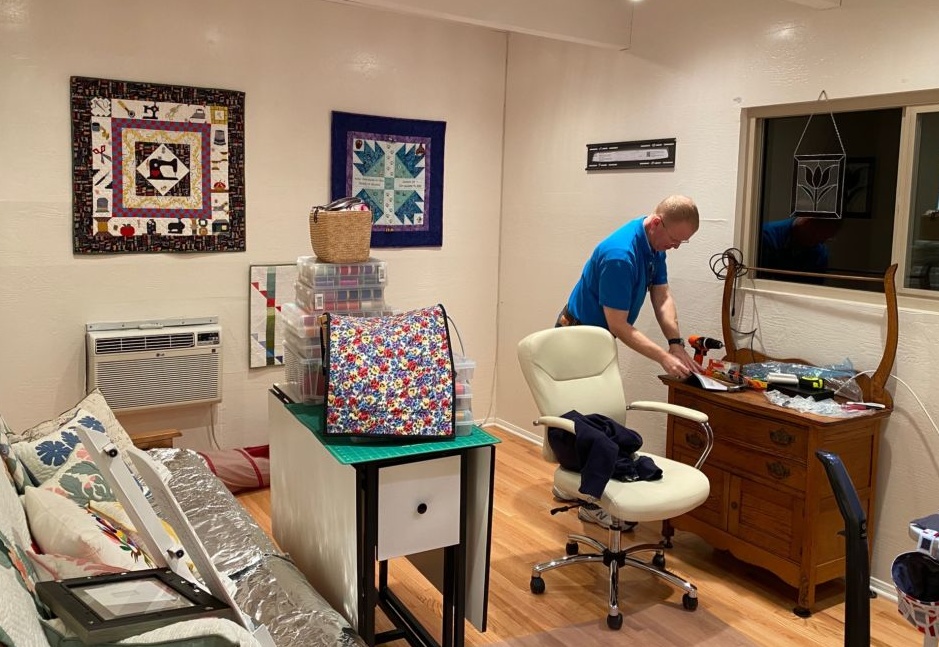 Most everything in my studio cabin is repurposed furniture. There are things we inherited from family or friends or things we picked up at little second-hand shops here in the mountains. I've had a ball using this space to splash colorful quilts — quilts I made years ago or that have special meaning because they were gifted to me by cherished friends — all over the walls or draped on the furniture. 
Once the TV was mounted on the wall, I decided the futon needed to change positions as well. And the domino effect trickled down from there. We moved the three heavy, tall cabinets three different times trying to find "just the right spot."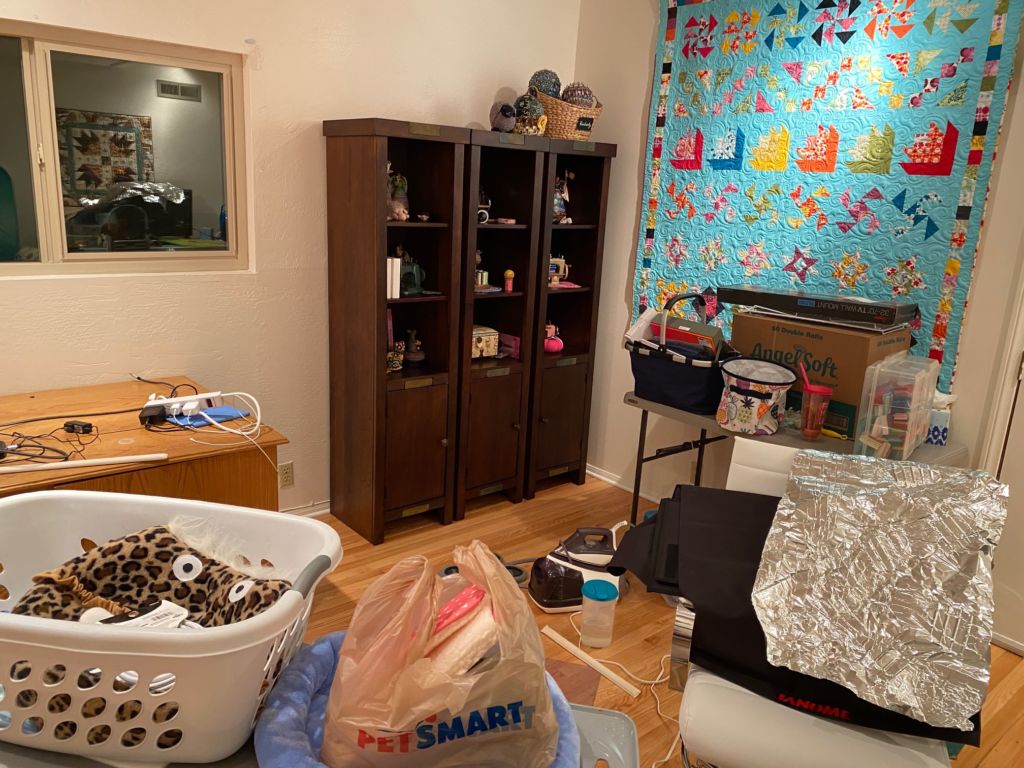 Truth be told, these are all the photos I took during the process. We ran into so many unexpected, frustrating issues. We lost our internet for the better part of five days. We found walls that needed repairs. We inadvertently put a huge gouge in the wood floor. Things broke while being moved. What began as a small, little improvement project turned into a BIG make-over effort and we dealt with one issue after another. It didn't help the weather was so cold, dreary and foggy for days on end. 
Of course, we had lots of supervision during the process.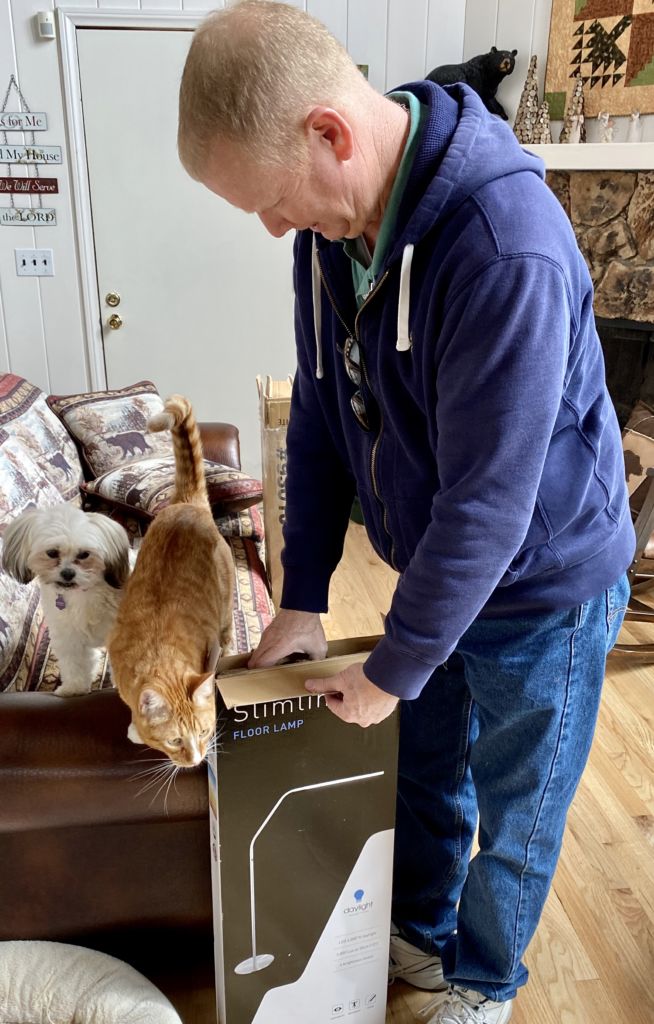 But we persevered. And in the end, I consider it a huge triumph because all the hard work and effort was worth it. I LOVE my new creative space!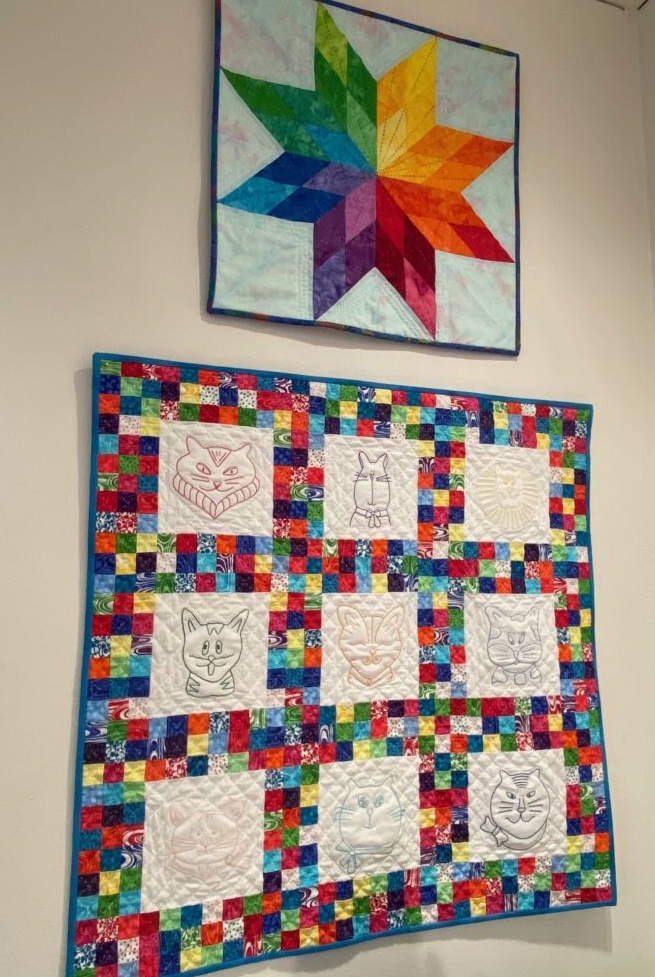 Of course, Cheeto has a prominent position for watching all the action. Or snoozing through it all.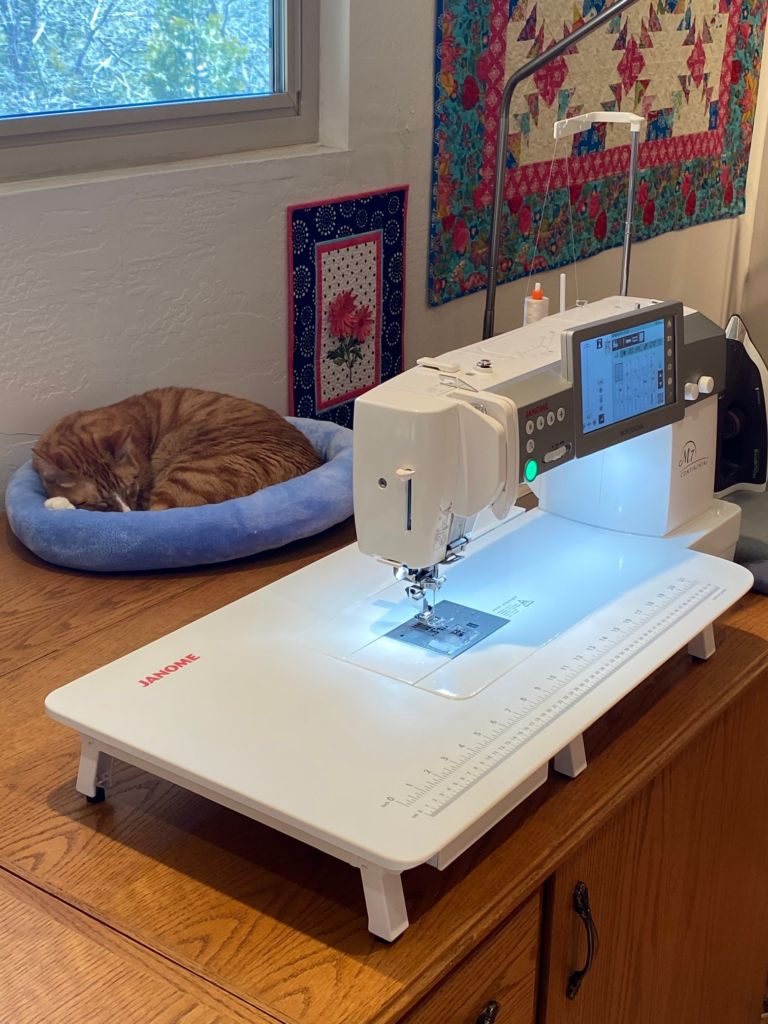 Did you notice a new addition? This pineapple wallhanging is a new, FREE pattern I'm offering on my website! Go to the Janome tab and click on the link. If you don't already have my Precision Flying Geese Ruler, you can get yours HERE. (You can make this wallhanging without the ruler, but my goodness….the ruler makes is SO fast and easy to cut and construct your HSTs and triple-triangle units! 
I just love this space even more than ever before. I have more room to work, it feels spacious, yet cozy and inviting. The color is bright and inspires me to be fearless using color in my quilts! I'm enjoying quilts I haven't seen in years and everything in this room is useful or has a special meaning to me. This space feels joyful!
And oh yes….the clouds finally lifted and although it is brisk and chilly outside, the sun is shining once again.