Welcome back, blogging friends! I'm sorry I've been out of touch for awhile, but I just returned home from an eventful trip across the pond.
Infusion of….. creativity!
I just returned from a trip to the US where I attended the 8th Annual National Bernina Artisans Reunion in Chicago. It was truly an infusion of inspiration, creativity, fabulous new ideas, skills and fun! This event, which Bernina hosts once a year, gathers the best of the best – national and international teachers from the needlecraft industry – together to learn the latest and greatest about all things Bernina. It is also a chance for us to provide the company with valuable feedback about ways to improve existing products, to brainstorm innovations for future products, and the opportunity to network with our peers. This was my second year to attend, and I'm honored to have been included with the "Who's Who" in the world of sewing.
Infusion of….. sewing perfection!
The folks at Bernina USA rolled out the red carpet and treated us like royalty from the moment we arrived. One of the most exciting things at the event was our introduction to the fabulous new, top-of-the-line, 830. Let me say, Bernina spared no expense in creating this dream machine! We spent two days learning from some of Bernina's top educators about the many wonderful and exciting new features on this incredible machine. Having a chance to sit in front of the 830 to "put it through its paces" was truly a delight. Of course, they had me from the moment I sat down and experienced the self-threading needle, but the surprises just kept coming. I was amazed at the huge bobbin (which holds 40% more thread than any other bobbin) and the new, completely innovative bobbin system.The 830 has a built-in dual feed system and to be honest, I was skeptical at first that it could compare to Pfaff's dual feed system, which has always been my favorite feature on my Pfaff machines. But the 830 did not disappoint. We embroidered and stitched, and tried out many of the new features while getting to know our sewing partners better. My partner was the out-going Nancy Odom and we discovered we share a lot in common, including being military wives with many miles and military moves under our belts!
Infusion of….. fun!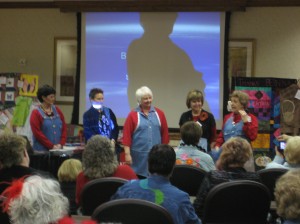 There was lots of fun along with our days of intense training and hard work. But I dare say no one minded in the least. There was also plenty of laughter and socializing, including the evening event of the Blue Denim Challenge for which we modeled our embellished creations. The challenge criteria? We were directed to take a blue denim shirt, one hour, and no more than $10 for embellishments. That's it. So, I used Angelina (those fusible, glitzy fibers) yarn and a few crystals, along with my needle punch machine to needle punch my yarn from the inside out to embellish my shirt.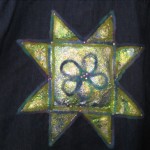 (Note: Take my word for this and don't try it at home: Angelina fibers are NOT conducive to needle punch techniques!) I was awarded the "Barfle Sparkle" award (which was tame compared to some of the other wild and wacky awards categories) from one of the contest judges and moderator, Bobbie Aug. At least I got a good laugh from the audience when I told them my husband thought my shirt looked like a cross between a 60's flower child and valium!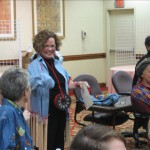 The winner of the blue denim challenge was Sue Nichols with her Bernina 830 shirt – complete with an "extended arm" and super large bobbin.
Infusion of….. mall therapy!

I got to do a little bit of shopping before the conference actually began last Wednesday, and of course, I couldn't pass up the chance to shop at my favorite department store, Von Maur. I actually used some restraint and didn't spend too much. But I did manage to find a few great new pieces for spring – both professional and casual wear.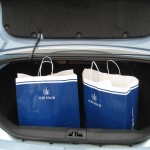 The colors for spring in clothing this year are glorious, and I invested in a few special pieces including a new spring jacket and matching top in one of fabulous new colors: raspberry! I also found a Vera Bradley and Brighton store – two other favorite shopping haunts. I always enjoy seeing what's new in accessories, too.
My flights going both ways were easy and uneventful, and I thoroughly enjoyed flying British Airways and being routed through Terminal 5 at London's Heathrow airport. I couldn't believe they have a Harrod's department store right in the terminal. Now, that's high class!
Infusion of….. friends!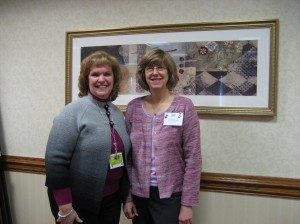 My roommate for the conference was my dear friend, Sue Stewart, from Pittsburg, Kansas. Sue and I have been friends since 2005, and this was our third time to room together at a national event in the past year. We have found we're very "roommate compatible" and enjoy our time together immensely. She is dear through and through, and such a gifted and talented thread artist! Her quilts have won numerous awards in Houston and other international venues. Kiddingly, I told her one of the reasons I like to room with her is that I'm hoping some of her talent will rub off through osmosis on me at night when we're asleep!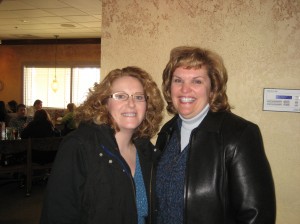 Before heading to the airport for the return trip home on Sunday, I had the wonderful opportunity to get together with Sharon, one of my dear, true friends from college. Sharon and I met at Miami University in 1981, and were friends through our four years in college, as we were in the same major together. We've been in touch throughout the years, but we figured it has been about 20 years since we last saw each other.
(Could it really have been that long?)
Time seemed to melt away as if we had never been apart and we picked up right where we left off. Honestly, Sharon is one of the funniest people I know and we laughed and talked and laughed some more as we spent the afternoon catching up over lunch at an Olive Garden restaurant before I had to leave for the airport.
Infusion of….. good things!
So, this past week I've experienced an infusion of so many good things – both professionally and personally. I caught up with old friends and made many news ones. I talked, laughed, listened, learned. It was exciting and fun from beginning to end, and I enjoyed every moment.
But I admit, it feels great to be home again. I missed Kent, the boys, the dog and the cats. And I missed my "happy space"; my sewing studio! Kent did a marvelous job of taking care of the kids and the house during my absence. But the one teensy, tiny 'fly in the ointment' was when I opened the door to the laundry room. Yikes! Let's just say I dropped off my load of dirty clothes and closed the door again. I think I'll tackle that mountain of mess tomorrow when I'm more coherent – after I've had an infusion of sleep!