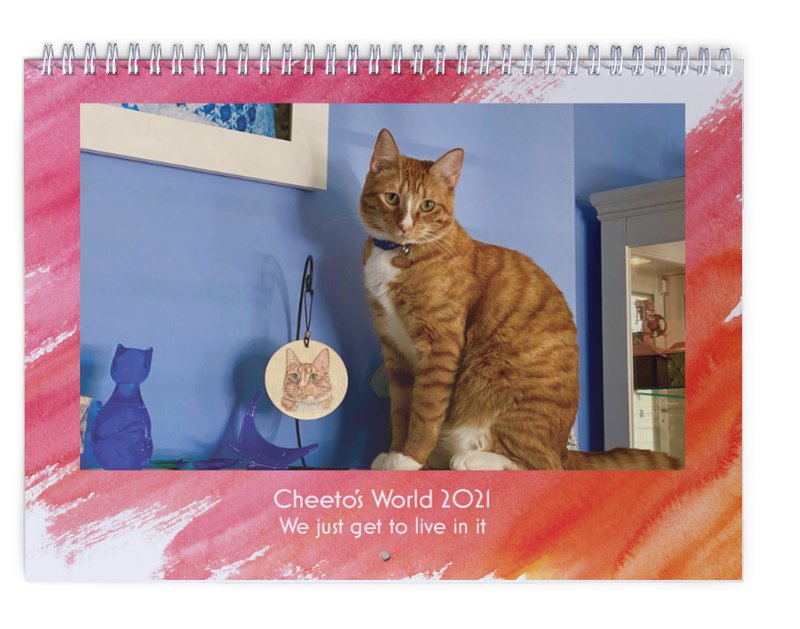 The 2021 CHEETO'S WORLD calendars have been ordered and will ship in early December! Don't wait — there is a very limited number and now is the time to order yours!
We want to support two awesome pet rescue organizations this holiday season! So proceeds from the 2021 CHEETO'S WORLD calendar will be evenly divided and donated to CARE Rescue LA (the rescue where we found our beloved Cheeto!) and A Pawsitive Approach in Anaheim, CA, (where we found our sweet Dodger and more recently, Remy and Tater!) The good folks who rescue and foster these kittens, cats, puppies and dogs need our help because the needs of these sweet homeless animals are so great. Both these organizations are top notch and oh-so-worthy!
Won't you partner with me and help? Simply order one (or more!) CHEETO'S WORLD wall calendar to hang in your home or gift to someone who needs a smile. And trust me, almost nothing can bring a smile to your face faster than our scamp, Cheeto. 
To order your copy, click HERE.
And, if you're on Instagram, be sure to follow Cheeto's silliness and antics at @janome_cat.
Thank you so much!