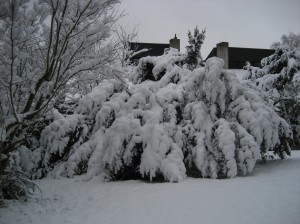 According to the dictionary, the word laden means "burdened; weighed down." It seems the best word to describe the tree limbs and branches covered with snow!
After two days of continuous snowfall, we are living in the most beautiful, picture-perfect, wintry, Christmasy wonderland. Stuttgart and the areas surrounding it got anywhere between 6″ to 8″ of snow within the last 48 hours. The snow is wet and heavy, and has piled up on top of trees and branches like fluffy white frosting on a cake. I'm amazed how it has stuck to the limbs without falling off yet.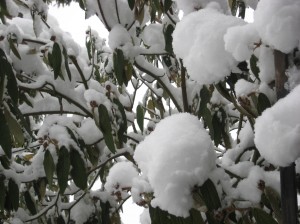 I apologize for not blogging about "quilty" things in recent days, but the truth is I haven't done much (if any!) quilting this week. The boys and I are in full get-ready-for-Christmas mode, and we're having a wonderful time. Last night, Andrew and I went to hear Josh play in his first high school Christmas concert at school. The chorus and concert band did a fine job playing a wide selection of music. With the snow coming down outside the gymnasium and the sounds of the season ringing loudly inside, it was impossible not to feel in the holiday spirit. And just look at what a handsome young man Josh is in his tuxedo!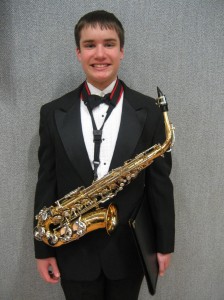 I promise there will be lots of quilts and other things to share in the coming days, but for the meantime, forgive me if I share yet a few more of these stunning, snowy pictures from Sindelfingen.
Let it snow, let it snow, let it snow!