Question: What should you do after sitting or standing all day in a quilting class?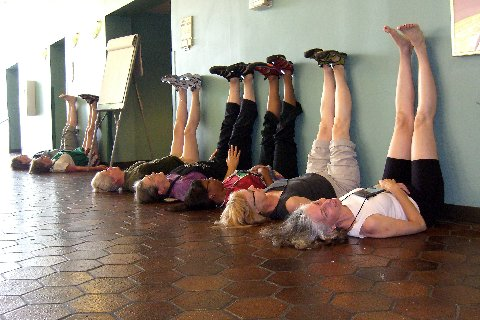 Answer: STRETCH!
This amusing photo was sent to me by my dear friend, Diane Herbort, of Alexandria, VA. Diane and I were judges for the 2008 Quilters' Heritage Celebration Show in Lancaster, PA, this past spring. She is an absolutely delightful gal, and I enjoyed every moment I spent with her during our time judging quilts and teaching classes at the show. (Coincidentally, Diane orchestrates and narrates the spectacular, must-see, quilt art wearables fashion show, which is held every Friday during a fabulous luncheon at QHC.)
Diane is an avid photographer and takes beautiful and artful photos along with being a gifted fiber artist. She sent me these "legs" photos with the following information: As the historian for QSDS the Quilt/Surface Design Symposium, I document everything; the work being done in classes and also the unexpected moments. Kerr Grabowski was teaching a five day class in "Deconstructed Screen Printing." She and the students took a break from standing all day on a hard tile floor. They are stretching out their calf muscles.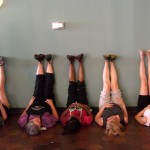 The photos just made me smile and I thought I would share them with you. For more smiles and a chuckle or two, be sure to check out Diane's website and click on her Weekly Photo tab. Then look for "GUM" and "Caged Gnomes." Trust me. You don't want to miss this these! (And while you're there, be sure to save it as one of your favorite places! Her weekly photos are worth the stop…)
As far as other news, I've been very busy these past few weeks preparing to travel to the upcoming American Quilter's Society Show in Des Moines, Iowa. This is the inaugural show for AQS in Des Moines, and I'm absolutely honored and thrilled to be part of the full-time faculty for this premiere event. If you  would like to see breathtaking, inspiring quilts, hundreds of vendors, and the opportunity to take classes from many of the best quilting professionals in the industry, it is certainly not too late to make plans to attend this year's event from October 8th – 12th. While the online registration is closed, you'll have no problem registering for classes or lectures on site. For more information, check out the AQS website.
I'm thrilled many of my classes are already filled, but I still have a few openings for my lecture, "View The World Through A Quilters' Eye," and for my classes, Flying Geese Crossing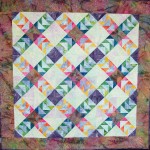 and Keukenhof Tulips.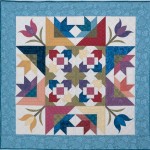 (For the Keukenhof Tulips Class, I have kits with the fabric you need already prepared for a nominal cost. All you have to do is show up!) Drop me a line and let me know if you'll be at this year's event. I'll look forward to seeing you there.
I have some great "quilty" things planned for this blog in the coming weeks. As life goes in cycles, so does my quilting life. After a productive month of tackling many UFO's in August, I find I've hardly sat at the sewing machine during September. I've been so busy writing articles, class handouts, and designing new quilts. This is all very creative and exciting, but I find myself spending many hours just sitting at the computer to work. I'm eager to get back to stitching, but for the time being, my deadlines and schedule dictate otherwise. In just a few weeks, I'll be posting a free mystery quilt on my website, with weekly "clues" until the mystery is revealed. I hope you'll sign up and make the quilt as the steps are provided.
In the meantime, since I've been at my computer so much lately, I think I need to take the hint from Diane, and stretch my legs!
Happy quilting, everyone!
Kimberly
PS — You could simply "feel the love" from the quilt maker's soul just pouring out of this amazing quilt!