…moment by moment in the moment
As I stopped to take a deep breath amidst the craziness and chaos of my life recently, I summed it all up with this one thought:
"I feel as though I've lived the equivalent of what one would normally experience
in a year's time within the first three months of 2012."
I've been working harder, going faster, pushing more, and rushing around to accomplish more than I ever have before. I made commitments many months ago to do things and I truly took on more activities in my schedule than I should have. Growing up, my parents instilled a strong work ethic in me and my stubbornness tenaciousness just wouldn't allow me to cancel or cop out. So I  kept pushing forward without any "down time."
But as January passed in a whirl I realized a few very important (read: life changing) things:
I reminded myself of my ONE WORD for this year: perspective. I have revisited this amazing word many times.
Life is fragile. And precious. And you only get to live it ONCE.
I don't take TIME for granted and I have made a conscious decision on many occasions to make it count.
Relationships are so important for a balanced, happy life.
So instead of rushing, rushing, rushing, just trying to get from one moment to the next amidst my completely chaotic schedule, I made a choice to live IN THE MOMENT rather than living moment by moment.
What a concept!
Rather than give you a laundry list of the zillion things I've done in these past three months, allow me to share some of the amazing things I've experienced and learned:
My love and passion of quilting is the heart of what I do. I love to share quilting with everyone. I've done so much teaching and traveling already this year, but it is the quilters who make quilting the blessing it is in my life. Reaching out to hear their stories — even for only a brief moment of their lives — touches me more than anything I could say or do to be a blessing to them. Emails I receive, notes sent through the mail, photographs of their quilts made from my designs — these small things mean more to me than I could ever begin to express.
Quilting transcends all language barriers. As I write this blog posting from Prague (having just finished teaching for the third time over the past four years at the annual Prague Patchwork Meeting in the Czech Republic) I am reminded once again that even though I cannot always understand another person's language, we can communicate effectively through facial expressions, big toothy grins, squeals of excitement and laughter, and a variety of hand motions, body language, and simple pointing. The love of textile art is completely universal — much like music.
There is something beautiful to appreciate in EVERY SINGLE QUILT. I recently had the extreme privilege of judging a national quilt show and two guild quilt shows in Florida within the course of 10 days. I viewed — up close and personal —  over 700 quilts, one at a time. Each judging experience was an honor for me to view so many diverse and amazing quilted creations from simple patchwork to artistic masterpieces. Every quilt was unique and beautiful in its own way. Of course the skill level of these quilts varied from beginner to master – but it was my extreme privilege to take a few moments to read the description written by each maker and to "feel the love" and witness the beauty she (or he) created through the fabric and thread. I praised the accomplishments and hopefully shared some encouragement as to how the maker could possibly improve a technique with their next quilt. But most importantly I tried to convey how much I appreciated their time, effort, and willingness to share their creation with me as the judge. What a privilege!
There is beauty and peace in the simple things. As I was scurrying to and from events, I made sure to admire and appreciate simple pleasures around me such as:
a sunset on the water as I was driving over a bridge late in the evening
the twinkle in the eyes of a student who just got that "ah-ha!" moment
the fun and adventure of tasting new and different local cuisine
lots of venues to see and touch fabric!
I don't have time or space in my life to allow negativity to steal my joy.  I've run across a few large egos recently. Rather than get upset at what those folks say or do, I've just learned to let it go, laugh about it and not let it affect me personally. Poor souls — they must be burdened by the weight of their own importance.
I also said good-bye to a dear friend who recently passed away. I truly grieved his passing and will miss him for the rest of my life. But I also take comfort knowing he is no longer suffering and is in a better place.
The world is filled with amazing people, places, and experiences. I want to enjoy all the good stuff that I can!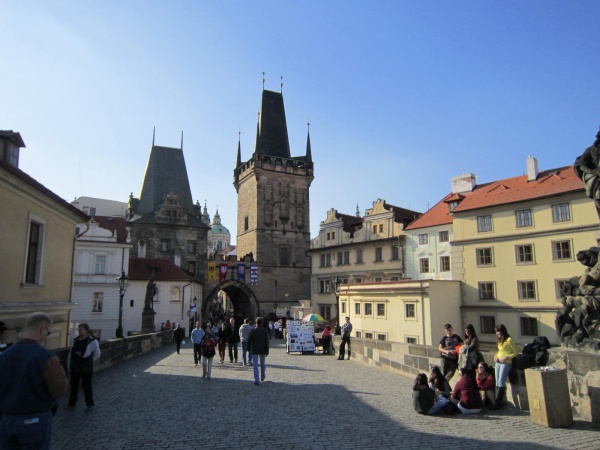 I'm heading back home tomorrow. Life will still be crazy for awhile because we're in a place of transition (don't ask.) But I will take each task — each moment — and live it fully. And I will make a choice to appreciate all that is good and wonderful in my life and in the world.
Live in the moment. I hope you will think about that as you do what you do today and always.