Well, I am truly speechless! I simply can't begin to find the words to describe how excited and thrilled I am by your overwhelming and tremendous response to my request for comments! Thank you, thank you, for coming through with so many encouraging things to say. I'm happier than a bee on a bonnet!
When the first comments started rolling in, I began in earnest to reply to each and EVERY person who took the time to write. I should have emailed each of you personally, but, not having had much experience with the "replying-to-comments-blog-thing," I began to reply by leaving a comment on my blog itself. Big mistake. The more comments rolled in, the more I was confusing myself and losing track between your comments and mine back to you (does that make sense?) So, if you left me a comment, you might want to peruse the comments left on the last two posts and look for your name. There might be a message for you!
However, by late on Sunday, I realized I was a bit in over my head, and leaving a personal comment on the blog post itself to individuals was not the smartest move I could make. So, I have begun visiting your blogs; marking them as my favorites, and / or leaving a little note in your email box (if you don't have a blog) to thank you for stopping at mine. If you haven't heard from me yet — please don't despair. I'll do my very best to get to you soon! 🙂
My Mom taught me to always, always answer a kindness with a thank you note, and that is what I'm going to try to do. But in the meantime, please accept this blog entry as my sincere, heartfelt vitual hug to each and every one of you for taking time to write to me. I'm feeling the LOVE!!!
On to other things. In one of my first posts of the new year, I talked about how we changed my 14 year old son's room around by removing the bunk bed and putting a queen-size bed and new (Ohio State colors) desk in his room. It is truly a "cool" room now, as he puts it. I thought I'd share a few shots of the "after." Take a good look now. I can assure you, it will never look this neat and clean again!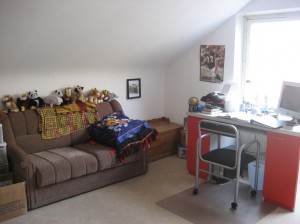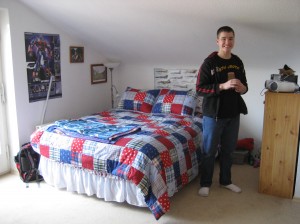 I have some wonderful photos to share from our day trip to the Stuttgart zoo this past Saturday, but intead of posting them here on the quilting blog, I'll be posting them on our family-oriented, "Where in the World is Kimberly?" blog later this evening or early tomorrow. (The link for that blog is directly under "Kimberly's blog" on my website home page.)
In the meantime, I'm off to run Mom's taxi service. Andrew has basketball practice this evening over at the school. But who needs gasoline to power the car? I'm flying high on good feelings and wishes from all my new quilting cyber friends scattered around the globe — YOU!