My Mom and I have been making "Nuts and Bolts" every Christmas since I was a little girl. I'm not sure where she got the original recipe, but over the years, we've tweaked it a bit here and there until we came up with the version of the recipe we use today. Nuts and Bolts is a savory, little-bit-spicy version of Chex Party Mix.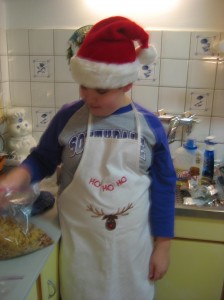 This past weekend, (since Mom is in Florida and couldn't be here in person to carry on the tradition) I undertook the annual Christmas Nuts and Bolts ritual with the help of two willing elves. In the end, we all had a great time and once again the house was filled with that familiar aroma of garlic, tobasco and worchestershire. Yum.
This recipe is just too delicious not to share. So, put on your apron and whip up a few batches of this munchy goodness before the holidays. It won't last long around your house. I just know your family will love it! (Here's a hint: you can get about nine batches from the boxes of Chex cereal.)
Preheat over to 350 degrees.
Mix in bowl:
1 1/2 cups of Rice Chex
1 1/2 cups of Corn Chex
1 cup of Wheat Chex (optional)
2 cups of Pretzel sticks
1 1/2 cups of Cheerios
2/3 cup Spanish peanuts
2/3 cup Cashew halves and pieces
Combine:
1/4 cup melted marjorine
1/4 cup oil
2 tsps garlic powder
1 tsps Lawry's seasoned salt
3 Tbls Worchestershire sauce
1 tsp Tobasco sauce (or more, to taste)
Poor liquid mixture over crunchy mixture. Toss thoroughly to coat. Spread out on large baking sheet. Bake at 350 degrees for six minutes. Remove from oven, stir. Bake another six minutes. Poor out on paper grocery bags to soak up excess oil mixture. Let cool thoroughly. Store in gallon size Ziploc baggies. Enjoy!