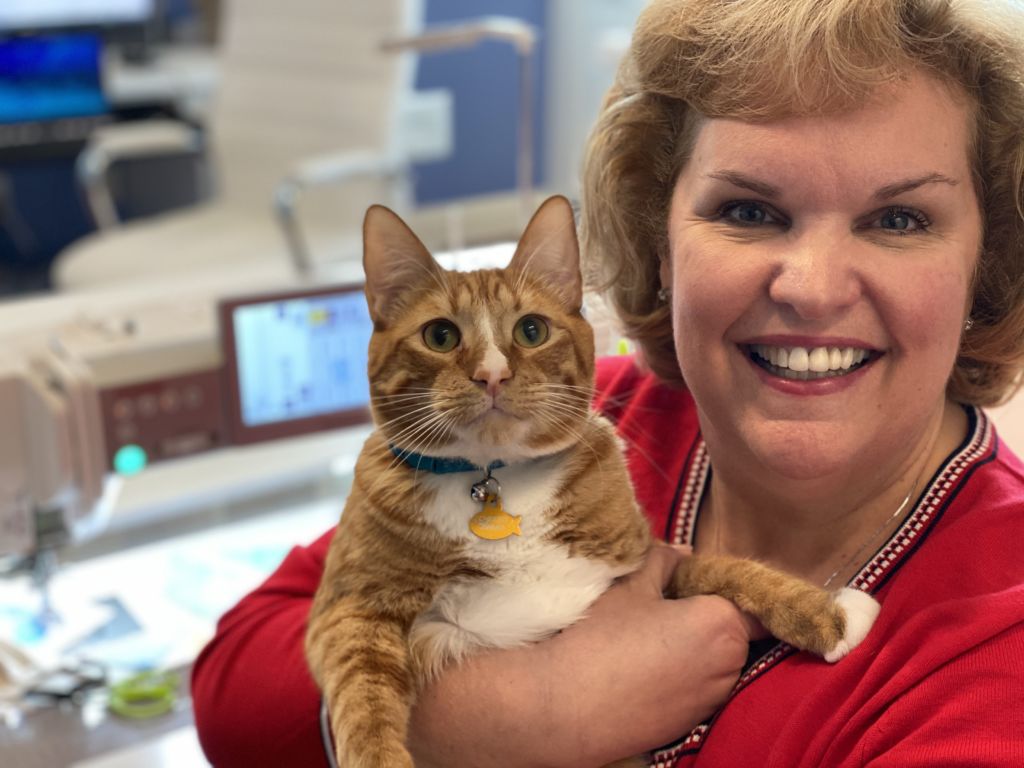 I've been in the planning process for this Facebook Live event for a couple of weeks. While I love teaching classes or sharing tips and techniques on camera, going LIVE brought with it a whole different set of things for which to plan and prepare. And I was quite nervous leading up to the event. But once we got started, it was truly so much fun and I loved the interaction with all of you watching from across the country and around the world!
Janome initiated these Facebook LIVE events last week. They will appear on Facebook every Monday – Friday at 3pm EST and you can find them on the Janome Sewing Machines page. Each day, an educator or maker will share a favorite tip or machine feature. This is a great chance for us to invite you into our studios during this unprecedented time of social distancing. Because after all, we're in this together!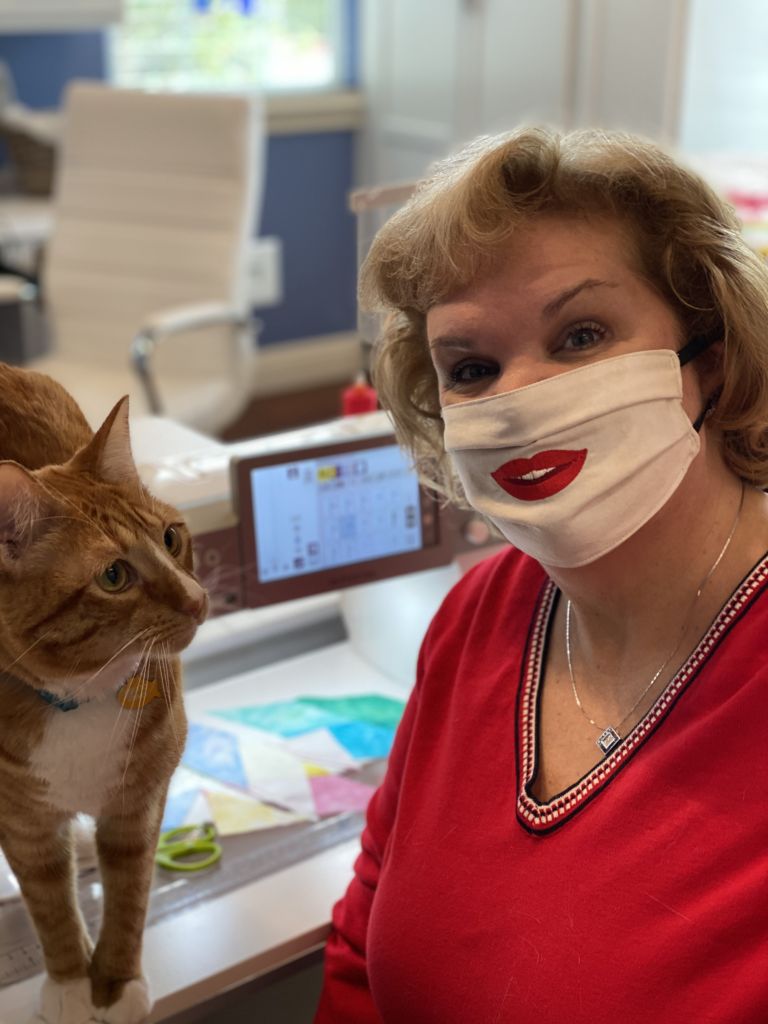 Cheeto and I started the LIVE event with a surprise. This past weekend while I was making masks, I got the wild idea it might be fun to share a "smile" when I have to go out to the grocery store or pharmacy. So I found a copyright-free "lips" design I like and sent it to the ultra-talented Anne Hein, Janome educator and software expert. She liked the idea and digitized the artwork into an embroidery design and sent the file back to me. I downloaded the embroidery design to my Memory Craft 15000 and stitched out the lips onto a single piece of fabric in under 5 minutes! Then, I cut two more pieces of fabric and made the mask. Easy, fast, fun and best of all — I'm pretty sure anyone who sees me wearing this will either smile (or laugh!)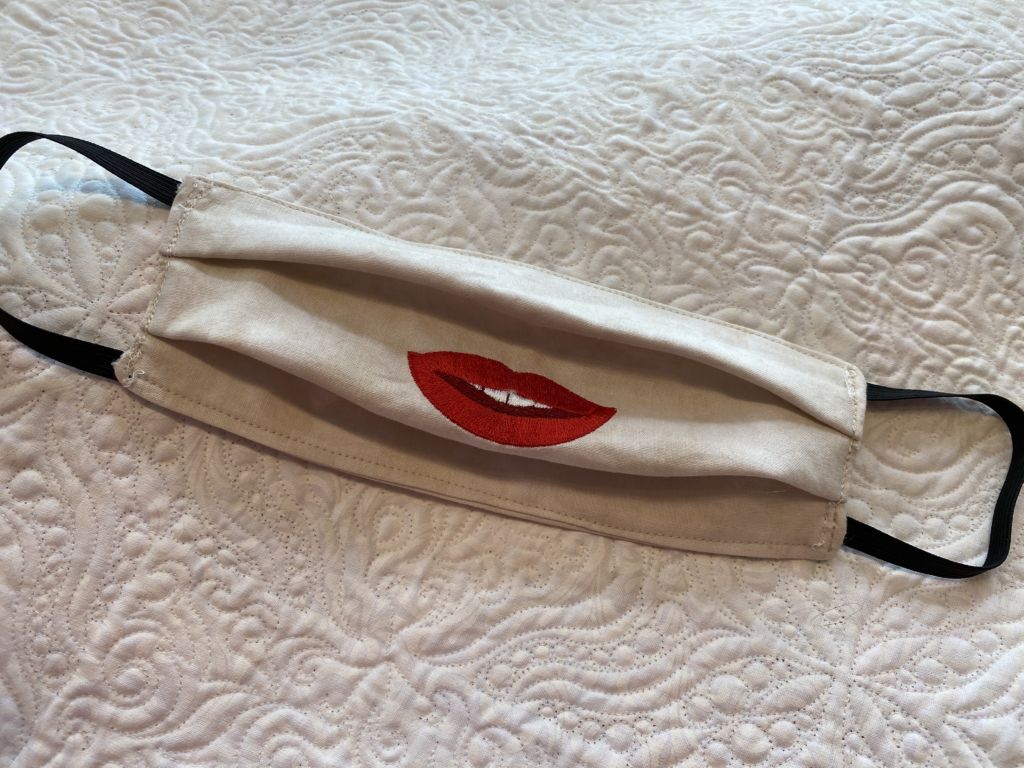 CLICK HERE for the link to the FREE embroidery file for the LIPS design!
After I talked about masks and other things, I shared information about one of my favorite Janome machine features, the Auto Pivot (or hover) feature! But rather than tell you about it, why don't you just watch the video (CLICK HERE) and then come back and let me know what you think? I'd be especially happy if you'll think about making a "LIPS" mask for yourself. If you do, please send or email me a photo of you wearing your mask. My email address is: moc.omnieylrebmiknull@ylrebmiK. I'd love to know I'm not alone in my quest to share a smile….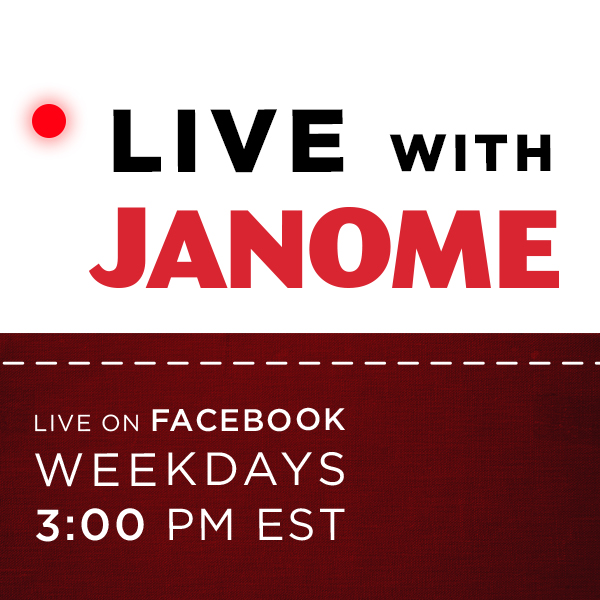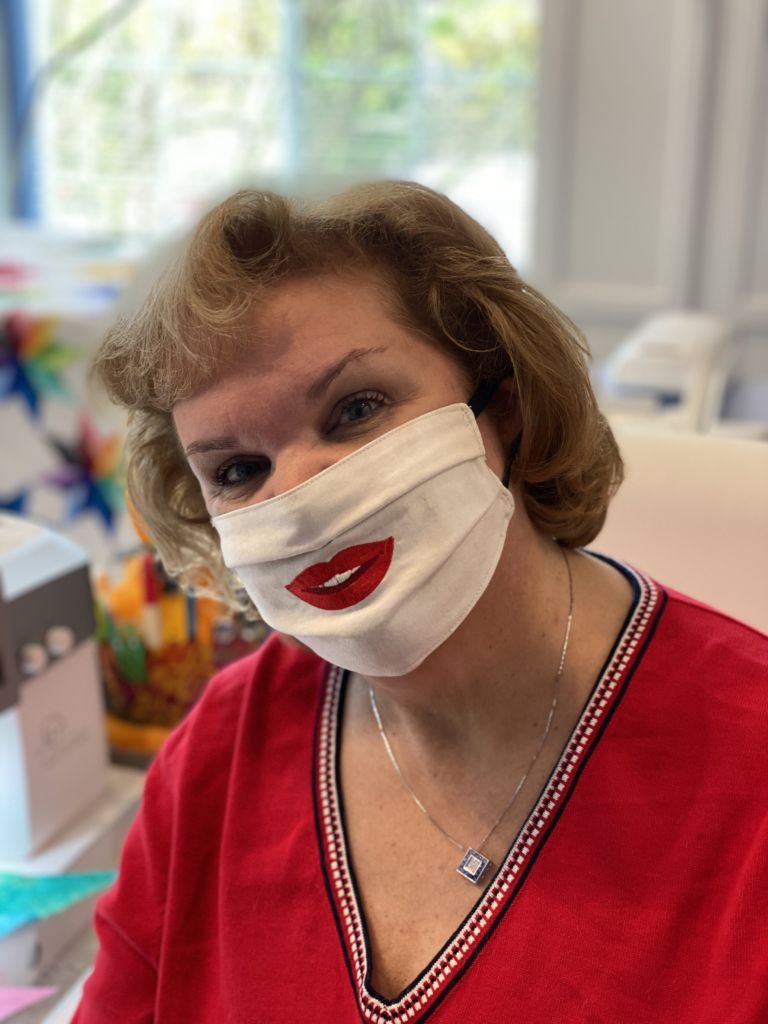 I'll be back in a couple of weeks with my next Facebook LIVE event and I've got another surprise for you! So I hope you'll join me on April 20th at 3pm, to see what I'm cooking up right now. In the meantime, be sure to watch the other Facebook LIVE events every day at 3pm EST. 
And remember, choose FAITH not FEAR.
Happy sewing!