I was very fortunate for the second year in a row to be asked to judge the Quilters' Heritage Celebration Show in Lancaster. I'd like to offer many congratulations to Julia Graber, of Brooksvilled, MS. She is the talented quilter who won my Judge's Choice Award (along with my sincere admiration and respect) at this year's show!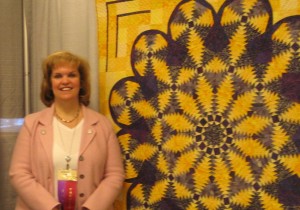 I apologize it took so long to post photos of her exquisite quilt, A Plate of Pineapples, to my blog, but I wanted to contact her for permission to show the quilt before posting it. This glorious quilt took my breath away when I saw it, and I know you'll love it, too. Julia has a very interesting blog; be sure to click on the link and check it out. Scroll down to her April 3, 2009, entry, and there is a picture of her sister, Polly, with her quilt and ribbon in Lancaster.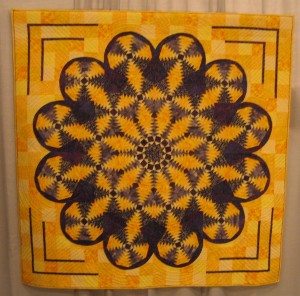 I read on Julia's blog she also has a quilt on display at the American Quilt Museum in Paducah, KY, which was entered into the 2009 New Quilts From An Old Favorite Contest. Well done, Julia! 
Julia — I wish we could have met in person in Lancaster, but since we didn't have the opportunity, be sure to watch your mailbox this week. There is a special package from me on its way to you! Congratulations again for your beautiful, stunning quilt!