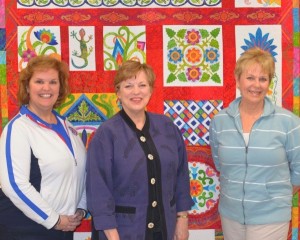 2013 AQS Judges for the AQS Quilt Contest, Paducah
Kimberly Einmo, Libby Lehman, and Velda Newman
I had the great privilege of judging the AQS Quilt Contest in Paducah this year. What an honor it was! I judged the show with Libby Lehman and Velda Newman.  It was a wonderful, exciting, intense few days as we poured over hundreds of outstanding quilts. We made notes, discussed the quilts, reviewed, and talked some more.  I am excited to have been part of this amazing team. And I'd also like to give a big shout out to all the AQS staff and volunteers who worked long, hard hours behind the scenes making sure everything ran smoothly during the judging event. Those folks were just amazing! We certainly couldn't have accomplished so much without their organization and coordination.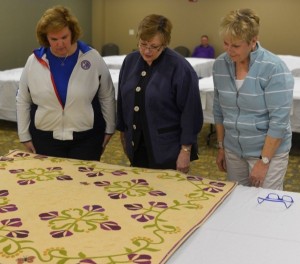 Many of you in the quilting world have already heard the news about Libby. Just a few days after these photos were taken, she suffered a brain aneurysm and underwent emergency surgery. She is now stable, but has been moved to a hospital and rehabilitation center where she can get rest, therapy and excellent care. Her family has rallied around her and she is never without her husband, son, or one of her dear sisters. The family is grateful for your prayers, good wishes, and cards, which they read to her daily. She has a long road of recovery ahead but she has a fighting spirit and we know she'll work hard to regain her strength in the coming months. If you'd like to send her a card, please send it to:
Libby Lehman
617 Caroline
Houston, TX 77002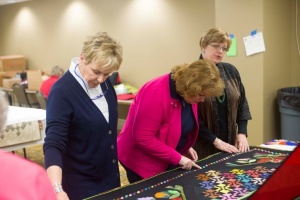 One of the many highlights for me was choosing the quilt for my Judge's Recognition Award. There were so many beautiful quilts that caught my eye! But the moment I saw the stunning quilt, "MY VICTORY GARDEN," by Janet Knapp of Fergus Falls MN, I knew it would be my choice for the award. I could just feel the love; and there were so many award winning qualities in this quilt — expert stitching, and attention to every tiny detail —  that won my heart!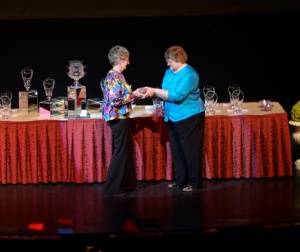 Even more exciting than choosing this quilt, was being in the audience during the Awards Ceremony when the quilt was announced and Janet and her husband were in attendance! I was absolutely thrilled to see her walk up on the stage and receive her award from Bonnie Browning! And then, the best moment of all was when Janet came to my classroom where I was teaching classes during QuiltWeek to meet me in person. What a privilege to meet this lovely lady! She is so sweet and gracious and I'm just delighted her quilt won the award. It is so well deserved!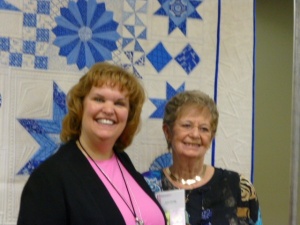 Janet was interviewed in Paducah about her quilt and you can watch the video and "meet" Janet by clicking here.
 Janet Knapp's extraordinary, prize-winning quilt
My Victory Garden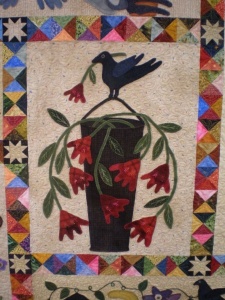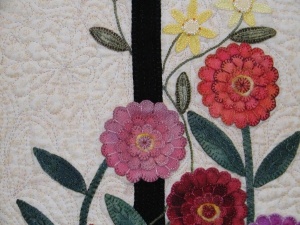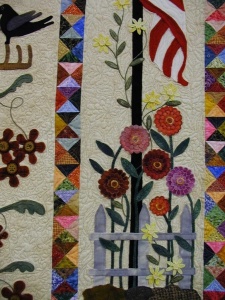 Congratulations, Janet!!! I simply couldn't be happier that I chose YOUR quilt to be my Judge's Choice.  And I'm even happier that I got to meet you in person!