It may be a bit early for Halloween. And here in Southwest Florida it doesn't look or feel remotely like Halloween or even fall. Well, you can take the girl away from four seasons, but you can't take the four seasons out of the girl! And autumn is absolutely my most favorite season. North of here, that is. I never get more homesick for the changing seasons than this time of year. And I'm particularly homesick for all things autumn this year. To console myself I spent a little time perusing photos from autumns past with gorgeous foliage, like this. Can that really have been three years ago?
I had to work up the fabric requirements and write handouts for a short version of my Lone Starburst class (for a non-Jelly Roll version) which was the perfect opportunity for me to play with some really fun, spooktacular fabrics. If you read my blog yesterday, you got a sneak peak at what I was whipping up.
I SO love this line of fabrics by Robert Kaufman. Eerie Alley. The fabrics are just so stinkin' cute!
Yes, I have the Eerie Allley Jelly Roll. But like I said, I needed to whip up a non-JR version from just 4 fabrics plus a background. It was a tough choice, 'cause I'm so used to using Jelly Rolls and lots of fabric strips!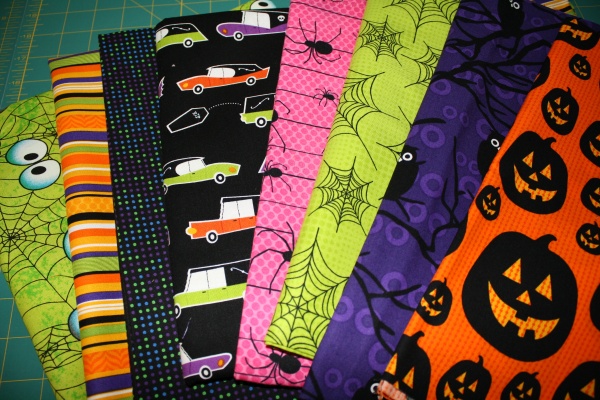 Once my little Lonestar was pieced, I decided to quilt it myself. Shocking, yes I know. I can machine and hand quilt. Quite respectably, I might add. I just don't usually have the time to do it myself. But today was different.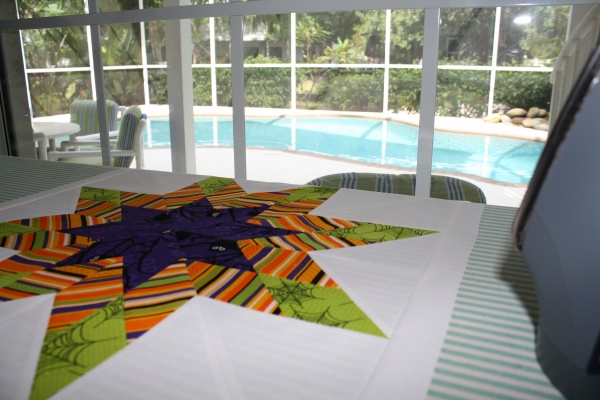 Here's a thought: how many of you own computerized sewing machines with fabulous decorative stitches that YOU NEVER USE? When I teach I see so many students with wonderful mid-range to top-of-the-line sewing machines with amazing stitch capabilities they've never even tried before. So, for all of you out there (and you know who you are) I'd like to challenge encourage you to quilt a small project on your sewing machine. But not with free motion quilting, meandering, or stippling. Nor cross-hatching. And not with machine embroidery in the hoop, either. I'd like you to try quilting a quilt using your decorative stitches!
This is so fun and oh-sew-easy to do. I love quilting with decorative stitches because it gives me the chance to play around with my specialty sewing machine feet and accessories and try some of those amazing new threads on the market.  I combined two different stitch patterns to create a wiggly, wonky new design element. The variegated slightly-eerie, limey green complimented the fabrics perfectly!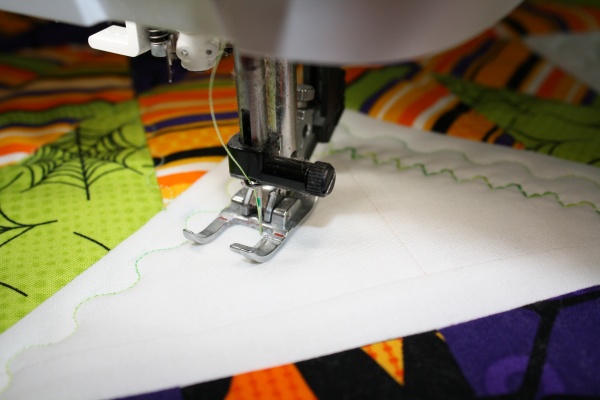 The new thread I chose was just perfect for this project: YLI's Variations – size 35, Tex 27. Color: Meadow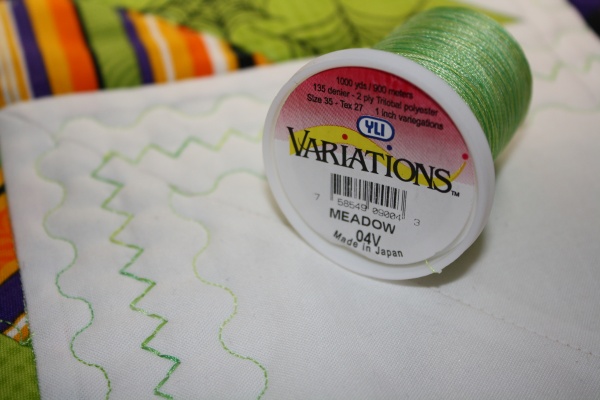 I used the wavy stitch over seams inside the star.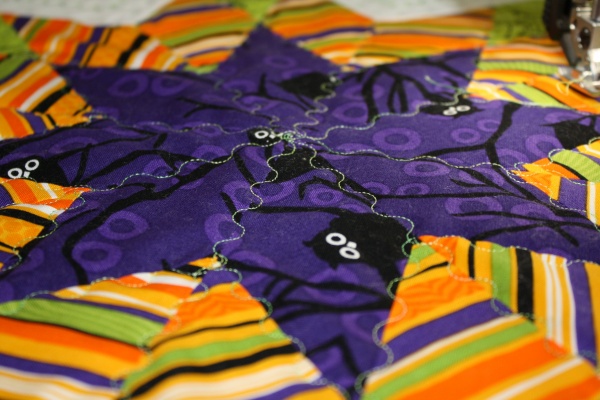 And did a little "echo" quilting in the background spaces outside the star. Quick and easy!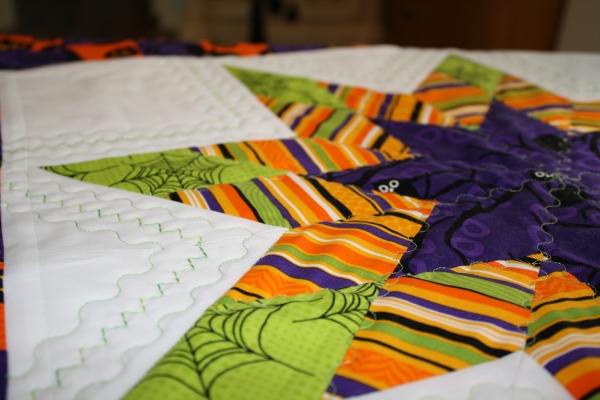 I even stitched the binding on by machine! FYI: I've added a brand new workshop to my class lineup called Perfectly Decent Wonderful Bindings by Machine!  I can't wait to teach this hands-on class beginning in January. I've been developing this technique for about 5 years. This nifty new way to add straight-of-the-grain binding by machine with no hand sewing is going to make life so much simpler for quilters who want to use or gift their quilts. (More on this later….)
I think the decorative stitches add just the perfect amount of "spooky-ookiness" to my fun little Halloween Lonestar.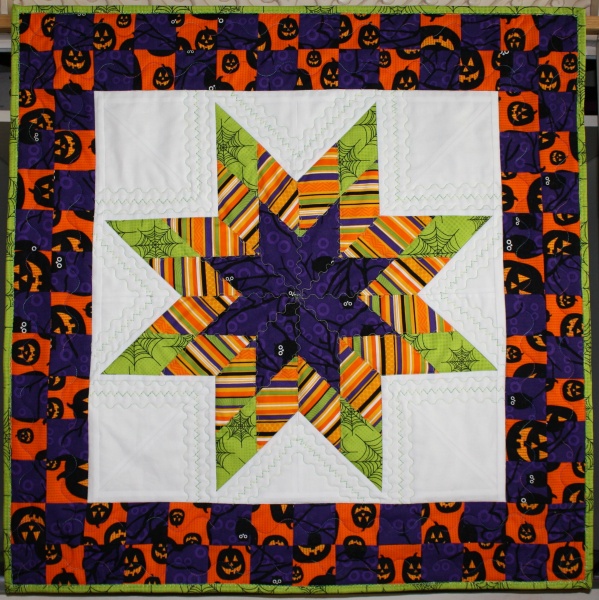 Making this was F-U-N from beginning to end. Did I mention there are no "Y" or set-in seams? The technique is shown in detail in Jelly Roll Quilt Magic. Just in case you need to make one (or more!) for yourself. And if you have the book but would like the fabric requirements for making the quilt from yardage instead of Jelly Roll strips, just let me know.
In the meantime, I'll just have to just keep pretending that I'm up north, enjoying a cool, crisp, fall day. At least the sunset was painted in autumn colors.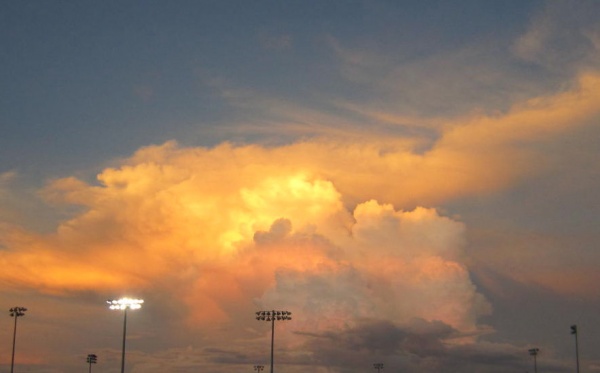 Yep, today was a treat. No doubt about it.
Happy fall, y'all, wherever you may be!