One of my most favorite things about having a "career" in quilting is the opportunity to meet international quilters. I have been so blessed to travel and teach in many different countries! (One of these days, I really must tally the number of foreign countries I've visited.). Quite literally, I've lost count of the number of times I've flown across the Atlantic Ocean! On my website, I have received orders from quilters all over the world; I've sent rulers and books to quilters in countries such as Australia, Japan, India, Estonia, Israel, South Africa, Turkey, Uruguay, Kenya, and almost every country in the European community. I always try to write a hand-written note to thank the quilter for her (or his) order, and I like to ask questions and open a dialogue to learn more about quilting in their native land. Do they have easy access to quilting supplies, or do they rely on the Internet to order their fabric and notions? Are they part of a local quild or group, or have they taught themselves how to quilt? It thrills me when I get a response and in almost every case, I've received a response from these international quilters. It tickles me down to my toes to know that I have made some new "pen pal" quilting friends all over the world!
One such quilter is a wonderful lady named Hanna Hellevang, from Hardanger, Norway. We actually met when I taught at the Prague Patchwork Meeting in 2008 when she and her friend, Bente, attended. My husband's family comes from Norway so with my last name being "Einmo," we struck up a conversation and friendship right away. Hanna and Bente attend the PPM in Prague, Czech Republic, every year. I saw them again when they attended my workshop at the PPM in 2010. In the meantime, Hanne has kept in touch with me and we've shared an email exchange. Recently, she sent me some photos. I thought you all might like to meet her, and see some of the absolutely gorgeous quilts she has made.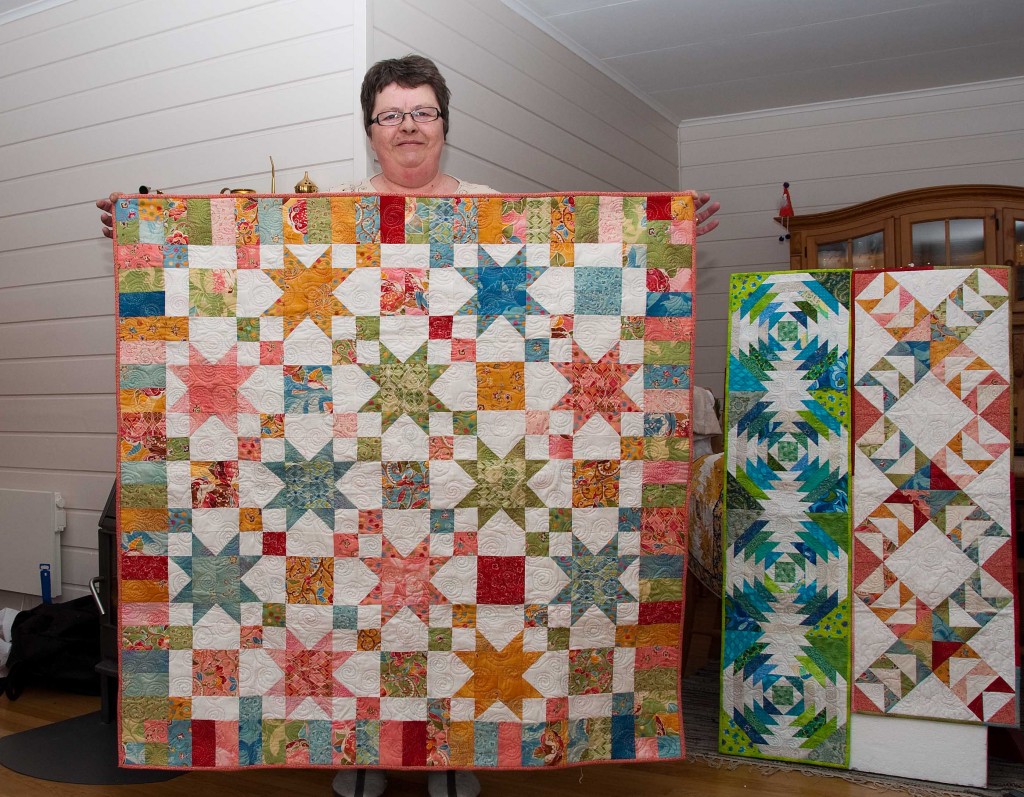 Stunning Star Chain, Perfect Pineapples and Flying Geese!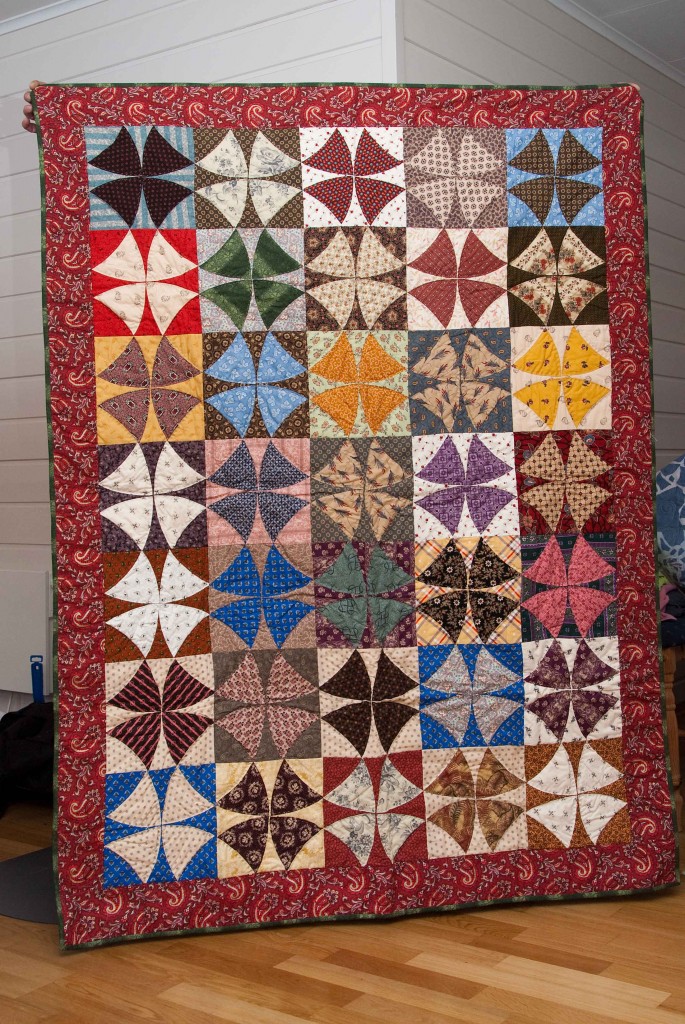 This quilt just sings with gorgeous colors and perfectly pieced curves.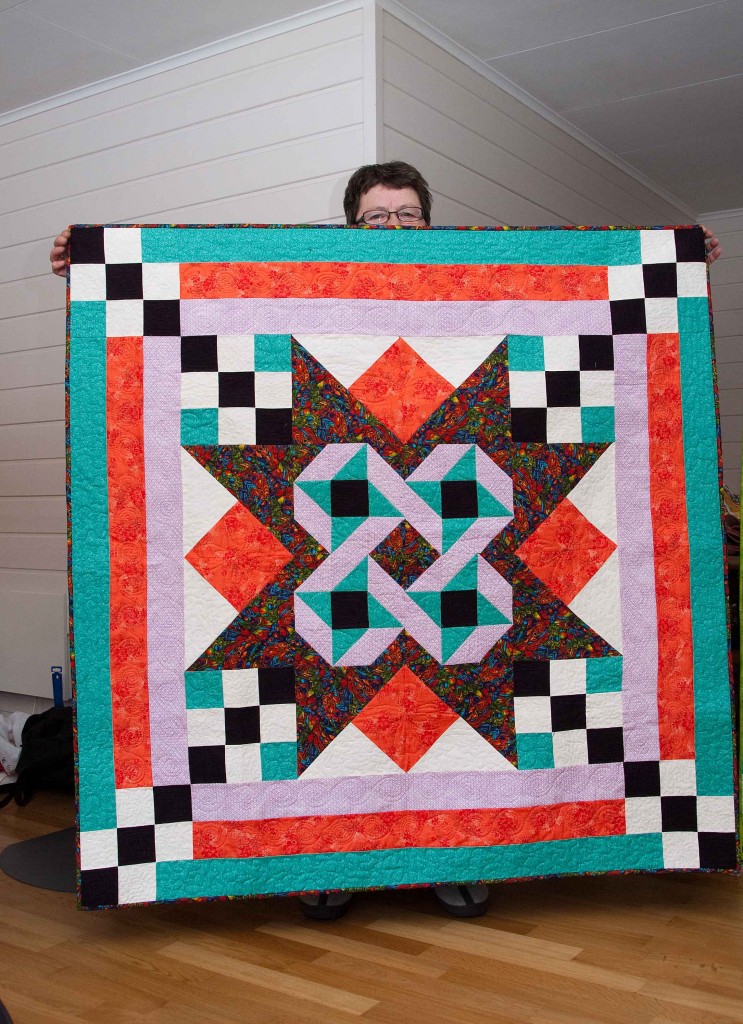 I love this quilt! The colors are so vibrant and the design simply sparkles. Well done!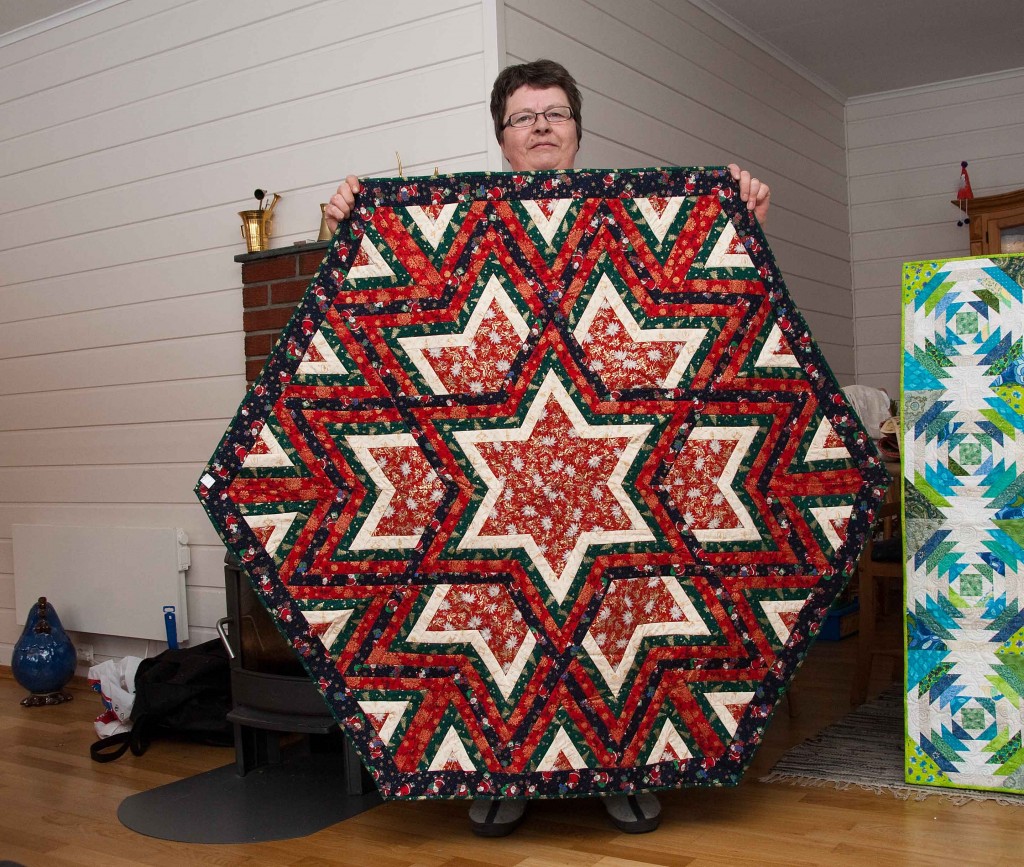 Glorious!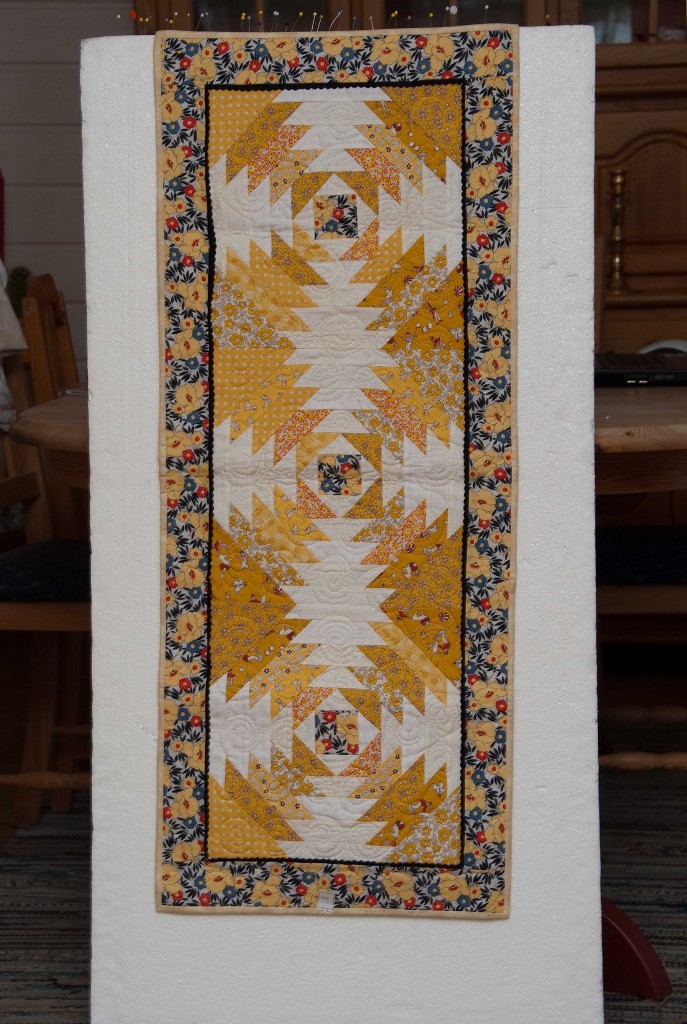 More perfectly pieced and quilted pineapples!
(I think she likes my Pineapple ruler. Yeah!)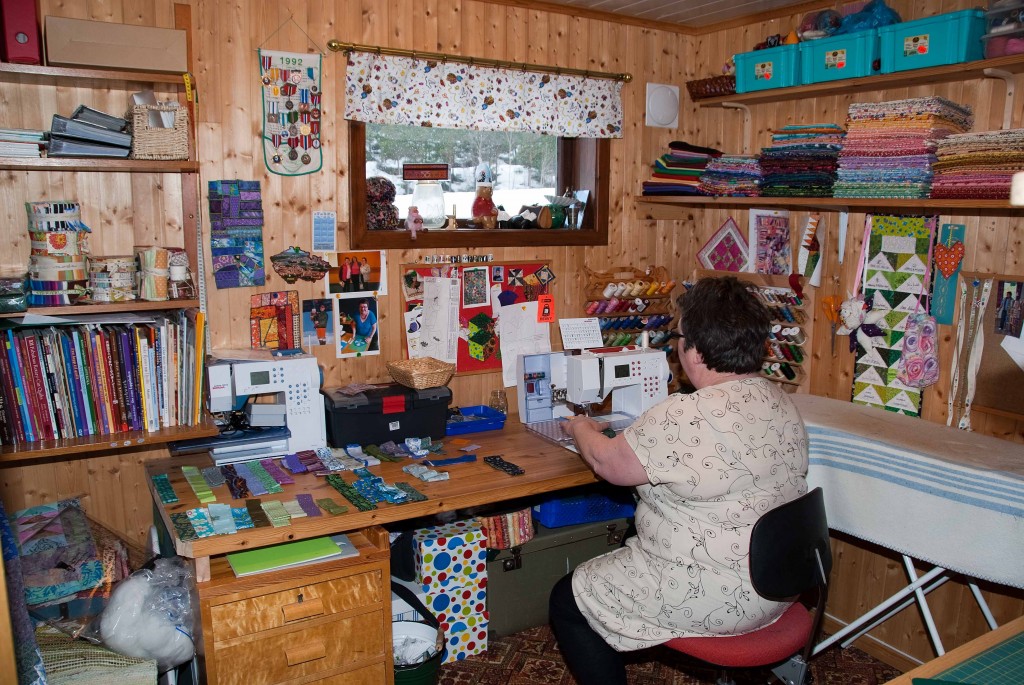 Hanne, your studio is wonderful!
It makes me want to fly right over to Norway and join you for some stitching fun.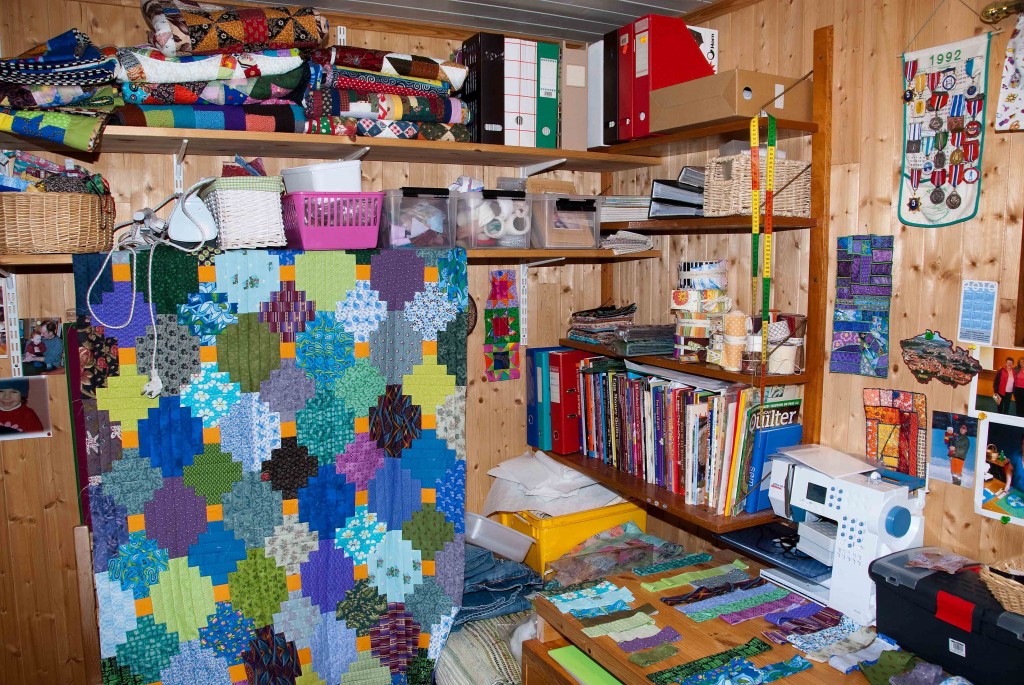 I really like the blue/purple quilt hanging in your studio.
Hanne, you have a marvelous eye for color!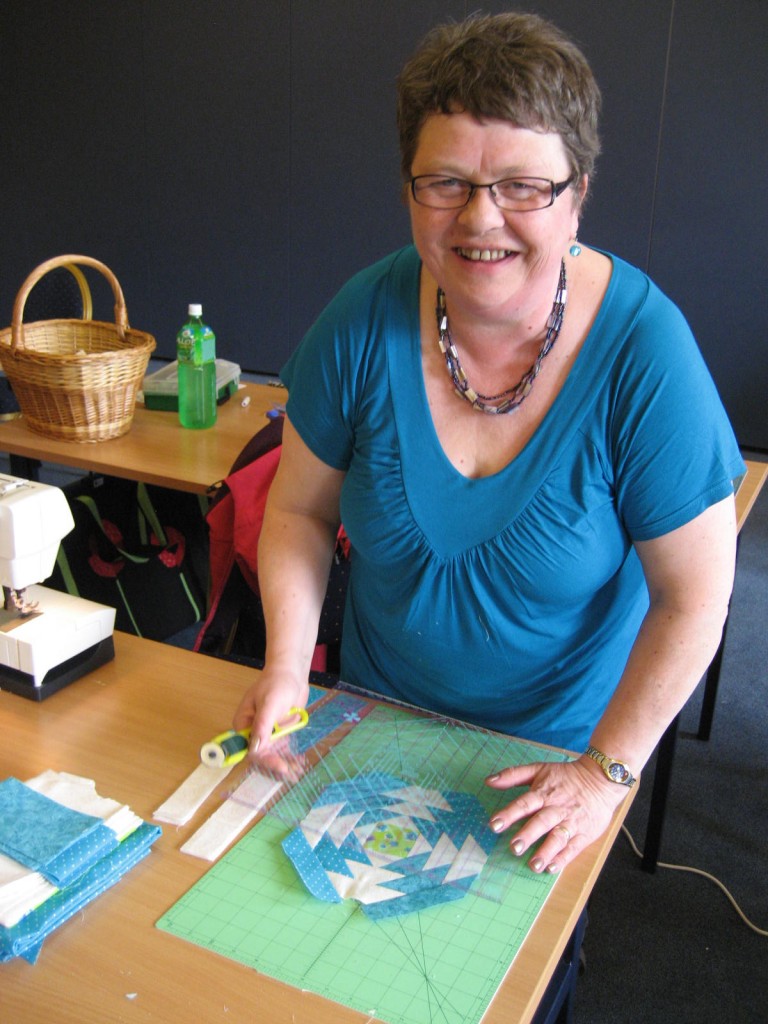 Hey everyone — meet Hanne….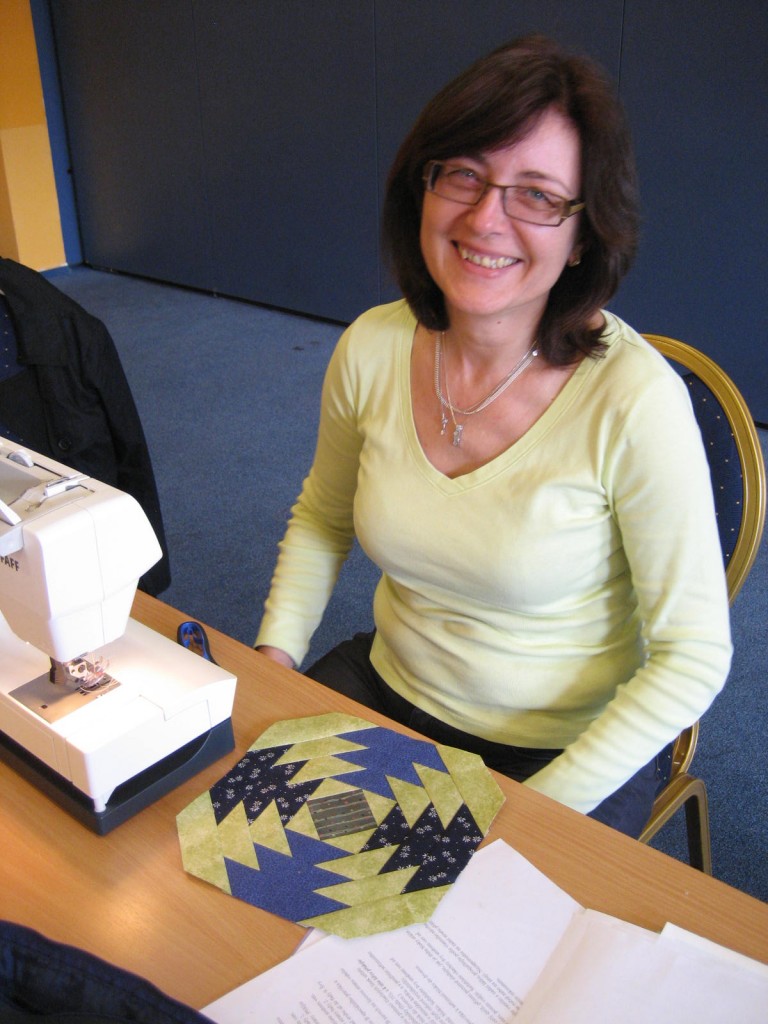 ….and my other Norwegian friend, Bente.
I'll be eager to return to the PPM in 2012 to see many familiar faces of the Czech quilters and meet new friends, too. But I'll also be looking forward to seeing Hanne and Bente again. We've made plans to get together for lunch or dinner, and I can't wait. Isn't it wonderful to know that quilting ties us all together beyond international borders? We share a common bond; a common passion for our hobby. Quilting really is the tie that binds us all together.
I feel so blessed!