There's nothing quite like getting together with a dear old friend.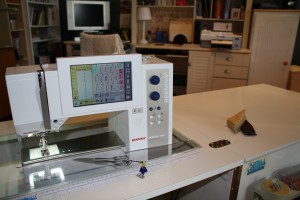 I sure missed this buddy of mine! I admit: way too much time has passed since I sat down with my BSF (Bernina sewing friend). This past weekend we got reaquainted. Even with all the deadlines and emails that seemed to stack up in my inbox by the hour, I put them all aside to stitch. And stitch. And stitch! Most of the day on Saturday, and into the wee hours of Sunday morning. And after church on Sunday, I stitched some more.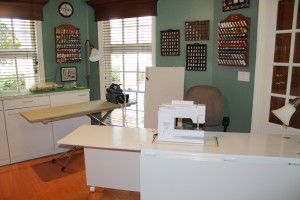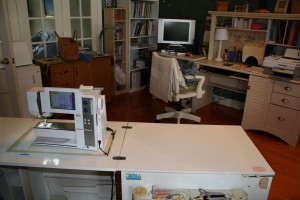 I think my Bernina likes her new digs. Yes, our new surroundings are different from our sunny studio in Germany with all our critter friends outside the back door. But my BSF and I are making new friends.
Meet Frasier.
Frasier Crane, that is. (Ahem)
Frasier comes to our backyard almost daily for a nibble of tasty gecko and a drink. It's an acquired taste.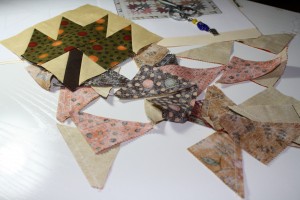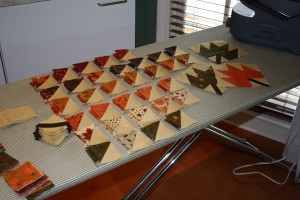 I had so much fun cutting and stitching blocks for a Jelly Roll quilt challenge I'm participating in with a group of dear friends. We call ourselves the Jelly Angels. You may remember when I introduced them to you in a previous post.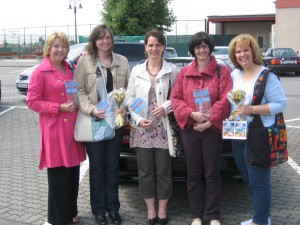 (Hello, Carla, Ilona, Birgit, and Christine. I sure miss you guys. Hey Angels — are any of you working on your challenge quilts? The deadline is just around the corner…hint, hint.)
I've also made some new friends.
I think two of the best ways to plant new roots when you relocate are to meet your neighbors and join a quilting group. I met our new neighbors. Love 'em. I asked around about quilting groups; didn't seem to turn up much at first. So I invited the neighbors. A couple of them have done a little quilting. One of my new young friends has never quilted but is very excited to learn. 
After our first morning get-together at my house a couple of weeks ago, we decided to take a roadtrip to check out a quilt shop located not too very far from where we live. I wanted to introduce these gals to all things quilting. We hit pay dirt and found quilter's paradise!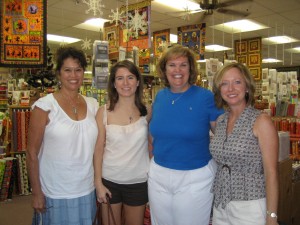 Blog friends: meet Charm, Caroline and Jan.
Charm, Caroline, and Jan: meet my blog friends!
What a wonderful shopping day. We planned quilts and bought fabric. We talked. We giggled. We had fun!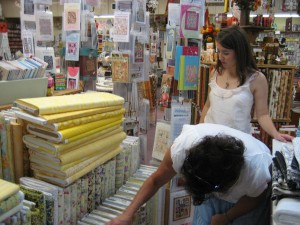 Charm chose fabrics to make a stunning black, white and yellow queen-size beauty!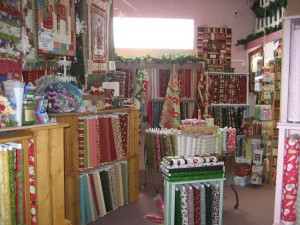 It's ok to drool: this was just the section of Christmas fabrics alone!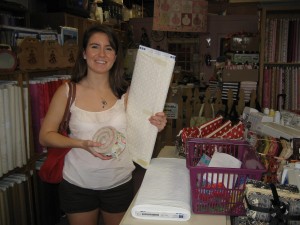 I introduced Caroline to the magic recipe:
1 jelly roll + 1 extra fabric = 1 scrumptious quilt!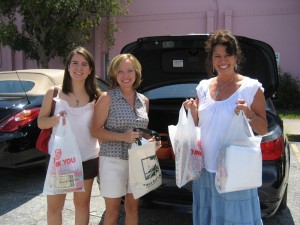 After shopping and a trunk full of textile goodies, of course we had to have lunch. We stopped at a delightful little bistro in town. Yummy!
These gals are awesome. They are making me feel right at home. And they are really creative and talented. Just look at what Caroline has accomplished already!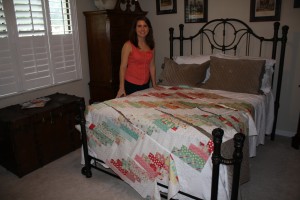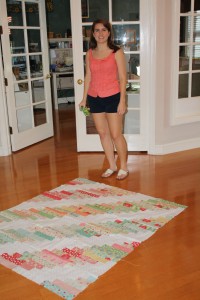 I'm telling you: this girl's GOT IT. She's going to be the next "big thing" to hit Quilt Market one of these days, mark my words. And did I tell you? Her Mama (Vicki) makes the best crawfish etouffe y'all ever tasted!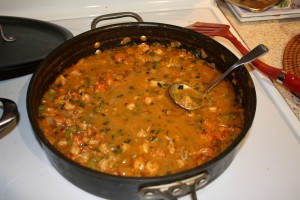 I love my old friends. I love my new friends. From where I sit, life is pretty amazing. I am blessed by my friends, including all of you — my blog friends!
PS —
Hey, Pat (another one of my very good friends) — as to your comment about the kitties…..guess what? As of today, Tuffy was back in his new "old" spot as quality assurance manager right next to my desk. Some things never change, thank goodness.