2017 has been a good year.  I've spent time soul searching, made many positive and healthy changes, set my priorities, learned to set limits, and say "no" when necessary.
And I've been preparing for rain.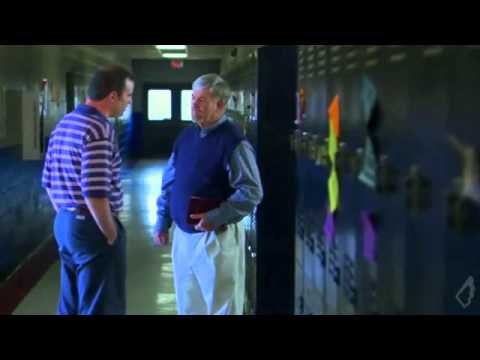 Click here.
There are some big changes on the horizon for our family. For one, both of our boys will be away at college this fall and my sweet husband of almost 29 years and I will officially be "empty nesters." The realization of this fact hit hard in January when I moved son #1 to college for his first semester. I never thought I would become so emotional about our boys being out of the house full time, but I found myself facing feelings I never thought I'd have. On one hand, my husband and I are looking forward expectantly to a new age and stage of life. Of course we'll still see our sons, but it won't be the same hands on, full-time parenting we've been used to for the past 23+ years. After many long talks we both feel we're on the verge of a new adventure. Neither of us knows what our new adventure will be or look like, but we've been praying expectantly. And in anticipation of this new adventure in our lives, we've begun the arduous task of downsizing. 
Several weeks ago, I decided it was long overdue for me to clean and organize my studio. The task was, quite frankly, daunting. I have accumulated much more than I realized during my 25+ year career. I came to the realization there was too much to simply discard or give away. I decided to have a studio reduction and purge sale. Much work went into this effort and I learned a lot during the process; but I've decided to write about that experience later.
With the extensive purge and downsizing effort came a new-found lightening of my creative spirit. I can't explain it other than to say it feels as though a huge weight on my creative self has been lifted. Having "too much stuff" was more of a burden than I knew. It was during this purge I came across UFO's from as far back as 25 years ago. (Yes, it's true.) Many of these UFO's ended up being bundled up and either sold or donated during the sale, but several of them found their way to my work area and I looked at them with renewed interest and enthusiasm. It felt amazing to finally finish a few of these projects which had begun with that same spark and excitement so many years ago. 
One of the UFOs was a set of nine, six-inch blocks I had machine embroidered with silly cats at least ten years ago. The cats are cartoonish and cutesy and not really my style today; yet something about these orphan blocks tugged on the soft spot I have for our furry feline friends. I also discovered an untied Jelly Roll purchased at least eight years ago from my local quilt shop at the time, Scrap and Sew. The jelly roll had been unrolled and the strips held together with a now-brittle rubber band. I decided to combine those long-forgotten kitty blocks and my bright jelly roll strips to make a cute little quilt. (Sadly, it didn't occur to me to take photos of either the cat blocks by themselves or the jelly roll strips.)
I trimmed the 2 1/2″ strips to 1 1/2″, and sewed them together to make strips sets which were then cut into 1 1/2″ segments and sewed together to make scrappy checkerboard sashings and borders. After the top was complete, I used my sewing machine to free motion outline the cats and my Sashiko II machine to do hand-stitched style quilting.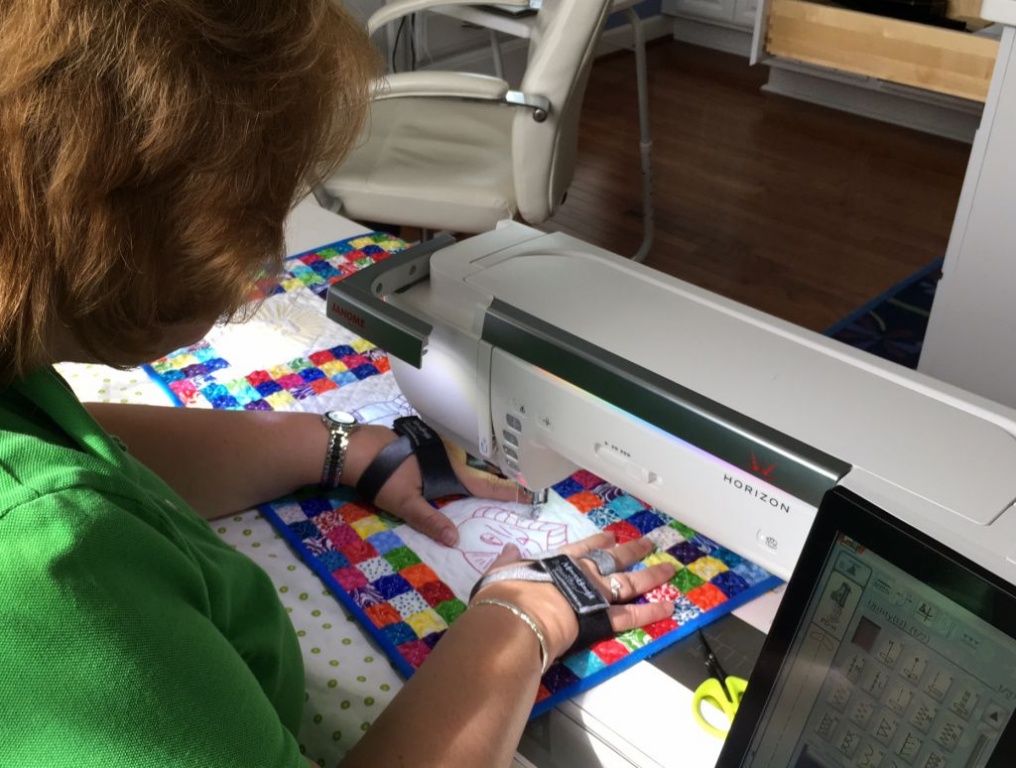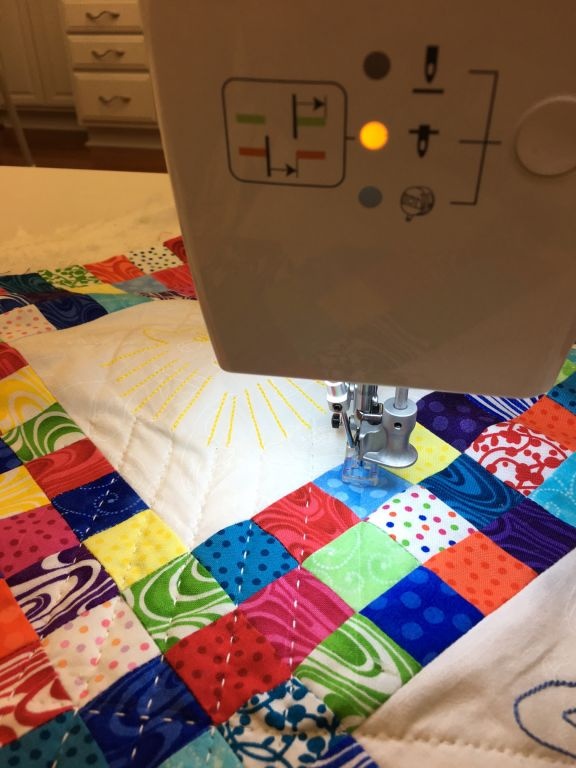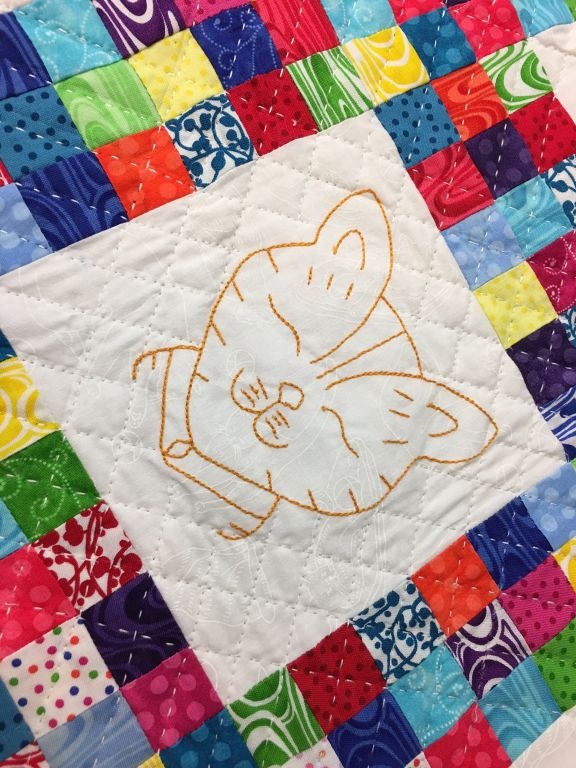 While I love the look and scrunchy feel of the hand-look stitches, the process of stitching with the Sashiko machine is not fast; especially since I decided to stitch my grid lines 1/2″ apart! The entire process took several days to complete. But I am so pleased with the finished quilt, Kitties I Have Known. It is, quite simply, darling. And I'm so happy my embroidered kitties now have a place of honor on the wall in my sewing studio in our cabin.
The other UFO I completed recently came from diamond units from the last little bits of leftover strip units with fabrics I used to create my quilt, Fire and Ice.
I had forgotten I kept those leftover bits and pieces of the strip units. When I found them during the studio purge, I decided to cut diamond units to see if I had enough to piece a little Lonestar. Since my Sashiko II machine was still sitting out from being used to complete the kitty quilt, I Used it to quilt this simple star.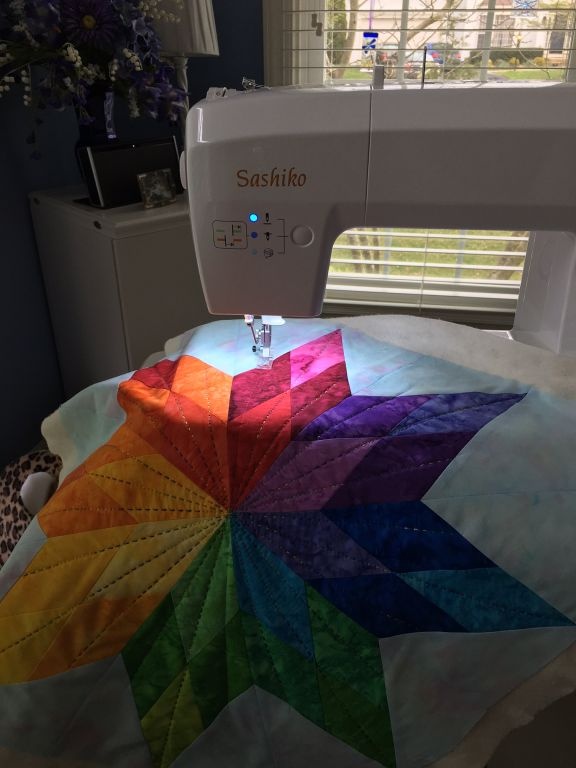 The finished quilt is so pretty and even the background fabric I used came from fabric found in a large garbage bag of scraps during the studio purge sale.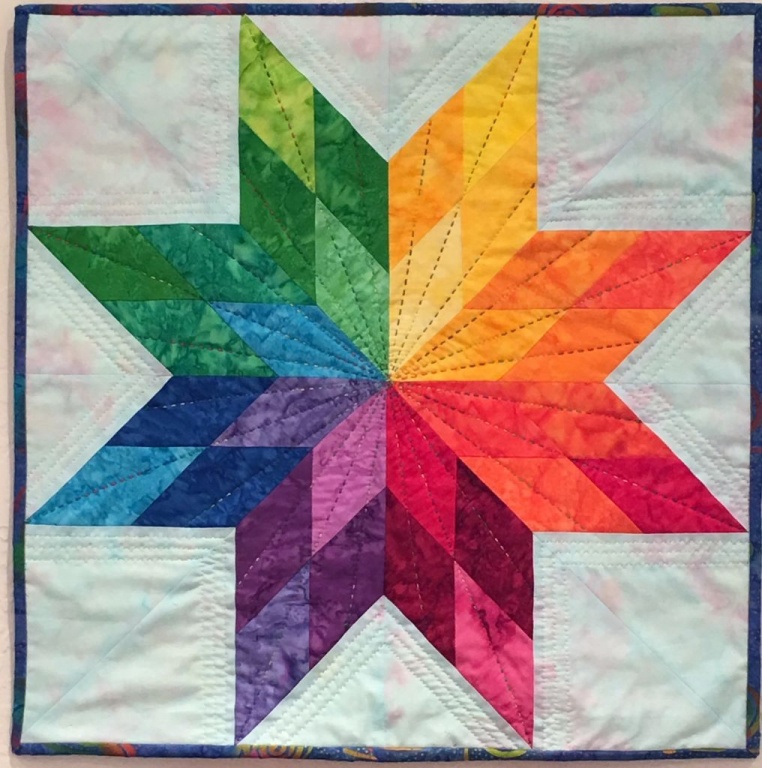 This rainbow Lonestar quilt also found home on my studio wall in our cabin. It feels absolutely amazing to have completed some UFOs this year and feeds my creative major to create even more new quilts.
We have a very long way to go to continue our operation to downsize. But we've made progress and we're well on our way. We're preparing our fields for rain. I say, bring on the liquid sunshine into our lives!